Special Author | Enjoyment and Comfort
Editor | Qiu Kaijun
On January 3rd, Tesla officially announced the latest quarterly sales report: In Q4 2022, Tesla delivered 405,278 vehicles, slightly lower than the market's expected 425,000 vehicles. The annual production and sales were both 1.369 million and 1.313 million respectively, which were far below Tesla's plans.
Such sales performance led to Tesla's stock price falling for seven consecutive trading days, with a drop of nearly 31\%, setting a record for the longest cumulative decline since September 2018.
What happened to Tesla as it entered 2023? Today, let's have a discussion about it.
Current Situation: Sales and Orders Fall Short of Expectations
1. Annual Sales Situation
Let's take a look at Tesla's production and sales data in 2022: In 2022, Tesla's global production was 1,369,611 vehicles, a year-on-year increase of 47\%, and the company delivered 1,313,851 vehicles, a year-on-year increase of 40\%.
What's more noteworthy is that there is an inventory of 55,760 vehicles (the difference between production and sales), showing a year-on-year increase of 869\%. Among them, Tesla's inventory in Q4 reached 34,423 vehicles, accounting for 7.83\% of the season's production.
If we compare the global production and sales data of Tesla from 2020 to 2022, we can find that in 2020, which was Tesla's first year of production in China, global production and sales were basically balanced. At the end of the year, there were only about 10,000 vehicles in inventory, mainly due to export transportation. In 2021, Tesla's delivery volume was greater than its production capacity, which basically meant that for every vehicle produced, one was sold, except for eating up the inventory from 2020, and this situation continued until Q1 2022.
However, everything changed starting in Q3 of 2022. Tesla's inventory reached 22,100 vehicles, accounting for 6.0\% of that season's production, and the inventory further increased to 34,400 vehicles in Q4, accounting for 7.8\% of that season's production.
Looking at the annual data, Tesla's inventory in 2022 reached 55,800 vehicles, accounting for 4.1\% of the annual production.Why has Tesla seen a "supply exceeds demand" situation?
Let's take a look at the changes in Tesla's global orders in 2022.
2. Shrinkage of Global Orders for Tesla in 2022
According to long-term tracking data from Troyteslike, as of December 31st, the global backlog of undelivered Tesla orders was only 74,000 vehicles, with an average waiting time of less than 40 days. At the end of September 30th, there were 299,000 undelivered orders with customers waiting for more than 70 days.
From a global perspective, it has only been less than four months, the total number of global orders has been halved, and the waiting time for customers has significantly reduced. At the same time, Tesla's monthly production capacity has increased by less than 20,000 vehicles, indicating that Tesla's global demand is beginning to sharply decline.
If we continue to break down the composition of global undelivered orders, as of December 31st, the order backlog for China and North America has dropped directly to 0. Yes, you read that right, it has fallen directly to "0".
If we compare the end-of-quarter order situation for each quarter of 2022:
At the end of Q1 2022, the global backlog of undelivered orders was 470,000 with a monthly production volume of about 100,000 vehicles, equivalent to about 4.5 months of order backlog;
At the end of Q2 2022, the global backlog of undelivered orders was 475,000 with a monthly production volume of about 83,000 vehicles (the Shanghai factory stopped due to the pandemic), equivalent to about 5 months of order backlog;
At the end of Q3 2022, the global backlog of undelivered orders was 300,000 with a monthly production volume of about 115,000 vehicles, equivalent to about 3 months of order backlog;
At the end of Q4 2022, the global backlog of undelivered orders was 74,000 with a monthly production volume of about 135,000 vehicles, equivalent to less than half a month of order backlog.
Meanwhile, there are about 25,000 Model 3/Y vehicles in inventory in the Chinese market, about 2,500 Model S/X vehicles in inventory in the North American market, and about 36,000 vehicle models in transit in the European and Asia-Pacific markets.
This is the change in the global order backlog and inventory for Tesla by the end of 2022.Therefore, we saw the first weekend after New Year's Day on January 6th. Tesla launched a global price reduction for 2023 worldwide.
3. Start the first price reduction in 2023.
On January 6th, Tesla officially announced a comprehensive price reduction for all domestic models in China: the price of the Model 3 standard endurance version was directly reduced by 28,000 yuan to 229,900 yuan (if the subsidy refund of 12,600 yuan is calculated, it is equivalent to a 40,600 yuan price reduction), and the price of the Model Y standard endurance version was directly reduced by 40,000 yuan to 309,900 yuan. These two prices are the lowest since Tesla's domestic production.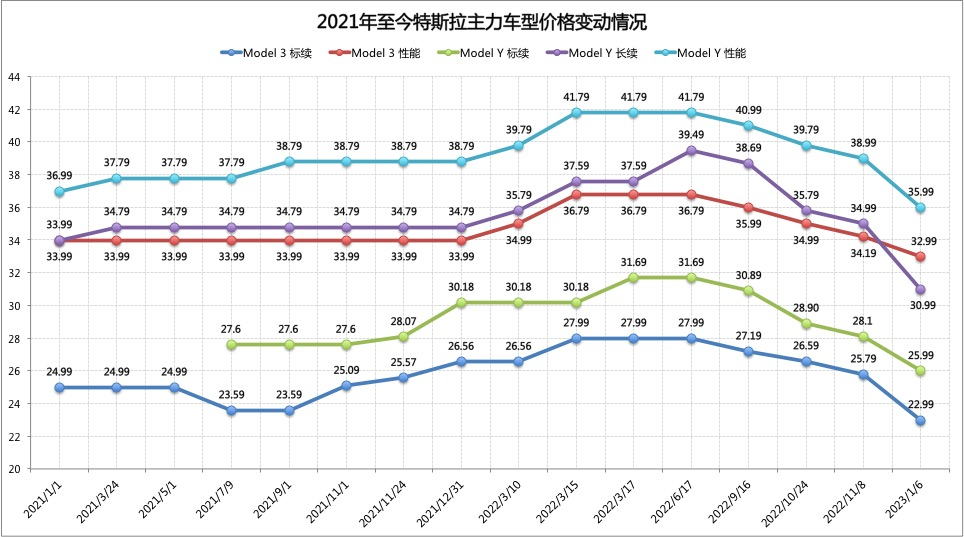 For a moment, Tesla's official website was also overloaded, and at the same time, there were various rights protection events. According to the latest internal data, Tesla's "lowest price in history" only received about 30,000 orders in three days.
This additional 30,000 orders is only half a month of production capacity for Tesla's Shanghai factory. Even considering the Chinese New Year holiday, such a number of new orders can only support Tesla China until mid-February. By then, the Chinese market will face another wave of "order droughts."
What's more dangerous is that not only is the Chinese market facing a shortage of orders, but Tesla's home market of the United States is also facing a shortage of orders.
As of September 30, 2022, the number of undelivered orders in the U.S. region could still be maintained at around 160,000 orders. By December 31, it directly dropped to zero (yes, zero). The main reason is that the "2022 Inflation Reduction Act" (IRA2022), which provides a maximum subsidy of $7,500 for domestically produced new energy vehicles, took effect on January 1, 2023. Therefore, most American consumers were not in a hurry to pick up their cars after December. Therefore, in December 2022, Tesla USA had to temporarily increase its delivery discount by $7,500 to meet its annual delivery target.
The performance in the European market is also a bit weak, as of November 15, there were 100,000 undelivered orders in the European market, but by December 22, there were only 55,000 orders left undelivered.From Tesla's global order data, it can be seen that on the one hand, Tesla's overall production capacity has not been rapidly improved. Compared with the end of September, the global monthly production capacity has increased by less than 20,000 vehicles. On the other hand, the global order pool is rapidly declining.
This can only indicate one thing: this time Tesla is facing a "comprehensive decline in demand," while the speed of production capacity increase has exceeded the speed of demand growth.
Therefore, on January 13th, we saw Tesla announcing a price cut in Germany one after another. The entry-level price of the rear-wheel-drive version Model 3 is 43,990 euros, a 12% discount from the original price. Other models have also been adjusted with prices ranging from 2,000-9,110 euros. In the United States, prices have also been lowered by $3,000-13,000. If calculated with the $7,500 local subsidy, the actual price has been reduced by $10,500-20,500, a decrease of 18-30%. In Japan, the subsidy for Tesla Model Y has reached about 230,000 yuan.
Three Core Issues in 2023
1. The Deviation of Musk's Time and Energy
At the end of 2022, most consumers and investors began to worry that Musk's acquisition and management of Twitter took up too much of his time.
Since Musk acquired Twitter, he has undergone a "turbulent" reform from massive layoffs to launching new features, from paid authentication identity to reactivating blocked accounts… This series of actions always "cause chaos, quickly adjust," and then reintroduce chaos again…
Musk's overly "aggressive" management style has also been continuously exposed and amplified through Twitter, a global-scale social media platform. Such behavior has not only caused many advertisers to "call for suspension," but also caused many well-known investment institutions to start selling Tesla. Even those institutions that have always been bullish on Tesla have begun to continuously lower their buy ratings and target prices for Tesla in early 2023.
According to overseas media reports, many well-known shareholders are seriously dissatisfied with Musk's recent "selling Tesla's stock" and "spending most of his energy on Twitter," and are continuing to pressure him.
Perhaps under public pressure, Musk announced at the end of 2022 that he is looking for a replacement to manage Twitter and initiated a vote for "whether to resign."
Investors are not only concerned about his energy allocation, but more importantly, in order to complete the acquisition transaction, Musk has sold nearly $4 billion of Tesla's stock, which has also made shareholders gradually lose confidence in whether "Musk can focus on Tesla."Indeed, when Tesla began to encounter difficulties and challenges worldwide, the company did not have a backbone to lead, which is definitely not a good signal for any company.
Especially this time, Tesla not only encountered demand issues in China, but also faced severe challenges globally. Not to mention, competitors from China are trying to take their share from Tesla.
2. Imbalance of supply and demand
This time, Tesla faces the core problem of demand, and simply expanding production capacity and lowering prices cannot solve all problems.
By 2022, Tesla enjoyed the dividends of being a leader. In most markets around the world except China, Tesla was the "leader of the insufficiently competitive situation" in the new energy vehicle field. In the European market, Tesla won the sales championship in many countries in the new energy field, and its sales performance far exceeded the sum of the second and third place; in the US market, Tesla's market share exceeded 65%, and in 22, it became the sales champion in the US luxury car market with a sales volume of 491,000 units. Even in the Chinese market, there are still not many competitors for Model Y, achieving a year-on-year growth of 85.6\% in 22.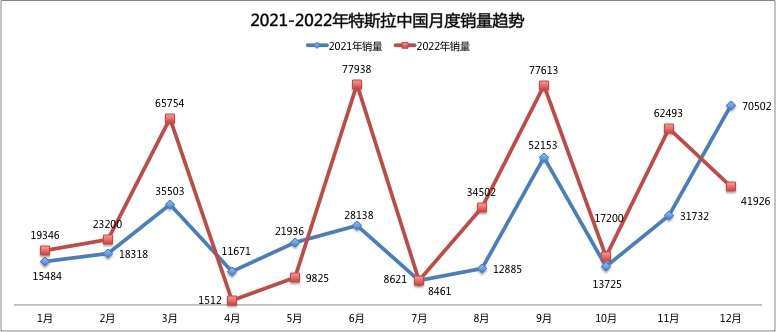 After entering 2022, as a model of more than 6 years, the product power of Model 3 has seriously aged, and the global sales in 22 have started to show fatigue. In the Chinese market, the sales of Model 3 were only 124,400, a decrease of 17.5\% compared to 150,815 in 21. Looking at the global market, the sales of Model 3 are also about 450,000 units, with no growth achieved. At the same time, in 2023, Model Y will also face more powerful challengers from independent brands such as XPeng G9, Ideal L7, Deep Blue S7, BYD Haishi, DENZA N7, etc., which will divert Model Y's market share.
When Tesla's existing products cannot have outstanding competitiveness and staggering sales, the growth of these products will face greater pressure.
Recently, there were news about the promotion of Tesla China's General Manager, Zhu Xiaotong. He first went to Berlin to participate in improving the production capacity of Berlin's factory, helping to increase its weekly production capacity from 2,000 to 3,000 vehicles; then went to the United States to take over Tesla's production business in the US, as well as sales business in North America and Europe, and continue to be responsible for Tesla's sales work in China and other Asian regions.We have already seen a rapid increase in production capacity at the Berlin factory, and we believe that the issue of production efficiency at the US factory can also be resolved. However, the fundamental problem of product aging for the 3/Y model has not been solved.
Therefore, everyone's hope rests on the launch of the updated 3/Y model in the second quarter of this year. However, based on the current information, there will be no major changes in appearance and size, only partial improvements in the interior and center console. This clearly cannot meet the increasingly diverse customer demands.
Especially in the Chinese market, car companies represented by BYD and new forces are competing comprehensively with Tesla's only two car models with richer product portfolios, more practical intelligent cockpits, and more localized ADAS systems. As the domestic penetration rate further increases to over 30%, mainstream new energy consumers are no longer just early adopters, but more ordinary consumers. Tesla's longest pain point has become just a fancy feature for ordinary consumers, far less practical than comfortable driving experience, spacious rear space, and localized intelligent cockpit.
When there is a demand-side problem, it is impossible to solve it just by increasing the production capacity of existing products. Especially facing the diversified demands of the global automobile market, relying only on 1-2 car models can easily hit the sales ceiling. At this time, the continued increase in factory capacity will only bring about a larger mismatch between supply and demand (global price cuts are a signal), and we can only rely on the rumored Model Q to save the factory capacity.
In terms of domestic and overseas disparities, Tesla's "radical price reduction" in China and its "prosperity and progress" overseas have formed a strong contrast.
Tesla became the sales champion of new energy vehicles in Europe and the United States in 2022, and won the sales championship in many countries and regions around the world such as Germany, UK, Australia, New Zealand, and Switzerland.
However, in the Chinese market, BYD's new energy vehicle sales exceeded 1.85 million in 2022, surpassing Tesla's global sales of 1.31 million. Even if only pure electric sales are counted, BYD's sales of 910,000 in China are more than twice Tesla's domestic sales of 440,000.
On the one hand, Tesla continues to sell well in multiple countries overseas, while on the other hand, its competitiveness in the Chinese market is inadequate. Such a dual market performance has appeared on Tesla, and it faces a dilemma of choosing a more conservative strategy to steadily promote its products or a product strategy that is more in line with the Chinese market to speed up iteration and win the competition? For Tesla, a car company with a "minimalist globalization product" portfolio, it faces a difficult choice.If we want to meet the demand of the Chinese market, which accounts for 50% of global production and 34% of global sales, it means we need to make targeted product improvements and releases. If we only want to meet the demand of 66% of global consumers, we can release at our own pace, but it may put us in a competitive disadvantage in the Chinese market.
Choosing between China or other global regions is not an easy decision to make.
Tesla's Car Manufacturing Logic Faces Challenges
Tesla has always had three core logic in capital markets and consumers' minds. In 2023, it will be the year that Tesla's "car manufacturing logic" will face overall challenges.
1. Explosive single product
When the competitive advantage of a single product is insufficient, it will drag down sales, prices, and even brands. Price reduction is the most damaging behavior to the brand.
If Tesla chooses to reduce prices in the second quarter to ensure sales, it will be another heavy blow to the brand- equivalent to telling all potential consumers that Tesla is not worth any current price at all.
Even more serious than this, given Tesla's current minimal product combination, it will soon hit the ceiling of global sales (1.5 million units).
2. 30% gross margin
This is a super high gross margin that far exceeds that of traditional host factories. But now, after this round of price reduction, Tesla's overall gross margin has dropped below 25%. Considering the global price reduction, it is expected that the gross margin level of Tesla will also return to a normal level of a car company (20-24%) in Q1 2023.
If the logic of explosive single product and high gross margin no longer exist, what supports Tesla is only the belief in autonomous driving.
3. Autonomous Driving
At the end of 2022, Tesla's headquarters in California passed a law that "manufacturers or dealers shall not name any partially automated driving functions or describe any partially automated driving functions in marketing materials or use implications or other means to allow reasonable persons to believe that the function allows the vehicle to be operated as an autonomous vehicle", and prohibits Tesla from using "Full Self-Driving" for marketing purposes.
This is the final bill by the California Department of Motor Vehicles (DMV) on Tesla's false promotion of its autonomous driving functions in July 2022. And this bill will be officially implemented in 2023.
This means that Tesla's once most proud "FSD" has also begun to be closely monitored by regulatory agencies, and as the "two weeks" delivery story continues, no one really knows when "FSD" will truly be put into use-yes, even Musk himself may not know the true implementation schedule.When Tesla's three core logics are no longer firm, 2023 will bring even greater challenges to Tesla. And the global price reduction is just the beginning.
This article is a translation by ChatGPT of a Chinese report from 42HOW. If you have any questions about it, please email bd@42how.com.