On the evening of January 12th, XPeng released four initiatives for the Spring Festival "warm service" policy:
Stress-Free Charging: From January 21st to January 27th, all XPeng car owners will receive 66 degrees of free charging quota, which can be used at 230 XPeng's own charging stations along the highway.
Warm Services: From January 12th to January 31st, car owners who make a reservation at the XPeng service center will receive six free Spring Festival check-up services, including:
Measuring the freezing point of glass water and adding anti-freezing glass water for free;

Checking the tire tread depth and tire pressure;

Checking the chassis battery;

Checking the air conditioner's warm air;

Checking for aging of wipers;

Checking the thickness of brake pads.
In addition, car owners can also receive a free Spring Festival warm-hearted gift package at the service center, and car owners within 30 kilometers of the service center can enjoy free door-to-door pick-up and delivery services.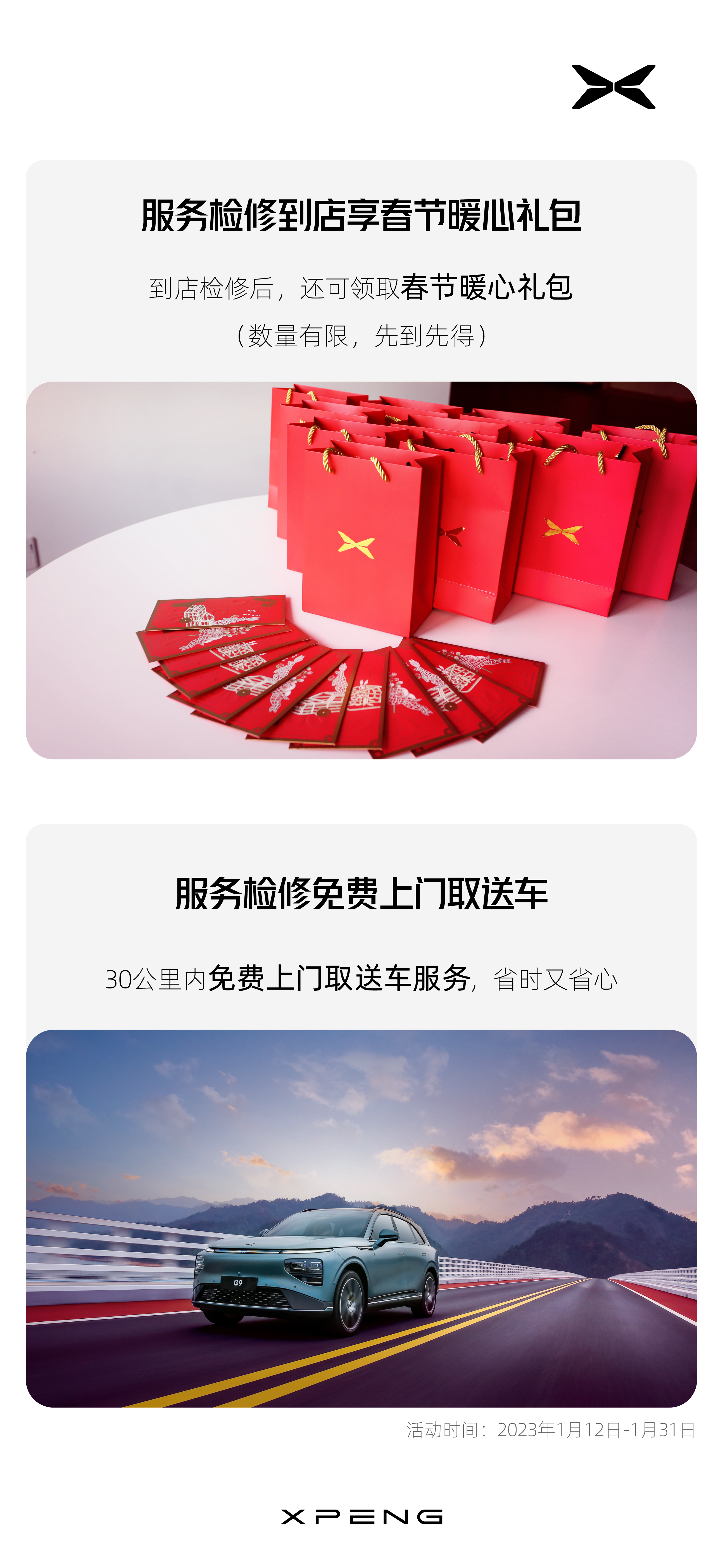 Worry-Free Travel: From January 12th to January 31st, car owners can enjoy free exclusive rescue services if they encounter a lack of electricity, a flat tire or accidents on the road.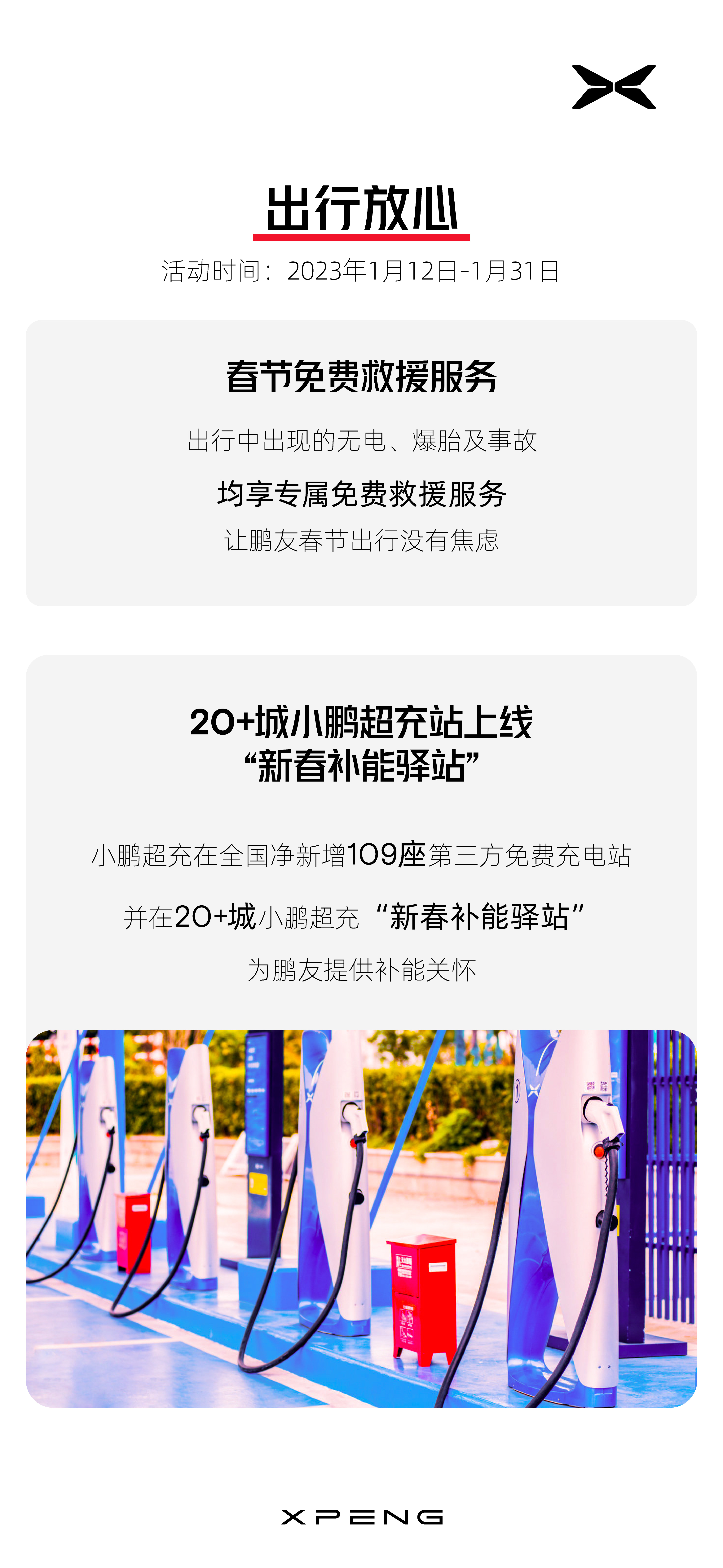 Intimate Test Drive: From January 16th to January 30th, XPeng will launch 15 days of free car services in Guangzhou, Shenzhen, Beijing, Tianjin, Chengdu, Chongqing, Shanghai, Wuhan, Nanjing and Hangzhou. You only need to make an appointment at the sales store in these cities.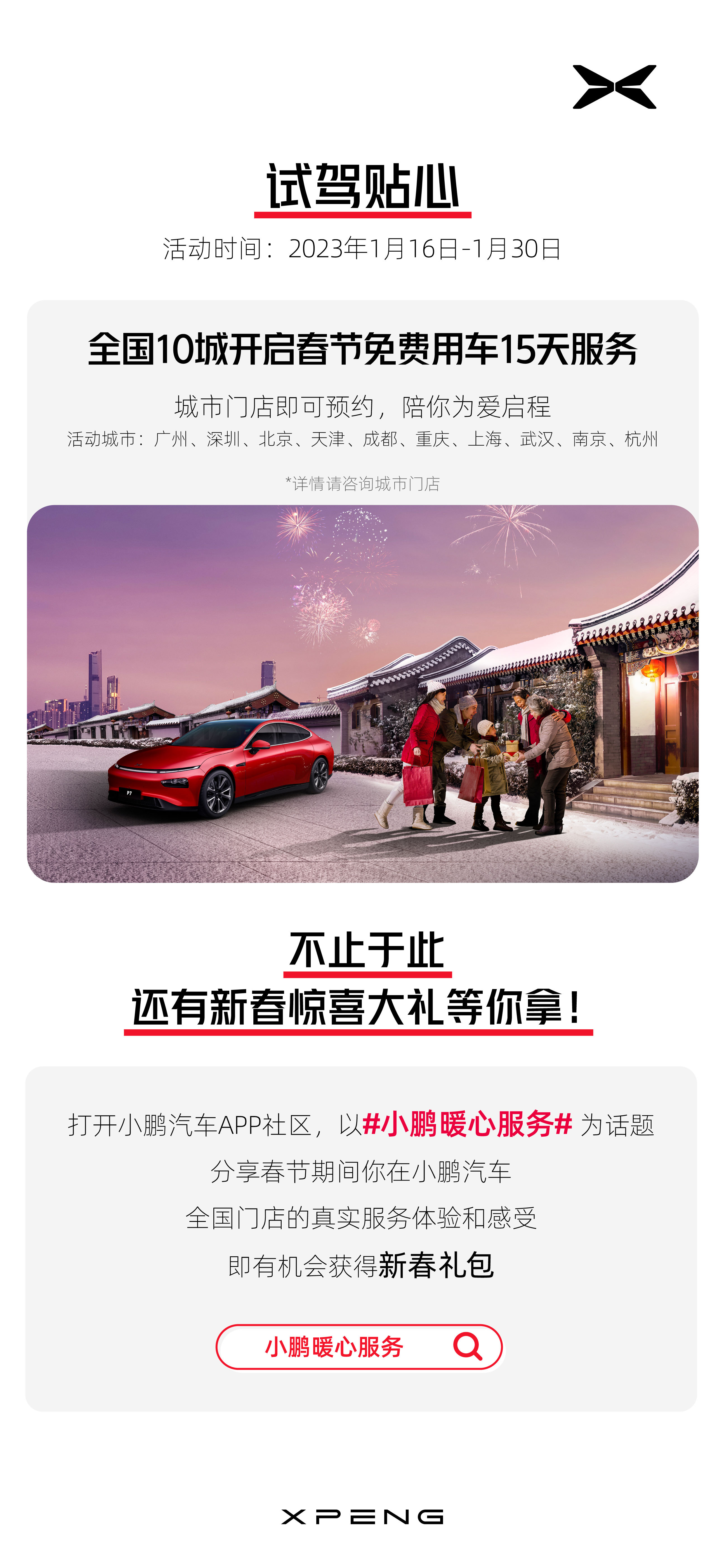 Final Words
Compared with NIO's high-speed free battery swap solution to the problem of high-speed energy supplement for car owners, XPeng's Spring Festival policy seems to be more comprehensive. In addition to the charging red envelope on the highway, there are a series of service discount policies, high-way rescue services, and a long-term test drive activity.
To be honest, the free charging quota of 66 degree is somewhat unsatisfactory as it can only be used at XPeng charging stations in highway service areas. In comparison, Tesla launched a free supercharging promotion during the Chinese New Year last year and received unanimous praise.
The new energy market is becoming more and more competitive not only in terms of configurations, prices, and services but also in holiday promotions. Of course, for consumers, it is undoubtedly a good thing.
This article is a translation by ChatGPT of a Chinese report from 42HOW. If you have any questions about it, please email bd@42how.com.