Author: Chen Nianhang
When you see this article and video, I believe many NIO car owners have already experienced the NOP+ Beta function.
This video will detail our experience of being the first to try out NIO NOP+ and emphasize again that it is still a Beta version of NOP+.
The highly anticipated NOP+ is here
NOP+ is a system that NIO has spent a long time perfecting after restructuring its autonomous driving research and development team. It is a set of systems that have been re-architected and re-optimized based on NIO's NT2 platform.
Currently, one of the core features of NOP+ Beta is that it can intelligently think and act dynamically based on road traffic conditions. In layman's terms, it is more like a human and more flexible, rather than a rigid machine.
Only NT2 platform vehicle users can have NOP+.
There has been a qualitative improvement in the sensors and computing platforms for autonomous driving.

A 1550nm far-range solid-state Lidar from Velodyne is used;

7 high-definition cameras with 8 million pixels and 4 special cameras for high-sensitivity panoramic view with 3 million pixels are used;

5 millimeter-wave radars and 12 ultrasonic sensors are used;

The high-precision map has been switched to Tencent Map;

The computing platform uses 4 NVIDIA Orin chips, and the computing power is up to 1016 TOPS.In terms of software system, there is a unified architecture and a new algorithm framework in place.
The cameras, LIDARs, and high-precision map data on the car will be fused together to guide the decision-making and planning of the system.
So what is the difference between NOP and NT1 platform?
Compared with the NOP of the NT1 platform, the whole hardware and software system of the NOP+ on the NT2 platform has undergone earth-shaking changes. Therefore, NOP+ is not simply an upgrade of NOP, but the starting point of NIO's advanced autonomous driving functions NAD. Subsequent functions such as assisted driving for city-level navigation and point-to-point autonomous driving will be iteratively realized through this system.
According to NIO, compared with the NOP, the NOP+ Beta has increased the comprehensive pass rate by 40% in the "high-speed ramp and connection" scenario.
However, it should be noted that NOP+ Beta is a high-speed and elevated navigation-assisted driving function, which currently relies more on high-precision maps and has not yet been extended to urban roads.
What can NOP+ Beta do now?
Automatically enter and exit the ramp (understandably, the ramp entrance and exit of high-level and high-speed roads can be autonomous driving)
Autonomous merging and dividing (merging into and exiting from the main road, etc.)
Optimal lane selection (fastest lane, innermost lane)
Overtaking slow vehicles proactively (lane change overtaking)
Identification and safety prompts for construction scenes (warning, voice prompts)
Maintain lateral safety distance (away from large vehicles and small vehicles that occupy lanes)
Intelligent speed limit adjustment (speed limits on high-speed, elevated, and ramp roads)
Actively slowing down in curves (autonomously controlling speed in curves, but not strictly following the speed limit)
Personalized cruise speed (sometimes not strictly following the speed limit for traffic efficiency)
The following video is a real test based on the current ability of NIO NOP+ Beta. We have divided the experience into several major scenarios:
(1) Automatic lane change ability
(2) Merging and exiting ability
(3) Congestion following ability
(4) Curve response ability
(5) Issues derived from high-precision maps(Video Test)
NOP+ Beta Testing Notes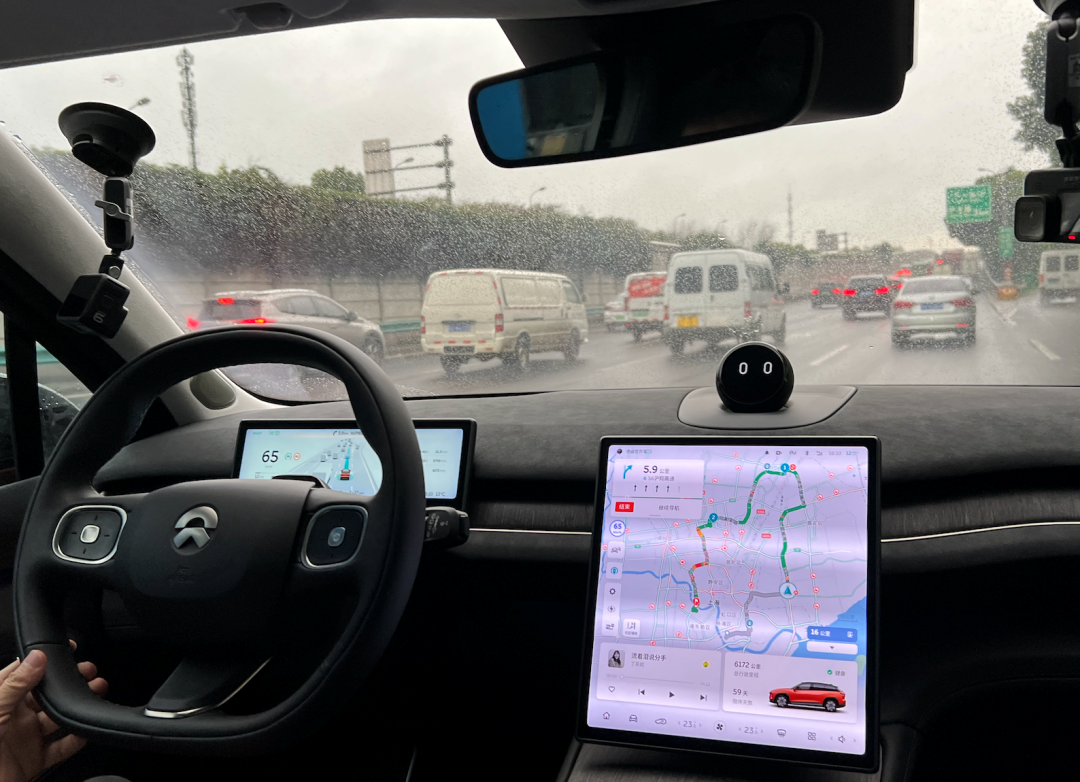 Our main test route this time was: Boyang Entrepreneurship Park – Shanghai Jiading Anting Hospital – Hongqiao Airport – Nanpu Bridge – Boyang Entrepreneurship Park.
This is a loop of about 120 kilometers in total, of which about 80 kilometers can be opened with the NOP+ system.
In addition, we also tested this system during the evening rush hour in clear weather. The weather conditions for the entire test include: clear, rainy, foggy, and nighttime; the road conditions include: highway, elevated, ramp, and sharp bends.
Our principle is: test the limits of the system, keep NOP+ on as much as possible, and absolutely not take over where it is not necessary.
Overall, when the traffic flow is not too congested, merging into traffic, entering the fast lane, changing lanes to overtake, and entering/exiting the ramp are all very smooth. Following other cars is also very easy, and the start/stop feeling is very good. During the start-up process, the continuity is very good as long as the driver lightly grips the steering wheel, and the entire process can rely on the NOP+ system without too much interference to driving, substantially reducing driver fatigue.
The lane keeping is well done with no switching between lanes; the speed can automatically adjust in the curve, especially when passing through the Nanpu Bridge, with a 100% pass rate and success rate.
However, when the traffic flow is heavy, the success rate of changing lanes and entering/exiting ramps with NOP+ will be much lower, and the experience is not yet perfect when facing congested and frequently cut-in scenarios while following other cars.How to activate NOP+? What does the interactive interface look like?
Users need to upgrade the car system and pass a simple test to activate the NOP+ Beta function. After activation, the option of NOP+ Beta will appear in the assisted driving section of the car system, along with some minor settings such as whether to confirm automatic lane change and the ability to adjust the speed limit of the vehicle (up to 10% above and 15% below the road speed limit). Personally, I usually set it to 6% above the highway speed limit.
Let's take a look at the interactive interface when NOP+ is activated. The display range on the dashboard expands, providing a broader field of view and displaying more elements (such as cones, bicycles, motorcycles, MPVs, and construction vehicles). The camera angle changes dynamically when the vehicle changes lanes, providing a better view of the blind spots.

The visual interaction mainly takes place on the instrument panel, and several elements have been added to the navigation interface of the central control screen, including the starting and ending points where NOP+ can be activated, and the mileage that NOP+ can be used in this navigation segment is also calculated.
With the above large-scale scenario experiences, we can have a basic understanding of the NOP+ Beta function. From the stability of lane keeping to the smoothness of lane change overtaking and the accuracy of recognition, NOP+ Beta is already very mature. Of course, there are still many points that can be optimized, especially in responding to congestion scenarios. Additionally, this version of NOP+ we experienced was from early December. After a month of iteration, some of the issues we encountered may have already been optimized. The OTA function on smart vehicles indeed keeps vehicles always new and up to date.
Currently, NOP+ Beta has been opened to some real vehicle owners and will continue to be optimized in the future.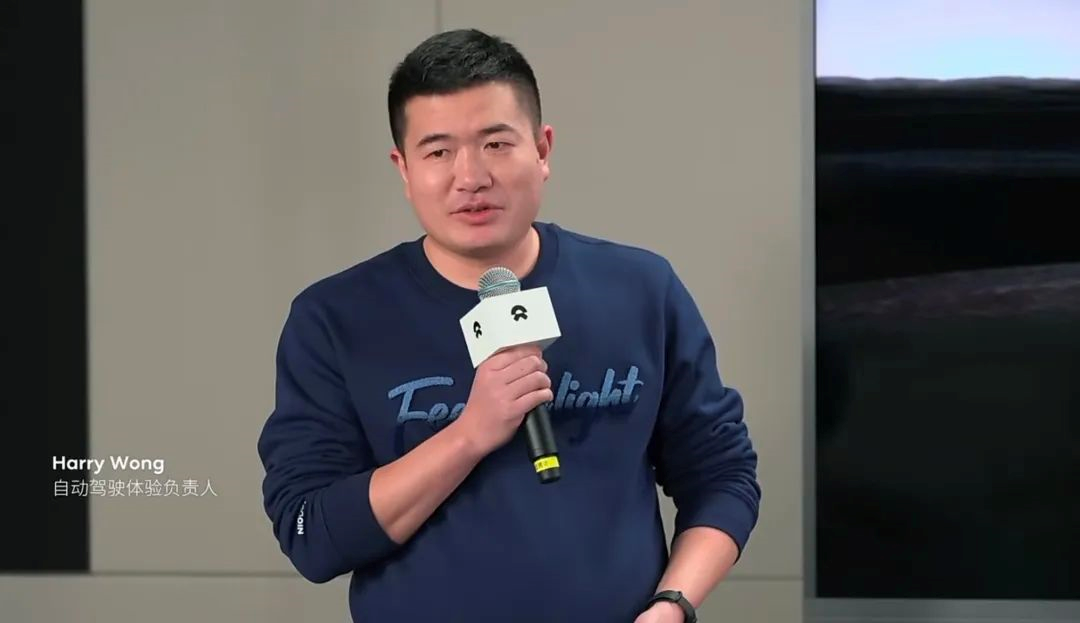 According to Huang Xin, the experience manager of NIO's autonomous driving, the iterative evolution direction of NOP+ includes:
Optimizing the experience of starting and stopping in congested traffic
Optimizing the deceleration response of cut-in events
Optimizing lane-changing and overtaking abilities on two-lane roads
Making "map downgrading" more seamless
In January, the nationwide high-precision map coverage for highways will be able to meet the standards for users' daily travel needs. This will be achieved through the release of a new version over the next quarter or so. It's worth looking forward to.
NOP+ Beta has arrived, so NAD is not too far away. NOP+ is the starting point of NAD.
Currently, NOP+ can achieve safe and efficient point-to-point driving on highways, which accounts for 85% of NAD's capabilities. Next, we will focus on tackling key scenarios and optimizing long-tail problems, such as extreme lane changing. Once these problems are optimized, we can achieve NAD's design goal of 95%. After that, we will be on our way to achieving high-speed NAD.
This will likely include the highway navigation and battery swap functions mentioned at the 2022 NIO Day, as well as the ability to automatically pass through toll booths.
Regarding the technical path, Ren Shaoqing, the person in charge of NIO's autonomous driving, revealed that in the first half of 2023, NIO's autonomous driving perception system will switch to a BEV model, similar to Tesla. NOP+ and NP's regulation and control logic will also be standardized.
This will have a great impact on the experience and ability of NP if the regulation and control logic is delegated to it. When encountering errors or connection problems with high-precision map data, NOP+ can seamlessly elevate to NP without affecting the user experience.
Next, what I am most looking forward to is highway navigation and battery swapping. In the 2022 NIO Day spoiler, it is suggested that NIO's autonomous driving functions will also be updated in terms of interaction: Is it possible to display real-time environment modeling on the central control screen, just like XPeng and Ideanature do, instead of only in the instrument panel?

Certainly, it doesn't have to be as geeky as Tesla FSD.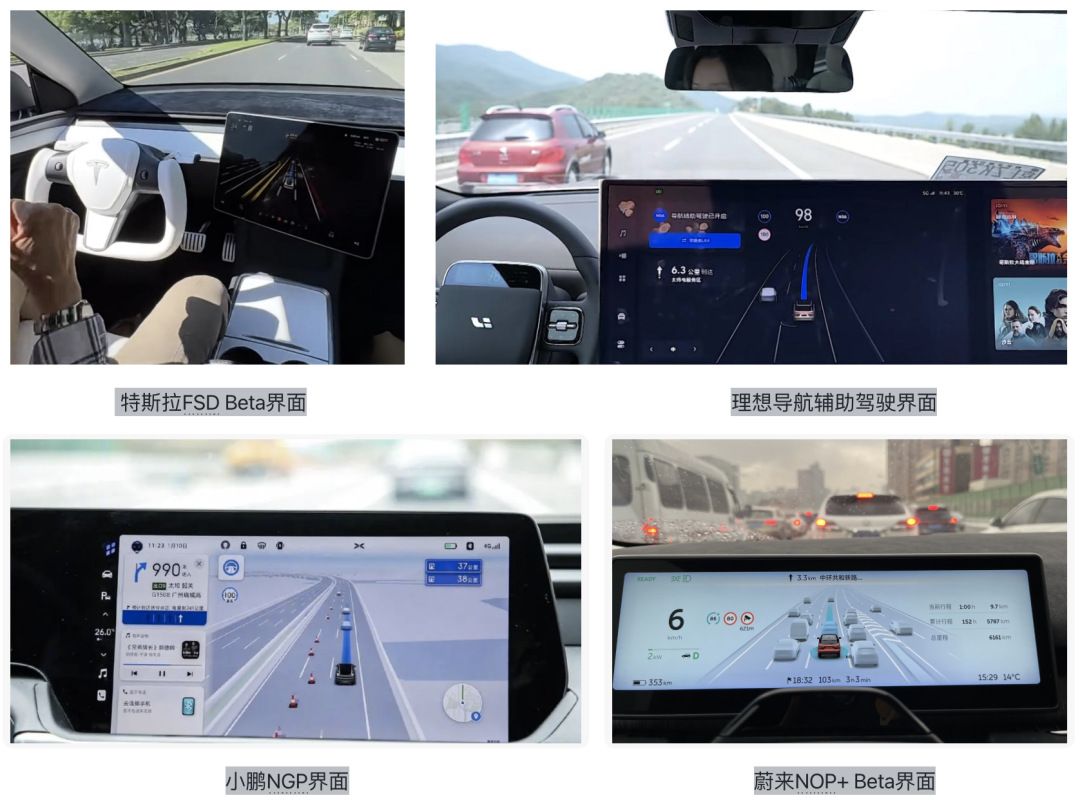 This article is a translation by ChatGPT of a Chinese report from 42HOW. If you have any questions about it, please email bd@42how.com.