Author: Zheng Senhong
The evaluation of Tesla's 2022 is polarized.
On one hand, it is due to the intuitive impact of Tesla's sales – Tesla delivered a record high of 405,300 vehicles in the fourth quarter of 2022.
In the whole year of 2022, Tesla's total deliveries exceeded 1.31 million, achieving a 40% year-on-year growth.
On the other hand, it comes from the market trend changes behind Tesla's sales numbers – Compared with the delivery cycle of several months in the past, it has now become a situation of "car waiting for people", and consumers can also enjoy unprecedented discounts.
On January 6th, after the market demand repeatedly fell short of expectations, Tesla dropped a heavy bombshell:
The Model 3 rear-wheel-drive version starts at 229,900 yuan($35,600), and the Model Y rear-wheel-drive version starts at 259,900 yuan($40,300).
This price cut broke the low point of 2021 and became the "lowest in history" of Tesla.
As China's new energy subsidy is expected to end in 2023, the new energy market should usher in a wave of price increases. But Tesla, which is going against the trend, what is their purpose?
Starting from the second quarter of 2022, Tesla's inventory began to increase significantly, and the year-end inventory reached a record high of 67,000 vehicles.
Compared with the low level of Tesla's inventory that had been maintained at less than 20,000 vehicles or even thousands of vehicles before, the halo of "produce as much as you sell" has disappeared.
"Shortening delivery cycles", "increasing discounts", and "reducing prices again in 2023", Tesla over the past year has been like a "loss-making clearance sale" in shopping malls, reflecting Tesla's weak market demand.
The price reduction is a game with domestic new energy vehicle companies.
From January to November 2022, the Model 3/Y models sold a total of 398,000 vehicles, close to the annual popular model in 2022- BYD Song PLUS (370,000 vehicles)."`markdown
This also indicates from the side that Tesla has not performed well after repeated price reductions, and also exposes Tesla's own problem of "product aging".
Where is the redesigned Model 3?
From 2019 to 2022, Tesla surpassed BBA and became the sales champion of luxury brands only by introducing two models (Model 3, Model Y), which is unprecedented in terms of achievement and efficiency.
However, from a product perspective, the current generation of Model 3 and Model Y are already models that were produced 6-7 years ago.
This completely subverts the iterative logic of the automotive industry.
Traditional fuel vehicles generally have a product cycle of mid-term redesign in 3-4 years and generational updates in 6-7 years. The top new players like NIO have already transitioned to the second platform.
The biggest characteristic of the domestic new energy vehicle market is the extreme rapid update iteration.
For example, the Ideal ONE was discontinued for upgrade to the Ideal L8 only in the second year of product sales, which can be called "generational" upgrade.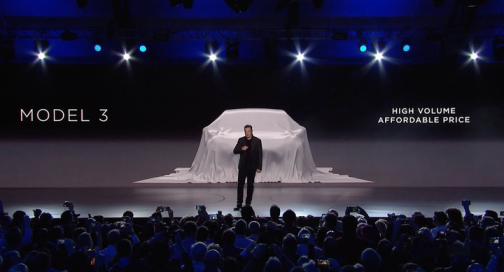 Faced with such an internal competition in the market, Tesla CEO Musk is difficult to ignore.
At the Q3 2022 earnings call, Musk promised that the cost of the "next generation new car" would be reduced to half of that of Model 3/Y and the production output would exceed the total of existing products.
However, there is still controversy over the specific definition of "next generation new car".
There are reports that this will be a brand new entry-level model and the Tesla Model 2 is expected to be unveiled next year for only $25,000.
There are also reports that it will be a redesigned Model 3. According to existing information, the Model 3 will indeed undergo a redesign this year.
Tesla has submitted multiple modification applications for the Model 3 production line to the government agency in the location of the California factory, and the information shows that the GA3 or General Assembly Model 3 production line at the California factory will undergo a large-scale restructuring in the coming months.
除此之外,特斯拉还申请建造临时的帐篷产线,目地为了满足从现在到 2023 年 5 月 1 日期间安装新款 Model 3 的车身。

From the timeline perspective, the temporary tent production line will only be in use until May 1st, 2023, indicating that the GA3 production line at the California plant will be put into operation in the first half of 2023, and plans to produce a "Highland" Model 3 restyled model.

随着关于改款 Model 3 产线的信息曝光,外国网友也曝光了几张疑似改款 Model 3 的谍照图。

With the exposure of information about the redesigned Model 3 production line, foreign netizens have also exposed several spy photos that are suspected of being the redesigned Model 3.

![suspicious model 3 spy photo](https://42how-com.oss-cn-beijing.aliyuncs.com/article/image_20230111202731.png)

从照片上来看,这台 Model 3 的前部和尾部都进行了大面积伪装,车内中控没有太大的变化,仪表盘也仍旧「缺席」。

Judging from the photos, the front and rear of this Model 3 have been heavily disguised, and the center console in the car has not changed much, and the dashboard is still "absent."

透过被覆盖的车头部位,可以猜测车辆的前保险杠进行了样式更改,但新车最大的亮点就是在大灯顶部加装一颗摄像头或雷达,此举大概率是特斯拉改善目前 FSD 全自动驾驶辅助套件所面临的问题。

By looking through the covered part of the front of the car, it can be inferred that the front bumper of the vehicle has been restyled. However, the biggest highlight of the new car is that a camera or radar has been added to the top of the headlight, which is probably Tesla's attempt to improve the current issues faced by its FSD full self-driving assistance suite.

![camera/radar installed on top of the headlight](https://42how-com.oss-cn-beijing.aliyuncs.com/article/%E5%BE%AE%E4%BF%A1%E5%9B%BE%E7%89%87_20230111202739_result_20230111202814.png)

2022 年 11 月,特斯拉曾针对感知硬件具备 Hardware 3.0 的北美地区用户开放 FSD Beta 版。

In November 2022, Tesla once opened the FSD Beta version for North American users with perception hardware that has Hardware 3.0.

不过从用户的反应来看,FSD Beta 的最新版本依然存在许多问题,包括无法理解何时切换车道、车道的选择,以及执行转向时的顿挫体验等等。

However, judging from the user feedback, the latest version of FSD Beta still has many issues, including failing to understand when to switch lanes, the selection of lanes, and the jerk experience when executing turns.

对于这些存在安全隐患的问题,FSD Beta 测试人员曾指出需要优化其自身的感知硬件。

Regarding these safety hazards, FSD Beta testers have pointed out that its perception hardware needs to be optimized.```
Tesla applied for a new radar installation for its vehicles in June 2022 at FCC (Federal Communications Commission). In terms of market competition, Tesla requested a confidentiality agreement from FCC, which only lasted for 6 months. Tesla applied to extend the confidentiality period to February 2023, as the new radar will be installed in mid-January 2023.

![](https://42how-com.oss-cn-beijing.aliyuncs.com/article/%E5%BE%AE%E4%BF%A1%E5%9B%BE%E7%89%87_20230111202824_result_20230111202909.png)

According to the foreign media outlet electrek, Tesla plans to cooperate with the Israeli company Arbe Robotics to install its Phoenix 4D sensor, which outperforms the traditional millimeter-wave radar system.

Compared to traditional millimeter-wave radars, most 4D millimeter-wave radars can detect distances up to 300 meters with an FOV of 120 degrees.

Data shows that Arbe's Phoenix has the farthest detection distance of 300 meters and a ranging accuracy of 10-30 centimeters. The official statement is that it "can track hundreds of targets simultaneously within a broad field of view and a long-range of view."

In addition to detecting distance, height, depth, and speed, Arbe's radar can also increase the dimension of "time" in its recognition system.

In June 2021, after Tesla stopped using radar, Musk stated that pure visual safety would be higher than visual safety combined with radar. However, higher-resolution radar would significantly improve FSD safety.

Although there is no official confirmation of whether the upgraded Model 3 will be equipped with radar, the perception hardware of intelligent driving will likely be one of the core elements of the new car based on related information and spy photos.

## Cost reduction is the main driver behind Tesla's redesign

Since localization, cost reduction has become Tesla's main theme. 

From the gross margin level in 2021, Tesla (30.6%) still has an 8.2% price reduction space compared with Ideal (22.4%), which has the highest gross margin: For example, the low-end version of Model 3 with an original price of 250,000 yuan will be reduced to about 228,000 yuan, which is close to the latest price reduction of 229,000 yuan.

If compared with XPeng, which has the lowest gross profit margin (11.5%), Tesla has nearly 20% price reduction space: For example, the low-end version of Model 3 with an original price of 250,000 yuan can be reduced to around 200,000 yuan.

The high gross profit margin of one company is unique. This is the confidence that Tesla has repeatedly lowered prices. However, Musk is obviously not satisfied with the status quo.

According to Reuters, one of the key points of the redesigned Model 3 is to reduce the number and complexity of vehicle components.

This is consistent with Musk's concept of promoting simplified design and production methods, and the project code-named "Highland" will further extend Musk's product strategy.

Musk believes that we have discovered unnecessary parts that are placed there just in case or in error, and we need to eliminate more parts that have no effect. The goal of the "Highland" project is to have a cost only half of Model 3.

This also means that Tesla's next move will fall in the 100,000-200,000 yuan range.

As we all know, Tesla's price changes for models worldwide follow the principle of "cost-based pricing", which means that the lower the cost, the lower the price, and vice versa.

Similar to NIO's logic of entering the mass market through a new brand at a low price, the premise of the scale war between companies undoubtedly requires entry into a broader market.

Byd is the best example.

Despite its impressive sales, BYD's profit-making ability has always been its weakness, due to factors such as price, which has led to a significant gap from Tesla.

However, with large sales growth this year, BYD's profitability has greatly improved as scale effects gradually emerge.

BYD's net profit for the third quarter of 2022 was ¥5.716 billion, an increase of 350.26% compared with ¥1.27 billion in the same period last year, and its single-quarter net profit of the third quarter of 2022 was 1.88 times that of last year's full-year net profit of ¥3.045 billion.

Simply looking at sales volume, BYD Han, which benchmarks Model 3, has already surpassed it. Model 3 sold 145,000 units in the Chinese market over the first 11 months of 2022, a year-on-year decrease of 11.4%, while BYD Han sold 274,000 units, a year-on-year increase of 125.3%.

Data shows that in the first 11 months of 2022, the sales of cars priced between ¥100,000-¥2,000,000 in the Chinese market reached 49.55%, and in the price range of ¥100,000-¥2,000,000, the pure electric penetration rate has reached 20.89%, making it the largest price sub-segment in new energy passenger cars.

Undoubtedly, ¥100,000-¥2,000,000 is the price range with the most growth potential in the future, but Tesla's mainstream price range is between ¥250,000-¥500,000. If Tesla does not hurry to improve its product matrix, the ceiling will come even faster.

Considering the reduction of unit and scale cost brought about by the technological progress of Tesla, assuming Tesla can maintain a gross margin of around 30%, the final pricing of Model 3 in China may be ¥175,100; if the gross margin drops to 20%, its domestic pricing can be lowered to ¥151,300.


Of course, whether "half-price Tesla" can be achieved remains to be seen, but Musk's "50% cost reduction" is not without basis.

For a long time, Tesla's cost reduction has been driven by economies of scale. Musk once said, "We believe that Tesla's revenue and production will increase at a compound annual growth rate of 50%."

According to the third-quarter financial report data for 2022, Tesla produced more than 365,000 vehicles globally, a year-on-year increase of 54%; delivered more than 343,000 vehicles, a year-on-year increase of 42%. And the total revenue reached $21.5 billion, a year-on-year increase of 56%.

Tesla has already exceeded 50% in terms of revenue and production growth. Sufficient room for price reduction has always been the core of Tesla's efforts to maintain or increase demand.

## In 2023, Tesla still faces uncertainty

Undeniably, when Tesla achieved localization in 2019, it was undoubtedly a shining star that many new players aimed to learn from and catch up with, and it was also recognized as an insurmountable giant.

In 2016, Model 3 received 400,000 orders as soon as it went on the market, and then it sold as many as it could produce without showing any signs of demand weakness.

Since the second half of last year, although Tesla's total monthly sales in the domestic market have always been in the top three, Model 3's monthly sales have long been hovering around 10,000 units.

Before 2022, the representative models that could compete with the Model 3 in the domestic market were XPeng P7 and BYD Han, but they are not completely direct competitors. Moreover, there were too few products at the same price range on the market at that time, and consumers had no choice.

Since 2022, in addition to the Han model, BYD has launched a sealion that is almost exactly the same as the Model 3, and Changan Shenlan has launched the SL03 with an ultra-high cost performance ratio, and ZER01 has brought the C01 to challenge Tesla.

As more and more replacement options appear on the market, Model 3 is no longer the only choice for car buyers.

The most intuitive result is that BYD's sealion and Shenlan SL03, which compete with it, had sales exceeding 10,000 units in December 2022, and the sealion had sales exceeding 10,000 units for three consecutive months, with a cumulative sales of 51,200 units in five months.

markdown
On the supply side, the player pattern has been completely overturned, with a large number of independent brands joining the electric vehicle battlefield, and more and more products comparable to Tesla emerge.
On the demand side, as the penetration rate of electric vehicles soars, car companies must face a customer base that is no longer the same as before. Users pursuing cost performance have replaced technology enthusiasts as the mainstream.
Objectively speaking, over the past few years, whether it is products or technology, whether it is range or autonomous driving capability, Tesla has been leading the new energy vehicle industry.
However, things are different now. With the passive price reductions of its products, repeated quality incidents, and the emergence of many new Chinese car manufacturers, the technology filter on Tesla is disappearing at an accelerating pace.
Although the halo of "sell as many as you produce" is gradually fading away, this does not mean that Tesla has no resistance at all. Each price war is the most direct counterattack of Tesla against competing products, and is bound to deal a blow to their competitiveness.
According to data from Che Fans, the number of visitors to stores has increased by about 450% on a monthly basis in the latest 72-hour official Tesla price cut, and the average actual orders for each store are between 110-130, with a total of more than 30,000 orders.
"At present, the number of visitors to stores of various brands is insufficient compared to last month, and the enthusiasm for buying cars is still low. It is expected that Tesla will continue to reduce prices. The next price reduction is expected to occur in the middle and late second quarter of 2023," said Che Fans founder Sun Shaojun.
In addition to the strategy of exchanging price for quantity, the redesigned Model 3 is also on the agenda.
If the "half-price Tesla" can really be launched, this also means that the competition of Model 3 will no longer be limited to the 200,000-level products such as XPeng P7, BYD Dolphin, Deep Blue SL03, Leapmotor C01, and NIO ES6, but will further push down into the 100,000-level price range with a larger market space and fewer products.
"""
As Tesla Vice President Tao Lin pointed out, the Chinese new energy market has not yet reached a zero-sum game state. Tesla only focuses on satisfying different customer needs through products in different niche markets.
2023 is a year that truly tests the new forces and shuffles the new energy field.
Who will survive and who will become history? Perhaps Tesla, the catfish, is still not to be ignored.
"`
This article is a translation by ChatGPT of a Chinese report from 42HOW. If you have any questions about it, please email bd@42how.com.