On January 9th, Jidu Auto KAOLA officially debuted and was defined by the company as the "world's first intelligent family car."
KAOLA is Jidu Auto's first scenario-driven product, and a series of solutions have been developed around the family travel scene.
Jidu KAOLA has made the following designs specifically to cater to the needs of family travel:
Considering that it is inconvenient for mothers to hold children and carry things while opening the car door, KAOLA's two rear doors are designed with electric sliding doors. With the induction of the welcome light that unlocks the car doors, users can touch the welcome light with their feet, and the corresponding rear car doors will open automatically. At the same time, the child seat behind the driver's seat rotates automatically, making it easier for mothers to place their children in the car seat.
Considering the environmental health and safety of children in the car, KAOLA is equipped with virus-killing air conditioning and anti-virus interior materials. At the same time, the use of 111 kinds of prohibited or restricted materials in the interior materials has been controlled to achieve the goal of safe chewing, which is close to zero formaldehyde and zero benzene.
In consideration of various needs of mothers in the back row, KAOLA is equipped with a centrally movable armrest, officially called the "magic square tea table." It not only has a cold and warm function, but also has a folding table, which can quickly convert into a mother and baby table or dressing table.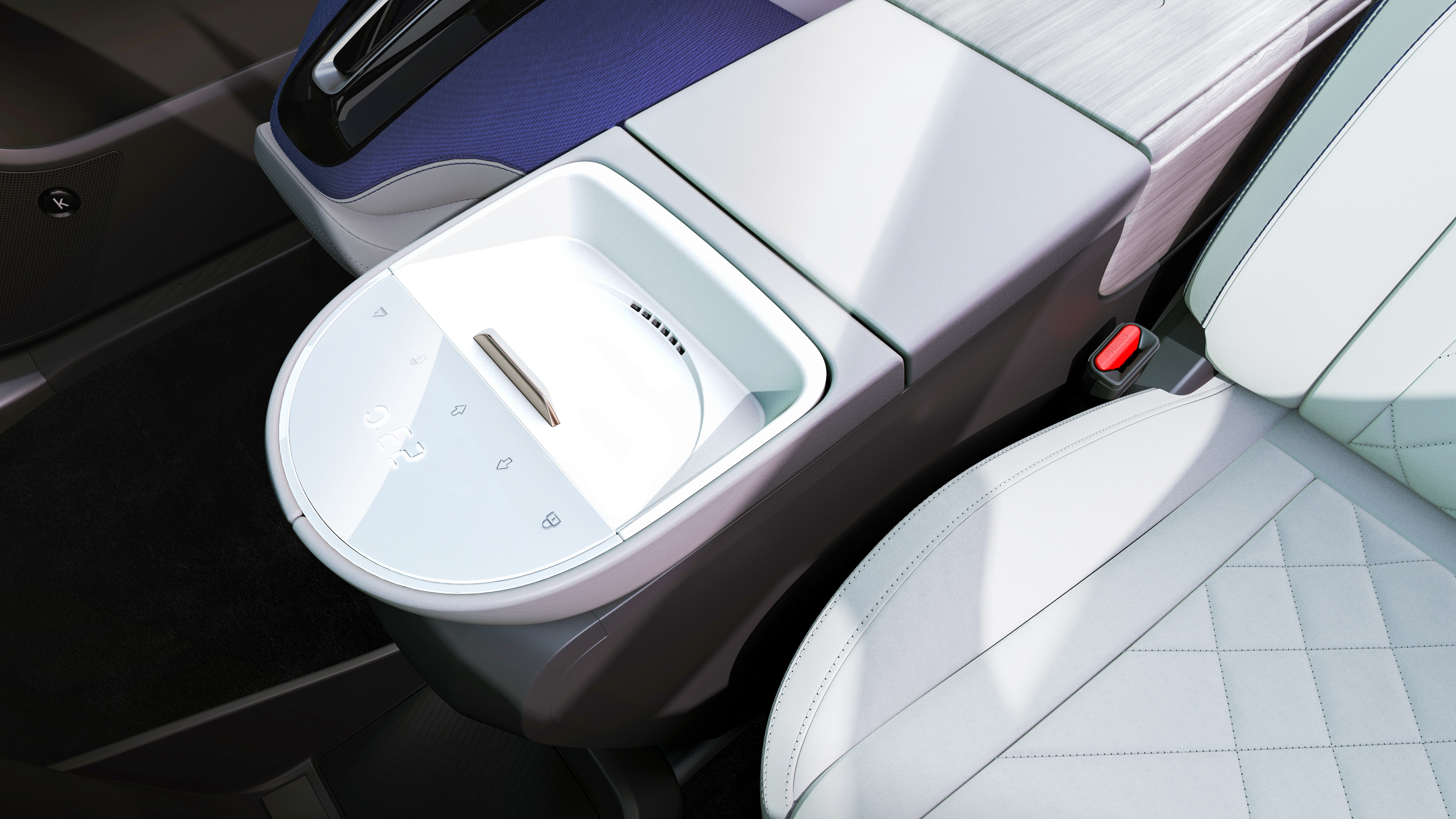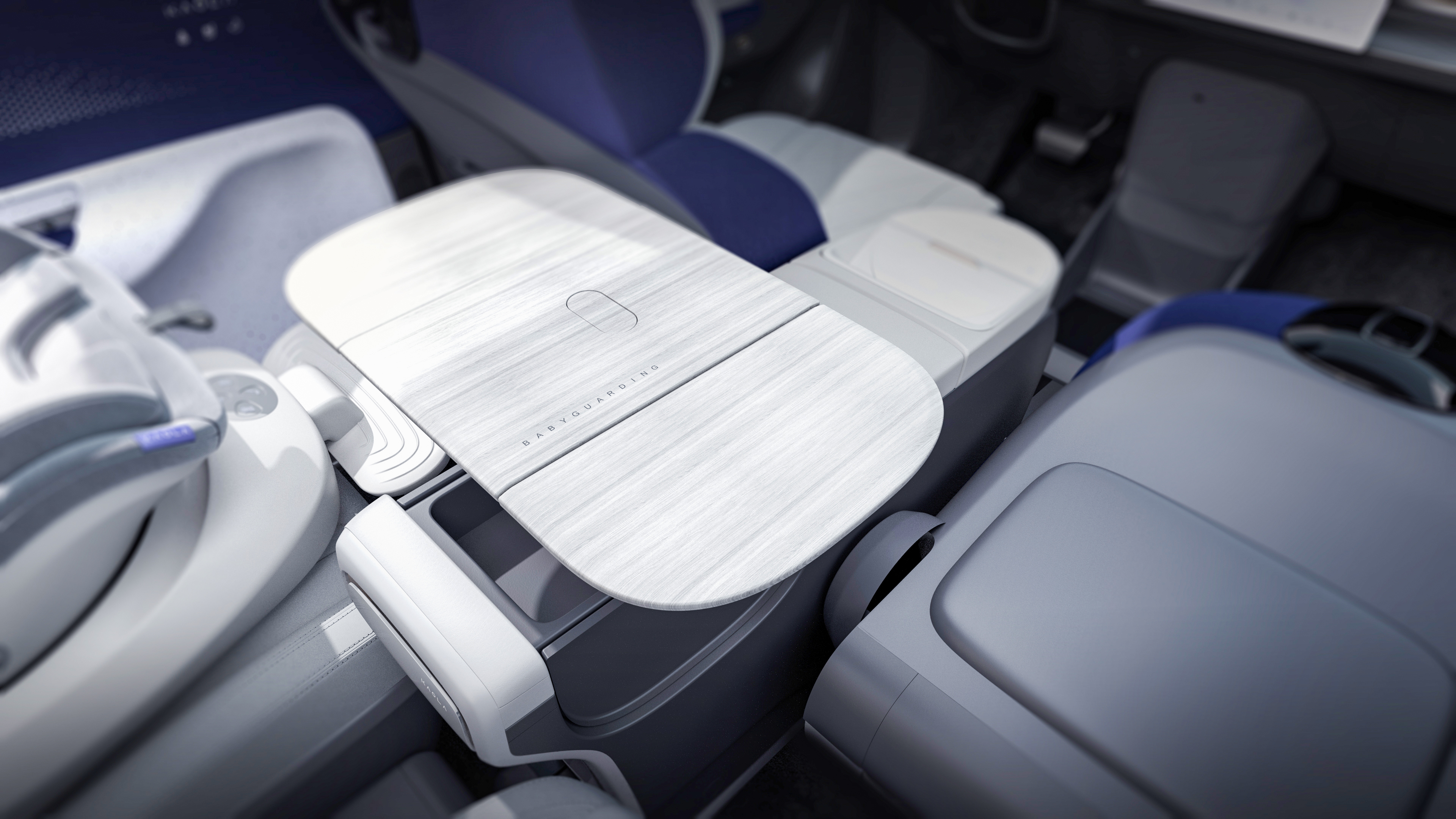 – Considering that mothers always want to pay attention to their children in the back seat when driving with infants, KAOLA has installed a high-definition camera at the rear seat, which can display the live image of the rear seat child on the central control screen in real time, making it easy for the mother to observe. At the same time, the camera can monitor the child's status. When the child is crying, feeling hot, or possibly needing a diaper change, there are corresponding automated solutions or timely prompts on the central control screen.
Equipped with four-zone voice function, supporting continuous dialogue and visible speech, the voice assistant can show a variety of states such as listening, surprise, action, and reminder. At the same time, customized voice commands have been developed for children. When children want to hear stories, relevant audio content can be played. However, when children make unreasonable demands such as opening windows, the request will be kindly refused.

The right rear seat supports the "beach chair" mode, which can automatically adjust and fold the passenger seat forward, turning it into a footrest for the rear seat passenger, allowing them to enjoy the lying-down experience of a beach chair.
In addition, there are many details that reflect that this is a model specifically designed for parent-child travel.
Conclusion
As a product in the segmented market, KAOLA has indeed made some designs that have not been seen on other models in all aspects for parent-child travel, meeting the specific needs of parents.
However, in order to cater to these demands, this car has also made some compromises. For example, the car has only four seats, and one of them is an electric child safety seat, which means that this car can accommodate a maximum of only three adults and is not suitable for everyday multiple passengers.
In addition, having only one electric child seat clearly cannot meet the needs of twin or second-child families, further limiting the population that this car can satisfy.
KAOLA is like models made for niche enthusiasts. Perhaps their audience is not very big, but they will always hit some people's pain point needs.
If KAOLA does not meet your needs, please wait for our upcoming 42Mark Annual Advanced Driving Assistant evaluation. The flagship model of JIHE, Alpha S Hi, has performed quite impressively in it. Stay tuned!# 汽车分类
本文将介绍几种常见的汽车类型。
小轿车
小轿车通常用于城市道路,车身较小,燃油效率高。常见的品牌包括:
SUV
SUV是运动型多功能车的缩写,车身较大,越野性能强,常见品牌包括:
卡车
卡车用于运输货物,车身较长,载重能力强,常见品牌包括:
以上是几种常见的汽车类型。
---
Car Classification
This article introduces several common car types.
Sedan
Sedans are usually used on city roads, with smaller body and higher fuel efficiency. Common brands include:
SUV
SUV stands for Sport Utility Vehicle, with larger body and strong off-road capability. Common brands include:
Volkswagen
BMW
Mercedes-Benz
Truck
Trucks are used for transporting goods, with longer body and stronger load capacity. Common brands include:
Dongfeng
Jiefang
China National Heavy Duty Truck Group
The above are several common car types.
This article is a translation by ChatGPT of a Chinese report from 42HOW. If you have any questions about it, please email bd@42how.com.