Recently, a user named Joe Tegtmeyer captured the construction progress of the Giga Texas expansion through drone footage.
Tegtmeyer produced a video with detailed annotations, pointing out that there are a lot of construction areas around the factory and newly started construction sites.
Moreover, the entire factory is still evolving, such as Tesla's "warehouse on wheels". Tesla places parts on trailers rather than in the main factory to simplify the process and save time for loading and other procedures.
Tegtmeyer added that this transformation is significant for the Giga Texas factory.
In addition to the changes in Giga Texas, Texas road is also being widened. Tegtmeyer pointed out that there has been a lot of steel deposited recently, but many of the brown materials have been placed here for a long time, and it is still unclear what these materials are for.
Furthermore, a new building is being constructed on the west side of Tesla's battery positive plant, which is a 107,000 square feet single-story building with water management and storage functions according to the building permit submitted to the city of Austin by Tesla. The trench dug on the left of the new building may be used for large underground pipelines. In addition, Tesla is also conducting soil tests.
The following figure shows the approximate area after the completion of the construction site: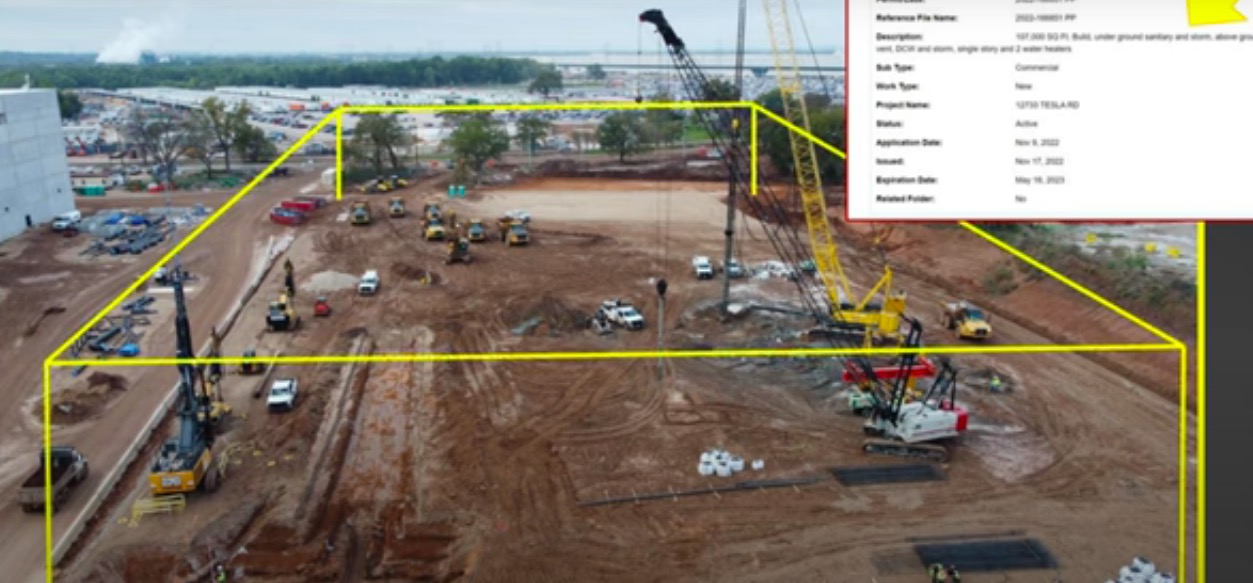 Finally, let's supplement the area and planning function of Tesla Giga Texas:
The length of the main factory of the Texas super factory is 1,166 meters, covering an area of 8.1 million square meters. If the factory is placed vertically, its height will surpass the tallest building in the world—the Burj Khalifa in Dubai.Compared to Shanghai factory which covers an area of 860,000 square meters, the Berlin factory covers an area of 3 million square meters. However, even combined, they still do not reach half the size of the Texas factory. The Texas factory has strong vertical integration capabilities, from stamping, die-casting, 4680 battery cell production, pack assembly, to integration into the car body, all completed in this one factory. The factory takes in raw materials at one end and rolls out complete vehicles at the other end, which is what Musk calls "EVERYTHING UNDER ONE ROOF", something other factories cannot accomplish.
This article is a translation by ChatGPT of a Chinese report from 42HOW. If you have any questions about it, please email bd@42how.com.