On November 22, Mazda Motor Corporation officially announced its mid-term business plan and basic policies for 2030.
The entire plan includes a total investment of 1.5 trillion yen (106 billion USD) to achieve electrification transformation and increase electric vehicle production.
Mazda President, Akira Marumoto, stated that the demand for electric vehicles is stronger than previously expected.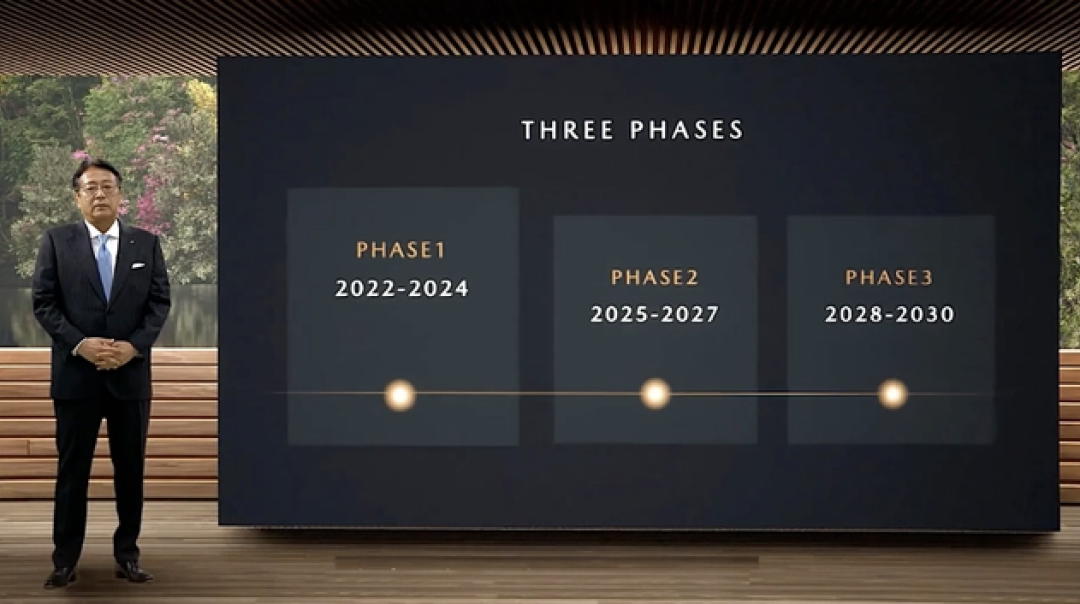 Mazda plans to achieve carbon neutrality worldwide by 2035. Among the three basic operating policies, electrification is listed as the first:
Launch an electrification strategy that meets demand based on regional characteristics and environment;
Conduct in-depth research on people to clarify the relationship between people and cars in order to achieve a safe and secure automotive society;
Maintain Mazda's brand value management and provide unique value.
About electrification
For the pressing electrification aspect, Mazda proposes three "flexible" stages:
Phase one: 2022-2024. Utilize existing technology assets, including various electrification technologies, to reduce our environmental footprint and produce attractive products;
In phase two, 2025-2027. Introduce new hybrid systems and introduce EV dedicated vehicles in China where electrification is progressing, and launch pure electric vehicles globally;
In phase three, 2028-2030. We will drive the full launch of electric vehicles and consider investing in battery production. We estimate that by 2030, Mazda's electric vehicles will represent 25% to 40% of global self-driving vehicle sales.
Mazda will conduct in-depth research on people to understand and create a mechanism model between the human body and brain to accelerate the development of people-centered advanced driving assistance technology and cultivate artificial intelligence and IT digital talent.
2030 Product Plan
In Mazda's 2030 technology and product strategy:
By 2030, all product lines are planned to have pure electric models, and the proportion of pure electric product lines will increase to 25%.

In 2022, Mazda plans to equip its large products with a 1.0 autonomous driving system called "Mazda Co-Pilot". When detecting that the driver is unable to drive normally due to physical abnormality, the system will switch to autonomous driving, take the car to a safe place, park it and dial an emergency phone call.

Mazda is pushing forward the development of the next-generation Electrical and Electronic Architecture (EEA), and strengthening basic software technology to achieve OTA features.

Mazda, Suzuki, Subaru, Daihatsu, and Toyota will jointly establish standard engineering specifications for the next-generation onboard communication equipment.
Regarding fuel, Mazda's internal combustion engines (SKYACTIV-X and new straight-six engines) as part of the "Multi-Solution Scalable Architecture" will not disappear in the short term. Mazda will continue to provide five hybrid models (excluding Toyota hybrids), five plug-in hybrids, and three pure electric models for markets such as China, Europe, and the United States from 2022 to 2025.
Final Words
In the pure electric competition between Japan and the United States, the entire Japanese automotive industry was slow to respond, and Mazda already had its own unique features, such as rotors and naturally aspirated engines.
However, Toyota, Honda, and Nissan have successively announced their own pure electric or carbon neutral strategies, and Mazda has finally announced its own path of pure electric development.
Changan Mazda's sales in October this year was 7,881, a year-on-year decrease of 55.34%. Mazda not only realized its slow progress in pure electric transformation, but also recognized its sharply declining competitiveness in the Chinese market.
As a century-old automaker, Mazda not only points out the path of pure electric development in this strategy, but also emphasizes the relationship between "people and cars" and the need to retain the brand's core spirit.
I wonder what Zoom Zoom will sound like in the future?
Related Links
Mazda announced it will launch a pure electric platform in 2025
This article is a translation by ChatGPT of a Chinese report from 42HOW. If you have any questions about it, please email bd@42how.com.