Today, CMOS image sensor supplier Sony has launched a new 8.3MP vehicle-grade image sensor – SC850AT. The new product adopts Sony's SmartClarity-2 imaging technology architecture and an upgraded self-developed Raw domain algorithm, achieving 140dB high dynamic range and improved LED blinking suppression performance.
To ensure driving safety, in scenes with high contrast between light and dark such as backlight or tunnel entrances and exits, car cameras must have the ability to obtain high-quality image information. Therefore, the SC850AT has a very high dynamic range of 140dB, ensuring its ability to accurately capture details in bright and dark areas under complex lighting conditions.
In addition to supporting Staggered HDR, the SC850AT also supports Sony's unique PixGain HDR technology, which can capture more accurate image information.
As a core component that implements advanced level autonomous driving, vehicle image sensors need to face the key challenge of suppressing LED flicker.
The SC850AT is equipped with Sony's self-developed LFS technology (LED flicker suppression technology), which extends the exposure time of specific pixels while maintaining normal exposure time in other pixels, covering the LED flicker frequency and ultimately achieving LED flicker suppression.
On the other hand, relying on Sony's low-noise peripheral readout circuit technology, PRNU and Blooming, which are uneven pixel response and electrical crosstalk respectively, can be improved and reduced to below 0.8% and 1%, respectively. This controls imaging noise and the phenomenon of peripheral overflow of night lighting, allowing ADAS/AD cameras to have more detailed imaging effects."`
On-chip algorithms of SC850AT have been upgraded, which optimize noise reduction and HDR fusion for Raw algorithms, and enhance image quality by significantly preserving image details.
It is worth mentioning that on November 8, 42HOW obtained the ISO 26262:2018 ASIL D certification for automotive functional safety processes.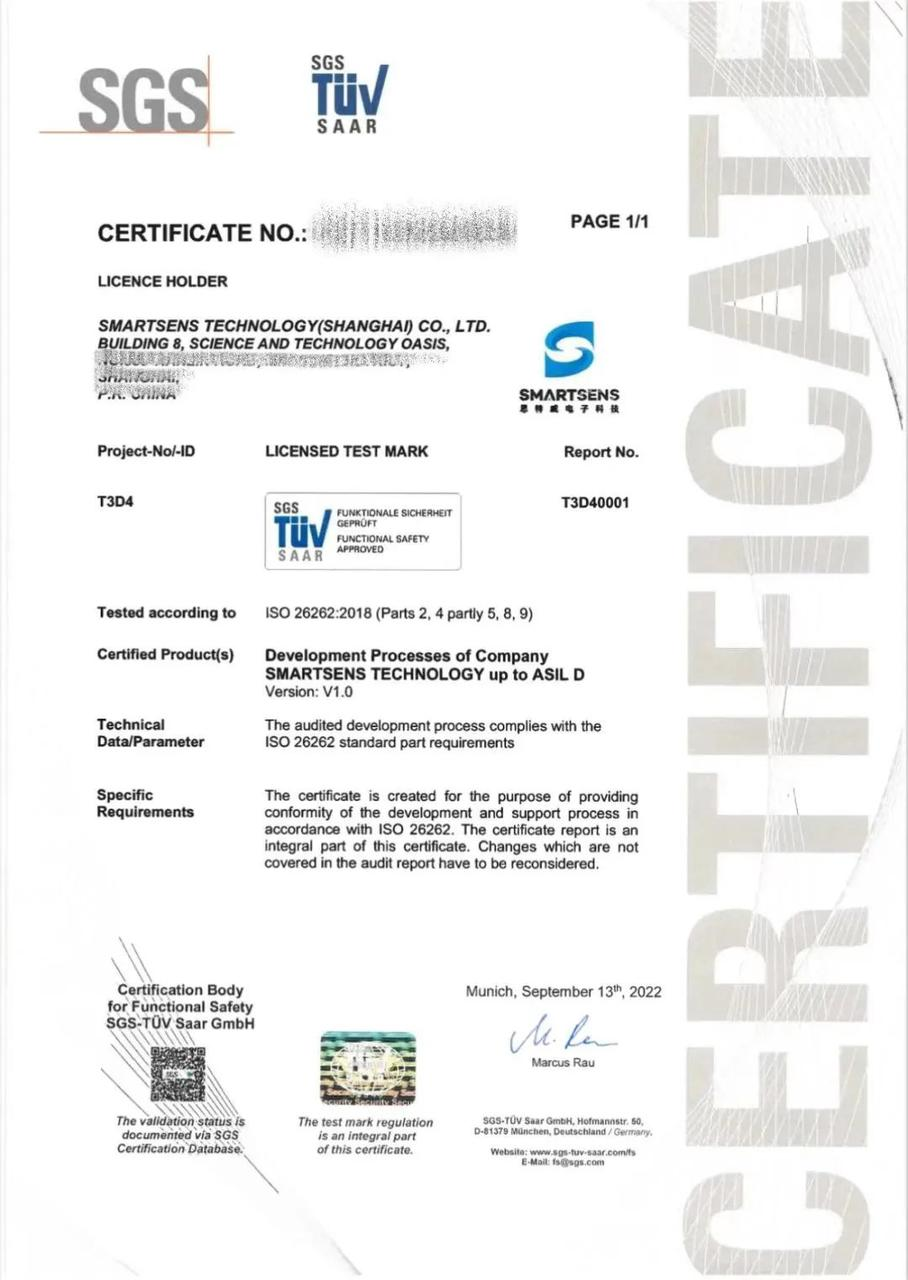 "`
This article is a translation by ChatGPT of a Chinese report from 42HOW. If you have any questions about it, please email bd@42how.com.