Article by | Wu Yihan
Edited by | Wu Xianzhi
On November 22, NIO announced that its three models, ET7, ES7, and ET5, will be launched in Europe through a "buyout" service, starting at 61,900 euros (approximately 454,000 yuan) and is expected to begin delivery in early 2023.
Furthermore, in this newly launched BaaS battery rental and sales program, NIO set the leasing price for a 75kWh battery at 169 euros per month (approximately 1,250 yuan), and 289 euros per month for a 100kWh battery. The prices are significantly higher than those in China.
Although NIO officially stated that the pricing of its products is uniform globally, as an imported electric vehicle, NIO needs to pay a 19% value-added tax and a 10% import tax in Germany. According to the NIO Germany website, when purchasing NIO, a transportation and license fee of 950 euros (approximately 7,000 yuan) is required.
Therefore, with these additional fees, the price of NIO cars in Germany is approximately 130,000-170,000 yuan higher than in China.
Initially Only Considered a Subscription Model
On the evening of October 7, 2022 in Germany, the NIO Berlin 2022 conference was held in Berlin, officially launching the company's expansion into four European countries (Germany, the Netherlands, Sweden, and Denmark). At the conference, NIO announced that it would implement flexible and innovative subscription models in these four European countries, and open pre-orders for its three models – ET7, EL7, and ET5 – through subscription.
NIO divided the subscription model into short-term and long-term models: short-term subscribers need to subscribe for at least one month and can replace vehicles during the service period; they can subscribe monthly, but cancellation of the service requires a two week prior notice. Long-term subscribers need to subscribe for 12 to 60 months and cannot change vehicle models, but can enjoy a lower price than short-term subscribers.
Taking Germany as an example, the monthly leasing amount for all three models ranges from 999-1669 euros (approximately 6,922-11,565 yuan) as shown in the figure below: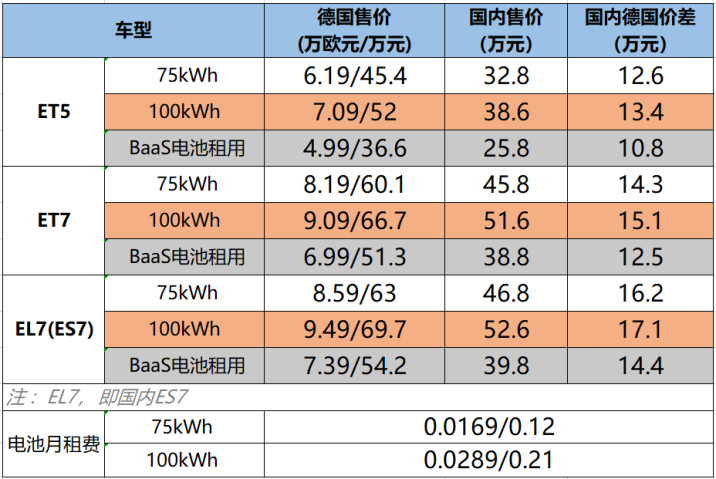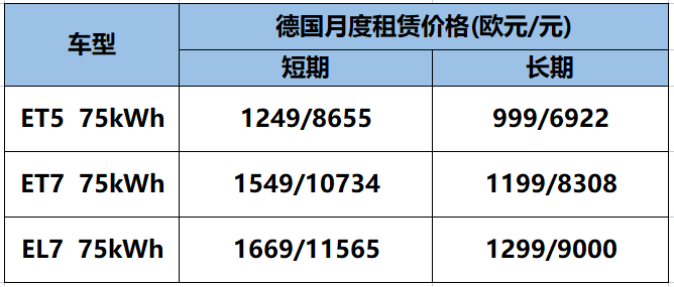 After the NIO Berlin press conference, NIO delivered the first batch of ET7s to German users. On October 16th, NIO delivered the first batch of ET7s to Dutch users. In addition, EL7 will begin delivery in early 2023, and ET5 will begin delivery in March 2023.
NIO plans to build NIO Centers in cities such as Berlin, Hamburg, Frankfurt, Dusseldorf, Amsterdam, Rotterdam, Copenhagen, Stockholm, and Gothenburg, and put them into use one after another.
Regarding the charging system, NIO stated that it plans to build 20 battery swapping stations in Europe by the end of 2022, and 120 by the end of 2023. By 2025, 1000 battery swapping stations will be built in markets outside of China, mainly in Europe. NIO is continuously optimizing its service system in the European market.
It is reported that NIO chose the subscription model based on local conditions. First, there is the issue of taxation: as mentioned above, NIO needs to attach local taxes, value-added taxes, and other fees when selling to Germany and other areas.
Secondly, there is the consumer habit in the European market: these countries have formed a consumption habit for subscribing to high-end cars. It is reported that 60% of high-end cars in the European market adopt subscription services, and 40% of high-end cars in the German market also adopt subscription service models.In addition, NIO also considered its own production capacity and prioritized ensuring the supply of the domestic market. Furthermore, NIO's overseas service system is still under construction, and the pre-sales and after-sales services are not perfect. However, unexpected situations that affect normal delivery may also occur during long-distance transportation.
To this end, NIO CEO William Li stated that vehicles will eventually become services, ultimately being just consumer goods. Moreover, the European market has a high degree of acceptance for the "right to use" and "subscription models."
Based on these factors, NIO's first step into the European market selected a "rent-only, no-purchase" subscription model.
Introducing "Buyout" Services
However, less than two months after implementing the subscription model in the European market, NIO broke its "rent-only, no-purchase" strategy and launched "buyout" services, explaining it as a result of strong purchasing demand from European users.
In terms of market competitiveness, NIO does not have an advantage in price compared to BBA. Nevertheless, NIO chose a comprehensive service-oriented strategic mode for going abroad, which has little difference in user service experience from domestic users. This makes NIO have an advantage in service.
In order to further penetrate the European market, NIO has also launched 7 preferential policies for its "buyout" services:
With this, NIO officially launched its "buyout" services in Europe and began a direct confrontation with BBA. We believe that these measures are just the first step in NIO's experiment with going overseas.
This article is a translation by ChatGPT of a Chinese report from 42HOW. If you have any questions about it, please email bd@42how.com.