Author: 大眼
On November 22, 2022, the "2022 General Motors Technology Outlook Day" was held in Shanghai.
During the technology day event, General Motors exhibited four new vehicles based on their latest Ultium platform: the GMC Electric Hummer Super Pickup Truck, Cadillac LYRIQ Requiem, Buick Electra-X Pure Electric SUV, and the world premiere of the Chevrolet FNR-XE – the first all-electric concept car on the Ultium platform. These new models cover all four major brands under General Motors and demonstrate the company's determination to transform into electric vehicles.
Currently, General Motors is implementing its corporate vision of "Zero Accidents, Zero Emissions, Zero Congestion" through the dual-drive of electrification and intelligence. This includes not only the Ultium platform but also a complete set of intelligent solutions, including the latest-generation intelligent electronic architecture for the entire vehicle. In cooperation with SAIC-GM and Pan Asia Technical Auto Center, General Motors is better able to meet local consumers' needs for electric and smart travel.
Ultium Platform Entering High-Level Product Deployment Stage
Through large investments and development work, General Motors' biggest tool in the era of electric vehicles, the Ultium platform, is entering a harvest period.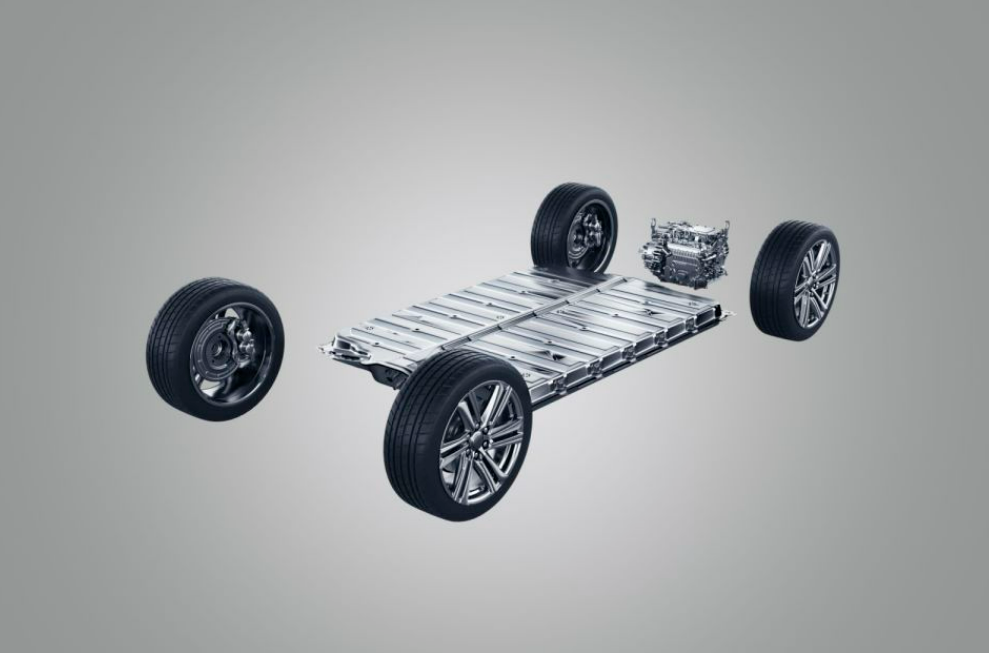 The first domestically produced vehicle based on the Ultium platform, the luxury electric Cadillac LYRIQ Requiem rear-drive long-range version, has already begun to be delivered, while its four-wheel-drive performance version will begin delivery in late December. The LYRIQ Requiem's appearance will help Cadillac brand compete for more market share in the luxury electric vehicle market and increase overall sales, and will also lead Cadillac and the entire SAIC-GM in their transformation towards electrification.
Outside of the Cadillac brand, Buick's first Ultium-based large five-seat electric SUV will debut at the end of the year, and is expected to be on the market and delivered in the first half of next year. As the highlight of this technology outlook day, the first Ultium-based production model for Chevrolet was created on the FNR-XE all-electric concept car, which had its worldwide debut at the event, and will be on the market and delivered by the end of next year.If Cadillac's second model based on the Ultium platform is launched next year, a total of four new Ultium electric vehicles will be introduced in 2023.
With the large scalability of the Ultium platform and the system capabilities built up by SAIC-GM over the past 25 years, SAIC-GM's three major brands will have more than 10 pure electric vehicle models for sale over the next five years, constructing a very complete product matrix to meet the personalized needs of different consumers.
In addition to the Ultium platform and the booming hybrid car market in China, SAIC-GM will launch a new generation of hybrid technology and plug-in hybrid technology over the next two years to meet the demand for new energy vehicles using different technological routes, and to accelerate the expansion of its market share in the new energy vehicle market and form a scale effect as soon as possible.
Accompany SAIC-GM's transformation towards intelligence.
In the era of intelligent electric vehicles, apart from the support of pure electric platforms such as Ultium, intelligent connectivity technology is equally indispensable, mainly including the new generation of electronic architecture, autonomous driving technology, and intelligent cockpit.
In the field of intelligent vehicle architecture, Ultium platform vehicles will be equipped with GM's VIP intelligent electronic architecture, supporting vehicle multi-module OTA upgrades, and realizing real-time updates and upgrades for the entire vehicle outside the telematics system.
It is worth mentioning, in particular, that General Motors will launch a brand new software platform in 2023. On this platform, SAIC-GM will gather more developers to create more telematics applications and cloud services that meet the needs of Chinese consumers.
In terms of autonomous driving, GM's Cruise has been an important player globally. Currently, Cruise has obtained a commercial operating license for mobile travel vehicles in North America, and is helping GM accelerate the accumulation of actual road scenario data, creating the strongest foundation for algorithm optimization and machine learning in the later stage.
In the Chinese market, before the 2023 Spring Festival, the new generation of Super Cruise advanced driving assistance system will be deployed on Lyriq first through OTA, and later gradually cover models from Buick and Chevrolet brands, helping SAIC-GM models to catch up with or even surpass the most advanced technology in China's self-driving field in certain indicators.
To meet the demands of Chinese consumers, the new generation of Super Cruise advanced driving assistance system has undergone nine major adjustments and optimizations, including the addition of automatic lane change and directional lane change functions, high-precision maps that provide data updates four times a year, and a domestic map coverage of 350,000 kilometers.
In the future, Super Cruise will also regularly upgrade by OTA to unlock brand new features like intelligent lane-centering assistance and remote parking. By 2024, Super Cruise will be deployed in the Chinese market with Navigation Assist on highways and open city roads, as well as Memory Parking, so that the whole vehicle can achieve Level 3 or even close to Level 4 autonomous driving capabilities.
In terms of Intelligent Cabin, the all-new VCS Intelligent Cabin System jointly developed by General Motors North America and the local Pan Asia Technical Automotive Center has been installed in two models, Lyriq and Buick Century.
The hardware of the VCS Intelligent Cabin System is at the forefront of the industry with the Qualcomm Snapdragon 8155 chip, a maximum of 9K ultra-high-definition large-size display, custom sound systems from top-tier brands such as AKG and BOSE, iKey smartphone key, and a 5G communication module. Software services from leading suppliers in the industry for the head, can help users achieve seamless connection between the car and the phone and bring a better personalized experience for travel.
What is even more exciting is that from 2023, VCS Smart Cockpit will start to carry Snapdragon 8195 chips. Supported by this more powerful chip, VCS will gradually introduce AR-HUD, Rear-seat Entertainment System, Four-Sonic-Zone Voice Command, and Car Audio System.
Formidable Localization Capability
Compared with its competitors, General Motors (GM) could make such rapid progress in China, which is due to the full support of SAIC-GM and Pan Asia Technical Automotive Center (PATAC) localization forces.
Firstly, in terms of funding, Mr. Wang Yongqing, General Manager of SAIC-GM, stated on the Tech Day that SAIC-GM will invest CNY 70 billion by 2025 for the entire process of electrification and intelligence, while only CNY 50 billion was announced last year. Adequate funding provides a solid guarantee for the transformation of SAIC-GM and even entire General Motors in China.
This investment not only ensures that a large number of Ottnan new cars can be continuously put into the market but also enables SAIC-GM to carry out domestic or localized development in core technologies related to intelligent electric vehicles' battery, autonomous driving, and smart cockpits.
High investment means higher output: last year, SAIC-GM put Cadillac Lyriq and Regal out at the super factory of Shanghai Ottnan. Next year, the second Ottnan exclusive factory of General Motors in China, in Wuhan, will also be put into production; besides the exclusive electric car factory, the focus of SAIC-GM's CNY 70 billion investment is in Pan Asia Technical Automotive Center.
At present, PATAC has nearly 1,300 software and digital talents, more than ten development laboratories, nearly a thousand testing and verification benches, four joint laboratories, and six innovation workshops. This year, the use of PATAC's New Energy Test Building and Guangde Battery Safety Test Laboratory further strengthens the confidence of PATAC in conducting engineering development, especially in the development of battery cells.
With the Ottnan platform's battery as an example, SAIC-GM and PATAC were not only involved in the development of the relevant platforms and models, but also jointly developed exclusive battery cell formula with local cell suppliers that have high thermal stability, low attenuation, and a long lifespan, demonstrating that SAIC-GM and PATAC have penetrated into the underlying systems.As for the development of local supply chain, it's a piece of cake for Pan Asia, which already has the ability to develop complete vehicle architecture. It is reported that over 95% of the parts on the Artos platform have been locally sourced. This not only means that the Artos platform is more cost-competitive in domestic production, but also greatly enhances the responsiveness of suppliers.
All of this signifies that SAIC-GM has already possessed the complete new energy technology system capability, from R&D, design, engineering, manufacturing to supply chain.
This year, Pan Asia Automotive Technology Center also launched the Intelligent System and Software Engineering Center (ISSEC). This brand new center will bring together Pan Asia's most powerful development forces, focusing on five core areas of intelligent driving, smart cockpit, software-defined vehicles, electronic architecture, and intelligent vehicle control.
For SAIC-GM/Pan Asia, not only is it necessary to draw on and introduce the achievements of GM's global R&D center in localized development, but also to deliver Chinese consumer needs and demands to GM's global R&D team, in order to bring smarter and more user-friendly intelligent and interconnected driving solutions for Chinese consumers.
It is worth mentioning that in the field of intelligent interconnection technology, especially in the field of vehicle networking, the R&D level of the Chinese automotive market is not lagging behind, and even leads the world with its advantages. At this point, Pan Asia Automotive Technology Center has more opportunities to undertake more new projects in the field of intelligent interconnection under GM's global R&D, and gain greater assistance in enhancing its overall R&D capability.
Finally
Currently, the competition in the domestic automobile market, especially in the intelligent electric vehicle market, has become increasingly fierce. In the situation where almost all brands have recognized that electrification and intelligence are the inevitable trend of the future, the overall system capability of companies, including product and brand power, will determine how large the market share of the car companies will be in the future market.
In the era of traditional fuel cars, SAIC-GM deeply integrated GM's global superior resources while continuously developing local engineering and a complete system capability, and this method is still applicable in the era of intelligent electric vehicles. However, the current SAIC-GM and Pan Asia Automotive Technology Center is not the same as 25 years ago with Shanghai GM and Pan Asia.25 years of hundreds of projects have given SAIC-GM and Pan Asia Automotive more confidence, whether in the localization of global platform models, the development of domestic models and the research and development of core technologies, SAIC-GM has the confidence to accelerate its progress on the "tracks" of electrification, intelligence, and network connectivity.
This article is a translation by ChatGPT of a Chinese report from 42HOW. If you have any questions about it, please email bd@42how.com.