Reading Auto Successfully Completes RMB 3.2 Billion A Round Financing
Author: Wu Yihan
Editor: Wu Xianzhi
On November 21, Reading Auto completed a RMB 3.2 billion A round financing, which will be gradually put in place at the end of November. The financing was led by Weifang City Weicheng Western Investment Development Group, and followed by state-owned capital, industry funds, and private capital. The valuation of the company has not been disclosed yet.
It is understood that the funds from this round of financing will primarily be used for the development of complete vehicle products, marketing investment, channel expansion, and production capacity building related to the main business operations and development of Reading Auto. After this round of financing, the company will start subsequent rounds of financing depending on the specific situation.
However, just recently in mid-November, some media reported that Reading Auto may have encountered a funding chain problem, and the company has not fulfilled its delivery promise despite receiving payments from its distributors. According to Qichacha, Reading Auto was forced to execute a court order due to its failure to fulfill its legal obligations, and in the less than one month from the beginning of November to now, the company has been listed as a defendant in nine cases, with a total amount of over RMB 12 million, mostly involving contractual disputes.
Currently, the completion of Reading Auto's A round financing and the injection of funds may have helped alleviate some of its "anxiety" and indirectly respond to external doubts about its financial situation. However, whether there is indeed a shortage of funds is still unclear, but the listed information of defendants is an undeniable fact.
From the recent financing situations of many companies, it can be seen that the investment industry still has great confidence in the new energy market.
The Transformation Path of Reading Auto
Reading Auto is a company engaged in the independent research and development of electric vehicles, mainly involved in the design, research and development, production, and sales of electric vehicles.
According to Qichacha data, Reading Auto's predecessor was Shandong Merada Energy Power Technology Co., Ltd., which was established in October 2012, mainly engaged in the research and development, production, sales, and technical services of electric field cars, park patrol cars, electric sightseeing cars, and related accessories, as well as import and export services of goods. In December 2017, the company's business scope was expanded to the production, sales, and technical development, consulting, service, transfer of technology of electric vehicles and accessories, and import and export services of goods and technology.In January 2019, Reading Automobile acquired Yema Automobile for RMB 1.45 billion. Yema was mainly engaged in the research and development of vehicle manufacturing, including passenger cars, new energy vehicles, and commercial vehicles. After the merger, Reading gained the passenger car manufacturing qualification. In September 2021, Shandong Merlad Energy Power Technology Co., Ltd. officially changed its name to Reading Automobile Group Co., Ltd.
According to Reading Automobile official, the completion of the Series A financing will accelerate the development process of Reading's new energy vehicles, promote product iteration and upgrade, provide better products for Chinese and overseas markets, and strengthen the coordination of industrial chain resources to assist in the new stage of corporate strategic transformation.
Reading Automobile's Overseas Strategy
Currently, Reading Automobile has three products under its name, Reading Mango, Reading Mango Pro, and Reading Mango Max, which primarily targets the A00 pure electric mini-car market. However, its Mango's sales performance is not optimistic.
From April to December 2021, Reading Mango's total sales were 30,400; while from January to October 2022, its total sales were only half of its sales from last year, about 16,000. Since May 2022, its sales have been in a continuous decline, and it is hardly found among the top ten with similar types of micro-cars' sales ranking in China.
In a fiercely competitive domestic market, Reading, which is not performing well domestically, began to seek opportunities overseas. Reading Automobile once confidently stated that it would establish a good reputation overseas market with high cost performance and quality aftermarket services, becoming a "business card" for China's new energy vehicle market. As part of its overseas strategic product, Reading Mango will be exported to 27 countries one by one.
Reading Automobile divided its overseas strategy into "three steps," and the first step is to enter the African market.
In March 2022, Reading Automobile cooperated with the African Green Technology Group. The first batch of orders was successfully delivered to Ethiopia. On October 12, the second batch of export orders was once again delivered to Ethiopia.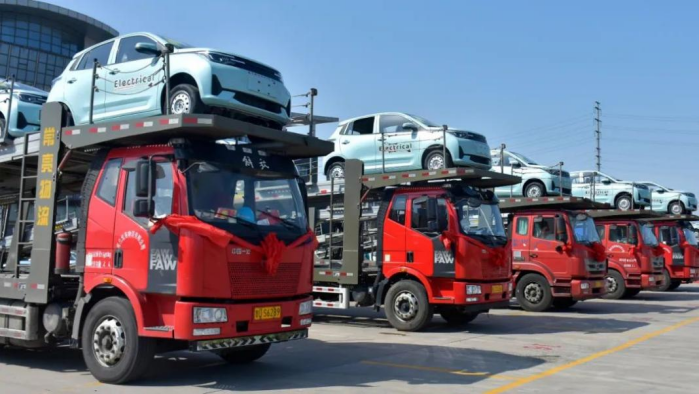 The second step is to expand into the Southeast Asian and South American markets which have huge population dividends. At the end of October, Reading's Mango Pro began its overseas sales with its first stop in Cambodia. The third step plans to enter developed markets such as Europe and North America by 2025 to achieve the global brand goal.
Reading Automotive has painted a beautiful picture of its own future, but it remains to be seen whether it can be achieved after financing.
This article is a translation by ChatGPT of a Chinese report from 42HOW. If you have any questions about it, please email bd@42how.com.