From Data, This Year's Double 11 on Major E-commerce Platforms Seem to Have Reached a Bottleneck
Written by: Zheng Wen
Edited by: Zhou Changxian
From the data, it seems that this year's Double 11 on major e-commerce platforms has reached a bottleneck.
Although major e-commerce platforms have not disclosed transaction volumes, the 20.69% decrease in Double 11 express business volume data released by the State Post Bureau is not optimistic. There are many factors contributing to this result.
Old netizens who have participated in Double 11 for many years should have sensed the fact that the discounts are no longer practical, and the price rises before dropping, big data discrimination, complex discount algorithms… all have become points of derision for everyone.
Shopping festivals also require new ways of exploration.
As a game changer, Great Wall Motors launched the "Great Wall Motors New Energy Shopping Festival・11.11 Crazy Sale" event, creating the first new energy car shopping festival in the automotive industry. Both the content and form are refreshing.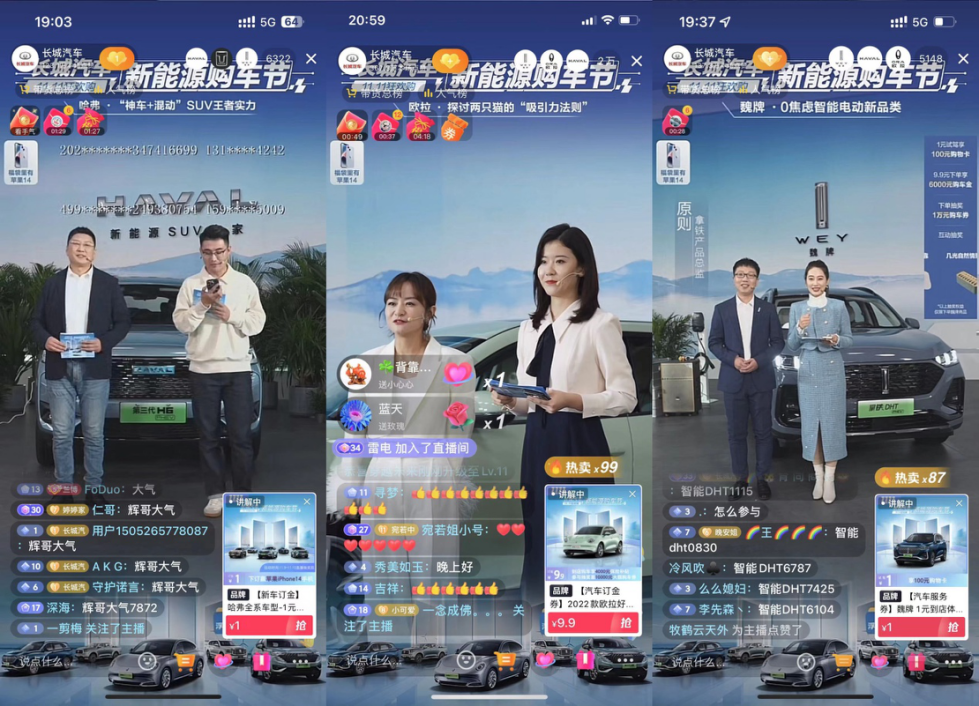 Driven by user thinking, Great Wall Motors achieves a win-win situation of "spending less money to buy better cars" for users and "improving sales and brand" for the enterprise through a continuous series of crazy interactions and generous purchase discounts in this new energy car shopping festival, and on the basis of mutual communication and exchanges.
It can be said that this is another new initiative by Great Wall Motors in the field of innovative marketing.
The whole event planning is complete and rhythmic, divided into three parts: "Preview Day," "Super Brand Day," and "Carnival." On Super Brand Day, Euler, Haval, WEY, Tank, and Great Wall Pao took turns to appear in the "TikTok live broadcast room." In the Carnival on November 10, Great Wall Motors and the high-level executives of the five major brands joined forces to "promote the product" in the live broadcast room and interact with consumers. To create influence, the live broadcast room also invited talk show actors for linkage.
From the data perspective, Great Wall Motors' new energy car shopping festival is more real than many automakers' empty promises on "Double 11."Up to the end of the event, within only 10 days, the cumulative online views of the live streaming exceeded 19.3952 million, and the interaction surpassed 245.5095 million; the cumulative order volume for the new energy models of Great Wall Motor has also exceeded 40,000, with expected sales revenue of over 2 billion yuan.
A Whirlwind Hits the Auto Industry
From the pilot program of the first session, it is obvious that Great Wall Motor's "crab eating" behavior is worthwhile.
The prolonged pandemic has made it extremely difficult to conduct offline activities. Taking the three major A-level auto shows in China as an example, Beijing International Automotive Exhibition was postponed for seven months and then canceled, Guangzhou International Automobile Exhibition was also postponed, and Chengdu Motor Show only lasted for 4 days. Needless to say, this will have an irremediable impact on the terminal sales of the automotive industry.
In the past, the sales model of automobiles was relatively complex, from the OEM to the dealerships, and then to the consumers, with long links and chains. In fact, although automobiles are an essential category for major e-commerce platforms, they are also the consumer products with the longest trading chain, and the performance of e-commerce sales has always been unsatisfactory. With the gap between market performance and expectations, the "double 11" activities for car manufacturers in recent years have mostly been "faking the excitement" and only superficially making the event appear festive.
After the arrival of the electrification era, some new changes have finally been welcomed, and the innovative marketing model of "direct sales + online" has been proposed and practiced. This has also made the entire industry realize that car manufacturers can become an online sales channel like technology electronics enterprises. At the same time, online has also become an important marketing dimension that car manufacturers need to supplement, with huge imagination space.
In fact, during these years of the pandemic, the digital operation of automobile dealers has been in full swing, but mostly in the individual stores' "single combat" behavior, which cannot provide significant assistance to the brand. Great Wall Motor recognized that, from the OEM level, promoting products in a brand live streaming room in a group army way will be more powerful.
Under this transformation, the birth of Great Wall Motor's new energy shopping festival, the "11.11" carnival purchase, not only conforms to the trend of the times but also leads the marketing paradigm of the automotive industry.
Previously, even heavyweight automakers with huge investment in the "auto festival" on vertical platforms such as Autohome, Yiche, and Donche Did not have much participation. How can they obtain more participation and initiative under the rise of live streaming sales? This is a difficult problem.The Great Wall Motors, which has always engraved innovation in its brand DNA, has done what it does best by turning passivity into proactivity.
In marketing, it breaks free from the constraints of major platforms' "Automobile Expos" and boldly takes the lead in creating its own live streaming rooms. This is a courageous decision. It used to be just a dish, but now it has become a big chef who can select its own operating room and cooking methods, and make its own dishes (new energy banquet), creating a feast of joy with its users.
This exploration can easily open up new horizons. If the effect is good, it could even become a sustainable marketing node every year. Moreover, the concentrated presentation of new energy models not only shows the brand's new energy strategy, but also demonstrates overall strength.
So far, the good results have already begun to show. Consumers have new channels to learn about the Great Wall Motors. "I like this participatory and selective way of looking at and buying a car," said a TikTok user, who has received many likes.
In the long run, "Great Wall Motors New Energy Purchasing Festival・11.11 Crazy Purchase" is expected to become a brand new IP in the automobile industry, attracting more companies to learn, reference and further promote the development of the new energy automobile industry.
Products are more important than marketing
Even though marketing has been emphasized throughout the article, it is worth mentioning that products are more important than marketing. Without the 1 in front of the marketing, no matter how many 0s are added behind, it is useless.
When Steve Jobs returned to Apple in 1997, he said that it was the most dangerous situation when the product people were no longer the ones driving the company forward, but were being driven by the marketing people.
It is still worth emphasizing that good marketing relies on good products.
Creating good products has always been The Great Wall Motors' unshakable principle. Speaking with products is the confidence to explore new models.
The success of The Great Wall Motors' marketing campaign this time is inseparable from its strong product system. It can even be said that this is a deep extension of the online mode of the Great Wall New Energy Auto Show held at the Chengdu Auto Show.# New Energy Products from Great Wall Motors to Create Double 11 Car-Buying Frenzy
This year, Great Wall Motors confidently presents multiple new energy products to create a car-buying frenzy during the Double 11 shopping festival. This is not only a manifestation of the company's confidence in its products and technology, but also a demonstration of its strength and determination in fully embracing new energy and further consolidating its brand image of "full charge advancement" among users.
For many years, Great Wall Motors has taken the whole vehicle as its core and comprehensively laid out related technologies such as new energy and intelligence industries. The company has strong R&D and manufacturing capabilities in electric and hybrid vehicles, vertical supply chain advantages in battery production, and a core technology layout in the entire hydrogen energy industry chain. Great Wall Motors has established a clean energy system based on carbon neutrality and established a "three-track parallel" development strategy with hybrids, pure electric, and hydrogen energy as the main focus.
From the release of technologies such as Lemon Hybrid Technology (DHT) and Worry-Free Batteries, to the debut of the fully-charged new matrix at the 2022 Chengdu Auto Show, Great Wall Motors has been continuously delving into the field of new energy and maintaining a state of constant innovation.
Looking closely, Great Wall Motors' new energy product lineup is already very comprehensive. Today, with its strong technological R&D capabilities and enhanced independent innovation abilities, Great Wall Motors is becoming more and more adept at creating excellent products and services for users.
In just 9 months, from the Guangzhou Auto Show to the Chengdu Auto Show, Great Wall Motors' new energy product matrix has had a concentrated outbreak. Behind it is the company's profound technical system that it has laid out for many years, which Great Wall Motors refers to as the "forest ecological system."
Based on the forest ecological system, Great Wall Motors keeps renewing its product matrix. Starting from the first half of this year, the company has been continuously introducing excellent new energy products to create a green, intelligent and brand-new travel experience for users.
At this year's Chengdu Auto Show, Great Wall Motors made a full-force new energy push, with its most eye-catching Tank brand debuting Tank 300 HEV and Tank 500 PHEV hybrid products. The Great Wall Cannon brand unveiled the large-size high-performance luxury pickup Shanhaida, which provides the HEV power version. Haval, positioned as the "new energy SUV expert", accelerated its layout in the new energy field. The third-generation H6 DHT-HEV and the third-generation H6 DHT-PHEV, known as the national vehicle, were exhibited together. The plug-in hybrid SUV, Haval H-DOG, also made its debut at the event as a light off-road vehicle.In October, the "ultra-streamlined pure electric sports car" Ora Lightning Cat was officially launched, with a starting price of 189,800 yuan, and a large number of orders reached 15,300 cars at lightning speed. In November, as the first new energy vehicle model of Great Wall Motors to enter the Malaysian market, the Good Cat appeared at the Malaysia Auto Show…
Of course, a good product never stops at this point. The future story will continue.
Undoubtedly, after a long-term struggle, Great Wall Motors has already possessed a strong vertical supply chain advantage of batteries, hybrid technology R&D and manufacturing capabilities, and core hydrogen energy full-industry chain technologies, with deep layout penetrating the entire upstream and downstream of the industry chain. These are the confidence of Great Wall Motors in seeking change and innovation.
Countless stories also prove a fact, that a car company for long-term development is never a "survivor", but a "seeker of change". This is true for marketing, and also for products.
In the "Great Wall Motors New Energy Car Festival・11.11 Crazy Shopping" event, the refreshing product matrix, equipped with world-leading new energy and intelligent technologies, fought together, which not only succeeded in innovation in marketing under new consumption contexts, but also a phase exam for the development of Great Wall Motors new energy.
Therefore, it was expected to achieve remarkable results in the live broadcast. This was a "two-way rush" between users and Great Wall Motors, and also reflected the market's recognition and trust in Great Wall Motors' new energy.
This article is a translation by ChatGPT of a Chinese report from 42HOW. If you have any questions about it, please email bd@42how.com.