Author: Rezz
There is a car company with a market value of 20 billion dollars, ranking third in the U.S. electric car industry, only after Tesla and Rivian, but it has reached a market value of 90 billion dollars at its highest. It has been named as a "Tesla killer" since its birth. Its executive team members have worked at Tesla, and now, its most well-known reputation is that Saudi Arabia's sovereign wealth fund, PIF, holds three-quarters of its shares. It is Lucid.
Founded in 2007, this car company originally positioned itself not as a complete vehicle company, but as a developer of power technologies including battery packs and battery management systems (BMS) for other electric vehicle companies, including the exclusive battery technology provider for the Formula E championship race. It transformed into a manufacturer of luxury electric vehicles in 2016 and released its first car, the Lucid Air, with a price of up to 250,000 dollars, which is produced in its Arizona factory.
Due to financial problems, it was not until it obtained a 3 billion dollar investment from the Saudi consortium in 2018 that it started building a factory, and the first model was not officially delivered until October 2021.
Although it should have begun large-scale delivery in 2021, it only delivered 125 electric vehicles. However, in the first three quarters of 2022, its delivery volume has been steadily increasing, from 360 cars, to 679 cars, to 1400 cars in the third quarter, doubling again after the first doubling. And it was named the best car model of 2022 by the largest automobile magazine in the United States, "Motor Trend".
Therefore, to call it a "marketing king" and a "delay king" is somewhat unfair. Jia Yueting's FF 91 is the true king of delays. This "niche" geek brand called Lucid Motors, invested by Jia Yueting, is gradually getting back its market share.
In fact, the entire capital market and automobile industry are very appreciative of Lucid, and are eagerly anticipating the emergence of the second "shark" like Tesla. At present, traditional car companies such as BBA and Volkswagen are unable to produce such a "shark" effect, making Lucid even more valued. Using the most popular meme of this year, "it doesn't matter, Lucid will take action".Someone calls it the "Xiaopeng" of the United States because both have crazy ideas and obsessions about technology. However, Xiaopeng Motors experienced a double blow of falling stock prices and sales volumes last month, while the American "Xiaopeng" brought good news and prospects for the future to people around the world this month.
On the day before the Los Angeles Auto Show, Lucid Motors opened reservations for two entry-level Air models and plans to start deliveries by the end of next year.
The Lucid Air Pure and higher-positioned Lucid Air Touring are planned models, like Grand Touring and Grand Touring Performance, used to lower the starting price and further expand the consumer base. The mysterious figure in the center of the five vehicles is the Lucid Air Sapphire, which claims to be the world's most powerful four-door sedan and is aimed squarely at the flagship killer of the Tesla Model S Plaid, if the previous Lucid Air models were aimed at the "Tesla killer" of the regular Tesla Model S.
The tri-motor full-time four-wheel drive electric powertrain has a power output of over 1,200 horsepower, accelerating from 0 to 100 km/h in just two seconds, with an EPA range of over 830 kilometers. Of course, the price is currently the ceiling for electric cars that can be delivered, with the Lucid Air Sapphire starting at $249,900 in the U.S. (equivalent to 1.8 million RMB), with a top speed of over 350 km/h, and customers who want to pre-order must pay a $25,000 deposit.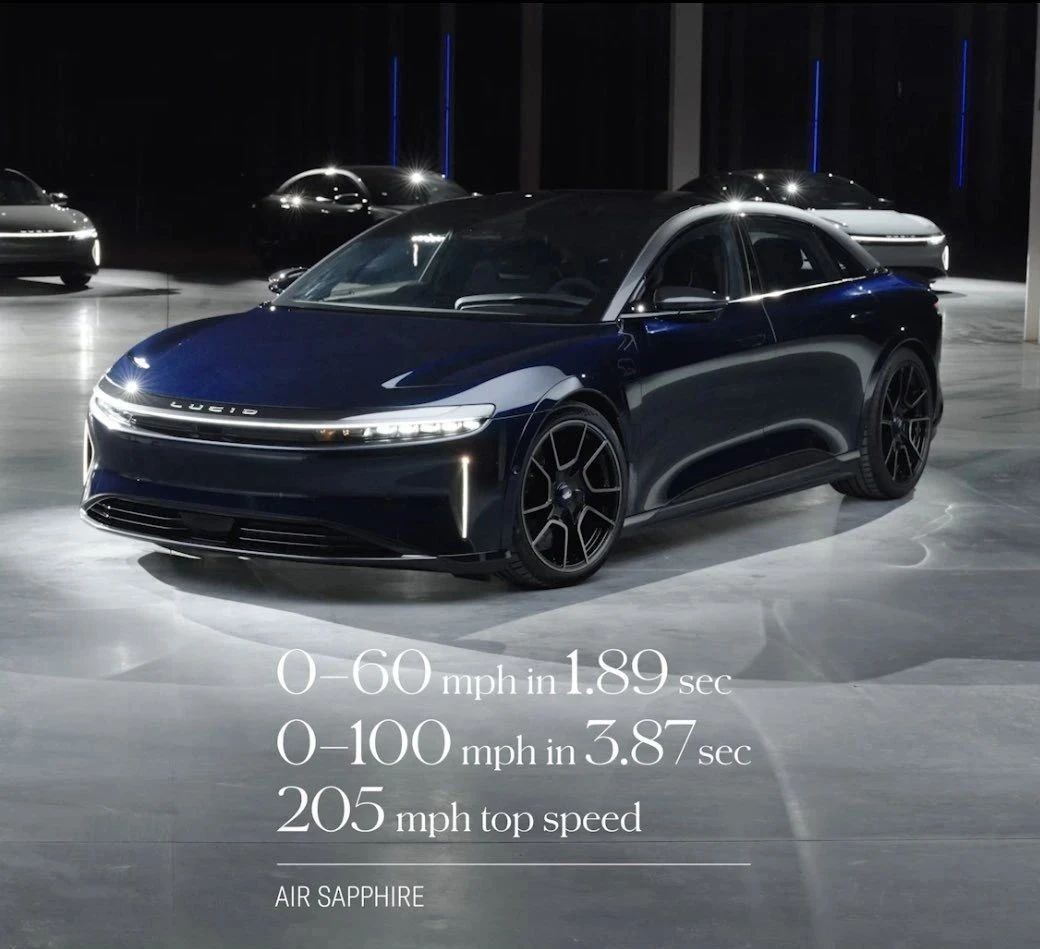 It can be seen that after launching two entry-level models, Lucid Air has deployed at various price points to target the high-end electric vehicles launched by Tesla Model S and German BBA in recent years.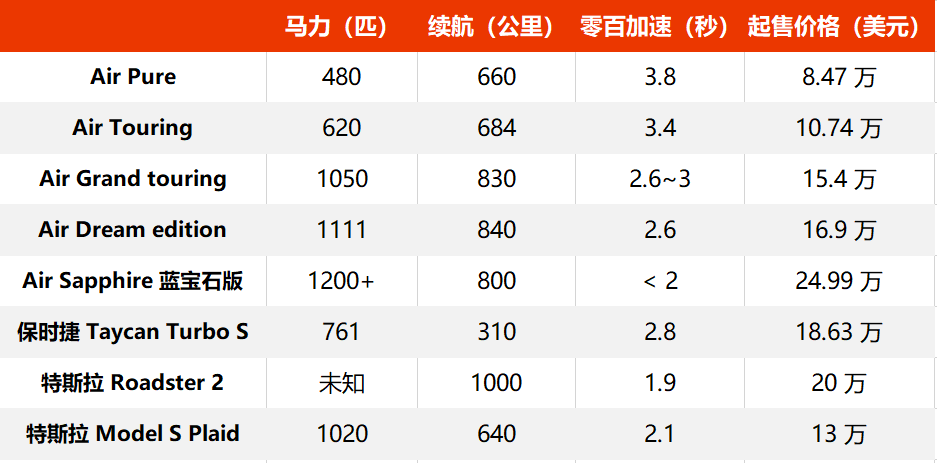 Back in September 2020, Lucid released four versions of the Lucid Air, namely Air, Air Touring, Air Grand Touring, and Air Dream Edition, with a guide price of $80k, $95k, $139k, and $169k respectively. However, after two years, the prices of the first three models increased by $4.7k, $12.4k, and $15k respectively, while the price of the Lucid Air Dream Edition remained unchanged.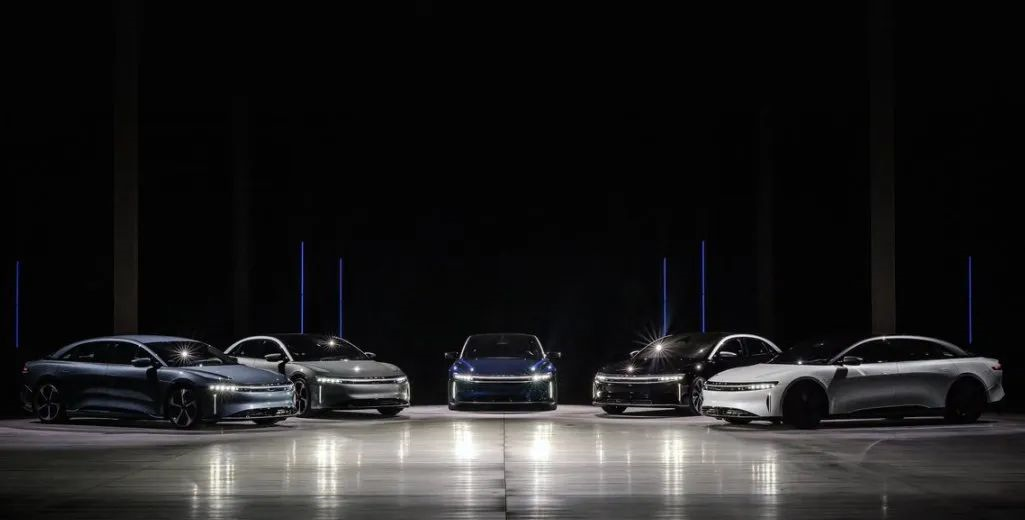 In the inflation-hit United States, the stock market has also suffered consecutive declines following the Fed's rate hikes. Although Lucid's market value skyrocketed by 40% compared to its delivery day last year, it has dropped by nearly 80% since its peak. Nevertheless, Lucid dares to raise its prices and even released the top-of-the-line Lucid Air Sapphire, which is priced as high as $250k.
Lucid's CEO and CTO, Peter Rawlinson, often refers to his experience of leading the Model S project, which is undoubtedly a rare commodity among the current crop of CEOs of new electric vehicle startups. However, it was not just Rawlinson's technological skills that led to the development of the Lucid Air Sapphire. It was also the confidence and courage that Liang Jingru gave them to face the demands and challenges of these top-end consumers.
So, what makes this "Sapphire" the king of electric cars and the most potent "Tesla-killer"?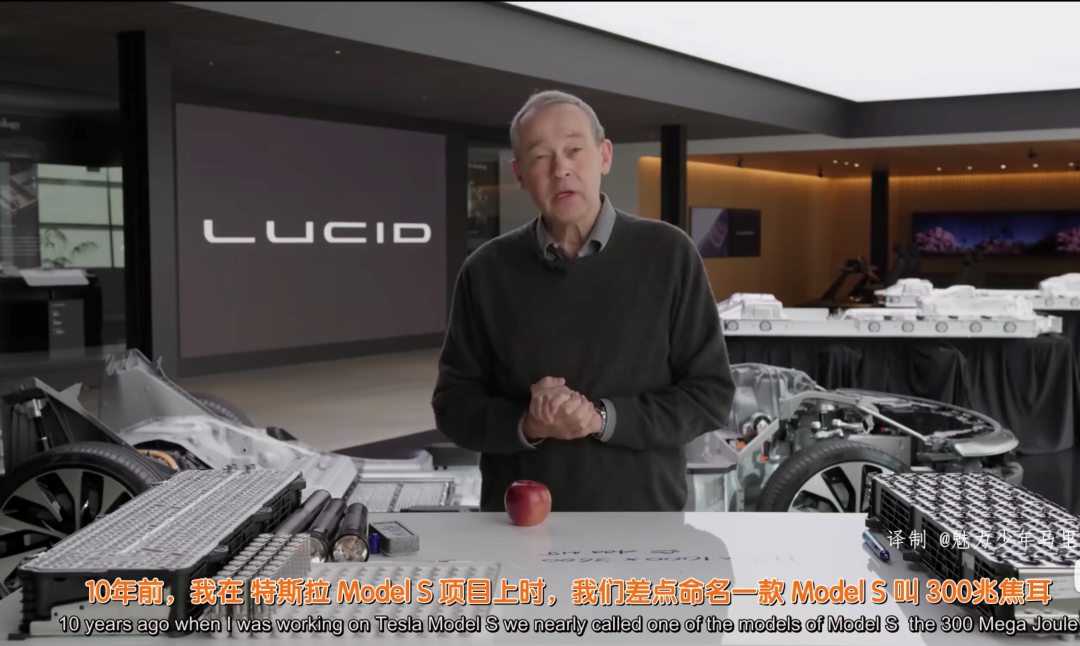 First, the Power
The core of the Lucid Air Sapphire is the three-motor powertrain on the LEAP (Lucid Electric Advanced Platform) skateboard chassis. The three-motor system consists of a dual-motor rear-drive unit and a single-motor front-drive unit, all developed and manufactured by Lucid themselves, with innovative technologies such as micro-jet-stator cooling and wave-wound coils.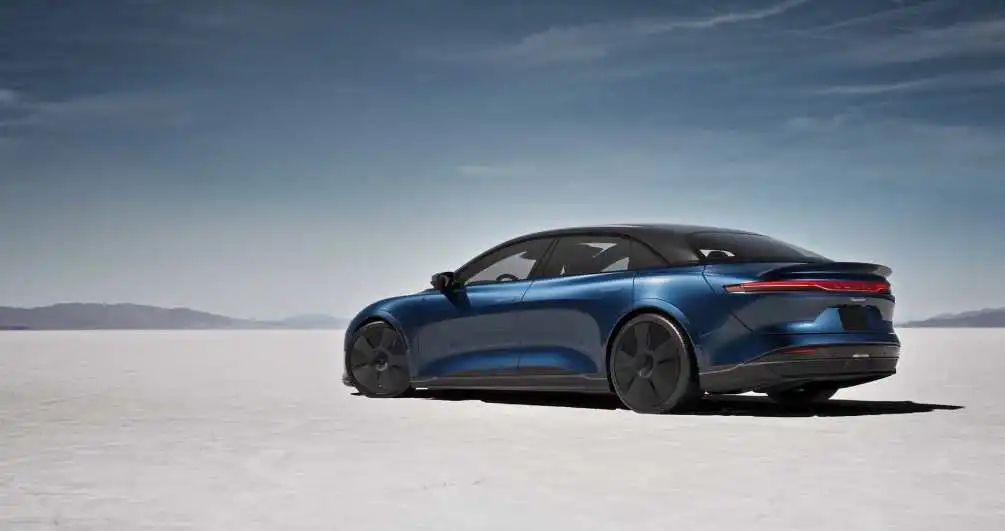 It is not difficult to achieve high power for a motor, but achieving good power density and heat dissipation is not easy. Therefore, to match the rapid discharge of the three motors, the battery system of Lucid Air Sapphire has also been upgraded, adopting an inverted liquid cooling design, which can ensure that it always operates within a reasonable range to obtain higher power and more accurate thermal logic.
The dual-motor rear-drive unit also introduces new heat exchanger technology and higher cooling liquid flow rate, ensuring that the motor will not overheat during rapid acceleration when the torque is larger, keeping the motor in a high-power state without attenuation. In addition, its ground effect comes from a completely redesigned butterfly-like curved chassis guard plate, making it more like an F1 race car.
Previously, the regular version of Lucid Air boasted a power-to-weight ratio that could achieve an amazing 9.0 in the 74 kg motor with 670 horsepower. Not only is it light, but also small. Due to the 180-degree rotating arrangement (around the Z-axis) of the dual motors, it is small enough to be easily placed in a trunk and carried away, while achieving such a huge weight of only 13.5 kWh / 100 km energy consumption.
The top speed of the Lucid Air Sapphire exceeds 350km/h, which is twice that of an ordinary electric car. In the 400-meter straight-line acceleration drag race, it takes less than 9 seconds, slightly faster than the 9.23 seconds of the Tesla Model S Plaid. The Air Sapphire can easily beat the top-of-the-line gasoline supercar, the Bugatti Chiron, in 9.278 seconds.
Of course, if you can run fast, you also need to be able to stop quickly. The Air Sapphire comes standard with large carbon-ceramic disc brakes and front 20-inch and rear 21-inch Michelin PS4S summer tires, with better braking performance than ordinary steel disc brakes.## Second, Relying on Luxury
The Air Sapphire (Lucid Air) is 4.975 meters long and 1.94 meters wide with a wheelbase of nearly 3 meters. The rear window glass has a lower inclination angle. The interior space is larger and more luxurious than Tesla's Model S. The interior is decorated with a special Mojave Desert theme, including better-supported 18-way electric sports seats adorned in black leather with Alcantara and sapphire-colored stitching.
Although designed specifically for driving, the seats can still provide comfort. Both the large front and rear seats are standard with heating, ventilation, and massage functions.
The large body of the Lucid Air gives it a strong presence. Although some have said that the front end looks like it is copying the BYD Han, the Lucid Air actually had a prototype as early as 2016, which is earlier than the BYD Han; and from the rear, it looks more like Aston Martin's Lagonda.
The Lucid bear logo is embroidered on the headrests of the car seats. This is one of Lucid's brand logos, as the bear also represents California (Lucid's founding location) on the state flag. The dashboard and door trim are made of Mojave black wood. The roof lining and steering wheel are also adorned in black Alcantara suede as befitting its name, Sapphire. The exterior of the car, of course, also adopts this uniquely sapphire blue color scheme.
Third, Relying on Charging and Battery Life
Electricity is the core difference between an electric vehicle and a fuel vehicle, and it is also the pride and joy of Lucid, a not-so-young start-up company. The Air Sapphire uses LG Chem's 21700 lithium-ion battery and is equipped with a large 114-degree battery pack, providing over 837 kilometers of EPA-rated range.# Charging: Electrical architecture reaches 924V, exceeding Porsche's 800V and Tesla's common 400V supercharging system. When charging at a 350kw charging station, it only takes 12 minutes to increase the cruising range by 330 kilometers.
One more thing: Besides the Air, there is also the Gravity
What is most surprising is that this time, Lucid introduced its latest brand model, a SUV named Gravity. Like its name, while Air represents the ultimate performance and electric technology when looking up at the sky in the upper atmosphere, Gravity represents practicality that is more suitable for daily life.
In addition to the 7-seat layout, the Gravity SUV will also use the "Lucid Space Concept" function, which can allow for flexible seat arrangement switching, allowing the Gravity to switch between 5, 6 and 7 seats.
In addition, the next-generation glass transparent roof cabin with a high-resolution display and the upgraded Lucid UX vehicle system will also appear on this car. Even the previously criticized vehicle system startup speed will not disappoint.
At last,
Several new power players in North America, such as Rivian, Lucid, Nikola, Canoo, and Lordstown, have not yet achieved large-scale production except for Tesla. The bottleneck of production capacity is a road that every new player must take, and even Musk himself has said similar words.
Believing that Lucid Motors doesn't want to be a brand that produces only a few thousand cars a year exclusively for wealthy Americans and tech giants, the delivery volume must be increased. In addition to the factory in Arizona reaching its peak production of 350,000 vehicles, the Saudi Arabian sovereign wealth fund, which aggressively advocates for a new factory in Saudi Arabia, has signed a contract to start construction in 2024. At that time, Lucid is expected to exceed an annual output of 500,000 vehicles.
Lucid Motors, which was once led by Jia Yueting and Beijing Automotive Group, has always had close ties with China, even both of its co-founders are Chinese Americans. However, they have parted ways due to differing views on whether to focus on the Chinese market.
Looking at the booming era of new energy in 2022 and the fact that Lucid Motors overlooked the Chinese automotive market in the past, is this ultimately a good or bad thing for them?
This article is a translation by ChatGPT of a Chinese report from 42HOW. If you have any questions about it, please email bd@42how.com.