Author: Zhu Shiyun
Editor: Qiu Kaijun
"As long as he (Wang Jun) can supply it."
"As long as he (Tan Benhong) can sell it."
Tan Benhong, Chairman and CEO of Avita Technology, and Wang Jun, COO of Huawei Intelligent Automotive Solutions BU and President of Intelligent Driving Solution Product Line, joked with each other in an interview about Avita's 2022 sales target.
"The board of directors has not yet given us the final sales target for next year, but our goal is to be among the top tier of the same price range," Tan Benhong said.
Currently, as a product created by the horizontal integration of main engine manufacturers, ICT, and power battery companies, and backed by the advantageous resources of Changan Automobile, Huawei, and Ningde Times New Energy Technology Co., Ltd., the second Huawei HI (Huawei Inside) brand, Avita, is standing at a delicate time point.
In the context of new energy and intelligence, traditional powers such as BYD, GAC Aion, and Geely Gleagle, and even Changan's own deep blue, are starting to catch up with "We Xiaoli" and are stepping up their efforts to regain market share.
In the "Huawei camp," Wanjie has become a dark horse in the market, while the JIHU s HI version is facing four difficulties, and the two have completely different situations.
Against this background, as a product of the horizontal integration of main engine manufacturers, ICT, and power battery companies, and with the backing of advantageous resources from Changan Automobile, Huawei, and Ningde Times, how will Avita achieve breakthroughs?
Everything needs to be said with products.
On November 14th, Avita 11 exhibited the high-level intelligent driving capabilities of AVATRANS intelligent navigation system, including high-speed NCA intelligent driving navigation assistance, urban ICA intelligent cruise assistance, and APA automatic parking assistance.
As one of the first test drive media outlets, "Electric Car Observer" attempted to answer the above questions with real product experiences. At the same time, we also explore where Avita's ceiling is with the support of the three giants.
"We are establishing the trust threshold of the intelligent driving system," said Wang Jun to "Electric Car Observer."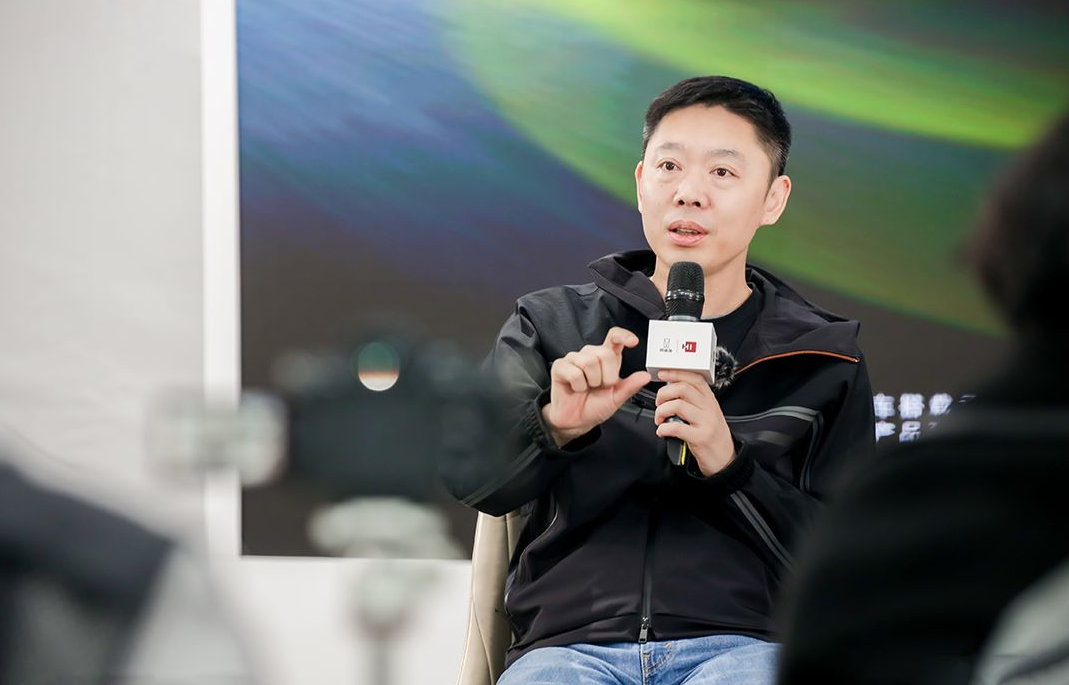 The so-called "trust threshold" is the baseline that enables users to truly trust the experience of using intelligent driving systems.
Once this threshold is crossed, the user's attitude towards using the intelligent driving system will change from "nervousness about monitoring novice drivers" to "the relaxation of enjoying experienced drivers' driving".
Although the intelligent driving industry already has indicators of mass production takeover systems such as 100,000 kilometers and 300,000 kilometers, from the perspective of end-market experience, "intelligent driving" is becoming a continuous investment that is difficult to commercially realize, and has become the core weapon in rewriting the business model of the automobile industry since Tesla launched FSD five years ago.
In May of this year, China's leading intelligent driving car company, XPeng Motors, replaced free charging quotas with free intelligent driving systems, revealing the business dilemma behind the development of intelligent driving systems.
However, the confidence of the company, AVIC, in its own system capabilities led it to enter this seemingly "dilemma" competitive field without hesitation.
"Now some people may not want to pay a premium for intelligent driving, possibly because other manufacturers have not done the function well enough. If it is good to use, you will never go back once you have used it," said Tan Benhong.
"We believe that AVIC 11 can definitely do well in the field of intelligent driving. With our joint efforts (Huawei and AVIC), if we make a (trusted) intelligent driving system, we will seize better development opportunities and open up a better blue ocean."
When two experienced drivers meet
AVIC has not yet announced a clear intelligent driving trust threshold.
However, in the test drive of extreme scenarios by the "Electric Vehicle Observer", not lifting the foot from the brake pedal can be regarded as the beginning of personal trust in the AVIC 11 intelligent driving system's "experienced driver" driving level.
In the Huawei-owned automotive test field, the Avita 11 selected subjects and scenes for media to test its intelligent driving ability, including large curve bends, tunnel entrance accident vehicles, tunnel exit traffic cones blocking the lane, reverse fishbone parking spaces on rough roads, as well as the busy Suzhou expressway on a rainy afternoon at the end of November.
In these scenarios, we can catch a glimpse of the current level of Avita 11's perception, decision-making, and data capabilities.
In terms of perception, large curve bends mean that the vehicle will "not see" the complete road surface continuously, and that the perception needs to cover as far and wide a range as possible.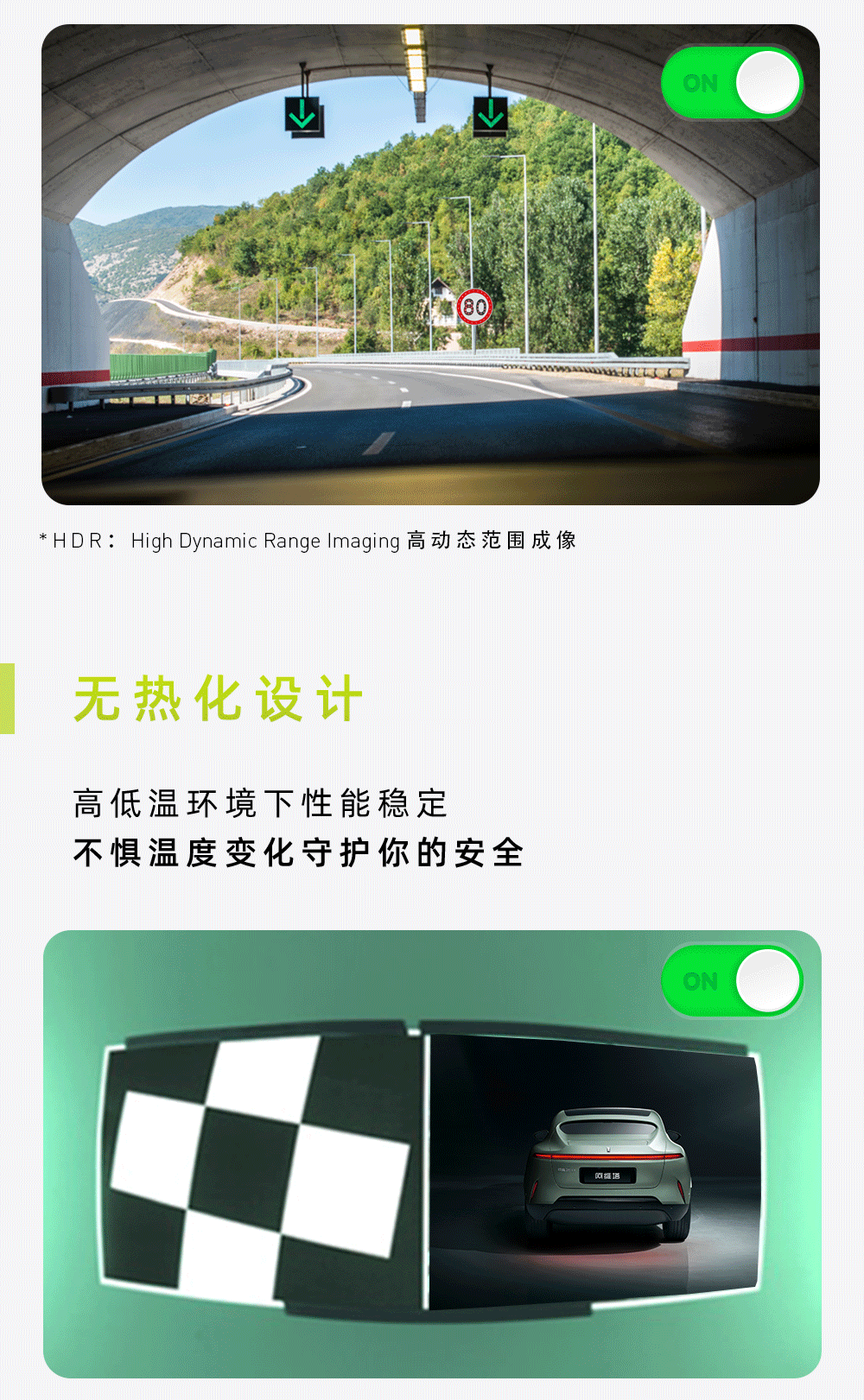 The rapid and intense light and shadow changes in and out of the tunnel are a great challenge to the vehicle's visual perception capability.
Placing irregular obstacles like "accident vehicles" and small obstacles like cones on a relatively dark tunnel, tests the detection and fusion recognition capability of the vehicle's laser and millimeter-wave radar for distance, size, and obstacles near and far.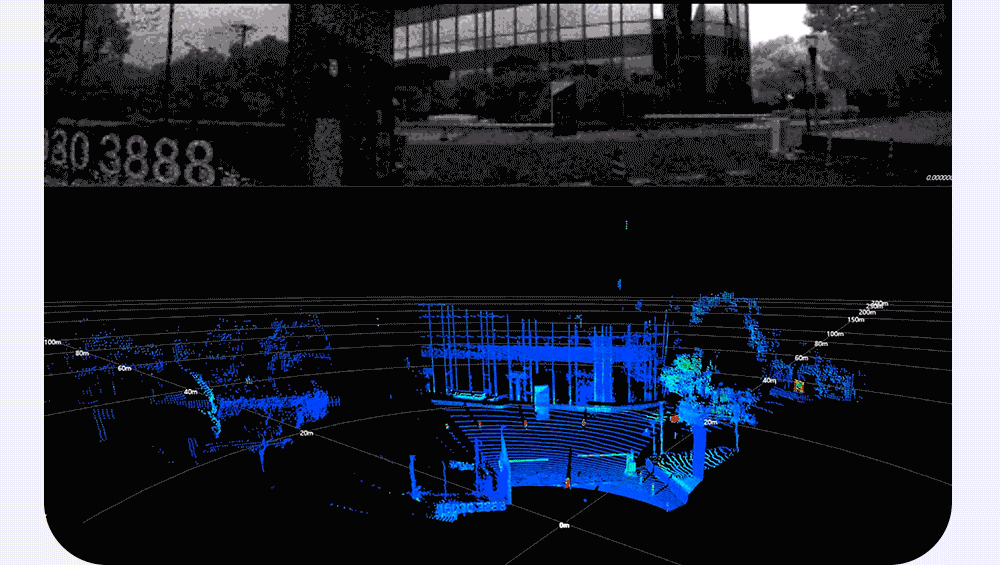 During the actual test drive, the Avita 11's high-speed ICA intelligent cruise control system can smoothly negotiate curves at 54km/h (vehicle speed limited to 60km/h), while always maintaining the position of the lane centerline. Before the human eye can see the dark tunnel opening, it starts to brake and stop in front of the "accident vehicle". At a speed of 60km/h, it detects the blocking cones about 30 meters away.
During this process, the Avita 11 has two places where it establishes trust in the "old driver" driving pattern.
One is in terms of operation: it slows down before entering the curve, without feeling the tilt of the vehicle's interior during high-speed curves, nor the jerky deceleration after entering the curve. The braking performance at the two obstacles is also very linear, without the sudden shock of rapid braking.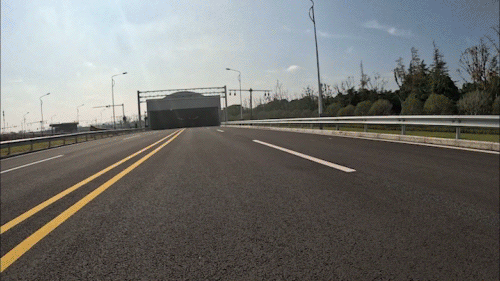 Another advantage is in interactivity: regardless of whether it's a traffic cone, a water trough, a traffic light, or a large crossroad outside the field, Avita 11 can quickly and clearly display on the dashboard what it has "seen," telling the user exactly what it has perceived.
However, perhaps Huawei has not yet determined the icon for irregular obstacles. For the "accident vehicles" in the tunnel, Avita 11 only performs control processing, but nothing is shown on the dashboard.
The decision-making ability needs to be tested in a real-road environment.
On the 34km expressway in Suzhou urban area, Avita 11's high-speed NCA ADAS drove independently for about 30km on road segments covered by high-precision maps, including active lane changing and entering/exiting ramps, maintaining a continuous speed of about 80km/h.
During this period, "Electric Car Observer" finally took their feet off the brake.
In this process, Avita 11 exhibited the unique ability that currently available high-speed navigation systems from different brands cannot match: accelerating or decelerating to change lanes.
At present, the vast majority of ADAS systems choose to maintain a safe distance for lane changing, followed by a uniform speed change.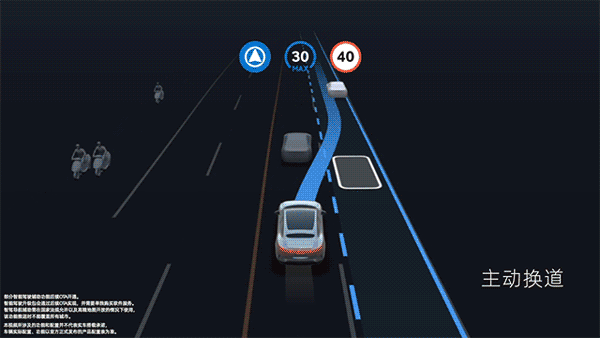 However, Avita 11 can complete the lane change by accelerating diagonally forward when it's only about 1-2 car lengths behind the following vehicle, as well as slowing down and waiting for the car behind to pass before changing lanes. It shows excellent ability to interact during traffic.
In terms of data, Avita 11, as a latecomer, has obviously undergone a lot of extreme scene training.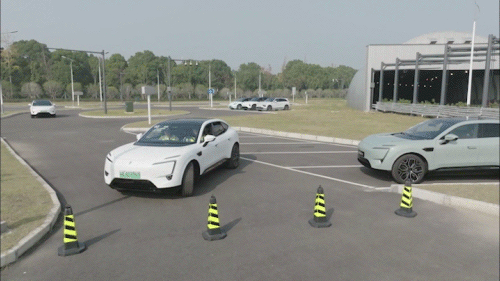 On the "fish bone" parking spot at the end of a dead-end road, Avita 11's APA intelligent parking system can use the lateral space of the channel to turn the car's head at an angle, then reverse the direction while turning, and complete the parking in about one minute. Finally, like a "battle-hardened" veteran driver, it shows the machine's more precise perception and the ability to deal with difficult scenes as it should."Our APA can beat all the cars in its class in the current market," said Ben Hong Tan.
How to create an experienced driver?
"Currently, the smart driving level of Avita 11 is at the highest level we can achieve. Without a doubt, it will be better next year. Compared with other competitors in the industry, I think what Huawei has done is quite remarkable," commented Wang Jun on the smart driving level of Avita 11.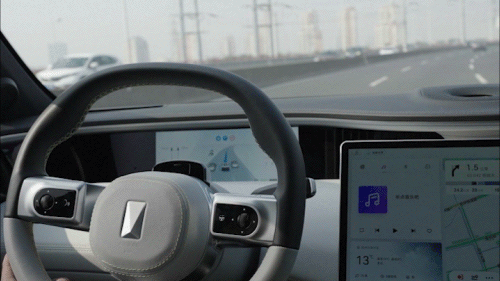 This is not just empty self-promotion claiming 'the best under 5 million.' In terms of evaluation based on basic smart driving systems like detecting obstacles in bends and darkness, and changing lanes at high speeds, Avita 11's performance is significantly superior to the same-class competitors that have been produced longer and have undergone more system and model iterations, making it more easily trusted by human drivers like an experienced driver, even considering that it has become more familiar with the test driving venue and route.
How did Avita achieve this in such a short time? Electric Vehicle Observer believes that it can be summarized into three points: a personified system definition concept, unique vertical integration capability of Huawei, and the ability of data-driven scalability.
(1) Avita's personified decision-making system
Firstly, Avita 11's smart driving system pursues high-level "personification" when defining its decision-making style.
"Safe, comfortable, and efficient" are currently common definitions for smart/autonomous driving systems, but when actually reflected in driving performance, they can greatly differ.
For example, with the same safety premise, should the vehicle take high-speed turns, or slow down before the turn? Should it change lanes uniformly with a long car distance, or accelerate and then change lanes in busy traffic? Should it always keep at least one vehicle length of "safe distance" or play a game with a side-by-side car?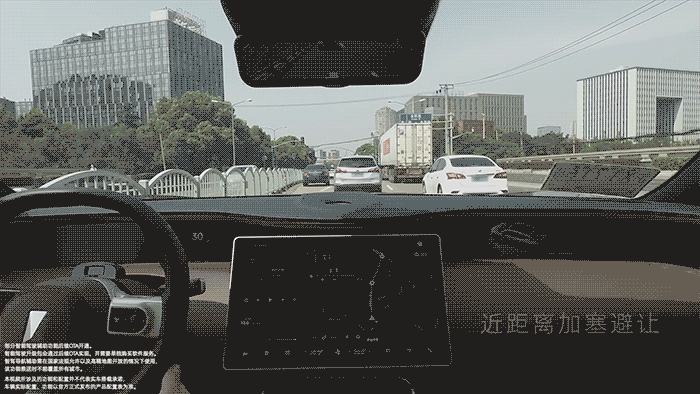 How can it make human-like performance in many complex scenarios? This is the problem that Avita's AVATRUTH supercomputing system algorithm model must solve.
For example, Huawei pioneered the smart driving interaction game algorithm in the industry. This algorithm can monitor and predict the behavior of people and vehicles around it in real-time and combine with deep learning algorithms to provide the best interaction strategy for the vehicle.## In the field of intelligent driving algorithms, Huawei conducts research and calibration of the sensory experience of different populations, such as gender and age differences, based on ergonomic theory. This research is used as the basis for polishing the motion control of scenarios such as braking, starting, and turning in intelligent driving, improving the smoothness of the ride.
As Tan Benhong said: "Avita positions the brand as 'emotional intelligence'. In our opinion, future technology and intelligence should have emotional attributes; it must understand and humanize itself. The most intuitive manifestation of technology is to humanize the operation of vehicles."
(2) Huawei's vertical integration capability.
Even human-like algorithm models need software and hardware systems to support their implementation.
Currently, most industry-leading companies use self-developed full-stack software and procurement-matched hardware. Huawei and Tesla are the only two companies that perform vertical integration of software and hardware systems, and Huawei's integration level is higher than that of Tesla.
In the HI mode, Huawei provides the perception, calculation, hardware platform, software algorithm, data training system, and entire vehicle electronic control system highly relevant to the actuator of the Avita 11 intelligent driving system.
This deep vertical integration makes the Avita 11 system have the most powerful hardware system in its class.
The AVATRUST Super Sense system includes 3 lidars, 6 millimeter-wave radars, 12 ultrasonic radars, 13 high-definition cameras, and a total of 34 sensors. The AVATRUTH Supercomputing system includes Huawei's self-developed high-performance intelligent driving computing platform. Even in the current highly competitive market, this hardware configuration is still impressive.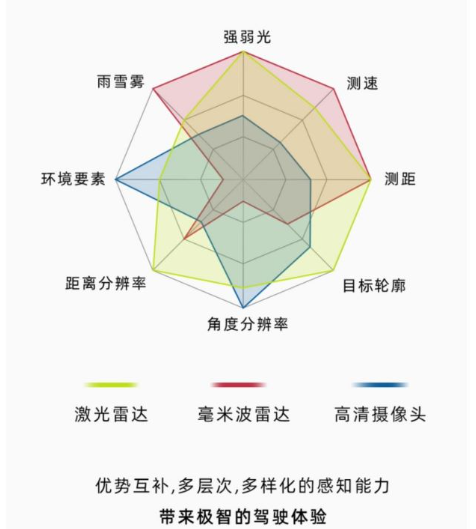 The fully-armed hardware configuration is due to Avita's concern for safety, and also due to Huawei's vertical integration capability. Wang Jun said: "Under the vertical integration model, there is less bickering between departments. Doing intelligent driving involves different departments and product lines such as computing platforms and lidars. Outsourcing is expensive and slow, while providing internal demands is much better."On the other hand, it makes it possible for AVATRANS to form a systematic intelligent driving product matrix.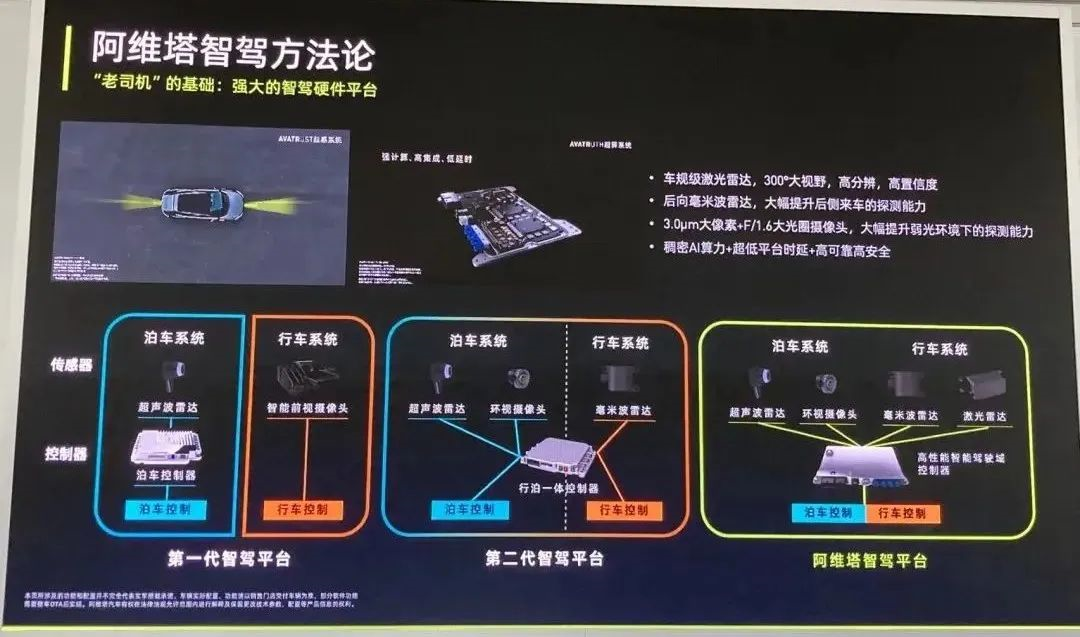 Enterprises that develop software full-stack in-house often face the problem of algorithm model adaptation difficulty and data structure fragmentation difficulty when changing suppliers and altering technology routes, which affect scale effects.
However, for AVATRANS, the powerful software, hardware, and system capabilities of Huawei (self-developed lidar, mmWave radar, computing platform, software algorithm, system integration, engineering testing, map collection qualifications, etc.) will prevent their future products from encountering the problem of "discontinuity" in the intelligent driving system.
"AVATRANS will release other vehicle models after the AVATRANS 11, and their hardware configurations may be different, but their software layers will be consistent. This has a great benefit for users: The software can remain stable and continuously optimized." said Wang Jun.
(3) Data-driven ceiling
If algorithm and system integration ability determines the current ability of AVATRANS 11, then data-driven will determine the ceiling of its future capabilities.
Currently, the AVATRANS 11 will come standard with High-Speed NCA Intelligent Driving Navigation Assistance and High-Speed ICA Intelligent Driving Cruise Assistance. By using OTA, it is expected that Urban NCA Intelligent Driving Navigation Assistance capability can be integrated into the AVATRANS 11, which is also the ceiling that current production-level intelligent driving systems hope to achieve.
However, the AVATRANS intelligent navigation system still relies on high-precision maps as an important "perception" sensor, and there is still a problem of outdated updates and insufficient "freshness" in urban intelligent driving.
Regarding this, Wang Jun said that Huawei is considering "another solution that can partially replace high-precision maps." Once this solution is launched, the AVATRANS 11 will "break free" from the constraints of high-precision maps and can travel on more city roads. Furthermore, the AVATRANS 11's hardware configuration and architecture are already capable of adapting to a higher-level Urban NCA.
More vehicles will hit the road in more cities, providing the "fuel" needed for the continuous evolution of the Avatar 11.
"We're proud that the sensors currently used in the Avatar 11 can collect data very clearly, providing a foundation for OTA iteration and upgrade," said Wang Jun.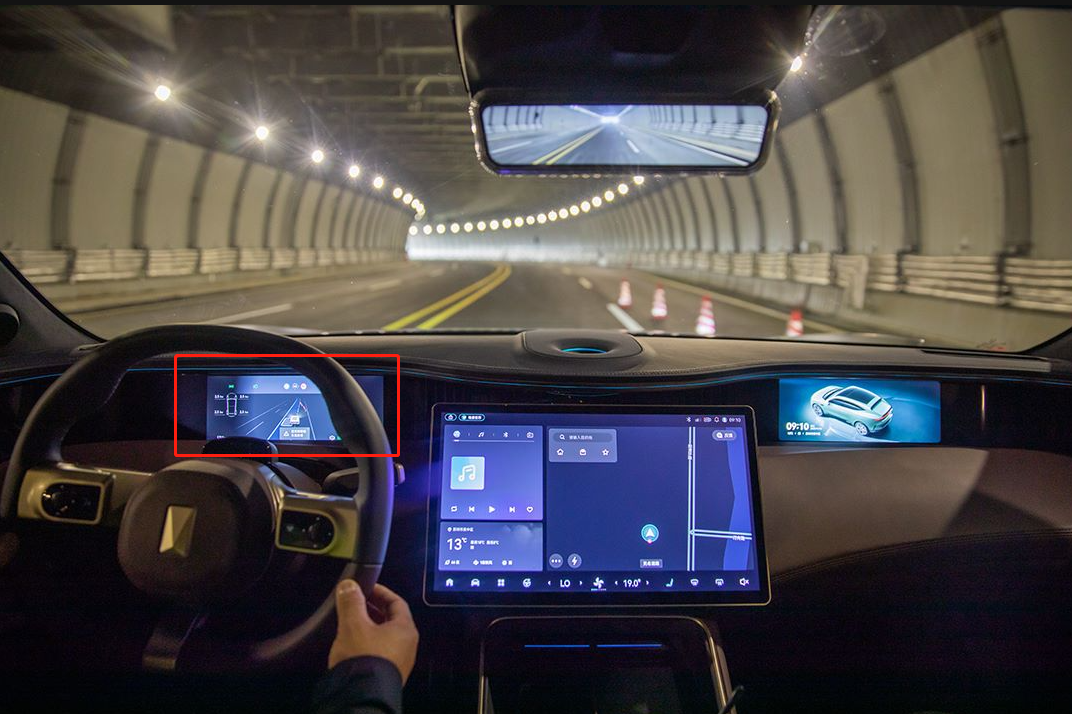 It is worth noting that both the new smart driving solution of crowdsourcing lightweight maps and the data advantage brought by the formation of a product matrix for multiple models of subsequent Avatar cars are built on top of the whole-vehicle intelligent driving system architecture created by Huawei and Avatar working together.
It is this high-ceilinged architecture that ensures the continuity and growth of the system on multiple technology lines and over long periods of development, providing Avatar with the confidence to enter the competition for mass production of high-end intelligent driving capabilities.
Avatar hopes to prove its strong product and technical capabilities on the market.
On November 1st, Avatar Technology announced that the first batch of Avatar 11 had locking orders exceeding 5,000 units within ten days, with delivery beginning in December. The average price of a locked order (including optional equipment) exceeded 4 million yuan, placing Avatar in the top tier of high-end SEV market.
With delivery imminent, Avatar's sales and service system is also rapidly being rolled out, with over 200 channel touchpoints nationwide completed by December. Meanwhile, the Avatar 11 will be available in flagship Huawei stores in Beijing and Shenzhen before the end of the year.
"In terms of the product itself, whether it's intelligent driving, intelligent cockpit, vehicle design or quality, we are confident in achieving top-tier sales goals in this competition for intelligent electric cars," said Tan Benhong confidently at the end of the interview.
–END–
This article is a translation by ChatGPT of a Chinese report from 42HOW. If you have any questions about it, please email bd@42how.com.