On November 10th, NIO had two major events happen. First, in the early morning Beijing time, NIO was awarded the "Golden Steering Wheel" award for 2022 by the German famous automobile magazine "AUTO BILD." The second event was the 2022 Q3 financial report conference call held by NIO at 6pm Beijing time, during which Li Bin responded to the production capacity issue of ET5 and revealed information about NIO's self-developed chip.
Production Capacity, Gross Profit, and New Products
Whether it is the delivery reports at the beginning of the month or NIO's overseas awards, comments such as "so many new cars have been released, but the delivery is still hovering around 10,000" can be seen in the comments section.
An objective fact is that among the top three new forces, NIO has the most products, covering all segmented products in the mid-to-large SUV market. With the lower-priced ET5 starting delivery, NIO's delivery data should have risen to a higher level, but why has NIO been caught in the delivery vortex? Let's take a rational look.
The Impact of the Epidemic on Production Capacity
During the financial report conference call at 6 pm yesterday, Li Bin stated that the ET5 orders were not a problem, but the overall delivery volume was indeed several thousand vehicles less than expected. There are many factors behind this impact, including supply chain and the epidemic.
ET5 is produced in NIO's latest EDS factory, which is adjacent to the Phase 2 factory and is also a highly automated factory that can be operated by only 30 people. However, there was a supply problem with the sub-frame, which slowed down the overall delivery pace, but the problem has been resolved in November.
Another reason is that Hefei was hit by the epidemic last month. Many media reports indicated that NIO's factory had stopped production, with two total stoppages for more than 10 days. Li Bin also revealed that after the epidemic, nearly 2,000 people slept in the factory day and night to ensure production delivery."`

However, the supply chain issue has been resolved, and an additional ET5 production line will be added. By the end of November, NIO's production capacity will increase, and the delivery target for next month can be met.
Regarding the demand for ET5 orders, it is worth mentioning that Qin Lihong, the CEO of NIO, has stated that the ET5 targets the BMW 3 Series, and they expect monthly sales of over ten thousand units once production capacity stabilizes. Li Bin also mentioned that Tesla's price reduction currently has little impact on NIO, as there is still a significant price difference between NIO ES6/CE6 and Tesla Model Y.
Targeting 48,000 Units
During the Q3 earnings call, NIO also provided sales guidance for the final quarter of 2022, with a target range of 43,000 to 48,000 units.
Excluding the 10,056 units sold in October, NIO needs to deliver 33,000 to 38,000 vehicles in the remaining two months to achieve its target.
This means that NIO needs to ensure the operation of its supply chain and quickly fulfill ET5 orders despite the uncertain impact of the pandemic.
Not Making Money
After discussing car sales, let's talk about making money.
First, let's take a look at two sets of data. Currently, NIO's single-vehicle profit margin is 16.4%, the total gross profit margin is 13.3%, and R&D expenses are 2.945 billion yuan, an increase of 146.8% year-on-year.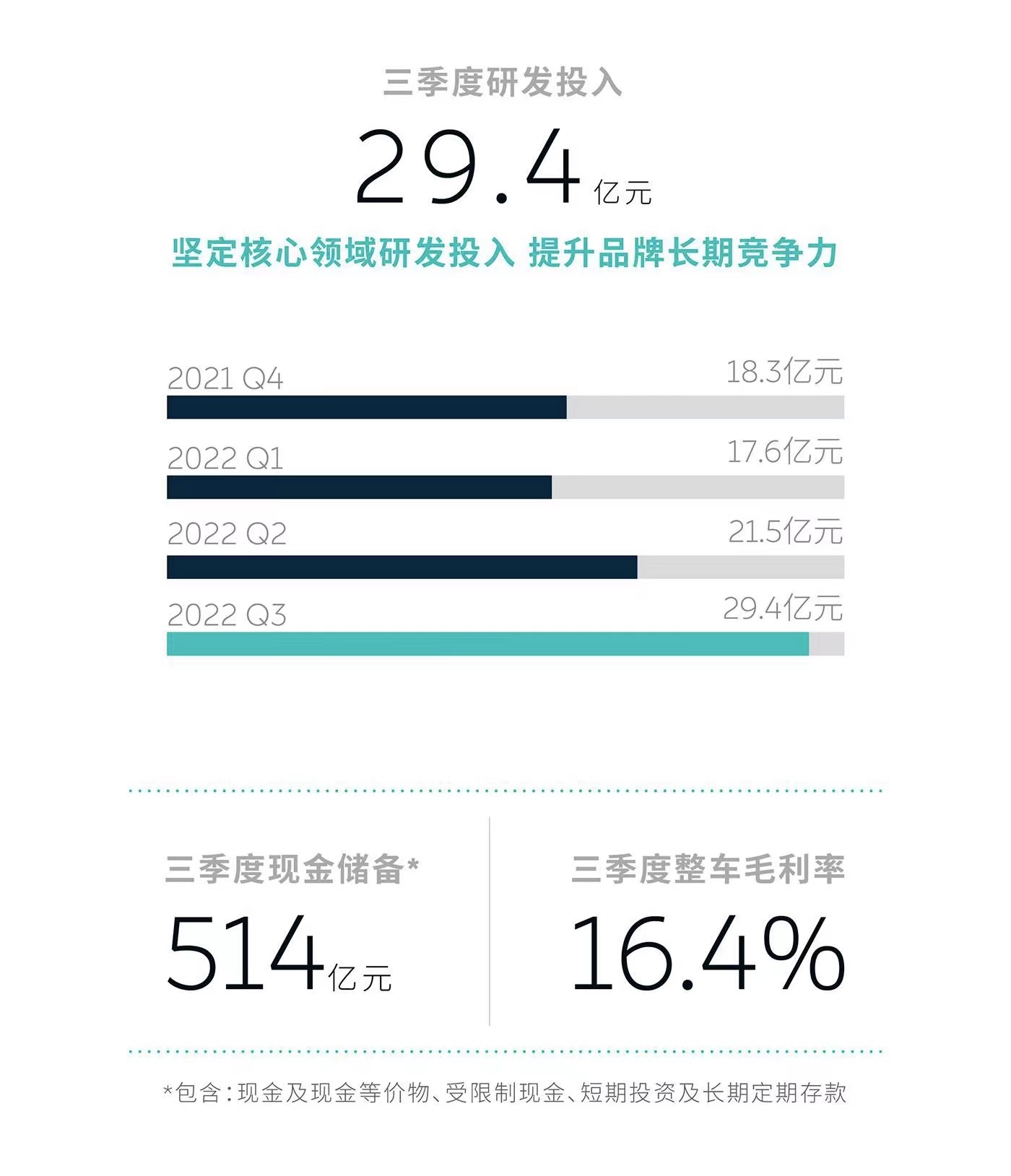 "`In Li Bin's view, the gross profit margin of bicycles is linked to R&D costs, because many inputs are ultimately aimed at increasing profits, and lithium-ion raw materials are particularly prominent in this regard.
Li Bin said that this year's biggest challenge to the gross profit margin comes from battery prices, because the NIO car series has a relatively large battery capacity, and the price of lithium carbonate is at a high level reaching 600,000 yuan, which affects several points of gross profit.
Li Bin also mentioned that the fluctuation of the price of lithium carbonate by 100,000 yuan per ton affects approximately 2 points of gross profit. In other words, when the unit price falls from 600,000 yuan to 400,000 yuan, NIO bicycles can increase the gross profit margin by 4 points.
NIO spent a particularly large amount of money in Q3, nearly 3 billion yuan. This is mainly due to the expansion of the market, and the cost of investment naturally increases. In this conference call, Li Bin directly stated that NIO is currently developing AD chips. There are two main reasons for this: one is to customize chips based on software, and the other is to improve efficiency, which can improve gross profit margin.
The other is lithium-ion batteries and new branding.
Recently, there have been continuous news about NIO's new brand codenamed "Alps". First, users spotted relevant models on the road for testing, and then Horizon Yu Kai announced that Horizon will supply chips to NIO's new brand.
Li Bin has only one expectation for the new brand, which is to become a popular item in the mass market. The significance of vertical integration for new brands is self-evident, and powerful vertical integration capabilities are very important for achieving the long-term goal of a single bicycle gross profit margin of 25-30%.
And other investments include mobile phones and NIO infrastructure, among others.
Regarding the issue of continued investment in the future, Li Bin said that the R&D investment for these new businesses next year will be around 3–4 billion yuan, or approximately 1 billion yuan per quarter.
NIO in 2023: Worth the Wait
As the end of the year approaches, it's time for a review of the past and a look to the future. In the remaining month and a half of this year, NIO's top priority is to accelerate production and ensure deliveries.
NIO's plans for next year are also becoming clearer. First, NIO will rely on the ET5 to achieve its goal of delivering 300,000 vehicles annually, which means that the monthly deliveries of the ET5 as the main vehicle model must reach over 10,000. Second, NIO will continue to invest in research and development, including NIO AD smart driving, AD computing chips, new car models under the new brand, and more.
In addition, Li Bin revealed that NIO will launch five new models in the first half of next year. We can boldly predict these five new vehicles, except for the NIO EC7, which is already partially revealed, NIO is highly likely to release an updated 866 model. NIO's EC6 under the NT 2.0 platform is also highly likely to be Li Bin's "Model Y".
Therefore, in the upcoming year, with vigorous efforts on R&D, production, and vehicle launch, NIO may bring us surprises.
Next, let's talk about NIO's globalization.
NIO announced its entry into Europe only in October this year, but in November, it surpassed Mercedes-Benz and won an award in Germany. I believe NIO has played a leading role among other Chinese automakers. Meanwhile, it has also given other Chinese automakers planning to enter Europe some confidence.
First, this sends a signal that, in the context of the boom in smart electric vehicles, products are borderless. When European media mention NIO, they will mention that it is the product of a Chinese carmaker founded in 2014.
Germans did not feel pessimistic about its origin in a country that is a newcomer to the automobile industry. Instead, they have shown great interest in NIO's products, and quite a few users are attracted to the innovative battery-swapping, intelligent voice Nomi, or other product features.A good product has the power to impress users.
Moreover, returning to Li Bin's viewpoint, NIO has once boasted to make room for itself among the three dominant automakers. Therefore, to become a global auto company, it is necessary to confront the competition from BBA.
According to IHS data, from January to August 2022, global sales of new energy passenger vehicles totaled 7.83 million units, among which new energy passenger vehicles in China accounted for 38.6%, the largest market share, and the European market share was 27.2%, the second largest market share.
To win the "Golden Steering Wheel" award is NIO's first shot against BBA in the European market.
What is the Golden Steering Wheel award and how prestigious is it?
On the early morning of November 10th, the well-known German automotive magazine "AUTO BILD" announced the winners of the 2022 Golden Steering Wheel (Das Goldene Lenkrad) award, and NIO ET7 won the crown of the best mid-to-large-size car of the year, becoming the first Chinese brand model to win the Golden Steering Wheel award.
The Golden Steering Wheel award is not very well-known in China, so we need to understand first how prestigious ET7's award is.
The prestige can be viewed from two angles: whether this award is significant enough and whether the competition is strong enough.
The Golden Steering Wheel was jointly founded by the German magazines "AUTO Bild" and "BILD am Sonntag" in 1976 and has a history of 46 years. The award is held once a year, and the organizers call on readers to vote for over 60 models in eight categories sold in the market. Based on the voting results, several models in each of the eight categories enter the finals, and then are judged by an independent panel of automotive experts.
The independent panel of automotive experts will conduct multiple tests on the vehicles that made it to the finals, including exterior and interior design, power, handling, and comfort, among others. Therefore, this is an all-round annual car evaluation.Therefore, the long-standing Golden Steering Wheel Award, with its high professionalism and authority, is known as the "Oscars of the automotive industry". By the way, there is a stricter requirement than the Oscars judges, which is that the vehicles must have entered the German market in the year of judging to be eligible for competition.
Let's take a look at the competitors of ET7, they are Mercedes EQE, Citroen C5 X, Genesis G80, and Kia EV6 GT, all in the same group.
Two of the most interesting cars are Mercedes EQE and Kia EV6 GT, the former is the masterpiece of a veteran German automaker in the wave of electrification transformation, while the latter is based on modern 800V pure electric architecture and has gained some recognition in the North American market.
In the end, NIO won the crown in the birthplace of the automobile and the opponent's stronghold.
In addition, there are two points worth mentioning. In addition to being selected for the large car list and winning awards, NIO ET7 was also selected for the "Most Beautiful Car Model" review but lost to the Mercedes-AMG SL in the end. This indicates that European users and juries also highly recognize the design of NIO ET7, but compared to luxury cars and sports cars, it is indeed at a disadvantage.
Another point is that NIO's battery swapping station was also shortlisted for the "Innovation" list. Battery swapping may be commonplace among domestic new energy circles, but for European users, it is definitely an innovative experience.
According to NIO's plan, by the end of this year, NIO will launch 20 battery swapping stations in Europe and plan to deploy 120 stations by 2023. In addition, for the foreign battery swapping business, NIO has chosen to cooperate with Shell. However, in terms of the capital side of the battery swapping station, NIO has not considered cooperating with third parties.
Why did NIO win the award? Before the judging, AUTO BILD conducted a detailed test on ET7, and the title of this test was: NIO ET7, this is a good start.The judging team praised ET7 in the following aspects: spaciousness, design, handling, Nomi, and battery swapping. First of all, "AUTO BILD" praised ET7's spaciousness. The testing editor said that every passenger in the ET7 can enjoy a spacious seating space, especially the rear passengers. However, there are also downsides, such as a narrow rearview when looking back through the driver's seat because of the narrow rear windshield.
In addition, ET7 not only uses a large screen, but also has physical buttons. The material used is also renewable Karuun. Furthermore, its shift mechanism is a small cylinder that looks good and doesn't occupy space. It's also easy to use.
Regarding the driving mode setting, the German peers gave very high praise: this ET7 is equipped with two electric motors, providing more than 650 horsepower. In Comfort mode, ET7 is very "polite" and very smooth.
But in Sport mode, it's completely different. The fastest acceleration of ET7 can reach 3.9 seconds. The driving difference between modes is well done, which almost no other manufacturers can achieve.
Another impressive feature to them is Nomi.
Nomi is an assistant that blinks at users with a "pixel face". It can dance with the rhythm of music, answer questions, take selfies, learn the driver's behavior, and more. NIO aims to make Nomi not just a voice control function but a digital assistant.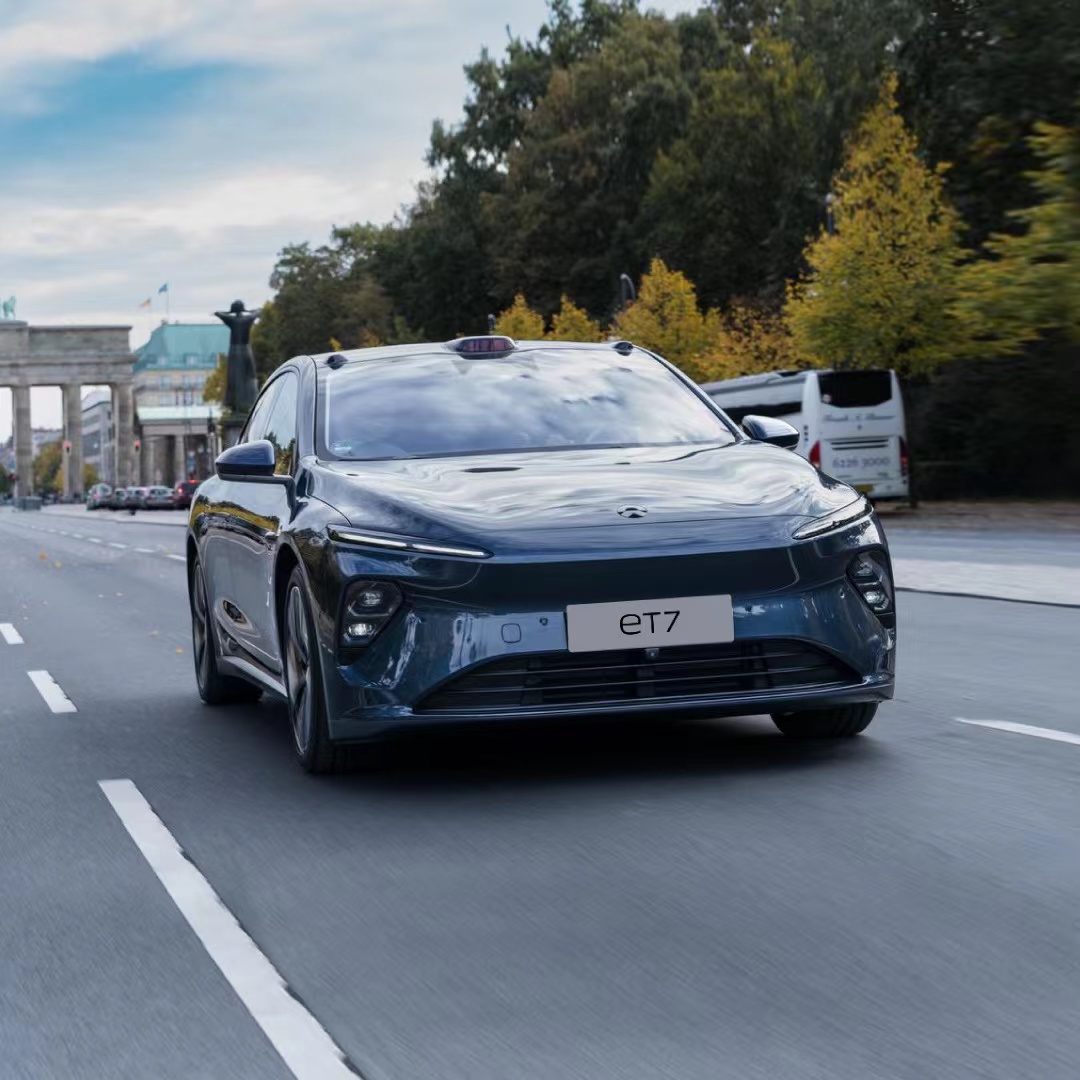 In the article, the testing editor summarized ET7's handling as excellent. The chassis and steering balance are done very well, and the braking feels great. Honestly, a German luxury car brand badge can be placed on the hood, but the price exceeds 69,900 Euros.Due to NIO not yet offering a complete vehicle buyout service in Europe, there is currently no official selling price. However, this editor believes that the price of 69,900 euros is similar to the selling price of Mercedes-Benz EQE in Germany. Of course, he must have also considered the pricing of ET7 in China.
Final Thoughts
2023 will be another tumultuous year. Those with fewer cards in their hands will be the first to be killed. In addition to playing cards, NIO has quietly held a few cards. As for how powerful they are, we will see at this year's NIO Day.
This article is a translation by ChatGPT of a Chinese report from 42HOW. If you have any questions about it, please email bd@42how.com.