Author: Zhu Yulong
With the relaxation of epidemic prevention and control measures and approaching the end of the year, the subsidy gate is slowly closing. In the past, car companies rushed to install and capture subsidies. Will the terminal market for new energy vehicles surge?
Let's take a look at the terminal insurance numbers for this week. The data range for this week is November 7th to November 13th. Due to the delay effect of buying a car and registering it, this week's data actually reflects the retail situation in mid to late October.
From the data, although both the year-on-year and month-on-month growth of new energy vehicles are positive, the overall trend is not very optimistic. Especially the large decline in sales of fuel vehicles shows that the purchasing power of residents is weak.
Overall data for passenger cars
In the second week of November, the total sales of passenger cars was 358,000 units, a year-on-year decrease of 1.0%, and a month-on-month increase of 0.6%, which is marginally acceptable.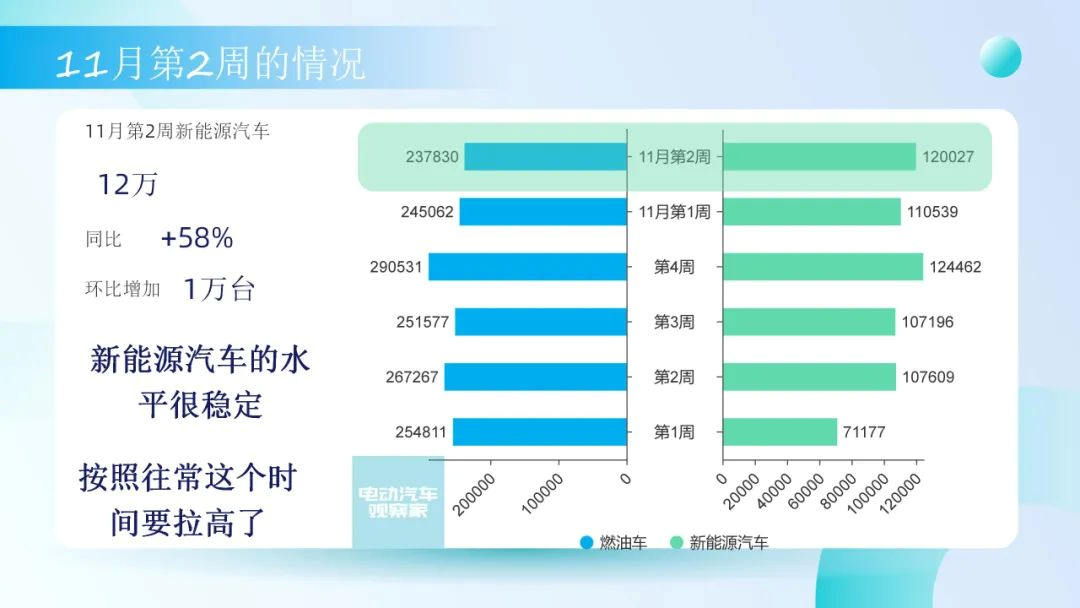 New energy vehicle sales were 120,000 units, a year-on-year increase of 58.3%, and a month-on-month increase of 8.6%. Compared with the data of 2021, the sales still rose considerably, but the month-on-month growth is losing momentum. New energy vehicles have indeed been closely linked to the overall situation of automobile sales. Sales of fuel vehicles were 238,000 units, a year-on-year decrease of 16%, which is really unexpected. This shows that the purchasing power of terminal consumers is insufficient.
Top 10 new energy vehicle companies
NO.1: BYD Auto sold 40,721 units. Since the second week of October, BYD has been delivering around 40,000 units per week. However, if we compare the wholesale numbers with the insured numbers and deduct the exported part, some cars have not been insured. Where are these cars stuck? We need to continue tracking.### Sales Volume of Major Automakers in November
NO2: Tesla China sold 13939 units. The recent Tesla Chaozhou accident, which caused 2 deaths and 3 injuries, has had a significant impact. Although Tesla has made mistakes, it may also be groundless. Let's wait and see the investigation results.
NO3: SAIC-GM-Wuling sold 8062 units, which has persisted for several months.
NO4: Changan Automobile sold 6678 units. The structure of Changan's new energy models is interesting: the ratio of the extended range version and pure electric version of the Deep Blue SL03 is 2:1, which is worth paying attention to.
NO5: Aiways sold 4369 units, with a stable performance.
NO6: Geely Automobile (excluding ride-hailing sales) sold 3838 units, with good performance as the year comes to an end, mainly for the B-side.
Key Brands to Pay Attention
Wenjie became the sales champion of new brands this week, with the top three (Wenjie, Li Xiang, and NIO) selling over 3000 units weekly, which is commendable. Xiaopeng sold over 1000 units and there is a large gap between it and the top tier. Weimar has reached over 200 units, which is indeed nerve-wracking.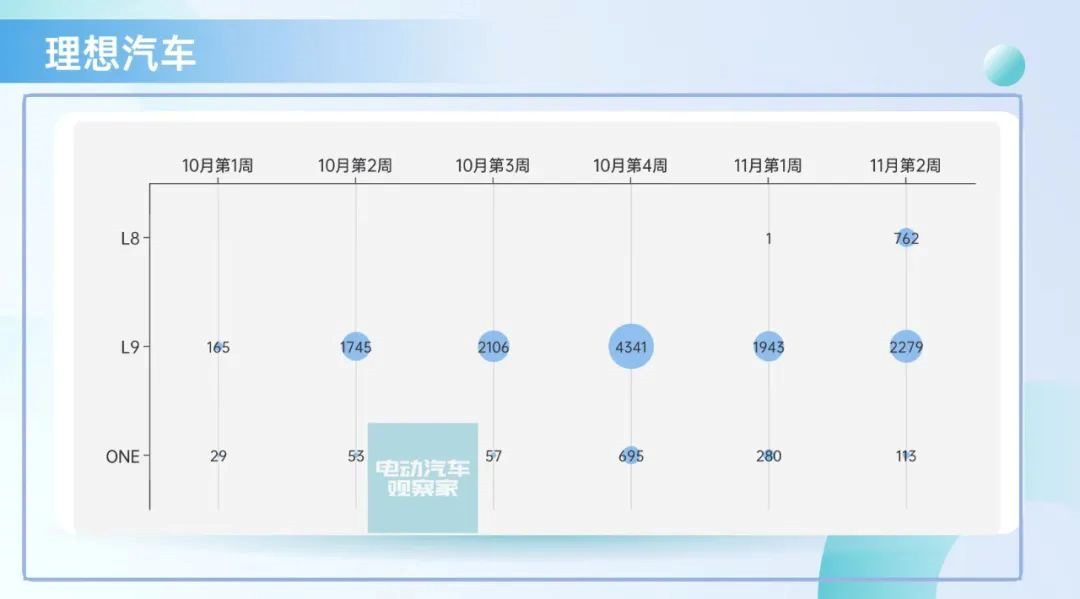 BYD
In terms of weekly sales volume, BYD sold 22,000 PHEV and 18,800 BEV. This trend will exist for a long time.
Among PHEV models, the Song series sold a total of 12,000 units, which is currently the main delivery force.
Dolphin sold more than 5200 units, accounting for 27% of pure electric vehicle sales; Leopard sold 1950 units, slightly lower than the 2316 units of Han EV.
Currently, BYD's insured units are lower than wholesale units. My understanding is that these vehicles have not yet been delivered to customers at the 4S dealership.
这是标题
这是一段正文,其中包含加粗、斜体、下划线、以及内联代码。
无序列表
有序列表
项目 1
项目 2
项目 3
表格
| 列 1 | 列 2 | 列 3 |
| --- | --- | --- |
| 内容 1 | 内容 2 | 内容 3 |
| 内容 4 | 内容 5 | 内容 6 |
图片
链接
This is a title
This is a paragraph containing bold, italic, underline, and inline code.
Unordered List
Ordered List
Item 1
Item 2
Item 3
Table
| Column 1 | Column 2 | Column 3 |
| --- | --- | --- |
| Content 1 | Content 2 | Content 3 |
| Content 4 | Content 5 | Content 6 |
Image
Link
This article is a translation by ChatGPT of a Chinese report from 42HOW. If you have any questions about it, please email bd@42how.com.