Article by Zhang Ruichen
Edited by Wu Xianzhi
On the evening of November 15th, Beijing Mercedes-Benz Sales Service Co., Ltd. announced that it has decided to adjust the suggested retail prices of some Mercedes-Benz EQ models starting from November 16th, 2022. The adjustment involves several models from the EQE and EQS series.
The models with adjusted prices are as follows:
Mercedes-Benz EQE: three models with price reduction ranging from RMB 50,000 to 50,700, with the new suggested retail price ranging from RMB 478,000 to 534,300 (pre-adjustment: RMB 528,000 to 585,000).

EQS: four models with price reduction ranging from RMB 204,600 to 237,600, with the new suggested retail price ranging from RMB 845,000 to 1,314,000 (pre-adjustment: RMB 1,074,700 to 1,513,600).

AMG EQS 53: Both models receive a direct discount of RMB 198,600, with the new selling price of RMB 1,486,000 to 1,547,000 (pre-adjustment: RMB 1,745,600).
Images can be found in the original Chinese Markdown text.It is worth noting that for customers who purchase relevant models before November 16, 2022, Mercedes-Benz will provide exclusive subsidy schemes based on the difference between the purchase invoice amount and the adjusted manufacturer's suggested retail price. This is much stronger than Tesla's "harvesting the crops" approach, which makes the owners of Mercedes EQE and EQS who purchased the cars before the price reduction feel more balanced. As long as you bring the invoice of the naked car price at the time of purchase to the relevant dealer, some subsidies will be provided to the old car owners who have already purchased the car.
Indeed, Mercedes' attitude and approach are really worth learning from many new energy vehicle companies. It cannot be said that the car bought yesterday is reduced in price today, and then say "this is a price reduction strategy" with righteousness, which hurts the hearts of consumers.
So why did Mercedes choose to reduce prices?
Initial pricing too high
Due to the high pre-reduction price of EQE and EQS, their presence in the new energy market is not strong, and some people don't even know what EQE and EQS are, which are simply the pure electric versions of the Mercedes E and S models. After the price reduction, the pure electric version and the fuel version of E and S have similar prices. Mercedes realized that electric cars should be priced the same as fuel cars to have a chance to sell. In this way, if they want to buy a fuel car, they can buy a fuel car, and if they want to try the electric car, they don't have to pay more.
Sales performance is not ideal
In the past few years, BYD and Tesla have dominated the new energy market, and Chinese new forces such as NIO have taken the lead in the mid-to-high-end market. Mid-to-high-end brands of traditional domestic automakers are also rising, but the sales of joint venture luxury brands in China's pure electric vehicle market are not optimistic.
New car mandatory insurance purchase data from the first three quarters of 2022 showed:
Mercedes-Benz's EQB has a cumulative sales volume of 3,917, EQA has a cumulative sales volume of 3,270, EQC has a cumulative sales volume of 3,092, EQS has a cumulative sales volume of 987, and the all-new AMG EQS 53 has a cumulative sales volume of only 35; the EQE, which was officially launched on August 24 and has been selling for 2 months, has a cumulative sales volume of 701, with only 683 units sold in September. The delivery volume of Mercedes EQ series in 2022 is not as high as the monthly delivery volume of domestic new forces. Only one BMW iX3 sold 20,660 units from January to October. Therefore, the price reduction of Mercedes EQ series this time is to bring higher sales volume to Mercedes.
3. Emphasis on the Chinese Market
The timely and rapid price adjustment made by Mercedes-Benz demonstrates its emphasis on the Chinese new energy vehicle market. For example, the Mercedes-Benz EQE had high sales expectations, but after only two months on the market, with sales starting in September following its official release in late August, market response wasn't as strong as anticipated. As a result, the company made an official announcement regarding a price adjustment, revealing the high sensitivity and quick response time of Mercedes-Benz to the Chinese new energy vehicle market.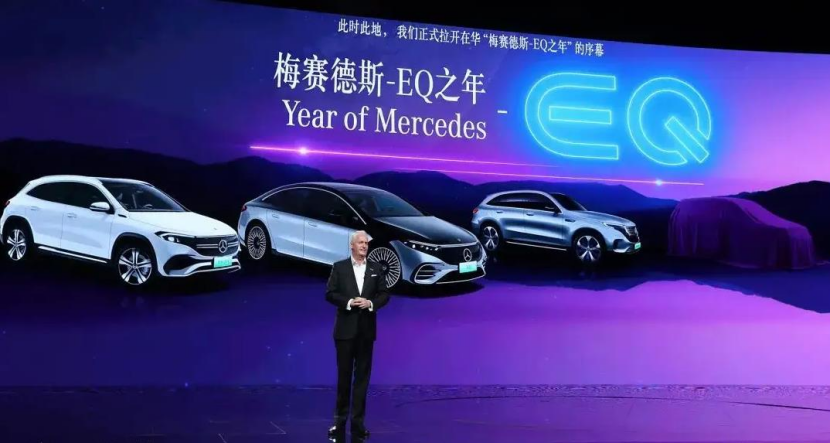 Final Thoughts
In the era of electrification, many of the original rules of the game have changed, and even traditional automobile companies need to transform with the changing market and develop reasonable strategies.
The reason why the Mercedes-Benz EQE and EQS were well-received but poorly sold was that the prices were too high. Lowering the prices will undoubtedly improve sales and make them more attractive to consumers who are planning to purchase high-end electric vehicles.
Mercedes-Benz's price adjustment offers a good transformation model for many joint venture car companies facing the same challenge. Whether or not this strategy will be successful is still dependent on the market's evaluation.
This article is a translation by ChatGPT of a Chinese report from 42HOW. If you have any questions about it, please email bd@42how.com.