Author: French Fries Fish
To ask which word has the highest frequency on the new energy vehicle press conference, I will definitely vote for "self-developed".
From software, to three-electricity, and even making their own chips, we have even received a soul-searching question in the background:
"When full-stack self-development becomes a trend, how should the Tier 1 international old brands suppliers go?"
Of course, only the soul knows the question that hits the soul most.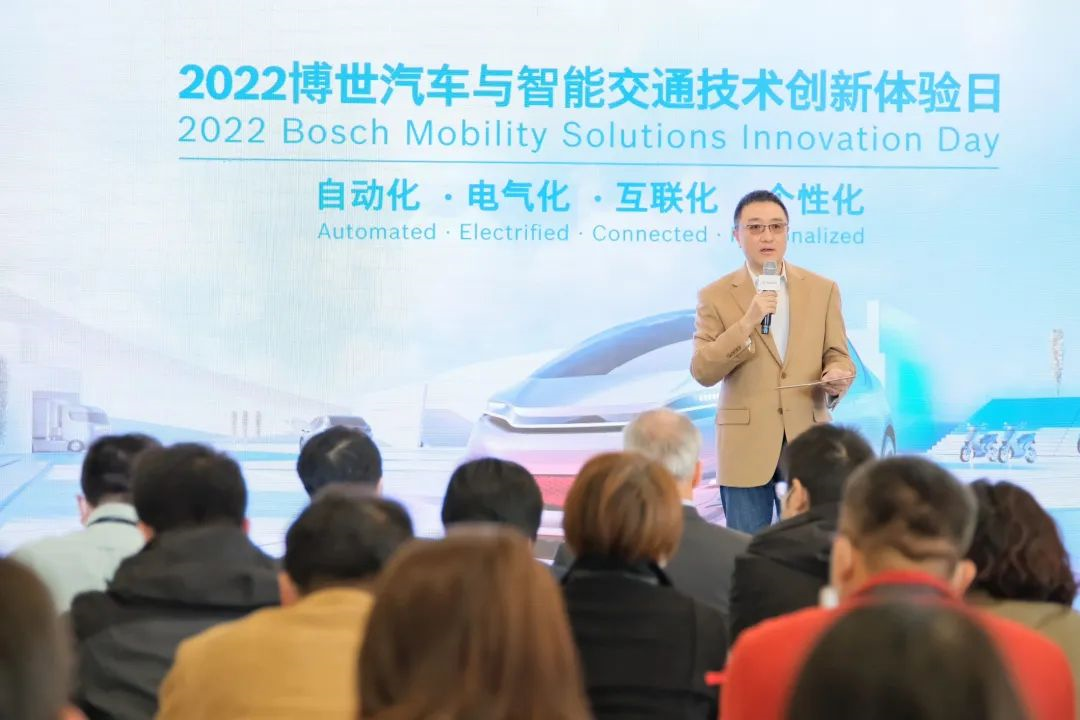 Recently, Bosch gave their thoughts on communication and exchange at the 2022 Bosch Automotive and Intelligent Transportation Technology Innovation Experience Day in China.
Growth against the trend
The Chinese auto manufacturing industry in 2022 is full of challenges. Pandemic, chip shortage, production stoppage, geopolitics… Compared to the future, we, who are in the industry observation position, are actually more concerned about the present.
Half a year ago, when the wave of resumption of work and production in the automotive industry began, Bosch China President Chen Yudong explained the importance of the Chinese market to the Bosch Group at the 2022 Bosch China Annual Press Conference with sales revenue.
In 2021, the entire Bosch Group achieved sales of 78.7 billion euros, of which Bosch China achieved 16.9 billion euros, equivalent to approximately 128.6 billion RMB in sales revenue. The year-on-year growth rate was 9.1%, and the sales revenue in China accounted for 21.4% of the Bosch Group's total sales revenue.
"Bosch China continues to be the largest single market in the Bosch Group worldwide".
Half a year later, when 2022 is approaching the end, Bosch China Executive Vice President Xu Daquan brought the latest revenue information.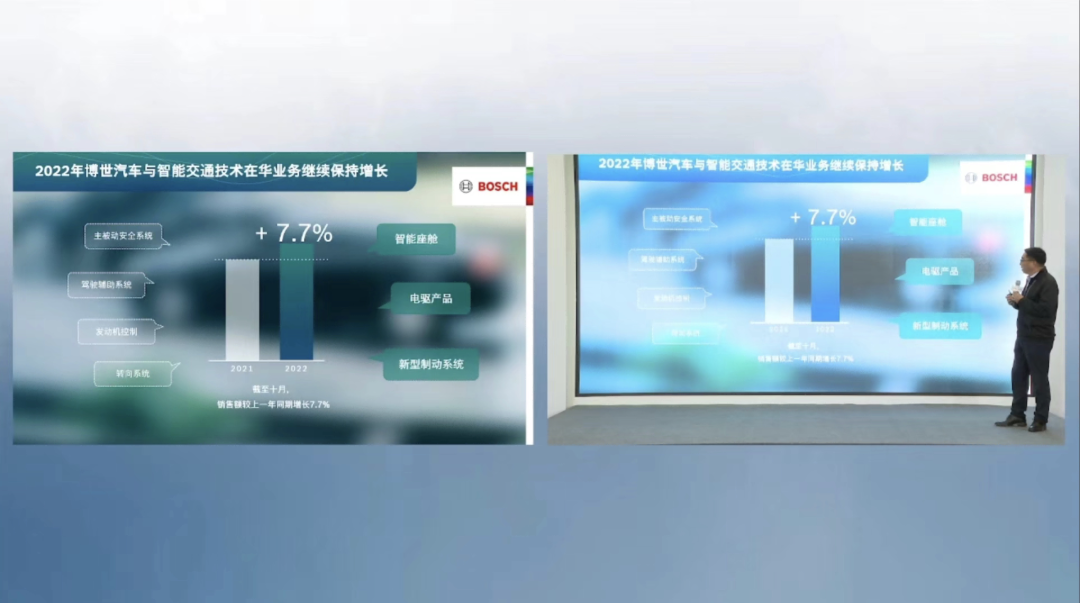 "This year we predict that there should still be positive growth compared to last year. As of October this year, our sales revenue has increased by about 7.7%."# Bosch's Positioning and Strategy in the Automotive Industry
According to Xu Daquan, this is mainly due to intelligent cockpits, electrical products, and new automatic systems. I discovered some signs of counter-market growth from the promotional video before the opening. In the short video of more than one minute, Bosch used a residential community scene to display the four major business segments of internal combustion engines, pure electric vehicles, hybrid vehicles, and fuel cell vehicles. What I saw was Bosch's balance and layout in the automotive industry. Do you think this is all for Bosch?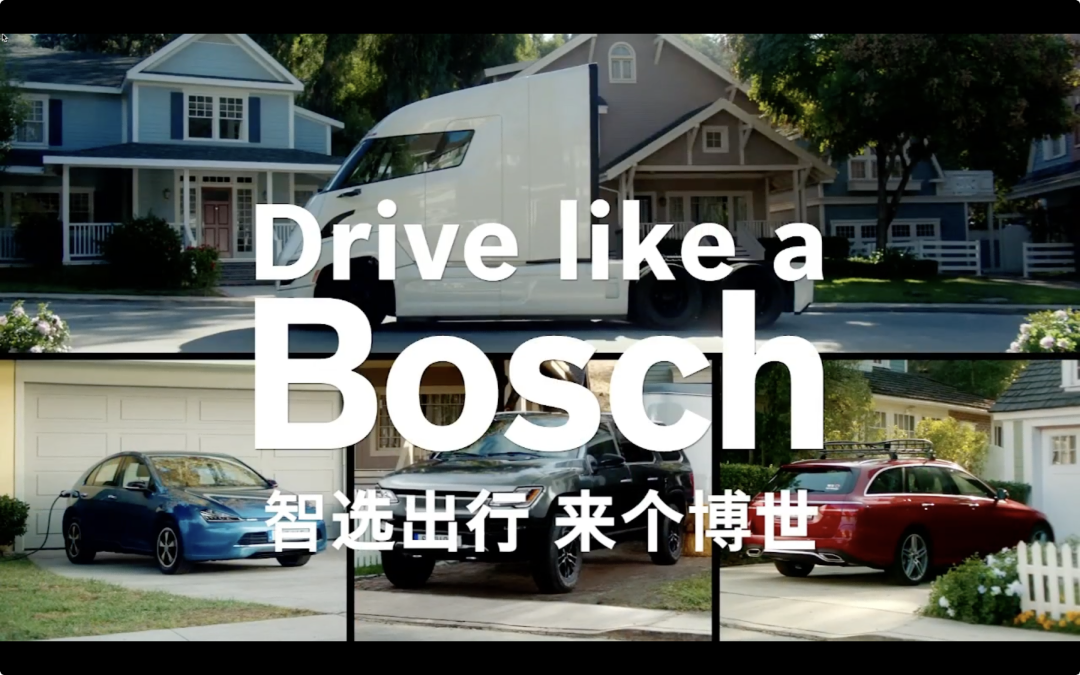 Despite the growth, Bosch still maintains rational thinking. In Xu Daquan's view, the current time is at the turning point of the technological development of traditional fuel vehicles and intelligent electric vehicles.
"From Bosch's perspective, on the one hand, many originally separate solutions have now become a control between the entire vehicle field and domain; on the other hand, software and hardware are beginning to separate, and software solutions are becoming increasingly important."
So, how to deal with the challenges in the changes? This technology company with more than 130 years of history gave me a technical answer first.
Technology Support
In the past, we always said "overtaking on a bend", but it now appears that China has indeed created a wormhole in the new energy track. Regardless of the sales volume of electric vehicles or the number of new cars launched each year, objective data tells us that China is in a leading position in the competition for electrification.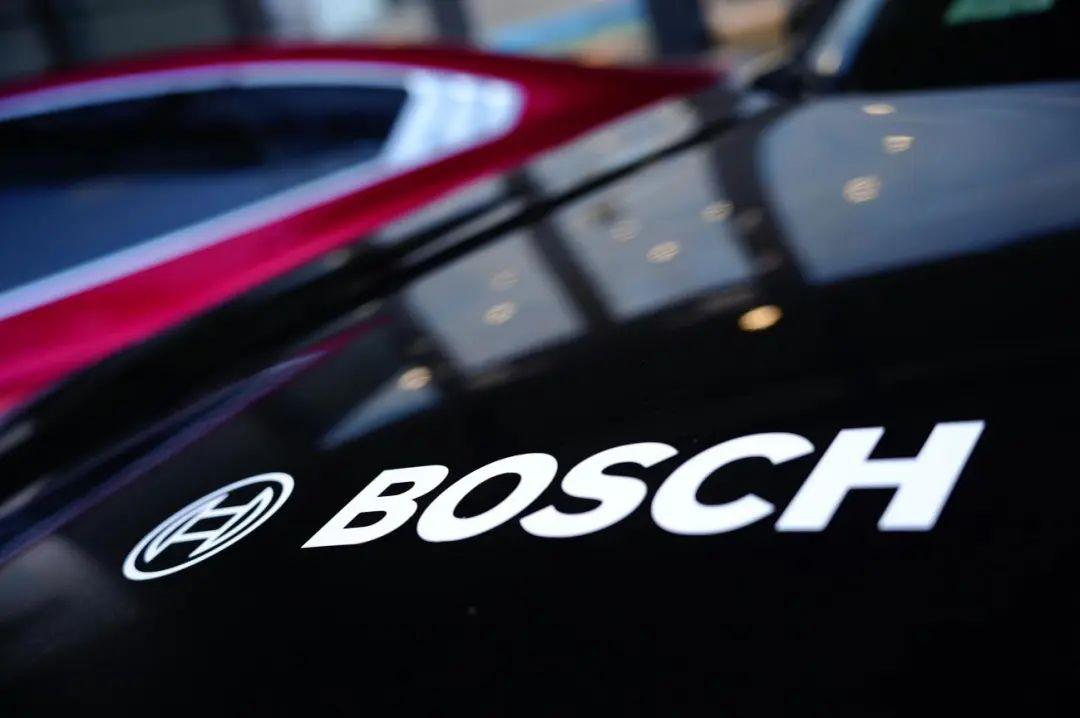 Leadership relies on the support of technological development, and the core of technological development is people.
In the face of fierce competition in the Chinese electric market and strong demand for applications such as intelligent cockpits, advanced intelligent driving, and automatic parking, Bosch China chooses to develop localization.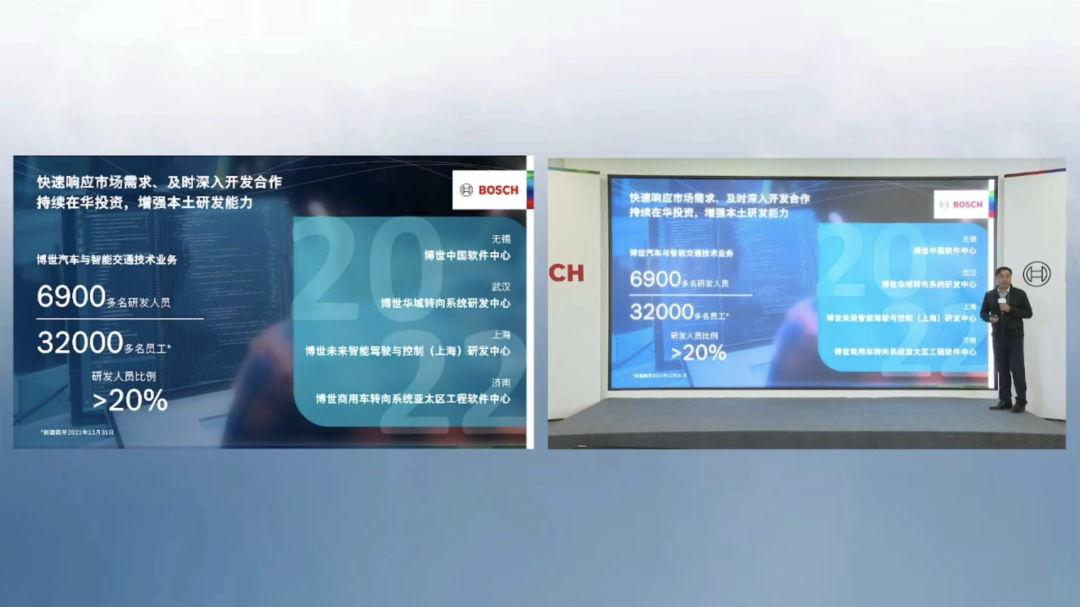 Thus, Bosch China has established its software center in Wuxi, currently employing about 800 people and expected to exceed 1,000 people next year. In addition, there are also turn control systems research and development center in Wuhan, intelligent driving and control research and development center in Shanghai, and commercial vehicle turn control systems Asia-Pacific research and development center in Jinan…
Bosch hopes to use localized technology to respond to the rapid mass production requirements of the Chinese market customers, while also reaping the benefits of local development.
"For some domains developed in China, basically all our engineers are locals who work on them. For some domains, we even lead the development over the entire Bosch worldwide, at least in terms of speed," said Xu Daquan.
Of course, in addition to these specific domain controllers, this Bosch Innovation Day also brought some of Bosch's latest achievements.
In the future-oriented chassis solution, Bosch has launched the Vehicle Dynamics Control 2.0 system with wired steering control, which can significantly enhance the performance of vehicles in braking and cornering controls.
In the semiconductor business, as the world's first developer of automotive power semiconductors, Bosch has also brought SiC silicon carbide and next-generation controller area network CAN XL in the new era of electrification.
In the currently most heated field of intelligent driving, Bosch has provided a comprehensive AOS middleware to help OEMs connect hardware and upper-level applications, and achieve rapid development, while also cooperating with local AI company Momenta to build a high-level intelligent driving perception architecture based on AI algorithms according to different customer requirements. Based on this, Bosch will launch the L2++ level high-level intelligent driving platform in 2023.
Prediction on the Future
If the first half of the communication meeting is about Bosch's self-interpretation of its current situation, then in the Q&A session of the second half, everyone brings up the label "future" spontaneously.
As an old topic which runs through the 2022 automotive supply chain, the chip supply problem is almost a question that must be answered during every session.
There is one advantage in communicating with Bosch, that is being straightforward. Half a year ago, Chen Yudong, the President of Bosch China, believed that the chip supply was insufficient. Half a year later, Xu Daquan, still holds a similar view.
"The problem has not been completely resolved now and is still in a state of chip shortage, and the forecast for next year is not optimistic," he said.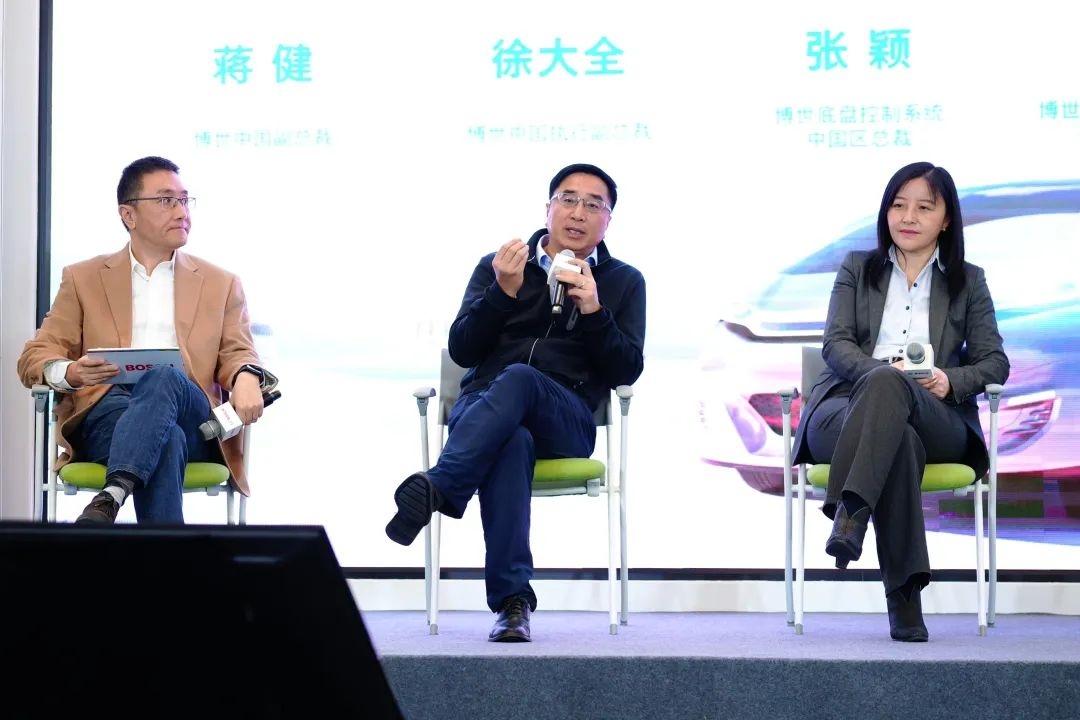 In his opinion, mass production of chips requires a relatively fixed investment cycle, and the contradiction between the surge in chip demand and fixed production capacity may only be reconciled by time. Although some domestic chip production lines have passed the vehicle-level certification, Xu Daquan frankly said that "with the size of Bosch China, what they want is not only availability, but also quantity," and domestic manufacturers will also need time to achieve these two goals.
In terms of emerging technologies in the industry, such as the popular skateboard chassis concept in Bosch's traditional strong chassis project in the past year, Zhang Ying, the President of Bosch Chassis Control System China, also gave a straightforward response.
"We have also jointly invested in some skateboard chassis technology companies," Zhang Ying said. On the one hand, Bosch has always been open to new technologies; On the other hand, if the skateboard chassis is to be a mass-produced product, it needs to solve not only a technical problem but also the problem of the entire supply chain because achieving perfect coordination between the lower body and upper body is not a task that can be completed by one company alone.
When it comes to the supply chain, we return to the question we mentioned at the beginning of the article: with more and more car companies starting to engage in "self-research," and more and more tech companies like Huawei crossing borders, what kind of impact will this have on Bosch's business development and layout?
"There has always been a concept called vertical supply chain, Tier 1, Tier 2, Tier 3, but now I think we should change the term supply chain, and call it a supply ecology, with cooperative relationships between each other," a Bosch representative said.
Bosch still clearly positions itself as serving customers, while also having more flexible cooperation models. "What our customers do, we may not do, but we can empower our customers."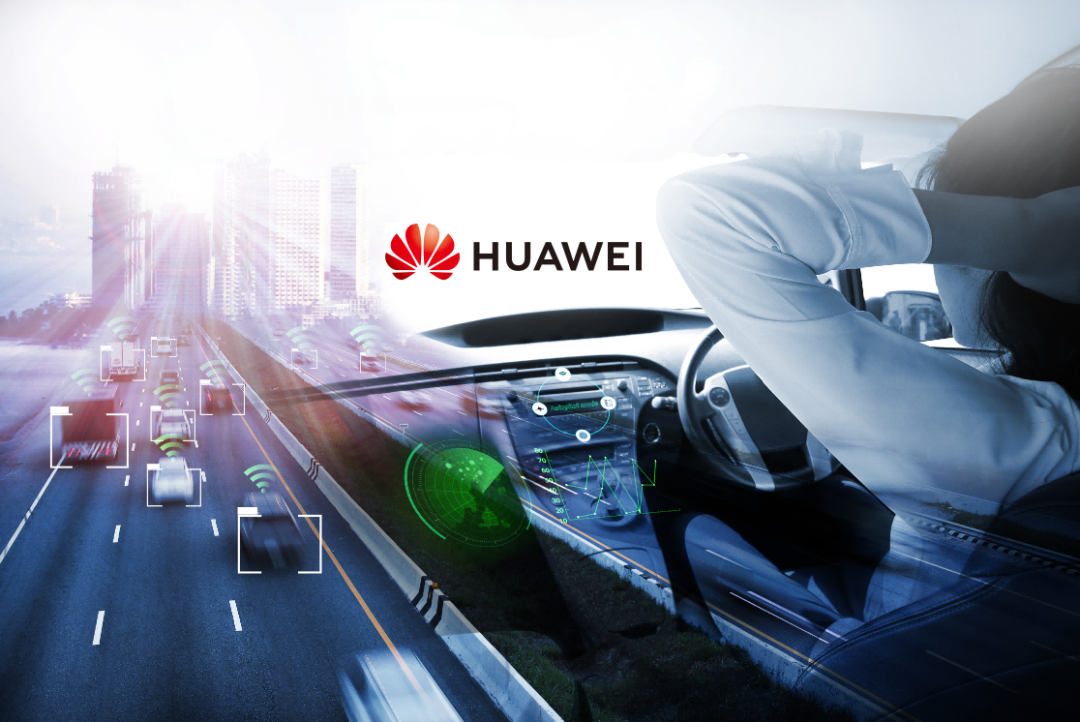 Regarding competition from new players, "we are definitely worried, especially during any technological change. It is a challenge not only for Bosch, but also for automakers," the Bosch representative said.
In the face of challenges, Bosch put forward the "three-step": first, whether they can make better decisions in China; second, whether they can increase investment; and third, whether they can collaborate with partners to create something new. This also reflects Bosch's view on the next stage of the automotive industry's supply relationship, which will shift from a vertical supply chain to a collaborative supply circle.
To put it simply and candidly express their concerns, this is probably the confidence that Bosch has, taking on the century-long company with vast breadth and still maintaining growth in a declining market.
The only regret is that due to the pandemic, I was unable to witness the confidence and experience their latest technology in person at Bosch's site. Fortunately, when the supply "chain" becomes a "circle," time is, after all, cyclical.I believe that it is worth our time to verify Bosch's future predictions, for example, by attending the Bosch Innovation Experience Day next year.
-END-
This article is a translation by ChatGPT of a Chinese report from 42HOW. If you have any questions about it, please email bd@42how.com.