Author: Wang Xuan
Recently, a very vivid meme to describe the rise of Chinese domestic brands has been discovered. It used to be "I don't have money, I'll buy BYD". Now it has become "I don't have money to buy, BYD".
On November 8th, BYD officially registered an account named "Looking Up to Cars" on Weibo. Subsequently, news about BYD's high-end sub-brand kept emerging. However, the most eye-catching information among all is that "the pricing of this brand's products may be between RMB 800,000 to 1.5 million."
In my memory, BYD has always been a car company that possesses the ability to create phenomenal achievements. In 2008, BYD F3 became popular overnight all over the streets and alleys. When people were just becoming affluent, joint venture products were still too expensive for most people. Positioned as a substitute for Toyota Corolla, BYD F3 had absolute advantages in terms of price/performance ratio.
What has happened recently to BYD is even more exaggerated. In April 2022, BYD announced the suspension of production of pure internal combustion engine products. Since then, relying on new energy products, BYD has consecutively achieved sales of over 200,000 units for several months, becoming the hottest car company of this year. Looking at the following chart, everyone can understand why BYD's high-end brand is named "Looking Up", after all, the huge gap in sales cannot help but make its competitors look up to it (just kidding).
Perhaps because of its popularity, after the release of "Looking Up" brand, there have been many doubts from the outside world. Regarding the opportunities and possible problems that Looking Up Automotive may face, we also have some points of view to share with you.
No one is more suitable than BYD to establish a high-end brand
For a long time, BYD's development template is similar to that of Toyota. In my opinion, there are five elements behind the promotion of a high-end brand: R&D, supply, performance, brand, and opportunity. Connecting the news that has happened to BYD recently, we can easily find out that promoting a high-end brand is also a smooth sailing for BYD.## Research and Supply Chain
A while ago, there was a relatively low-profile news that reflected many objective facts. Germany's car rental company Sixt announced that it had signed a new cooperation agreement with the Chinese automaker BYD to purchase approximately 100,000 electric vehicles from BYD in the next few years. Regarding this news, the director of the German Automotive Management Institute said in an interview with the German Business Daily that Chinese companies have stronger delivery capabilities in the field of electric vehicles than German automakers. If you order products from European manufacturers, the delivery cycle will take more than a year.
BYD's current position in the automotive industry is similar to that of Toyota in the vertical integration capabilities. One of the important reasons why Toyota is strong is because of its self-closed-loop system, and its loyal suppliers such as Aisin Seiki also have Toyota's shares.
At present, BYD also has this capability. Friends who have been to BYD's headquarters may have learned that BYD has a special wall to display patented technology, and these technologies can enable BYD to integrate the upstream and downstream industry chain to form a self-supply closed loop, even in the global automotive supply chain winter. The fastest speed can be delivered to customers.
At the same time, self-research ensures the core competitiveness of the product in terms of performance; supply can meet the growing demand of consumers for the product, and both are the basis for BYD to move towards the high-end market.
Performance
BYD's DM-i is the most important technology for them in the past five years. It is also because of this technology that BYD leads the way in the field of plug-in hybrid and occupies 80% of the market. Interestingly, when we recently went to test drive plug-in hybrid products of other independent brands, the market participants all asked us the same question, "Why do you think BYD is successful?"
In the eyes of many people, BYD's success is a phenomenon, but in fact, there is a causal relationship behind all black swan events. BYD's success is to some extent that they bet on the right thing and invest perseveringly to achieve great results.
Since 2015, BYD has devoted itself to the field of plug-in hybrid. The most impressive product is Tang DM, and it also has a loud label "5-4-2", which is a 5-second acceleration, 4-wheel drive, and two-liter fuel consumption per 100 kilometers. However, at that time, BYD only unlocked the performance trend of hybrid technology, using the electric motor to assist the engine output, but the actual fuel consumption was staggering."`

I haven't experienced the first-generation BYD Tang, but I have driven the "Dragon Face" Tang DM handcrafted by Wolfgang Egger. Its acceleration is indeed powerful, and its fuel consumption is impressive, with 12 or 13 liters of fuel consumed in city driving with electricity feeding. Although it has outstanding performance, the product characteristics of DM don't cater to the public. Fuel economy is more important than performance for those who choose BYD.
In 2020, BYD's sales were very poor until the release of the DM-i system, which was acclaimed for its excellent fuel economy not only in the media but also from users' positive feedback. At that time, BYD was the first independent brand capable of challenging Toyota and Honda's hybrid systems, which was equivalent to entering a blue ocean alone.
Recently, it was rumored that Audi would adopt the BYD DM-i and DM-p systems, which was equivalent to indirectly proving the excellent performance of BYD's hybrid system.
Brand
Recently, I chatted with a friend who works in marketing at a new energy vehicle company. He threw out a point of view to me, "No sales, no brand." It is indeed the truth. No amount of media endorsement can surpass word-of-mouth from users. With the premise of multi-faceted product performance and guaranteed production capacity, BYD now sells over 200,000 units per month.
The foundation of BYD's promotion of high-end brands is based on its very good mass foundation. After everyone recognizes it as a bright spot of made-in-China products, setting up a high-end brand is a matter of course, and there will be relatively fewer doubts.
In contrast, it is more like rowing upstream for many brands to set up high-end sub-brands, which is often driven by strong purpose. For example, setting up high-end brands for the sake of brand uplift is a problematic approach in itself. Firstly, why should we change our identity? Because the public does not accept the idea of turning old brands into high-end cars; secondly, doing high-end without a mass foundation will only lead to more doubts and criticism.# Former BYD relied on a hot-selling F3 to conquer the market. Later, it launched high-end models such as BYD Tang and Han, which underwent a successful brand upgradation. Five months after its launch, BYD Han's monthly sales exceeded 10,000 units, and in September this year, Han's monthly sales exceeded 30,000 units for the first time. This data is quite good for an independent brand car with an average selling price of over 200,000 yuan, and also represents users' increasing expectations for BYD.
Opportunities
Toyota's high-end sub-brand is Lexus, which was established in the late 1980s and has a background story that is particularly similar to BYD's today.
First, Toyota entered the North American market by taking advantage of the oil crisis. It relied on better fuel economy and stronger product strength to gain a good customer base in the local market before launching its high-end brand. At that time, as long as Americans approved it, it was globally recognized because the US market was the world's largest automobile consumption market.
Today's high oil prices and the trend of new energy are very similar to the situation during the oil crisis, and BYD's series of operations are similar to a rehashed Toyota.
Mysterious Million-dollar Pricing
Along with the announcement of Yiluda Auto, three important pieces of information were also released. BYD will set up independent operation and sales teams for new brands and learn direct sales models; the first product is positioned as a high-end tough SUV, and judging from spy photos and patent images, the styling proportions are similar to those of the Land Rover Defender; the price range for the brand's products may be between 800,000 and 1.5 million yuan.
Among all the information, the price range of 800,000 to 1.5 million yuan is the most ambiguous, because BYD has not officially announced the pricing range of Yiluda Auto through any official channels, but all media reports will include such information, perhaps because they believe that the contrast between the million-yuan price and the independent brand will attract more traffic. We traced the source of the information as much as possible and found that it came from a report by Reuters.
Regardless of the final pricing, the brand positioning of Yiluda Auto must be higher than that of BYD, and we can also see some clues from its first model.
There are two big price gougers in the Chinese car market, one is the Toyota Alphard, and the other is the Mercedes-Benz G-Class SUV. Price gouging represents the existence of a premium space that similar models can be accepted. For independent brands, their products lack premium ability.It is not difficult to find that many domestic automotive brands tend to benchmark their products against luxurious models during their brand upgrading process. For example, Xpeng, Lantu, and Tengshi have released high-end MPV models successively this year. And the first vehicle launched by Yangwo looks similar to the Mercedes-Benz G-Class SUV in terms of positioning.
It is extremely difficult for traditional sedans and SUVs to offer products with "one-step luxury", because consumers have a clear understanding that a luxury car needs to be preceded by an entry-level model, such as S-Class with a million yuan price, with C-Class and E-Class as entry-level vehicles. However, MPV and hardcore SUV are relatively independent categories, and using the two of them to enhance the acceptance of million-yuan positioning cars would be accepted more easily. Although the earlier car brands, which tested the high-endization, filled their products with numerous configurations, they remained restrained in pricing. Everyone understands that breaking the price ceiling is not challenging the product strength of the company itself, but challenging consumers' perceptions.
However, the foundation of establishing a high-end image for Yangwo Automobile is still to understand its differentiation advantages and core competitiveness. Today's Chinese automobile market is vastly different from that of the United States 30 years ago. Lexus LS was able to establish itself due to the large possibility of technological advancement in the automotive industry at that time. For example, the early and most impactful advertisement of Lexus LS put a high champagne glass tower on top of the engine, representing that this model has extremely high smoothness, which only Lexus can achieve. After the oil crisis, American car engines were still in a weak and unstable condition, and they had no chance of competing with Lexus.
Nowadays, the product strengths of the automotive industry have entered a relatively stable plateau period, and internal competition has become more severe, with many configurations that were once available only in million-yuan vehicles now equipped in cars priced at around 300,000 yuan. To be frank, this is not the era suitable for brewing million-yuan luxury cars.
On November 16th, at the press conference of the release of BYD's three millionth new energy vehicle, BYD Chairman Wang Chuanfu announced that BYD will soon bring disruptive "black technology" to provide users with top-level safety protection. He also stated that this technology will be equipped on the first model launched by Yangwo, which will be unveiled in early 2023.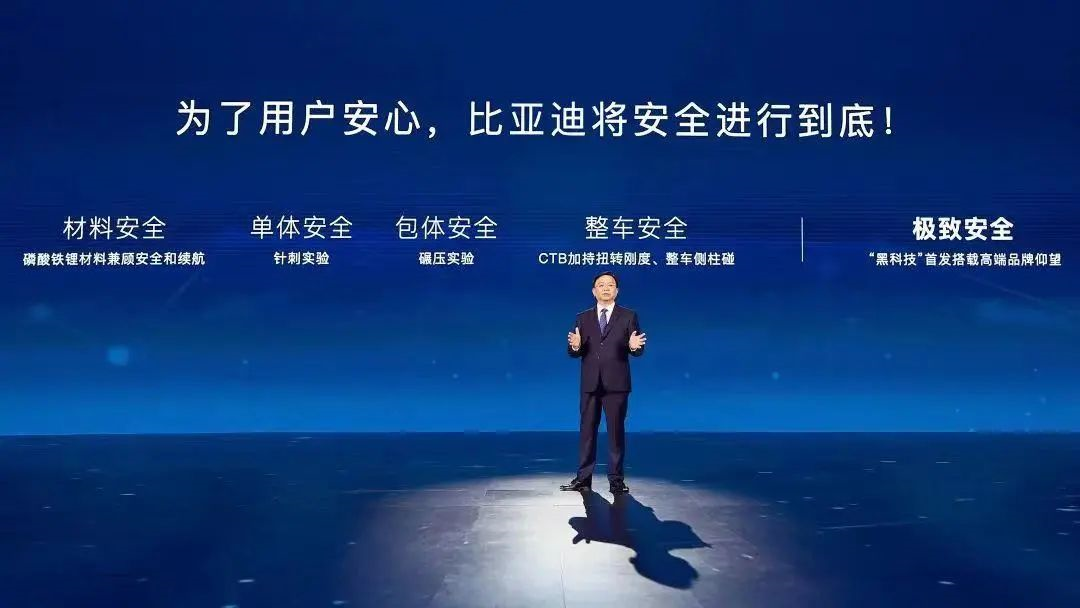 The disruptive security technology is worth our anticipation, but it cannot become the core competitiveness of luxury attributes of automobiles. "Safety" is a basic requirement for a car product in the eyes of users, and there is no possibility of increasing the value of a car product through safety. So, for the rising car brand, its difficulty lies in finding its own luxury path.
BYD needs to strengthen its efforts in the second half.
The competition of automobile products in the second half is about intelligence, while the competition of automobile brands in the second half is about high-end. The biggest obstacle to BYD's high-end development is intelligence. In the shareholder meeting in June this year, Wang Chuanfu candidly admitted the disadvantage of BYD in intelligence.
At present, new energy vehicle companies are the leading players in the new energy vehicle market of over 300,000 yuan. Their success also poses a certain threat to BYD's high-end development, because intelligence is their core story, and they are silently teaching consumers that intelligence is a necessary selling point for high-end electric vehicles.
Of course, BYD also recognizes the seriousness of the problem. In the first half of this year, BYD has successively released news of increasing investment in smart development, and has also cooperated with multiple smart solution providers. In February 2021, BYD invested in Horizon Robotics, a vehicle AI solution provider. In December 2021, BYD and autonomous driving company Momenta established DiPai ZhiXing, a joint venture for autonomous driving, and in February 2022, BYD made a strategic investment in Speed-Ten Juchuang, a leading Chinese lidar company.
Although the money has been spent, Rome was not built in a day. At least from the current product performance, BYD still has some gaps compared with head smart car companies in the fields of smart cockpit and autonomous driving. Whether it can make significant progress when released its first product under the YS brand, is also unknown.
Final Thoughts
For the release of a high-end sub-brand, we have summarized BYD's advantages and disadvantages, but we still have confidence in this star car company.
We can see BYD's tenacity in sticking to the vertical integration strategy, persisting in the field of plug-in hybrid, and focusing on new energy vehicles from beginning to end. Perhaps they are not fully prepared for the unfamiliar high-end automobile market yet, but a giant ship still needs to sail out of shallow waters into the deep sea.# 这是一篇 Markdown 文本
这是一篇关于使用 Markdown 的文章,其中包括以下内容:
标题: 使用 # 号进行标记

段落: 直接输入即可

列表:

无序列表使用 – 或 + 进行标记

有序列表使用数字加 . 进行标记

链接: 使用格式 显示文本

图片: 使用格式

粗体和斜体: 分别使用 ** 文本 ** 和 * 文本 * 进行标记

代码块: 使用 "` 代码块语言名称 代码块内容 "` 进行标记

表格: 使用 | 进行分隔,第一行为表头,使用 — 表示分隔线
This is a Markdown text
This is an article about using Markdown, which includes the following:
Title: Marked with # sign
Paragraph: Written directly
List:
Unordered lists are marked with – or +
Ordered lists are marked with numbers and .
Link: Use format [display text](link address)
Image: Use format ![alternate text](image link)
Bold and italic: Marked respectively with text and text
Code block: Marked with "` language name block content "`
Table: Separated by |, the first row is the table header, and — is used to indicate a divider
| Head1 | Head2 |
| --- | --- |
| Content1 | Content2 |
This article is a translation by ChatGPT of a Chinese report from 42HOW. If you have any questions about it, please email bd@42how.com.