Author | Qiu Kaijun
Editor | Qiu Kaijun
When the "Roll King" gets serious, even himself will be "rolled".
AION Y, launched in April 2021, won the top spot in monthly sales of A-level pure electric SUVs just two months later. By August 2022, the total sales of AION Y exceeded 100,000, making it the first 100K+ in the 150K-level pure electric SUVs and ranking among the top 10 SUVs of all categories, which can be said to be a phenomenal explosive model.
While AION Y continues to sell well, the Aiways brand has started to "roll" itself – the AION Y has been upgraded in as many as 85 ways to become the AION Y Plus, which is worth more than 20,000 yuan, but is basically priced the same as the sold-out old model of AION Y.
Such an affordable upgrade, of course, has also impressed many consumers who were already paying attention to AION Y. The AION Y Plus, which was launched on September 27th, sold 12,600 units in just one month, a year-on-year increase of 185%.
In fact, to challenge one's own achievements, one must self-improve and resolutely "roll" oneself, which is the daily routine of being a "Roll King". While "rolling" oneself, of course, one also "rolls" the same industry, but what is more admirable is that AION Y Plus has begun to "roll" towards fuel.
"Roll" with peers: Product strength speaks for itself
The sustained sales of AION Y are essentially due to its outstanding product strength, while AION Y Plus further highlights the advantages of its product strength.
The AION Y Plus has a starting range of 510 kilometers and a price starting at only RMB 139,800. In this price range, AION Y Plus has the longest range.
Compared with models that are also popular and pursuing cost-effectiveness, the product strengths of AION Y Plus are outstanding. Compared with the Yuan Plus EV, in a similar price range, the AION Y Plus has a longer range of 80 kilometers, a longer length of 80mm, and a longer wheelbase of 30mm.
And, when it comes to space utilization, AION Y Plus can be said to have reached the extreme. The second-row seats have spacious and flat foot space, even enough for a woman to lie flat. Even if the front seats are adjusted to the furthest position, there is still more than a fistful of legroom for rear passengers. Moreover, AION Y Plus supports the front seats folding completely flat, forming a 1.8m double bed. Combined with various functions of the intelligent cabin, AION Y Plus has many magical ways of using space.
In terms of intelligence, AION Y Plus has unparalleled product strength compared to its peers.
AION Y Plus is equipped with ADiGO SPACE intelligent cabin, with the strongest 8-core computing platform in its class, 14.6-inch high-definition screen, Tony Bongiovi's master tuning audio system, and provides consumers with multiple technology scenarios such as driving, gaming, karaoke, cinema, sleeping, and camping.
In terms of intelligent driving, AION Y Plus applies ADiGO PILOT intelligent driving, which can enjoy high-level intelligent driving experiences including Traffic Jam Assist (TJA) and Intelligent Cruise Assist (ICA).
In the intelligent electric vehicle consumption era, it is also the new consumption era supported by the mobile internet. It is difficult for consumers to have information asymmetry. The sales bestseller is a model with good product strength. AION Y Plus can sell well without a secret.
"Zilaijuan": 85 Upgrades
At the time of the release of AION Y, it was already known for its trendy appearance loved by young people. AION Y Plus strengthens this point even further.
In terms of appearance, AION Y Plus adds new small sure apricot appearance color and the interior adds a zero-focus green interior theme, making the car a total of 10 exterior colors and 5 interior themes.
In terms of interior details, AION Y Plus replaces the knob-style shift with a silver metallic smart driving integrated shifter. Starting the ADiGo PILOT intelligent cruise system is simpler, just shift the lever twice. The exclusive shifter function of high-end cars like Mercedes-Benz and Tesla has been integrated into AION Y Plus, demonstrating excellent integration ability.
In addition, AION Y Plus adds eight levels of brightness and 32-color dynamic light beam ambient lighting, replacing multiple hard plastics on the interior panel with soft materials, which adds a sense of luxury.
Generally, when upgrading a model, dimensions will not be changed because this means huge costs of mold alterations. However, AION Y Plus increases the length by 125mm. On one hand, this makes the model look more dynamic, and on the other hand, it provides more space. As a result, the trunk space of AION Y Plus increased by 39L, equivalent to fitting in one more suitcase.
While maintaining price stability, AION Y Plus can still continuously upgrade and bring new benefits to consumers. This is the conscientiousness of the "Roll King" who aims to promote intelligent electric vehicles.
The "Rolling" Confidence for Fuel Cars
The good electric vehicle is the one that can "roll" the fuel car.
AION Y Plus can "roll" the fuel car by relying on its cost-effective advantages in the entire car life cycle.
Let's use Honda XR-V, which is a fuel car competitor of AION Y Plus, as an example.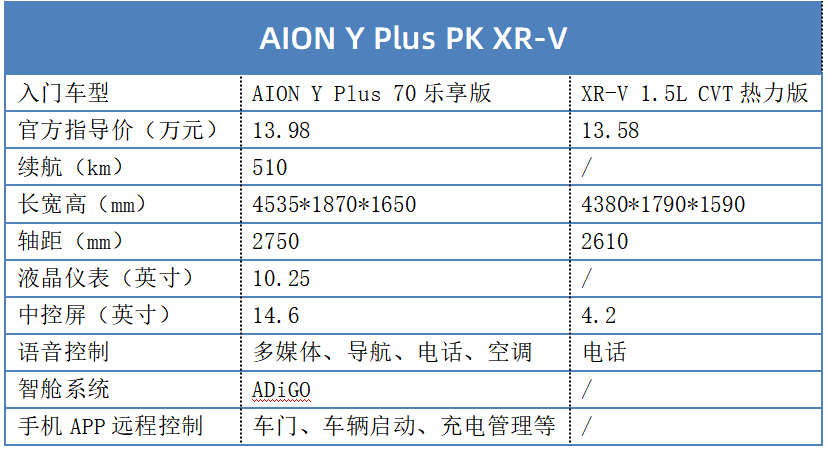 In terms of configuration, AION Y Plus has some advantages over XR-V. Even at the lowest configuration level, XR-V still lacks a rearview camera; however, AION Y Plus already has a complete set of standard features such as rearview radar, camera, keyless entry, and even intelligent functions that make fuel cars look inferior, such as remote control and a large central control screen.
Even if we ignore configuration and focus on the ongoing cost, AION Y Plus has a cost of less than 0.1 yuan per kilometer on a private charging pile, and a cost of no more than 0.25 yuan per kilometer on a public charging station, considering long-term usage.
However, for XR-V, with the current fuel price starting at ¥8, the cost of each kilometer traveled is at least 0.5 yuan.When it comes to cost-performance ratio, it is meaningless without taking cost into consideration. Let's do the math with the lowest configurations of the two cars.
The AION Y Plus has the confidence to beat its rivals, costing 80,000 RMB less than them over a 10-year period.
The self-cultivation of the "Rolling King": Breaking the "Intra-industry Competition"
"My small goal is to sell 20,000 AION Y Plus vehicles per month," said Xiao Yong, vice president of sales at the AION Y Plus launch event.
Rolling into the gasoline vehicle market is necessary to achieve the goal of selling 20,000 vehicles per month and also the mission that an ambitious EV model should undertake.
AION Y Plus's journey is an all-out compact SUV market. Therefore, even after AION Y has created a phenomenal sales record, AION Y Plus still keeps rolling. However, it should be noted that AION Y Plus is rolling outward instead of inward.
"Intra-industry competition" is a tactic for companies to maintain market share in a shrinking or stagnant market with the strategy of "damaging others and oneself". But AION Y Plus, by upgrading itself and charging into the gasoline vehicle market, has pursued the ultimate solution to avoid "intra-industry competition" and cultivate itself as the "Rolling King".
This article is a translation by ChatGPT of a Chinese report from 42HOW. If you have any questions about it, please email bd@42how.com.