撰文 | Zhang Ruichen
编辑 | Wu Xianzhi
On the afternoon of November 14th, Lingpao Motors released its financial report for the third quarter of 2022. According to the report, the company's revenue for the third quarter was 4.288 billion yuan, a year-on-year increase of 398.5%, and an increase of 38.8% from the second quarter of 2022. The net loss for the third quarter was 1.34 billion yuan, compared to a net loss of 720 million yuan in the same period last year. The delivery volume for the third quarter was 35,608, an increase of 186% compared to 12,471 in the same period in 2021.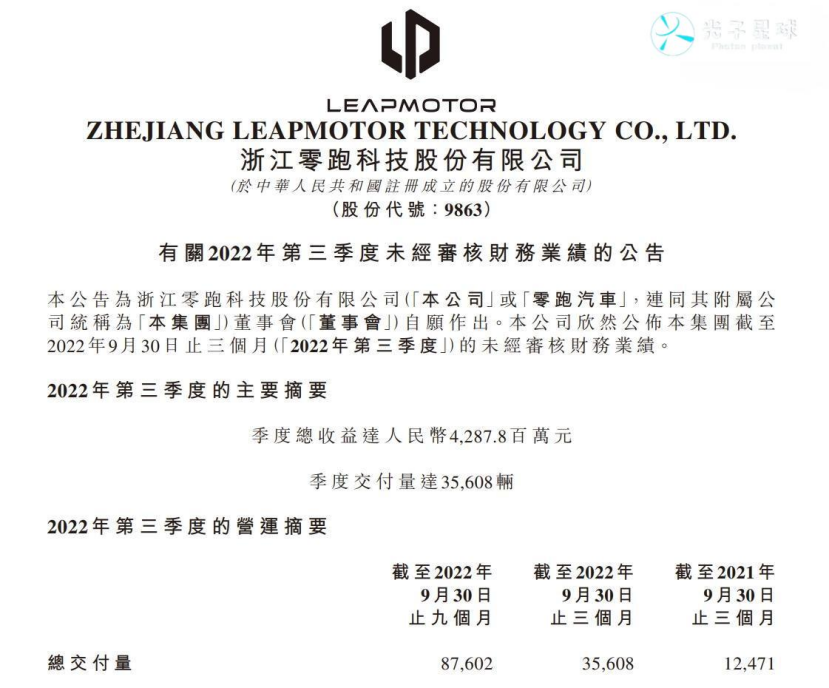 As of September 30, 2022, Lingpao Motors' sales network continued to expand, with a total of 490 stores covering 156 cities.
On September 29, 2022, Lingpao Motors successfully listed on the main board of the Hong Kong Stock Exchange with an issue price of HK$48 per share. As of the close of November 14th, Lingpao Motors closed at HK$21 per share, a 56.25% decrease from the issue price, with a total market value of approximately HK$24 billion.
Regarding specific vehicle delivery volumes:
In the third quarter of 2022, Lingpao T03 delivered 17,790 vehicles, an increase of 48% year-on-year;
The delivery volume of Lingpao C11 was 17,257, compared with only 253 in the same period last year;
The delivery volume of the LINGPAI C01, which officially started delivery in September, is currently 561 units.
From 2019 to 2021, LINGPAI's total revenue was RMB 117 million, RMB 631 million, and RMB 3.132 billion, with a compound annual growth rate of 417.48%; the net losses were RMB 901 million, RMB 1.1 billion, and RMB 2.846 billion, and the total losses for the three years amounted to RMB 4.847 billion. It is expected that the losses will continue in 2022.
The gross profit margin for Q3 2022 was 8.9%, which is a continuous improvement from 44.5% for the same period in 2021. The gross profit margin for Q2 2022 was 25.6%.
Why does the net loss increase every year despite the increase in sales volume?
Founded in December 2015, LINGPAI Automobiles launched its first model S01 four years later than NIO and Xpeng, and five months later than IDEAL Automobiles. Its name is based on the goal of "zero emissions, zero collisions, and zero congestion."
LINGPAI Auto's first model S01, priced between RMB 120,000 and 160,000, failed to gain market acceptance, with a delivery target of 10,000 units in the first year. Until the end of 2021, the total delivery volume was only 2,705 units, far below expectations.
LINGPAI Automobiles, which had just come to its senses, decided to pivot to low-priced and high-volume models. In May 2020, the company launched the T03, a pure electric microcar priced at RMB 69,800 after subsidies, which was well received by consumers. By November 2022, the delivery volume had reached 50,848 units, accounting for more than 80% of the total delivery volume, alleviating some of LINGPAI's difficulties.
The rising cost of raw materials such as batteries and chips has put pressure on LINGPAI Auto's costs. If it raises the price of low-end models, it may lose market competitiveness, and it may also lose market orders and share. If it does not raise the price, the shortcoming of low-priced models will be magnified. LINGPAI, which is already selling cars at a loss, will continue to lose money.
Therefore, for LINGPAI, it originally wanted to establish benchmarks through low-priced and high-volume models, and then launch mid-to-high-end models to capture market share. However, low-priced and high-volume models have not brought much revenue to LINGPAI, so it was forced to invest in the production of extended-range versions.It is reported that Lixiang will launch the C11 extended-range vehicle in the fourth quarter of this year, and plan to launch the C01 extended-range version next year. Currently, all models developed on the C platform, including future new platform development, will be launched simultaneously with extended-range and pure electric versions.
This means that Lixiang cars have more choices for consumers, with both pure electric and extended-range versions available for selection, and sales are expected to increase again, moving towards profit and loss balance.
Fortunately, the two models of the C platform have been favored by the market, bringing a substantial improvement in the average selling price and gross profit margin of the model combination. With the continuous increase in sales of the C platform and the gradual realization of economies of scale, we believe that there will be even more outstanding financial performance in the future.
This article is a translation by ChatGPT of a Chinese report from 42HOW. If you have any questions about it, please email bd@42how.com.