Recently, at the Goodwood Festival of Speed, the Polestar 5, the Polestar 2 BST edition 270, and Polestar's electric racing car concept will all make an appearance together.
Polestar also released tail images of 2, 3, 4, and 5, which left a lot to the imagination. This provides an opportunity for me to organize information for the three models, Polestar 3, 4, and 5, that Polestar plans to release in the future.
But of course, my focus is not on the historic and famous Goodwood Festival of Speed, but on the Polestar 5.
Polestar 5
The plan is for the Polestar 5 to go on sale in 2024. It incorporates most of the visual elements of the Polestar Concept Precept and it will be the halo car of the entire Polestar brand, but will not be sold in limited numbers like the Polestar 1.
The overall vehicle length is about 4.7 meters and the wheelbase is close to 3.1 meters, benchmarking against car models such as Mercedes S, Porsche Panamera, Tesla Model S, and Lucid Air.
Polestar CEO, Thomas Ingenlath, once said that the Polestar 5's range is adequate but not exceptionally long. I estimate it will be within 500 km, not too long and not too short.> A premium sports car like this has to have a competitive range. However, we cannot allow ourselves to enter into the race for range. If our goal is to make a car more efficient, that's great. But if our goal is to pack more and more kWh into the car just to achieve the best range figure, that's crazy because it doesn't bring us closer to creating a sustainable car.
Of course, I also have the patent drawings for the Polestar 5: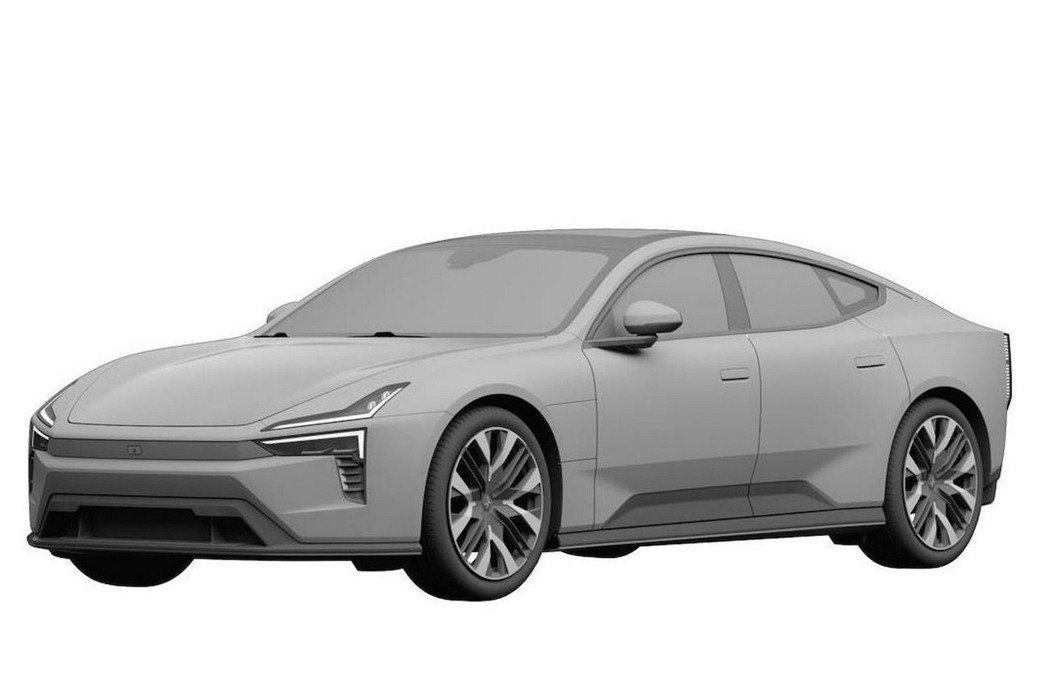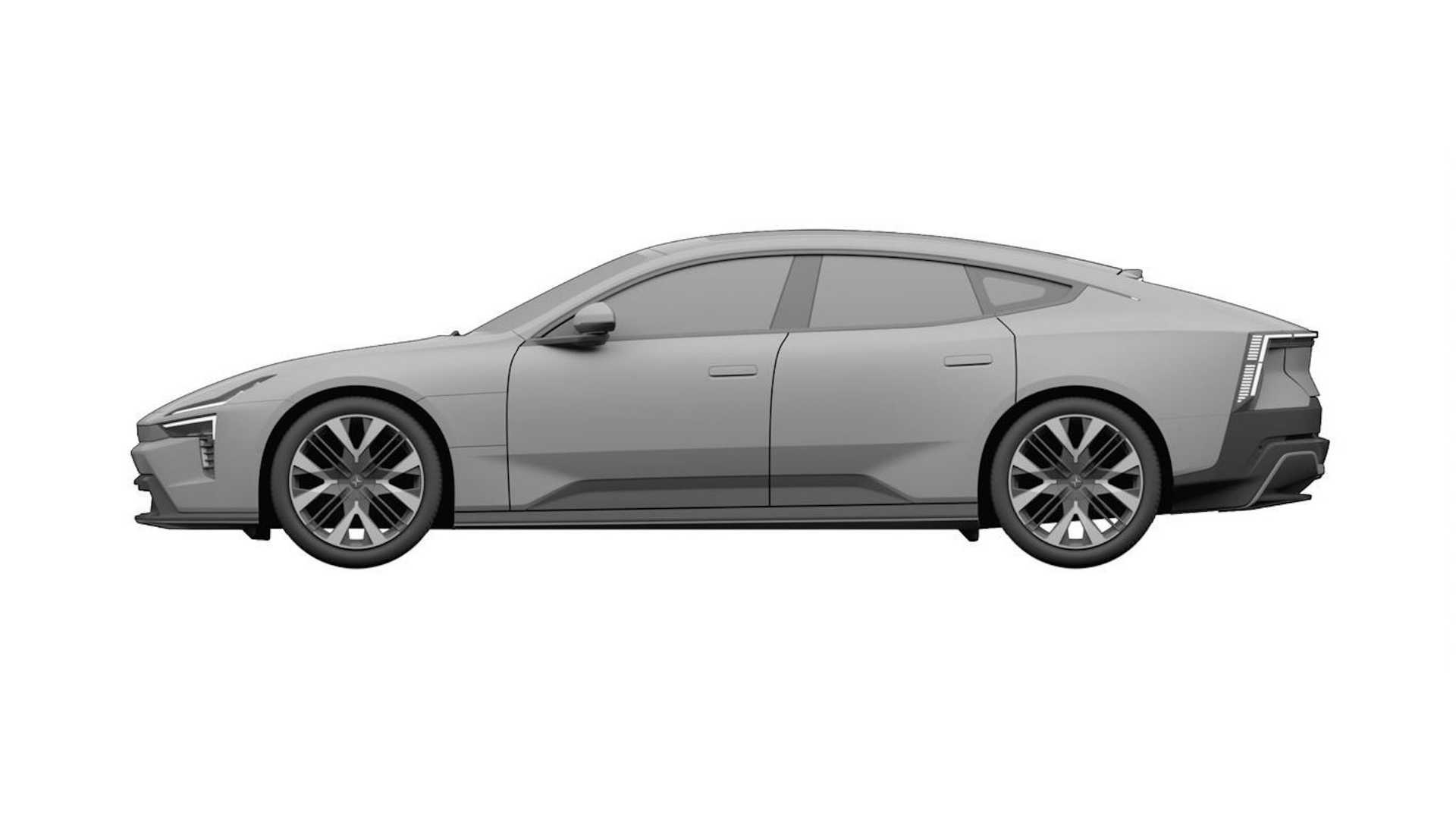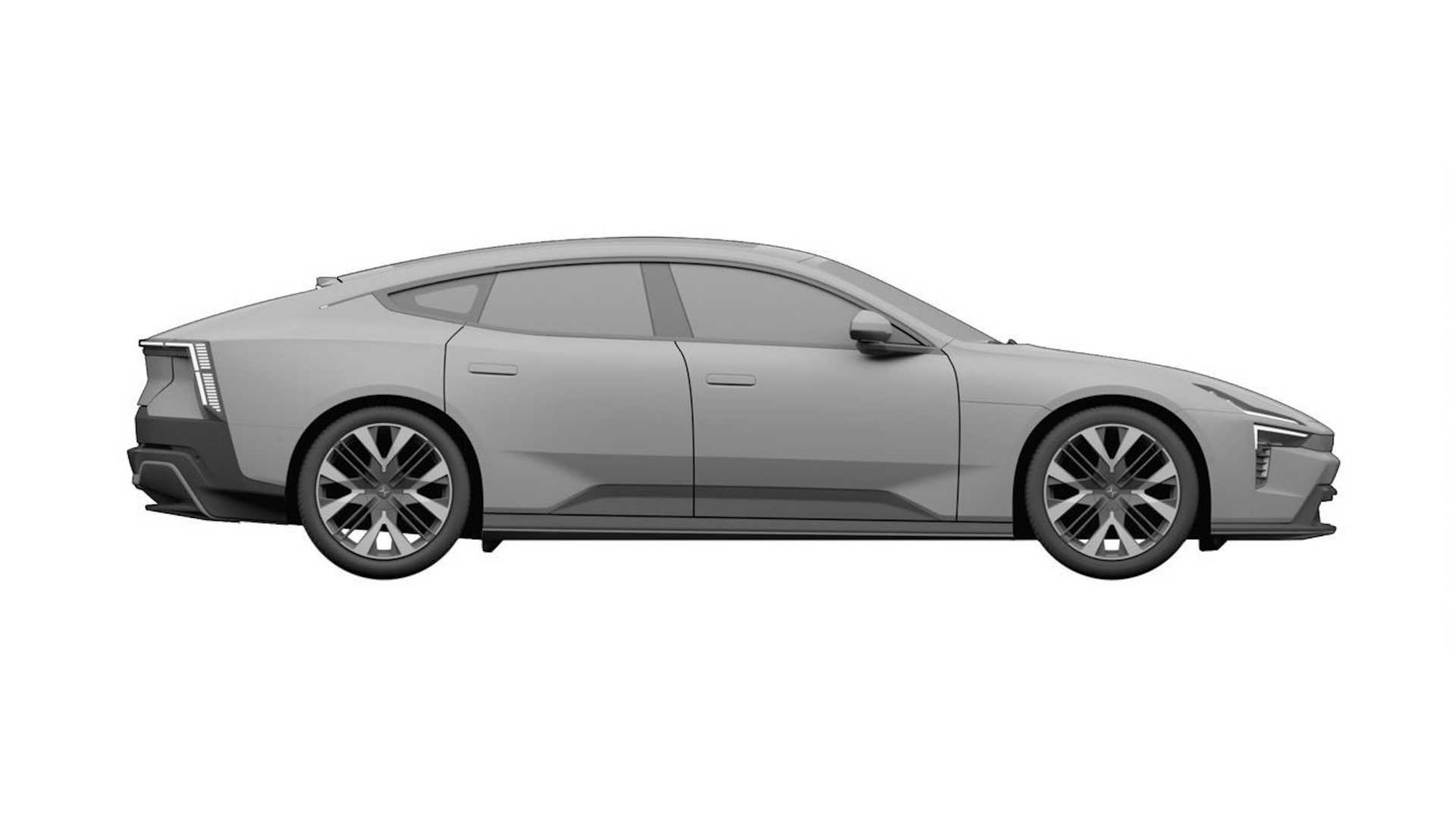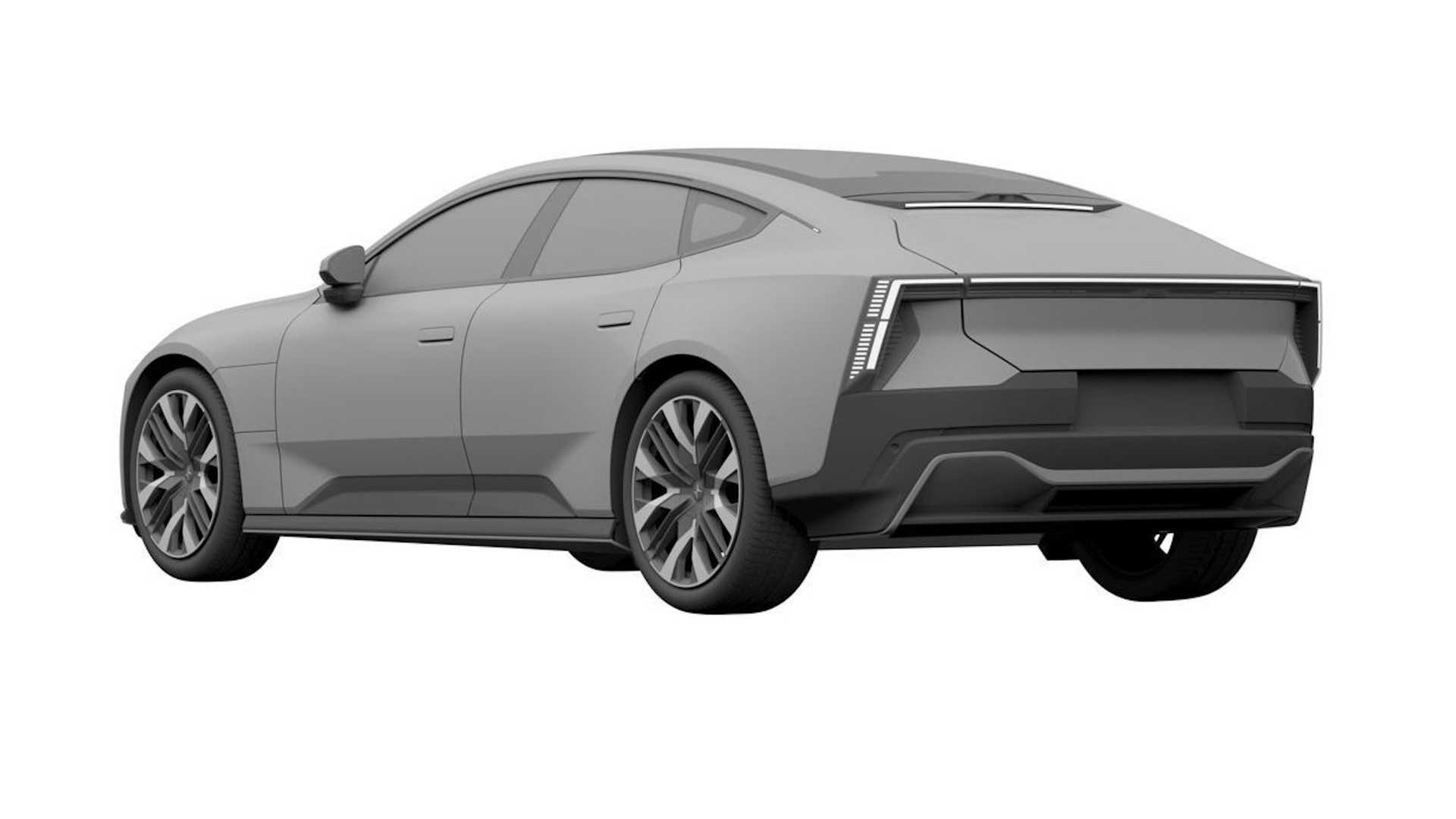 The shot was taken at Polestar 5 chassis design of Polestar R&D center located in "Cars Valley" in Coventry, UK. The aluminum components within the yellow circle are bonded by structural adhesive, which has a contact area several tens of times larger than that of welding or riveting processes. The strength is guaranteed, and a thinner material can be used without considering issues such as deformation or changes in strength caused by heat during welding. The only downside is the low production efficiency and high cost, but Polestar has already found a method to mass-produce this kind of chassis.
The component in the blue circle is the low-position double-wishbone arm, which is commonly seen in luxury/sports cars, while the "low-position" double-wishbone arm is only needed for supercars. The installation position of the upper arm is lowered, the horn part can be shortened, the non-spring load is reduced, and it is conducive to handling. At the same time, the low-position double-wishbone arm has a smaller width limitation for the wheel hub and can obtain a lower front-end contour. The only problem is to ensure that the upper arm and its installation position and lining meet the strength requirements.
Polestar 3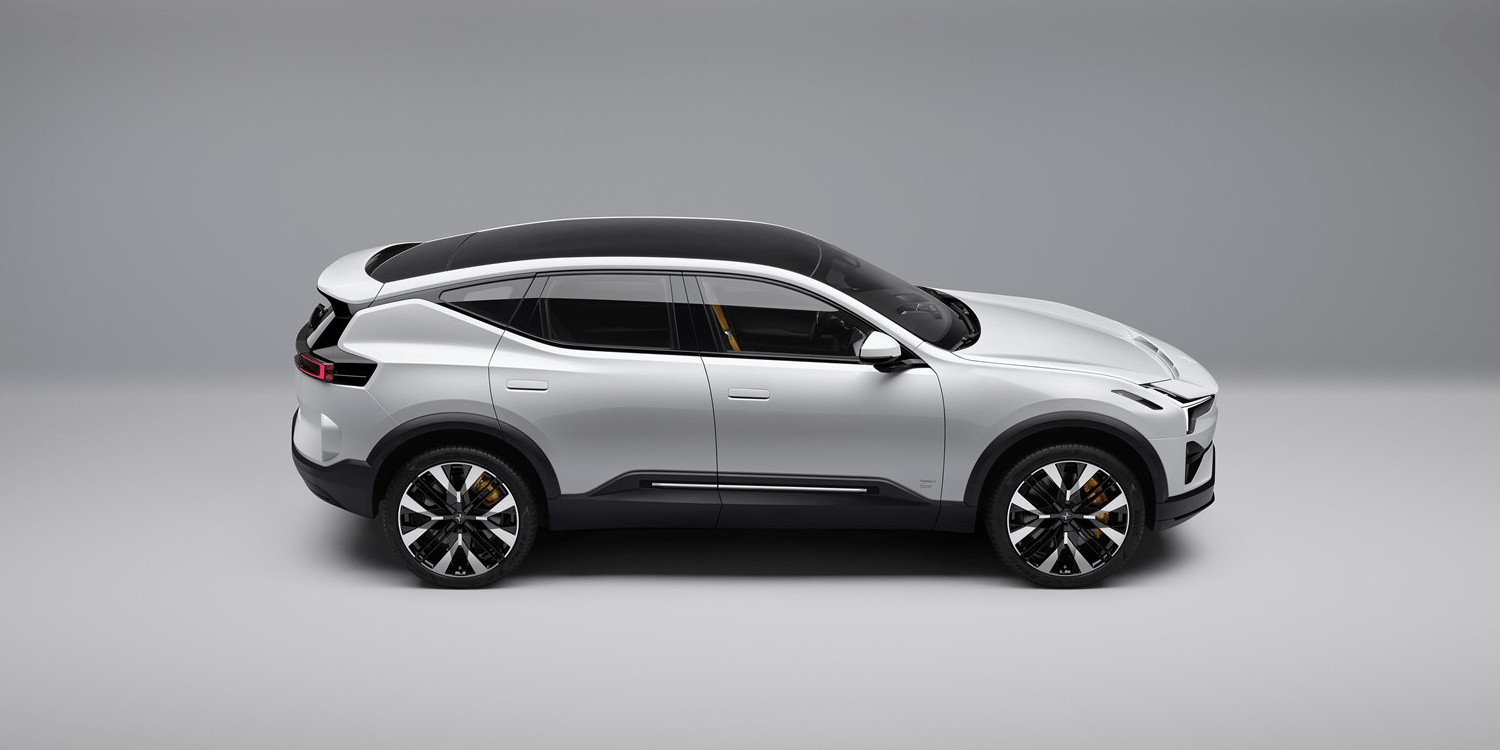 Polestar 3 is positioned as a mid-to-large-size SUV, using the same platform as the third-generation Volvo XC90, but without the third row of seats, and with a higher price and more luxury. The battery will provide a WLTP range of over 372 miles (600 km). It will be unveiled for the first time as early as October this year and will be manufactured in China and the United States.
In terms of advanced driving assistance hardware, it will be equipped with Luminar's lidar and Nvidia's computing platform, and is planned to achieve city navigation functions.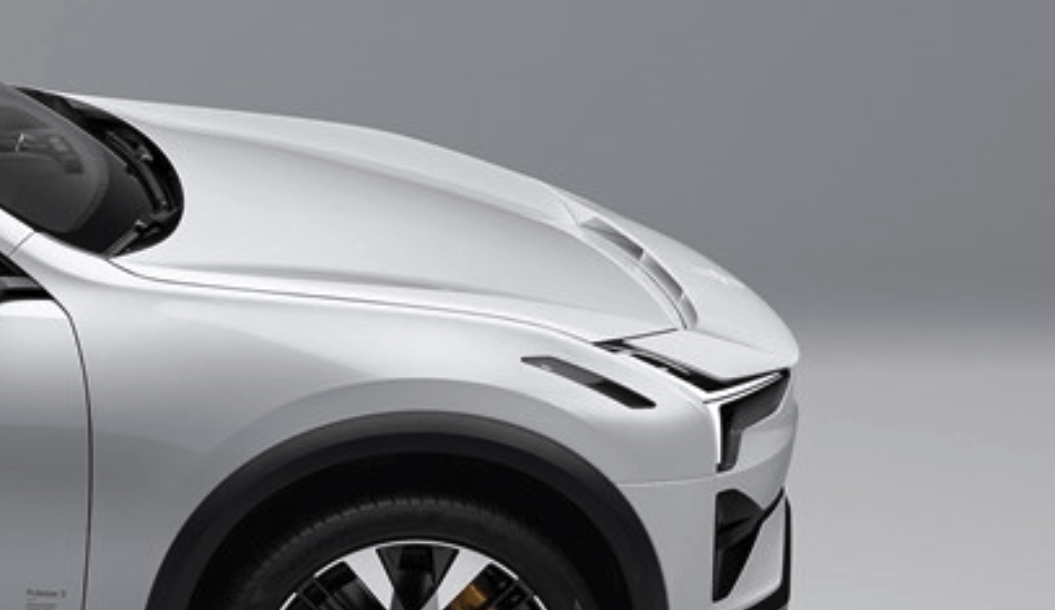 Of course, if we look carefully, we can see the air intake on the front of the car.
Thomas Ingenlath also revealed that the price of the Polestar 3 is EUR 75,000 (approximately RMB 530,000).
Polestar 4
Polestar 4, which is partially concealed, can be judged from the overall shape that it is an SUV coupe model, which will be launched in 2023 and start production at the end of 2023. It is speculated that the powertrain and even the platform will be consistent with the Polestar 3.## About Positioning
Thomas Ingenlath also revealed that the starting price of the Polestar 4 will be lower than that of the Polestar 3, which is priced at €75,000 (approximately RMB 390,000).
"We have a second SUV in our pipeline. It will compete below the Polestar 3's €75,000 sector and is slightly smaller. It will not compromise on interior length, but it will have a slightly more ground-hugging and coupe-type roofline," he said.
According to Mike Whittington, Polestar's global sales director, the Polestar 3 and 4 will have a production capacity of 160,000 units by 2025 and will occupy a place in the high-end SUV market. The Polestar 4 will target a price spectrum that starts at around €55,000.> In addition, with both Polestar 3 and Polestar 4 on the horizon, we are set to play a leading role in the electrification of lucrative and sizeable premium SUV segments. With a 2025 production capacity for these two EVs expected above 160,000 vehicles per year, we will have the ability to scale quickly and attract new customers to the brand.
Of course, the autonomous driving company Zenseact, a joint venture between Volvo and Veoneer, will also provide support for Polestar, ultimately achieving "full-stack self-developed autonomous driving software." For this part, you can check out my article from last year, Software is king! Another OEM enters the software race.
Why am I so interested in Polestar? Is it because of its Nordic style and designer CEO? NO NO NO, I think it's because I like small and beautiful brands with unique styles.
This article is a translation by ChatGPT of a Chinese report from 42HOW. If you have any questions about it, please email bd@42how.com.