Author: Bai Xue
New forces in the automotive industry, leading players such as NIO and Ideal, are following in the footsteps of Apple.
From Ideal One to a more diverse product layout, Ideal has never strayed far from Apple.
When Ideal One debuted, Li Xiang set a target of selling 15,000 units per month. He once asked, "If Apple can rely on the one-hit iPhone wonder, why can't Ideal ONE be just as successful?" Later, at a financial report meeting, he mentioned, "In ten years, I hope to reach the level of Apple."
NIO's connection with Apple is also soul-stirring. When Li Bin was asked about the relationship between NIO and Apple, he replied, "BBA is only a short-term competitor, but Apple is a long-term one."
Just as Apple's legendary iPhone 4s changed global consumer perceptions of smartphones, Li Bin's idea is similar: "NIO's mission is not to make everyone afford our cars, but to make more and more people appreciate and consider smart cars."
It is no secret that Ideal and NIO have been dreaming of Apple. As the smart car industry takes off, these two new forces in the automotive industry, who have grown together, have become the leaders and gone their separate ways to "learn from Apple."
Why do Ideal and NIO want to learn from Apple?
Ideal and NIO started almost at the same time, and at the peak of their growth, they turned to Apple.
As early as 2014, Ideal and NIO had an unbreakable bond. Li Bin, who founded Yiche.com, rallied Li Xiang and a group of luxurious friends from the internet sector, including Ma Huateng, Liu Qiangdong, and Lei Jun, to establish "NIO Auto." Later in 2015, Li Xiang founded Ideal Auto.
At that time, Tesla, the benchmark for electric car companies, was still in its infancy and had just gone public, yet its stock price was declining. Faced with the fledgling smart car industry in China, Ideal and NIO, both "born in the auto media," were like a pair of "brothers in arms" who stood together, even to the point of Li Xiang holding shares in NIO.
Reportedly, when NIO went public on the NYSE in 2018, Li Bin held 17.2% of the shares with 48.3% of the voting rights, while Li Xiang held 1.7% of the shares with 0.6% of the voting rights. Li Xiang even spoke on behalf of NIO's new car, ES8, at its launch.
As the saying goes, "unity is strength." As the smart car market grew larger, Ideal and NIO began to drift apart due to their different technology routes and business styles.
In 2021, an autonomous driving accident occurred with NIO, and Li Xiang took to Weibo to explain the Chinese terms used in autonomous driving, which sparked a competition between NIO owners and Ideal owners.
Now, the two companies, who are heading in opposite directions, are looking to "learn from Apple" again.
The most accessible reason why Ideal and NIO want to "learn from Apple" is that the high-end tone of Apple aligns with Ideal and NIO's aspirations.# The First Car Built by NIO – the All-Electric Supercar EP9
NIO has very ambitious goals for its first car, the pure electric supercar EP9, priced at 1.2 million USD. The first six cars were only available to NIO's angel investors with its high-end features making it a "One Car Achiever". Subsequently, NIO released six car models at an average price of about 400,000 USD.
Meanwhile, Li Xiang, the founder of Li Auto, is aiming at middle-class families with their mid to high-end-priced Li ONE vehicle to enter the auto market.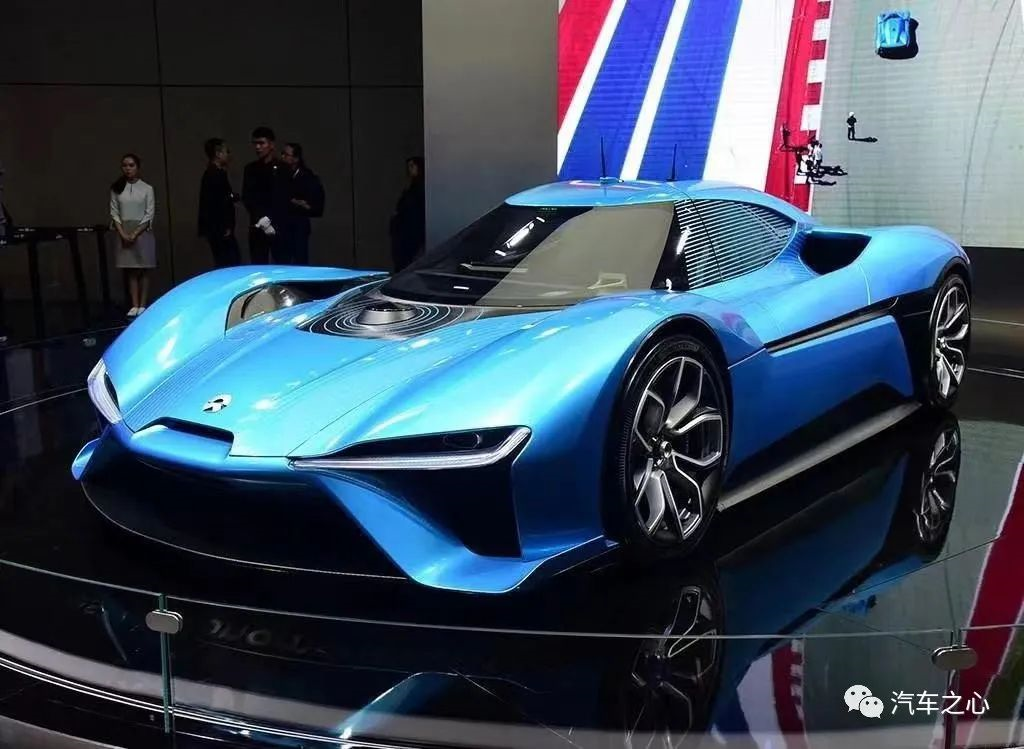 These two new challengers that lead to high-end markets have only one target left to compete against, Apple.
This company, founded in 1978, achieved great success after 2010. In 2014, Apple surpassed Google to become the world's most valuable brand. In 2022, Apple's market capitalization exceeds 3 trillion USD, a number that is comparable to the GDP of the sixth-largest economy in the world, India, in 2021.
In terms of both brand and capital value, Apple's performance is like that described in "Built to Last", jumping to be NO.1 in the world market with its exceptional innovation and vitality.
Learning from and respecting great companies like Apple is the nature of newcomers like Li Auto and NIO.
Furthermore, the technology giant Apple is not far from the main operations of Li Auto and NIO.
Although Apple's internally represented car-making project "Project Titan" is not going smoothly and has not been formally released since 2014, it reproduces in various leaked renderings. However, this does not affect Apple's dual strategy to build cars and empower vehicles. Apple's cross-border entry into the industry still has a seismic impact on the industry, moving like a giant.
In June of this year, Apple publicly demonstrated the new version of its car system "CarPlay" at the WWDC Conference. In addition to controlling the screen of the central entertainment system, the new Apple system can request more permissions from carmakers and take over the car dashboard.
Meanwhile, Apple's CarPlay has again upgraded its luxury car lineup. Its cooperative car companies include 14 international mainstream companies like Land Rover, Mercedes-Benz, Audi, and Porsche.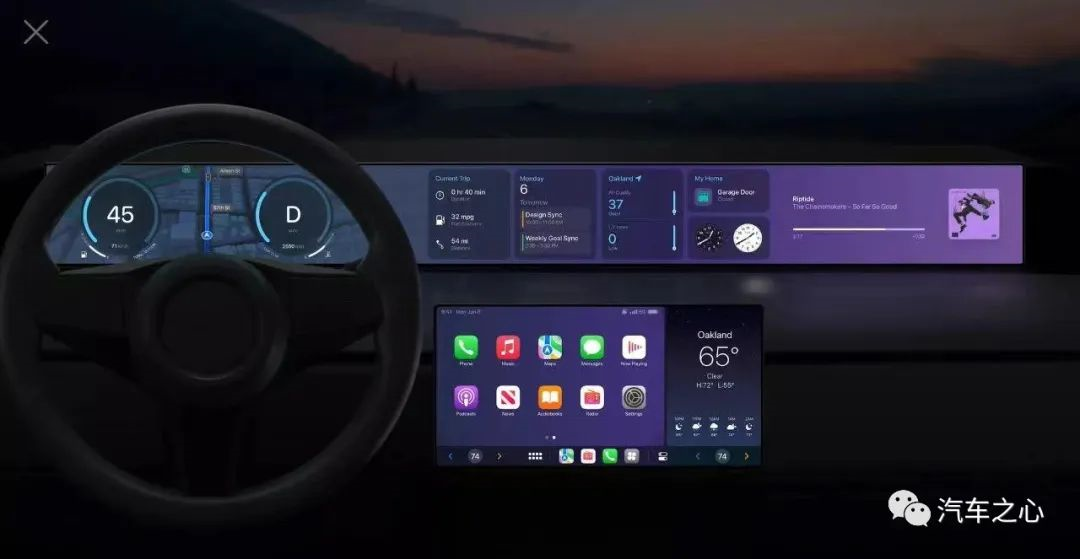 This three-minute display has alarmed the auto industry.
Some media outlets commented that "Apple has not yet produced a car but wants all cars to become Apple cars." Apple's cross-border influence from mobile phones to car machines is clearly what NIO and Li Auto hope for.
Especially for NIO, since March of this year, there have been media reports that NIO has a smartphone manufacturing plan, and Li Bin stated that it is still in the research stage."NIO users are 50% Apple phone users. Currently, Apple is very closed off to the automotive industry, for example, with the NIO second-generation platform's car marker feature UWB, Apple does not have an open interface, which puts us in a passive position.
From the perspective of user benefits and experience, we also need to carefully study mobile phones and vehicle-centered smart terminal devices," Li Bin mentioned in a public interview.
Apple is like a huge banner hanging above NIO and IDEAL's path to progress, perhaps this banner still has flaws, such as the debut of the "Apple Car" being delayed until 2025, and its cross-border capabilities still need to be studied.
However, the blemishes do not detract from the merits, the banner still features Apple's founder, Jobs, and the world's highest market value medal, which still attract many entrepreneurs.
IDEAL and NIO follow Apple's lead, without exception.
The forks in the road that IDEAL and NIO take from Apple: IDEAL focuses on product, NIO focuses on ecosystem
The founders of IDEAL and NIO both study Apple, but each has different focuses. Li Xiang studies Apple products, while Li Bin learns from Apple's ecosystem and user philosophy.
In just the first half of this year, Li Xiang has mentioned Apple twice in public.
One was on February 26th, during the earnings conference call for IDEAL's fourth quarter and full-year financial performance, where Li Xiang extensively discussed "his ability to create a company like Apple ten years later."
The other was in the first-quarter conference call on May 10th, where Li Xiang further described the similarities with Apple, "We want to create a best-selling product like the iPhone series."
In fact, IDEAL ONE, as the opening work, has created a "best-selling car" in the 300,000 RMB price range.
It is reported that IDEAL delivered a total of 11,496 IDEAL ONEs in May of this year, and as of now, the total delivery volume of IDEAL ONE has reached 170,000 units. As the epidemic gradually recovers, IDEAL can stably break through ten thousand by relying on a single model of car.
From this angle, this performance does indeed replicate the miracle of Apple phones' annual hot-selling models.
IDEAL and Apple's product ambitions are similar, IDEAL is not satisfied with creating a single best-selling model. In the first-quarter earnings call, Li Xiang publicly announced IDEAL's product strategy with the vigor of the strongest product manager: "Including the L9, IDEAL will introduce three new products next year. One of them will be a mid-size car priced between 200,000 and 300,000 RMB."
Li Xiang believes that IDEAL's future product planning is similar to the iPhone series of phones.
Specifically, the iPhone12 series has 12, 12Pro, and 12mini, each with different functions and prices, and targeting different needs and types of consumers. In other words, Li Xiang also wants to learn from Apple to create a "product portfolio punch."Ideal One is like iPhone12, the core explosion product of the product line. And the price of the new Ideal L9 goes up to 450,000, due to its software and hardware upgrades based on Ideal One, positioning it as a large SUV. This is similar to the upgrade of the appearance, lens, and screen of iPhone12 Pro based on iPhone12.
And the upcoming medium-sized cars of Ideal in the range of 200,000-300,000 are equivalent to iPhone 12 Mini, smaller in size but also cheaper.
With the release of Ideal L9 new car on June 21, the Apple-style product plan of Ideal will take one more step forward. Although the effect remains to be seen, at least the hot sales of Ideal One have provided a solid foundation for this differentiated product strategy.
Looking at NIO, Li Bin did not emphasize "learning from Apple" in public occasions as Li Xiang did. But there is still a hint of "Apple flavor" in the company's genes.
Apple's annual global developer conference WWDC is known as the Spring Festival of the technology industry, and NIO Day held by NIO also has a shadow of WWDC.
As early as 2017, when ES8 was released at NIO Day, NIO went to great lengths to rent the entire Wukesong Gymnasium for 5,000 NIO car owners, and invited the Dream Dragon Band.
Today, NIO Day, applied by car owners each year, is still an important occasion for NIO to release heavyweight products.
Just like Apple created a fan group with religious attraction, NIO, through so much "pampering," has also created a group of car owners with the greatest cohesion – "NIO car owners".
For example, it may be hard to imagine that a car owner could voluntarily become a promotional volunteer for a car company.
In various car shows, there are shadows of NIO car owners who work as volunteers in front of NIO booths, busy introducing their driving experience to visitors. "The quota for volunteers at car shows is only open in the NIO community, and there are only 100 places. I succeeded in grabbing a spot by waiting with my phone." said one volunteer to Autohome.
It is said that if a NIO car owner helps a visitor to successfully purchase a NIO car, both parties can receive 12,000 points as a recommendation bonus. With only the "car-owner-to-car-owner" recommendation mechanism and the points system behind it, we can tell that NIO's community operation system is quite profound.
NIO's community has many similarities with Apple's community, including regular initiation of community activities for users.# Apple and NIO learn from each other in building community and cultivating user-centric concept
In the past years, Apple established "Today at Apple," which invites numerous KOLs in photography, art, and programming to share free courses for Apple users in a targeted manner. For example, courses like "how to paint with iPhone" can improve users' device utilization and brand recognition.
Following the same concept, NIO provides various community activities for NIO car owners on its APP.
According to an NIO car owner interviewed by Qichezhixin, he has participated continuously in 235 activities, including fitness, baking, self-driving, and concerts. "I value NIO's community, and I feel like I have joined a close circle of friends."
At the same time, Li Bin, the founder of NIO, is implementing the user-centric concept personally.
Li Bin admires Howard Schultz's biography Pour Your Heart Into It, considering that Starbucks, Apple, and Disney provide many user-centric concepts. "Putting the interests of employees, customers, and users together is what Pour Your Heart Into It means."
Li Bin, who is usually brief on Weibo, frequently responds to user messages personally on NIO's APP.
Recently, NIO launched a rental-only portable charging station, which received some negative feedback from users in the community due to its rental-only sales model. Li Bin and relevant business leaders "sank" into the comment area, accepting user opinions and adjusting their sales model accordingly.
From Imaginary Foes to Real Competitors
The goal of both IDEAL and NIO learning from Apple is not to compete with each other for the title of "who is more like Apple." Instead, their goal is to compete to become the giant in new energy vehicle companies.
Returning to the main product battle, the two sides cannot avoid a "match" with each other.
In the era of "Jia Yueting once considered building cars," IDEAL and NIO were each other's imaginary foes and bypassed each other's positioning:
IDEAL launched its explosive product, the IDEAL One, priced at 340,000 RMB. Meanwhile, NIO's first mass-produced car, the mid-large ES8, retailed for nearly 500,000 RMB.
With a price difference of nearly 200,000 RMB and the fact that IDEAL One is a range-extended electric vehicle(R-EV) while ES8 is a pure electric vehicle, IDEAL One is more suitable for urban and suburban areas, while ES8 had a basic range of only 355km, which is only suitable for commuting within the city.
Therefore, no matter how you look at it, the cost-effective IDEAL car owners and the user experience and high-end NIO car owners are not considered as the same type of people.
However, time can prove everything wrong. With IDEAL expanding its product line from a single explosive product to a comprehensive lineup and NIO extending from high-end SUVs to sedan models, the two parallel lines have intersected, and imaginary foes have become real competitors.
At the product level, first is the price hike of the IDEAL L9, which is priced at 500,000 RMB, colliding with NIO's mid-large pure electric SUV ES7.
Both SUVs were announced in mid-June, adding a touch of racing against time during the peak season for new products.ES7, which was launched on June 15, uses the NT2.0 platform, making it the smartest, fastest, and most robust SUV ever produced by NIO, according to CEO William Li at the launch event. The smart driving system of the vehicle includes an AQUILA super-sensing system, which is equipped with four NVIDIA Orin X chips and a Toodar Falcon LiDAR. Moreover, the cockpit is equipped with AR glasses, providing a virtual and large visual effect.
Automotive News reports that the ES7′s tailgate features an "electric trailer hitch" that allows for towing of trailers or motorboats, precisely targeting middle-class families' camping lifestyle. According to William Li, the roof of the ES7 is "the ceiling of 400,000 to 500,000 RMB SUV market."
Meanwhile, the co-founder of NIO, Li Xiang, asserted on Weibo that the yet-to-be-released L9 will be the best flagship SUV under 5 million RMB.
Remarkably, L9 is said to have two NVIDIA Orin-X chips, 128-beam Velodyne Lidar, and an "IDEAL AD Max" smart driving system. The car will also boast three LED screens inside and will be equipped with two Qualcomm Snapdragon 8155 chips, creating a third entertainment space for middle-class families.
It's worth noting that both NIO and Li Xiang's EV company, ideal, are targeting the 500,000 RMB ($77,300) SUV market, which is popular with Chinese consumers. The two manufacturers are set to compete head to head with similar products.
Three years ago, NIO's pure electric mode had virtually no advantage in terms of cruising range when compared to its extended-range counterpart. Now, with the ES7 having a maximum range of 930 km (578 miles), in addition to over 1,000 NIO Power Swap stations operating in China, both NIO and ideal are expected to be on an even playing field in the electric SUV market.Li Xiang will announce the news during a conference call that next year, the pure electric model of Li Xiang equipped with 800V high-voltage fast charging technology will be launched. Although Li Xiang has not revealed the product form, media have speculated that the price of this pure electric model is likely to exceed 300,000 yuan based on configuration and product schedule. If Li Xiang progresses smoothly, this form-unknown pure electric vehicle will become a powerful rival of NIO ET5.
After "Should I choose NIO ET7 pure electric car or ideal L9 extended range car with a price of 500,000 yuan?", which was placed in front of consumers, another soul-striking question is: "When both Li Xiang and NIO have a pure electric sedan priced at 300,000 yuan, who will you choose?"
Yesterday, Li Bin revealed in a face-to-face conversation with users that NIO will be launching a new intelligent electric vehicle brand, which will be priced in the range of 200,000 to 300,000 yuan. The new Bridge Phase II Factory that NIO signed with Hefei is prepared for the new brand. "When the new brand comes up, if you think about it, the swappable battery versions of Model 3 and Model Y will be 10% cheaper than them." Li Bin said.
Ideal will release a pure electric vehicle costing about 300,000 yuan, while NIO seeks to explore the mass market with a new brand. From this perspective, the battlefield between the two will only get bigger.
In the first quarter of 2022, NIO, the "revenue king" among new automakers, is facing challenges. NIO's total revenue in the first quarter of 2022 was 9.91 billion yuan, an increase of 24.2% compared to the first quarter of 2021.
On the other hand, Ideal's total revenue reached 9.56 billion yuan, an increase of 168.7%, and Ideal's vehicle gross profit margin in the first quarter of this year reached 22.4%, exceeding NIO by about 4%.
From these signs, ideal learning from Apple's product thinking is actually a very strong attack method, from product polishing to the deployment of product strategies, Li Xiang did not set boundaries for himself in terms of range or pure electric mode, or high-end or mid-range prices. Therefore, this ever-changing attack method is more likely to "take me as the master" and occupy the market first, gaining advantages.
NIO has learned Apple's tone and user ecology, and the core of this method is "take him as the master". NIO treasures its strengths and has clear boundaries around users, distinguishing clearly what should and should not be done.
For example, the cost of building a battery swap station is extremely high, but NIO insists on doing battery swap stations. Moreover, NIO does not make cars with prices below 300,000 yuan, stubbornly making high-end products.
By gathering these characteristics on the two CEOs, it can be found that Li Xiang has more imagination, while Li Bin is more restrained.
On the eve of the smart car revolution, NIO and Ideal, who once huddled together for warmth, have grown into leaders in the industry.According to the statistics of the China Passenger Car Association, the penetration rate of domestic retail sales of new energy vehicles in May this year is 26.6%. As the competition heats up, the market values of NIO and Li Auto meet at a node of $31 billion.
However, as Li Bin said, "Whether Li Xiang becomes Xiao Li Xiang or Xiao Li Xiang becomes Li Xiang is not really important. The transformation from gasoline cars to electric cars is a must."
In the era of the alternate rise and fall of gasoline cars and electric cars, perhaps we can borrow Luo Yonghao's evaluation of Apple: "When the platform revolution comes, the master of the new world is never the tyrant of the old world". In this description, Apple revolutionizes itself, but progress will be very slow if it revolts against itself. As revolutionary leaders born anew, NIO and Li Auto are the revolutionaries of gasoline cars, revolutionizing the lives of others and making rapid progress.
From this perspective, for NIO and Li Auto, neither needs to become like Apple. More importantly, who can be more like a revolutionary of the new world.
This article is a translation by ChatGPT of a Chinese report from 42HOW. If you have any questions about it, please email bd@42how.com.