Author: Zhu Yulong
On May 30th of this year, SAIC-GM-Wuling's "Sekirei Puru 20GWh Power Battery System Project" broke ground in Liuzhou, marking the substantial stage of the project in cooperation with Qing Shan, which is very representative.
From the case of Sekirei Puru, we can see a certain trend – the template of upstream battery companies and vehicle companies strategically cooperating around the battery manufacturing process.
In 2021, SAIC group and Qing Shan Industry signed a strategic cooperation agreement, and both sides continued to promote strategic cooperation. In early 2022, SAIC group led the industry round of financing in RuiPulanJun Energy under Qing Shan Industry, becoming the largest external strategic investor. It is a very interesting phenomenon: one company is the strategic demander of batteries, and the other is the provider of battery resources. The industrial advantages of the two companies in the field of new energy vehicles respectively use capital as a link to cooperatively develop relevant resource projects such as nickel, cobalt, lithium, manganese, etc. upstream of new energy. Then, in March, the cooperation agreement and investment agreement of Sekirei Puru, a joint venture established by SAIC and Qing Shan Group, and RuiPurusat Sekirei to produce 20GWh power batteries and systems were officially signed in Liuzhou, Guangxi. In May, the Sekirei Puru battery construction project officially started in a swift manner.
Talking about this, I can't help but wonder, what kind of company is RuiPulanJun Energy? Why are they doing such a project in Liuzhou? After some investigation and sorting, I have organized RuiPu's situation and will continue to track it regularly this year.
RuiPulanJun Energy was established in 2017, with a sales revenue of about 2.4 billion yuan in 2021, a year-on-year growth of 100%, and a delivery of nearly 3.5 GWh of batteries, including nearly 1.8 GWh for passenger cars, nearly 1.5 GWh for serving the global energy storage market, and it was officially renamed RuiPulanJun Energy Co., Ltd. recently.
The company started with the Wuling Mini EV project from the beginning, starting with economical models. Controlling the cost of batteries itself is a very difficult thing, and RuiPu grasped this market from the beginning. From an overall perspective, the reasons for the cooperation between SAIC and RuiPulanJun mainly include:
Experience in the development and manufacture of high-performance cost-effective battery cells

Extendable product line of battery cells with technological iterations

Support from the parent company entity in the upstream of the industrial chain

Space for capital cooperationFor China's largest auto group, this is a great entry point to the business. As the cooperation deepens, Ruipu Saik will serve as the construction project for the first zero-carbon factory of Ruipu Lanjun Energy. In fact, around the operation of battery manufacturing, the intelligent factory management system is introduced, and data interconnection is achieved through automatic acquisition of data on factory systems and equipment operation to help achieve safe and reliable, efficient and energy-saving, green and low-carbon operation of the factory system through a systematized facility management platform. Building this high-performance and cost-effective battery factory as a green factory will achieve zero-carbon and zero discharge for efficient operation.
This also makes us curious as to why Ruipu, a young battery company established four and a half years ago, has emerged as a dark horse in our field of vision. Overall, the company is an enterprise of Qingshan Industries that vertically integrates rich mineral resources and invests in the field of new energy. Ruipu Lanjun Energy has two major bases: the Wenzhou manufacturing base and the Shanghai R&D center. It currently has a production capacity of 26GWh. According to industry-released data, the business development of Ruipu Lanjun Energy is different from that of other peers in that it balances its two major businesses of power and storage. Its energy storage was ranked third in the 2021 market, power battery installation ranking 13, and lithium iron phosphate ranking 8.
According to relevant data statistics, Ruipu Lanjun Energy ranked top domestically in the shipping of high-specific-energy LFP batteries (180Wh/kg) in 2020 and 2021. Its LFP power battery installed capacity in 2020 was about 1.0GWh, of which more than 95% were 230Ah LFP battery products, with an energy density of 180Wh/kg. In 2021, Ruipu Lanjun Energy ranked No.3 in the shipment volume of domestic energy storage batteries, with all shipments being 280Ah high-specific-energy, long-life LFP batteries with a cycle life of over 6000 times.
Overall, the company's product strategy revolves around power batteries and energy storage batteries. The company began to delve into the field of energy storage batteries in 2019 and slowly expanded into the field of power batteries, launching two explosive lithium iron phosphate batteries in 2020: 135Ah and 230Ah, among which the 230Ah was the highest-energy-density product in the installation of lithium iron phosphate batteries that year. In 2021, the company's development became more balanced, achieving a remarkable score of top 3 in energy storage rankings and sixth in lithium iron phosphate power battery rankings.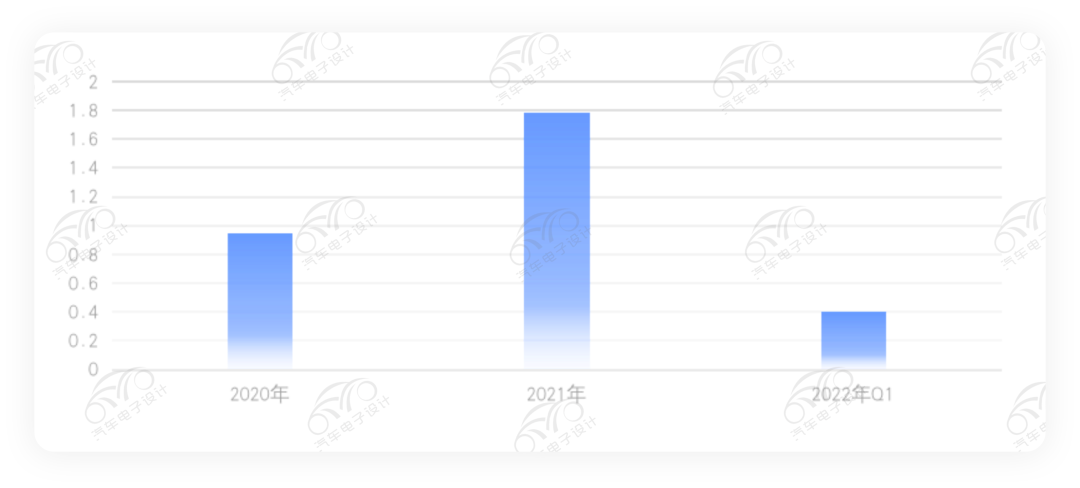 This time, we will explore in-depth the development path of Ruipu Lanjun Energy in the field of lithium iron phosphate batteries.From a technical perspective, RuiPu has grasped the pain points of the development of the power battery industry, and has comprehensively laid out around four aspects: high energy density, high safety, long life, and super fast charging. RuiPu has employed a professional technical team to conduct a deep and early layout of the lithium iron phosphate route to meet customers' needs, which is not easy.
Currently, RuiPu LanJun's battery product series mainly consists of square aluminum shell batteries. In terms of the chemical system route, RuiPu LanJun's existing third-generation high-energy-density ternary battery has an energy density of 260-280Wh/kg, which can achieve a range of over 800km. The energy density of the lithium iron phosphate battery cell reaches 180-200Wh/kg, which can meet the requirements of 500km of cruising range.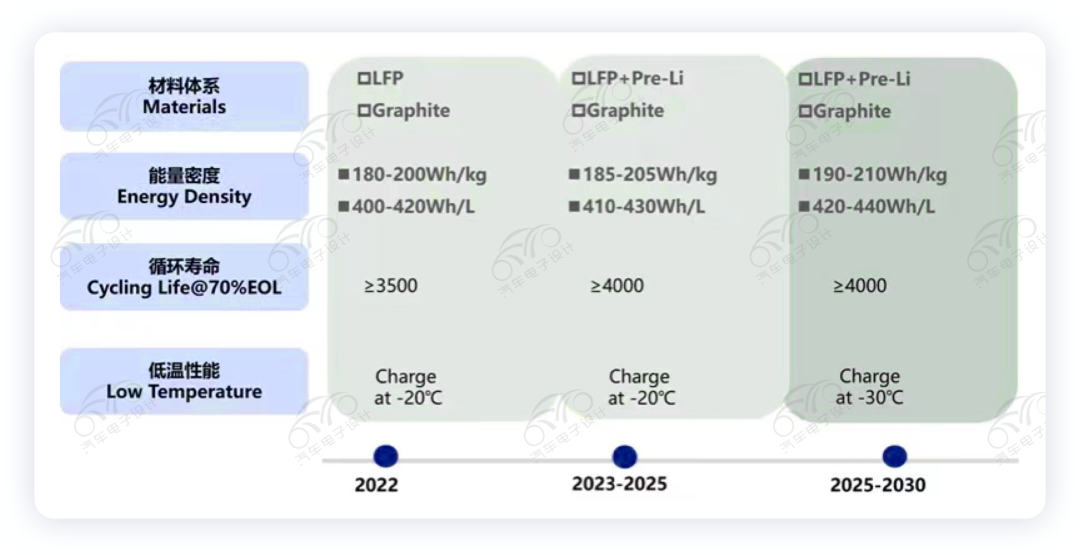 Looking at specific products, the VDA series 70*148 battery for electric vehicles (EVs) is relatively common. This size specification was developed by leading power battery companies to meet the cost-reduction demands of using lithium iron phosphate batteries to replace 355 standard ternary battery module models. The typical specifications include a capacity of 132Ah, energy density of 175Wh/kg, and volume energy density of 366Wh/L. It is mainly used in mainstream domestic pure-electric operating vehicles such as SAIC Ei5, Dongfeng E70, FAW NAT, and Chery D60 EVs. By utilizing a large-module design plan with stair-like utilization, the battery pack's volume utilization can be improved. This marks the beginning of the LFP battery replacing the ternary battery in the A-class passenger car segment.
Similarly, RuiPu LanJun Energy has developed iron-phosphate-based battery cells based on this specification. From the early development of the 132Ah battery with a volume energy density of 366Wh/L to further iterative upgrading of the 142Ah battery with an 8% capacity increase and a volume energy density of 392Wh/L in the first quarter of 2021, covering the needs of the A00 and A0 markets. In the first quarter of 2022, it has been upgraded to a 146Ah battery with a volume energy density of 410Wh/L, which is currently the highest in the industry in terms of volume energy density. At the same time, RuiPu LanJun plans to release a same-size product with a capacity of up to 152Ah in Q3 2022. Compared with the previous generation of products, the capacity has increased by 15%. While increasing the capacity, the battery cells continue to have a cycle life of over 3500 times.
RuiPu LanJun Energy has maintained a continuous iterative upgrading of its products each year. The main approach to breakthroughs in its technological path is:- Combining SCL Die-cutting Technology
The original SCL variable-polarity ear die-cutting technology is about 2mm higher in height than its excellent peers, effectively increasing the space inside the battery shell. Here, zero-step integrated die-cutting method is used to avoid the problem of spike steps that occur when die-cutting area needs to be die-cut twice in traditional methods. The adjacent ear only needs to be die-cut once, reducing knife mold consumption and lowering the self-discharge rate of the battery. Furthermore, it solves the safety hazards of micro-short circuits in winding batteries, reduces process errors, and achieves production line continuity through fine-tuning the width of the ear.
High-voltage Solid Electrochemical System
The high-voltage solid electrochemical system optimizes the electrolyte system to ensure that the battery improves energy density while also considering electrochemical performance.
Minimalist Cover Plate and Super Welding Technology
Riipoo's minimalist cover plate uses assembly and welding to simplify the structure and processing. The weight of the top cover is reduced by more than 10% and the cost by more than 30%.
In terms of volumetric energy density and capacity improvement, Riipoo Lanjun Energy has already taken the lead, achieving a range of over 400km and fully mass producible, and has become a designated supplier for Dongfeng Nissan, FAW Pentium, Light Orange Times, and other automakers.
Riipoo's iteration strategy in the field of pure iron phosphate chemistry is still focused on high-performance development, meeting the pure electric vehicle range of 500km loaded with iron phosphate battery. If combined with Riipoo Lanjun Energy's unique STP technology (removable PACK integration technology), the range is expected to increase to 600km. For VDA batteries of 70*148, with a target of 152Ah, the volumetric energy density can exceed 430Wh/L. The main effort is to develop new ear-linking methods to further improve the utilization of internal space within the battery, and related samples are expected to be released in July 2022.
In terms of ternary materials, Riipoo Lanjun Energy will continue to develop higher specific energy (300Wh/kg) ternary batteries, including high-nickel, low-cobalt semi-solid-state batteries, etc. The next development direction will be to develop Ni90 semi-solid-state electrochemical systems and new square battery structures to further improve the energy density and safety goals of the battery. Later on, we will have a detailed understanding of Riipoo's ternary series and Qingshan's layout in the nickel industry.
Riipoo Lanjun Energy is a company that adheres to the spirit of Qingshan, does things low-key and step by step, and iterates around product technology innovation, combining quality and cost effectively towards high-performance direction. I will continue to track and observe their progress.
This article is a translation by ChatGPT of a Chinese report from 42HOW. If you have any questions about it, please email bd@42how.com.