This article is authorized by Traveling One Passenger (WeChat ID: carcaijing) and created by the Transportation Industry Group of Caijing Magazine. The authors are Yang Li, Xiyin Li, and Huiling Huang, and the editors are Zhiliang Shi and Ling Lu.
Editor's note:

On June 10th, BYD's stock price rose more than 8%, and its market value exceeded 1 trillion yuan. This was already expected by the market, as BYD's new energy vehicle sales had continued to exceed 100,000 units since March of this year, and its sales champion position served as a catalyst for its stock price and market value.

Aside from its sales figures, there are many other aspects of BYD that are worth exploring: its cutting-edge technology in electrification is gradually breaking through, and its closed production chain is moving towards openness. These are all areas that the capital market is bullish on. However, there are also hidden dangers in the brand's high-end trend and inability to retain grassroots talents. We are re-publishing this article from December 29, 2021 to share with our readers.
"Shenzhen? Oh, I know BYD." When a taxi driver in Germany uttered these words, Yao Zhipeng, the director of growth style investment at China Asset Management, was somewhat surprised. As an institutional investor, he did not expect a company that mainly serves corporate clients to be so globalized.
A few years ago, when it came to BYD (002594.SZ), the average Chinese person thought of electric buses and cost-effective Volkswagen vehicles. But as BYD has hit the wave of new energy vehicle industry development, it has increasingly become a global player.
In April 2021, Time magazine named BYD as one of "The 100 Most Influential Companies" as the only Chinese new energy solution provider, recognizing BYD's global electric bus business and also introducing its popular passenger car, the Han.
Such acclaim has been reflected in the capital market. SAIC Group (600104.SH), GAC Group (601238.SH), General Motors (GM.NYSE), BMW (BMW.DE), and Daimler (DAI.DE) are all names that BYD has surpassed in terms of market value in the past two years.
In August 2021, when BYD's share price surpassed 300 yuan per share, it was only a step away from becoming the first domestic carmaker with a market value of one trillion yuan. Some brokerages set a target price of 1.5 trillion yuan for BYD's market value, and market sentiment heated up. Compared to two years ago, when its share price lingered around 50 yuan, BYD now looks like a completely different company in the capital market.
BYD is regarded as one of China's representative companies in the new energy industry. In the eyes of Xu Haidong, Deputy Chief Engineer of the China Association of Automobile Manufacturers, BYD is a traditional automaker that values technology and has the most promising future. With strong engineering company culture, less talking and more doing, BYD is not well understood by the outside world.# CMG Managing Director, Xu Zhongchao, told Carcaijing that BYD, continuously polishing its core technologies, can be called a technology company in the automotive industry.
BYD spans many trillion dollar markets such as energy storage, batteries, electric vehicles, and chips, and has good competitiveness in each field, with advantages in some specific areas. However, there are still too many uncertainties for BYD to deliver its valuation and take the above segments further.
After the National Day holiday in 2021, the automotive sector (Shanghai Stock Exchange Industry Classification Level One) led the market, with the biggest rise occurring in the automotive original equipment manufacturers (OEM) sector, and BYD was expected to surpass a market value of one trillion yuan. However, with the resurgence of the wave of plummeting valuations of the new energy sector at the end of last year, BYD is getting farther away from its goal of hitting the trillion level.
In 2022, BYD's sales of new energy vehicles continued to rise. In March, production and sales exceeded 100,000 vehicles for the first time, and it continued to stabilize above 100,000 vehicles. The cumulative sales from January to May had exceeded 500,000 vehicles.
On June 10th, BYD's stock price closed at 348.8 yuan, up 8.19%. Its market cap surpassed one trillion yuan during trading hours and closed at 1.015 trillion yuan.
Regaining the Crown in Global Electric Vehicle Sales
When Wang Chuanfu stepped onto the stage, he bowed to the audience. This scene took place in September 2021 at a press conference in Shenzhen, where BYD Group Chairman and President Wang Chuanfu apologized to consumers for the slow delivery of DM-i hybrid models.
Behind the slow delivery is the hot demand for the products that BYD did not anticipate. Li Yunfei, BYD's Brand and PR Manager, revealed to Carcaijing that BYD has accumulated more than 100,000 orders.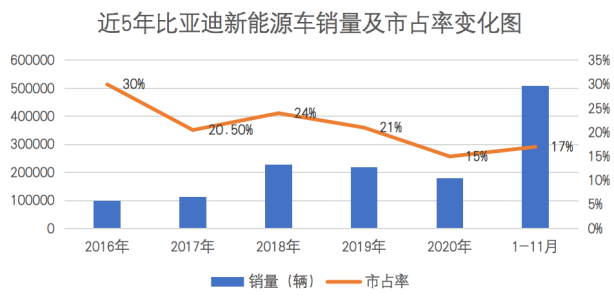 Looking at the insurance data from January to November 2021, BYD's sales have already exceeded the full-year sales in 2020. Tang ARCFOXi, research director of Wilson Intelligent Technology Company, explained to Carcaijing that this is due to the achievements in research and development, such as DM-i technology and Blade Battery, which have improved BYD's core competitiveness. In interviews, industry experts all spontaneously mentioned DM-i technology, calling it the benchmark product of BYD's self-developed technology.Unlike previous plug-in hybrid cars that primarily rely on internal combustion engines, the BYD DM-i Super Hybrid System is mainly powered by electricity with the gasoline engine serving as a generator, providing power for the vehicle when necessary. The system's overall energy consumption is not only much lower than that of traditional fuel cars, but also lower than that of traditional gasoline-electric hybrid energy-saving vehicles.
"If you place an order now, the earliest you can get the car is next year." At a Guangzhou BYD Wangchao Series 4S dealership, a user with the ID "carcaijing" saw that many people had come to the dealership to see the DM-i. Unlike the widely reported chip shortage in the industry, BYD's DM-i is facing a shortage of blade batteries.
Battery technology is one of BYD's core strengths in producing electric vehicles. Wang Chuanfu has high hopes for blade batteries, as he believes that they will steer the technology route for power batteries back to the right path, and will redefine safety standards for new energy vehicles. Shaped like a blade, blade batteries install more batteries within the limited space of the car through structural innovation, increasing the cruising range while having a longer lifespan and lower cost compared to the mainstream ternary lithium batteries used in passenger cars.
Insufficient production capacity is a "happy problem". From a macro perspective, with the rapid growth in global consumption of new energy vehicles, BYD is riding on a wave of success. In July 2021, BYD took back the global electric car sales championship from Tesla, with new energy passenger car sales exceeding 50,000 units; in August and September, new energy passenger car sales continued to rise, surpassing 60,000 and 70,000 units respectively, topping the global electric vehicle sales chart for three consecutive months, beating Tesla.
In August's new energy sales rankings in China, BYD became the most popular new energy car company with 90,142 units sold, twice as many as second-placed SAIC-GM Wuling (44,157 units) and three times as many as third-placed Tesla China (31,732 units).
Since 2019, BYD has steadily gained market share in the domestic new energy market, holding 20%-30% of the market, though it did face a period of decline before 2021. Currently, its market share has recovered to around 25%.
# BYD Leveraging Early Entry and Agility to Drive New Energy Vehicle Growth
It has not been easy, but BYD has persevered through the ups and downs of the new energy vehicle industry. Leveraging electric buses, BYD not only got a taste of the benefits of electrification, but also established its brand overseas.
Chairman Wang Chuanfu identified the market potential early on and proposed that electric buses should lead the way with taxis following, driving urban charging infrastructure. In 2017, BYD successfully entered the electric bus and small electric vehicle markets and hit the jackpot of the electric vehicle industry.
The subsequent strategic adjustments were flexible. Chairman Wang Chuanfu told Carcaijing that when competitors catch up, BYD needs to remain product and strategically leading. BYD continued to bet, continuously utilizing lean production to lower costs and improve efficiency, producing A0-class small cars, and establishing a leading position in segmented markets.
Currently, BYD electric vehicles have been sold to over 300 cities in more than 50 countries on six continents, with over 65,000 pure electric buses sold. In May 2021, at the ceremony for the millionth new energy vehicle rolling off the line, BYD officially launched its plan to enter the passenger car market overseas. The first batch of 100 brand-new Tang EVs headed to Norway, completing the transformation from "commercial to passenger-oriented" in overseas markets.
Exporting new energy vehicles is a major trend, and only by paying the tuition can one aim strategically and be truly accepted by the market. "Many Chinese new energy vehicles are particularly concerned with car networking and in-car entertainment functions but overlook driving performance. In fact, European consumers are very concerned about driving experience in different situations. If Chinese car companies do not pay a lot of tuition to understand local demands, it will be difficult to enter the European market," stated He Yipeng, General Manager of BYD Europe Limited Liability Company to Carcaijing.
Potential for Vehicle Component Disassembly
In addition to the success of selling new energy vehicles, the separation and listing of components is also important. It is generally believed that outsourcing and OEMs will open up BYD's profit and valuation space, and release the market potential of its subsidiaries.
BYD entered the new energy market early on, using the opportunity to enter the entire vehicle market in 2003 and gaining fame in 2008 due to Warren Buffett's investment. At that time, the domestic new energy industry chain was almost blank, forcing BYD to create a complete industry chain to meet business development.
Due to the immaturity of the domestic new energy vehicle market, BYD's "new energy independent technology" has always been shrouded in mystery. In 2018, after a long-enclosed period, BYD began to open up: stripping the automotive electronics business to establish its own divisions; selling batteries to other automakers; and opening up all technology related to the electric vehicle E-platform.
In 2020, BYD further opened up: setting up five companies, including Fudi Battery, Fudi Vision, Fudi Technology, Fudi Power, and Fudi Mould, which cover almost all businesses related to new energy vehicle production, manufacturing, and research and development, aiming to expedite the sales process of core new energy vehicle components.After splitting up, each component subsidiary began to gain ground in the market. In July 2021, the Shenzhen Stock Exchange accepted the listing application of BYD Semiconductor on the GEM board. However, due to the investigation of the issuer's lawyer and the shortage of raw materials, the application has been suspended twice by the Shenzhen Stock Exchange. Fudi Battery is also actively seeking listing. In the medium to long term, each component subsidiary has a listing plan.
Wang Chuanfu told Carcaijing (ID: carcaijing) that "BYD's market-oriented strategy 1.0 is to split the component business, so that the motor, battery, powertrain, and other businesses can compete with their peers in the form of business units. Market-oriented 2.0 is to sell the enterprise and make it recognized by the capital market."
Now, BYD Semiconductor's business has covered the research and development, production, and sales of power semiconductors, intelligent control ICs, intelligent sensors, and optoelectronic semiconductors, with integrated operation of the entire industry chain including chip design, wafer manufacturing, packaging and testing, and downstream applications.
The supply of components involves the core secrets of car companies. Some people in the industry believe that other car manufacturers will be afraid to purchase BYD's components. Regarding this, Li Yunfei responded that as long as the financial and equity cut is done well, the market only looks at product power.
In the field of technology, BYD has certain strength. In terms of power batteries, since the release of BYD's blade battery, the market for lithium iron phosphate has gradually rebounded, overtaking ternary lithium batteries. In the market, BYD's market share is second only to CATL; In terms of energy storage, since 2013, BYD has been promoting large-scale commercialization worldwide. Its cumulative global sales volume has exceeded 1.7GWh. As the largest Chinese energy storage provider for overseas electrochemical energy storage (excluding household energy storage) shipments in 2020, its energy storage battery performance ranks second in China.
Outsourcing of components has attracted many big customers. In addition to the publicly announced Mercedes-Benz, Toyota, and Hino, there are more brands in cooperation negotiations: some buy individual technologies, some buy parts, some buy the entire e-platform parts, and some contract the entire vehicle.
The accumulation of technology in the entire industry chain for twenty years is BYD's huge advantage facing the market, and it is also the confidence for its high valuation. However, because it has never directly participated in market competition, how to truly gain recognition from peers still requires time to test.
In the eyes of employees, Wang Chuanfu, who has been leading BYD all the way, has absolute authority. During the COVID-19 epidemic, faced with the shutdown of workshops, he "forcefully" promoted technical transformation of the R&D personnel. The Shenzhen mobile phone component factory was transformed into a mask manufacturing factory. 2,000 mask production lines were built, with a maximum daily output of 100 million masks, becoming the world's largest mask manufacturer.In the course of diversification, BYD has encountered challenges. The cloud rail business, once called by Wang Chuanfu as "creating another BYD", was quite awkward during BYD's skyrocketing market value.
The cloud rail is a strategic product launched by BYD in 2016. Once released, it quickly received orders from many cities at home and abroad. In September 2017, the first commercial cloud rail line was put into operation in Yinchuan, and the cloud rail once outshone the new energy vehicle business.
The following year, due to policy influences, several cloud rail projects were suspended by the government. Until April 2021, the first train for the cross-sea cloud rail in Bahia state, Brazil, was rolled off the production line in Shenzhen, which was built by BYD. In October 2021, BYD appeared at the 2021 Beijing International Urban Rail Transit Exhibition, and its long-silent cloud rail business began to stir again.
Several fund managers told Carcaijing ID:carcaijing that the cloud rail business was not considered in BYD's current valuation. A similar evaluation is relatively obscure, but rail transit has never been a good investment target.
Multiple capital sources told Carcaijing ID:carcaijing that cloud rail transit, as basic infrastructure construction, requires large investments, has a long return cycle, and is not attractive to the capital market. Therefore, it is naturally difficult to have good valuation.
From the perspective of investors, buying BYD's stocks is more about the optimism for BYD's new energy business. Compared with the cloud rail, BYD should prioritize solving the sales and brand problems of the whole vehicle.
Prices have become high-end, but the brand is still not there
Automakers are pursuing the high-end brand to improve competitiveness and bring higher premiums. When new products sell well and the unit price gradually increases, how is BYD's brand high-end progress?
BYD has not stopped trying. The Wangchao and e-commerce platforms are completely independent to isolate the impact of low-end models on high-end models; high-end products are constantly launched. Currently, mid-to-large-sized cars account for more than 17% of BYD's sales.
In the view of Wen Wen, director of Bonah Consulting Research, BYD's design elements conform to the trend, the layout meets market demands, and it has rid itself of the product line of large size and low price many years ago.
Li Yunfei believes that behind BYD's rising sales and stock prices is the recognition of the brand by consumers, and the brand image is a far cry from what it used to be. According to Li Yunfei, "In the second half of 2022, BYD will also launch its own high-end brand, and the first car under the brand will be a rugged off-road vehicle, with the sales price of high-end brands ranging from 500,000 to over 1 million yuan."BYD's average bike price continues to climb. Wilson's data shows that from January to July 2021, BYD's average bike price has reached 151,800 yuan. By comparison, the average bike price of the best-selling joint venture brand Volkswagen in China is around 160,000 yuan. In terms of product pricing, BYD is already on par with joint venture automakers.
The price of 200,000 yuan per vehicle is considered a watershed for domestic high-end models. According to statistics from One Ride (ID: carcaijing), there are 6 models of BYD with a price above 200,000 yuan, which includes 15 different configurations. The new energy version of BYD Tang has reached 340,000 yuan.
However, the research results shared by Wenwen with One Ride (ID: carcaijing) show that BYD's progress has not been fully conveyed to consumers. In consumers' impression, BYD is still low-end, inexpensive, and has poor workmanship. After all, the brand image was established at the beginning of its establishment, and it is extremely difficult to evolve through product upgrades in the future.
"Buying BYD is to pursue cost-effectiveness and not considering luxury models." One Qin PLUS DM-i user said to One Ride (ID: carcaijing). Some consumers regard the BYD brand as an ordinary domestic car, neither low-end nor high-end. BYD has created products that meet consumer needs, but still has not created a brand.
It must be pointed out that BYD attracts consumers mainly with its new energy technology, and intelligentization has not yet become a product label of BYD.
"At present, BYD's experience in intelligence lags behind new automakers such as XPeng, Ideal and NIO, but BYD is also actively seeking cooperation to improve synchronously, and the gap in intelligence will not be large in the future." A researcher from a new energy fund told One Ride (ID: carcaijing).
BYD realized its own shortcomings. Liu Ke, deputy director of BYD's product planning and automotive new technology research institute, said that whether the car machine can completely replace or even surpass mobile phones is the only criterion for intelligent cars.
Currently, BYD's DiLink intelligent network system has been upgraded to version 3.0 and can run all software based on the Android system, which can replace mobile phones to some extent. But this is far from enough. A young consumer who experienced the Han's car machine system at the 4S store was surprised by the response speed and said that the smoothness was better than XPeng's. Even so, he still chose XPeng instead of Han. Because the Android system has strong compatibility, but there are no features, it is not trendy enough, and he prefers the XPeng's car machine system. BYD needs to meet consumers' needs to show individuality.
Industry insiders believe that only by upgrading the brand to high-end can the product premium be increased. Only by strengthening the intelligent network connection function can the product's profit-making ability be expanded. By means of digitization, software subscriptions, etc., the car transaction will no longer be a one-off deal, and this is exactly where BYD's car products need to be strengthened.
Basic Talents are Slipping Away from Fingertips.# The Competition of Talent in the Automotive Industry
The competition of enterprises ultimately comes down to the competition of talent. Management guru Jim Collins proposed the management concept of "People First" in the book "From Good to Great". This means that enterprises should first recruit and retain suitable candidates, and then decide on the direction and strategy of the company.
On the new racetrack of intelligent electric vehicles, the competition for talent has never been as intense as it is today.
On August 30th, Geely Automobile (0175.HK) announced that it would grant 167 million shares to over 10,000 people, valued at approximately 4.49 billion Hong Kong dollars according to the market value. Similarly, another private automobile giant, Great Wall Motors (02333.HK), announced that it would grant a total of 32.6532 million restricted stocks to 557 incentive objects, and grant a total of 300 million stock options to 8,147 incentive objects.
"Universality is the biggest characteristic of this stock incentive plan." Rui Meng, a professor of finance and accounting at the China Europe International Business School, explained to the media outlet CarCaijing, that unlike traditional equity incentive plans only targeting executives, this plan covers a larger number of people with a considerable amount, giving a sense of openness and inclusivity.
Traditional automobile companies need to make some changes in terms of compensation to compete with internet and new energy vehicle companies for talent. Wang Huan, the person in charge of customer success for LinkedIn's talent solutions in China, told CarCaijing that this would force companies to change their salary structure and incentive mechanisms for employees.
However, BYD has taken few actions in this regard. Its latest equity incentive plan was still targeting 97 supervisors and executives by granting no more than 32.66 million shares in June 2015.
BYD values research and development, but its management of talent is very rough, which is a double-edged sword for the company.
Lian Yubo, the senior vice president and dean of the Engineering Research Institute of BYD, is proud of BYD's engineer culture. He said that among BYD employees, engineers have the highest status and the best treatment. As of the end of the 2020 reporting period, the number of BYD R&D personnel had increased to 35,776, accounting for 16% of the total number of employees in the group.
However, the treatment of BYD's R&D engineers is severely polarized. The highly paid elite engineers who master core technologies are a minority, and more R&D personnel feel lost and helpless.
According to the 2020 financial report, Lian Yubo's pre-tax annual salary was 6.829 million yuan, and the pre-tax annual salary of Luo Hongbin, the senior vice president and dean of the Power Science Research Institute, was 7.378 million yuan, both higher than Chairman Wang Chuanfu's 5.336 million yuan. In the salary structure of BYD's executives, the proportion of technical personnel is higher.
Shu Youxing, the former general manager of BYD Auto Sales Co., Ltd., told CarCaijing that fresh graduates are BYD's main force. In order to improve quality, BYD also introduces overseas experts from various fields to promote the coordinated development of fresh graduates.
Note: HTML tags are preserved, and only corrections and improvements are provided.A former engineer from BYD who just resigned told Carcaijing ID that "after working for BYD for 4 years, the pre-tax salary has only increased from 7300 yuan to 9000 yuan." In Shenzhen, where land is scarce and precious, even in relatively remote Pingshan, a pre-tax salary of 9000 yuan is too low. "Thanks to BYD for the training, but due to life pressure, I had to resign and find a new job." According to the engineer, similar situations are commonplace at BYD, and the rate of talent loss is very high.
Another female engineer had an inhumane experience at BYD. She successfully passed the technical interview in an internal application for a transfer, but her original department refused to let her go, leaving her stuck in a game between two departments, and could only resign.
The smart EV competition is in a rapidly developing stage. Even novice and experienced mature employees are being snatched up by various powers, and grassroots engineers usually see their value increase several times when leaving BYD.
On the one hand, the total compensation of BYD's senior management has perennially been the highest among car companies, attracting highly paid recruitment of excellent engineers. On the other hand, there is a lack of care for grassroots R&D personnel, and the most widely circulating "soldiers" are lost to competitors.
Several industry insiders mentioned that there is an ancient Chinese saying, "ironclad camps and flowing soldiers." In the past, the belief of car companies was that "a general is hard to find among a thousand soldiers," and ordinary employees, even middle-level managers, did not receive the attention they deserved. Car companies sought "to capture big and let go of small." But in today's era when various car-making forces are vying for talent resources, "soldiers" are also a resource that must be fought for. In the age of the automotive industry scrambling for talents, BYD's management approach is undoubtedly outdated.
Hiring people into a company is not the end, but a new beginning. Wang Huan proposes that in terms of corporate culture, many traditional car-making companies and automotive-parts companies should pay particular attention to incorporating youthful and innovative genes into corporate culture in digitization transformation. This can stimulate the creativity of talents, and achieve a better integration of talents and corporate culture.
BYD, with both opportunities and risks, has attracted much capital attention.
Wind data statistics show that as of the mid-year report in 2021, BYD (002594.SZ) has 889 funds holding its shares, accounting for 9.27% of the company's circulating shares, with a total market value of 26.88 million yuan. This involves 121 fund companies, meaning that public funds in the entire market have more or less bought some BYD. Another 73 funds hold BYD Electronics (0285.HK), and 57 funds hold BYD Co. Ltd. (1211.HK).
However, the market has different opinions. In June of this year, Morgan Stanley said that BYD's risk-return was low, thus downgrading the company's A-share and H-share rating to "low-priced." In August of this year, CICC gave a six-month target price of 540 yuan and a market value rating of 1.5 trillion yuan in a research report, astonishing the market.Some believe that BYD has the potential to become an international giant, but there are also issues within the company. With such vast resources being invested in the group, is it enough to maintain focus? As the automotive industry faces unprecedented changes, can BYD maintain its lead? Only time can answer.
"The new energy industry is just getting started, and the capital market is closely watching. The current stock price includes optimistic expectations for next year, but the industry cycle is relatively long and not fully exhausted," said Wang Guanqiao, a researcher at CITIC Prudential Fund, to Carcaijing (ID: carcaijing).
It is worth noting that the capital market's research and investment focus varies during different stages of industry development. Looking at the long journey of new energy vehicle development in electrification, intelligence, and networking, we are still in the relatively early stages.
This article is a translation by ChatGPT of a Chinese report from 42HOW. If you have any questions about it, please email bd@42how.com.