On March 19th, BYD announced the pre-sale prices of Han DM-i/p. The DM-i comes in four versions with a post-subsidy pre-sale price ranging from 216,800 to 292,800 yuan, while DM-p has only one version with a pre-sale price of 322,800 yuan.
The overall design of Han DM-i/p continues the "Dragon Face Aesthetics". The front face remains largely unchanged, but a piano-black sports package is added to enhance the athletic feel. The biggest change is the tail lights with elements of "Chinese Knot", which is also for the first time adopted by the Dynasty series. The vehicle has a length, width, and height of 4,975 x 1,910 x 1,495 mm and a wheelbase of 2,920 mm. The entire series is equipped with 19-inch wheels, and the wheel styles may differ among different versions.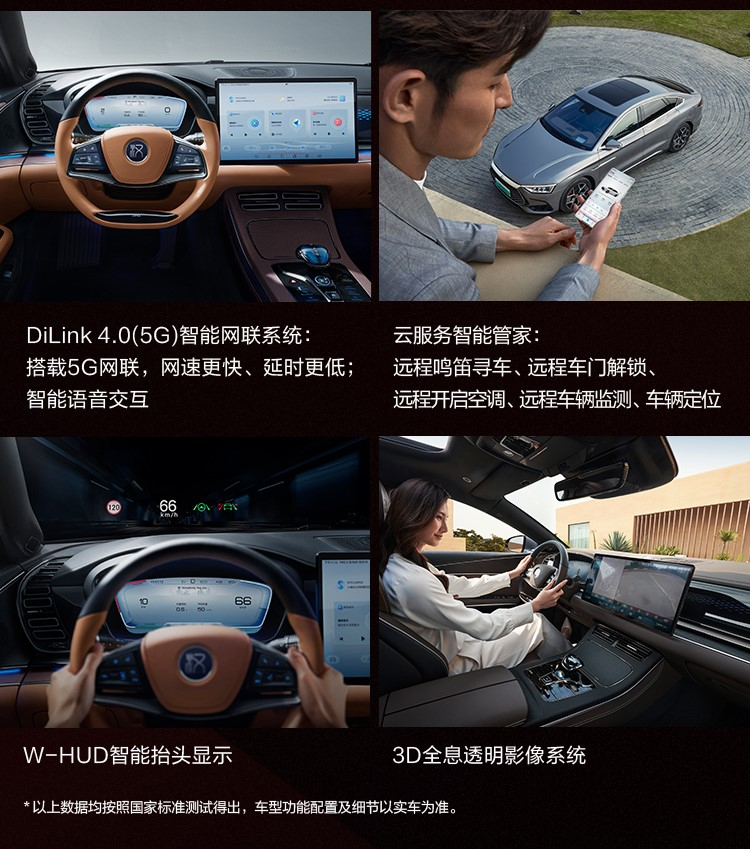 Regarding the interior, the overall layout remains unchanged. It is equipped with a 15.6-inch central control screen and DiLink 4.0 (5G) intelligent network system as standard, and also offers the option of Nappa leather integrated sports seats. The DiPilot intelligent driving assist system is equipped with 22 perception devices and adds functions including high-speed road driving assistance, emergency avoidance assistance, etc.
As for the suspension, Han DM-i/p still adopts the front MacPherson and rear multi-link independent suspension. DM-p uses the front aluminum alloy swing arm/steering knuckle suspension and rear aluminum alloy traction arm/control arm/steering knuckle suspension, and is equipped with intelligent electronic active suspension.The most significant change is in the power system. The DM-i model is equipped with a Shyuan-Plug-in Hybrid (PHEV) 1.5T four-cylinder engine, delivering a maximum power of 102 kW and peak torque of 231 N·m. The driving motor adopts a front permanent magnet synchronous motor with a maximum power of 145 kW and peak torque of 316 N·m. The official electric consumption per 100 km is 4.2 L, and the acceleration time per 100 km is 7.9 seconds. DM-i models with pure electric range of 121 km and 242 km respectively are equipped with blade batteries of 18.3 and 37.6 degrees, with a comprehensive range of up to 1,300 km.
The Han DM-p, on the basis of Han DM-i, replaces the front driving motor and adds a rear motor with maximum power of 160 kW and 200 kW, and peak torque of 325 N·m and 350 N·m. The acceleration time from 0 to 100 km is 3.7 seconds, and the electric consumption per 100 km is 5.2 L.
Finally, the pre-sale benefits are as follows: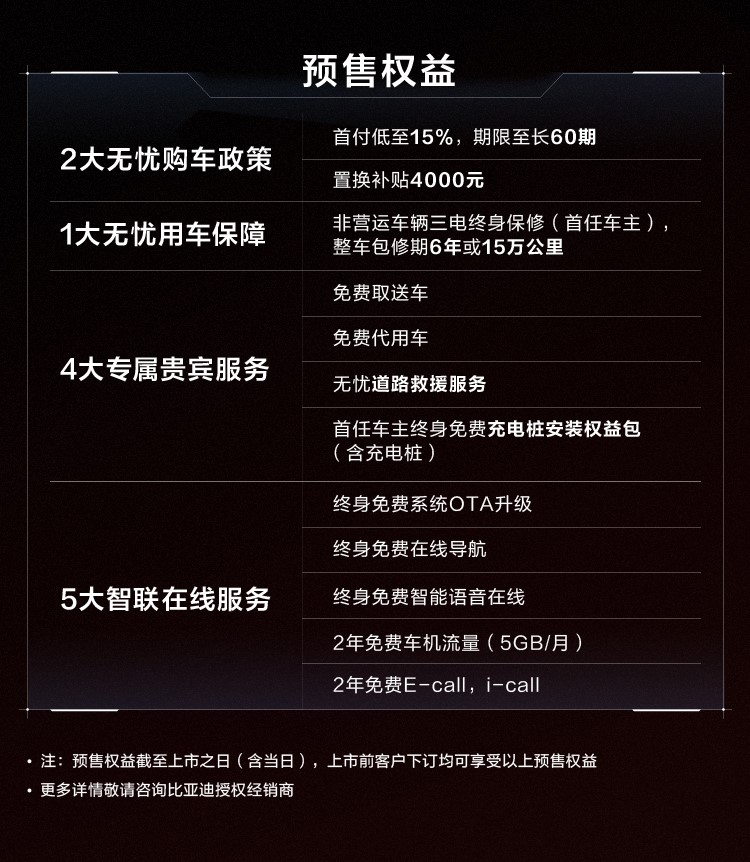 How to choose from the five versions?
First of all, for most people, the Han DM-i with a pure electric range of 121 km is the preferred model, which is enough for urban commuting. The electric consumption per 100 km of 4.2 L is sufficient to save fuel even without charging, regardless of whether there is a charging pile at home or not.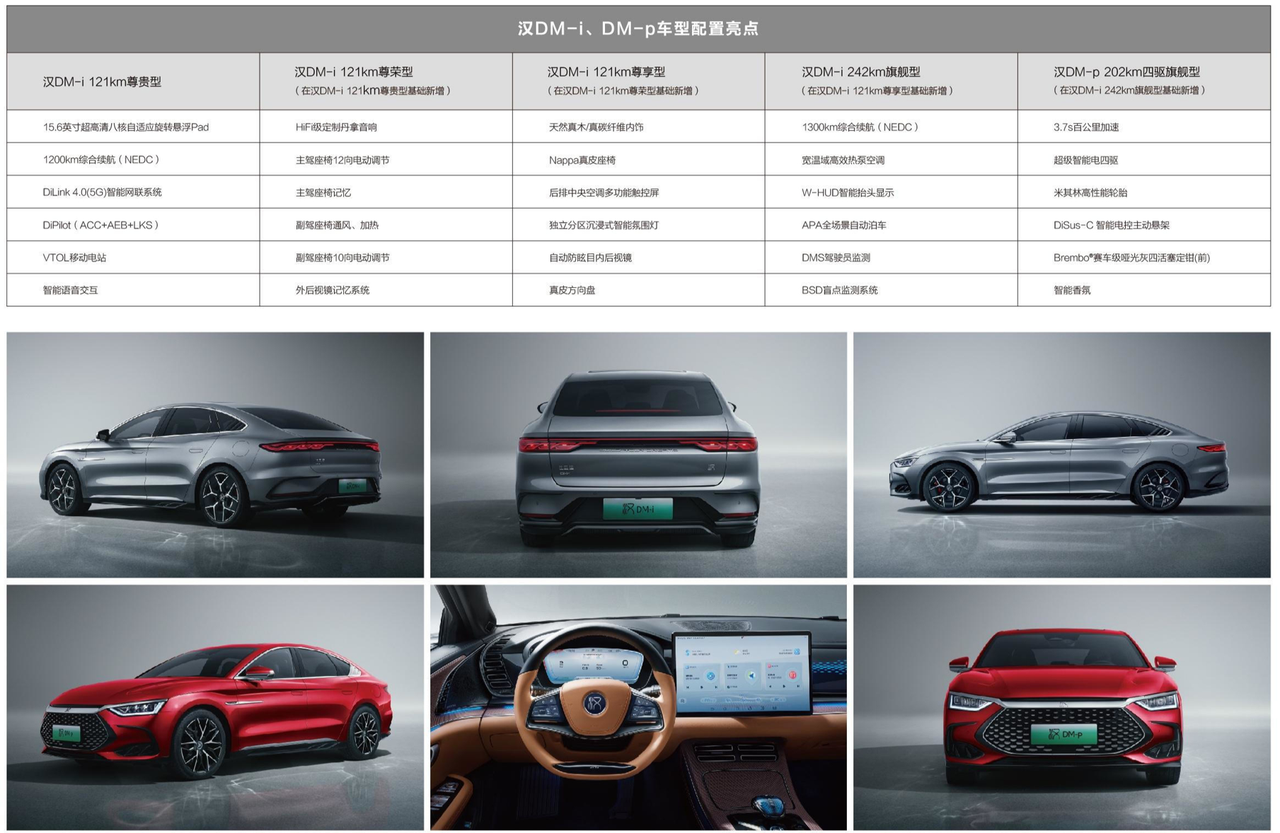 Above is the configuration chart of the BYD DM-i/p model, and the recommended top-of-the-line luxury model priced at 226,800 yuan is the best choice, which is 10,000 yuan more expensive, but with additional features such as Danish sound system, 12-way adjustment for the driver's seat, and heating and ventilation for the front passenger seats, which significantly improves comfort. If you want to pursue a more luxurious feel, the 236,800 yuan flagship model is worth buying. With features such as real wood, carbon fiber, leather steering wheel, and rear touch screen, it can further enhance the sense of luxury.
The version with a range of 242 km is more suitable for those who have charging facilities at home or at work and frequently drive 100 to 200 km, as this can fully utilize the value of the larger battery. After all, it is 5.6 yuan more expensive than the top-of-the-line luxury model with a range of 121 km.
DM-p is suitable for users who pursue extreme performance and have range anxiety. Most electric cars with 3.7 second acceleration are generally priced at over 300,000 yuan. However, range anxiety is hard to completely avoid for pure electric cars. DM-p has a pure electric range of 202 km and a power consumption rate of 5.2 L/100km, which is completely acceptable. Moreover, all the necessary configurations, including active suspension, Brembo brakes, and Michelin tires, are in place.
What's the difference between Han DM-p and Han DM?
DM-p is based on DM-i, with a front drive motor replaced and an additional rear drive motor added. It is a product of the BYD DM 4.0 era, while Han DM is still in the DM 3.0 era. The specific differences are as follows:
Hybrid structure: Han DM still retains the traditional engine and transmission structure, equipped with a 2.0T engine and a 6-speed wet dual-clutch transmission, and adding a rear drive motor with a maximum power of 180 kW on the rear axle. Han DM-p is built on top of DM-i, with a 1.5T plug-in hybrid special engine mainly responsible for "power generation" at ordinary times. At a certain speed, it can intervene in direct drive and remove the traditional gearbox, thus ensuring fuel consumption under power loss. At the same time, Han DM-p changed to a more powerful front drive motor and added a rear motor to achieve ultimate performance.

Performance: Han DM's official 0-100 km/h acceleration time is 4.7 seconds, with a pure electric range of 81 km, while Han DM-p's official 0-100 km/h acceleration time and pure electric range are significantly increased to 3.7 seconds and 202 km, respectively. In terms of power consumption rate, Han DM is estimated to be 7-8 L/100 km, while Han DM-p is 5.2 L/100 km.

Battery: Han DM uses ternary lithium batteries, while Han DM-p uses lithium iron phosphate blade batteries, and the capacity has been significantly increased. The battery pack capacity of Han DM is 15.2 kWh, while that of DM-p is 37.5 kWh.

Price: The subsidized price of Han DM for 2020 is between 222,800 yuan and 242,800 yuan, while Han DM-p is priced at 322,800 yuan, which is 80,000-100,000 yuan more expensive. In addition to the increased battery pack capacity, front drive motor and some interior configurations, the inability to enjoy subsidies (over 300,000 yuan) and the recent sharp rise in battery raw materials are also important reasons.
Competitive AnalysisCurrently, there is no direct competitor for the Han DM-i/p in the market, but when purchasing, customers may first compare it with their own Tang DM-i. The price range for Tang DM-i 112km of range is between 205,800 and 222,800 yuan, and overlaps with the price range for Han DM-i 121km of range. It depends on whether the customer prefers SUVs or sedans.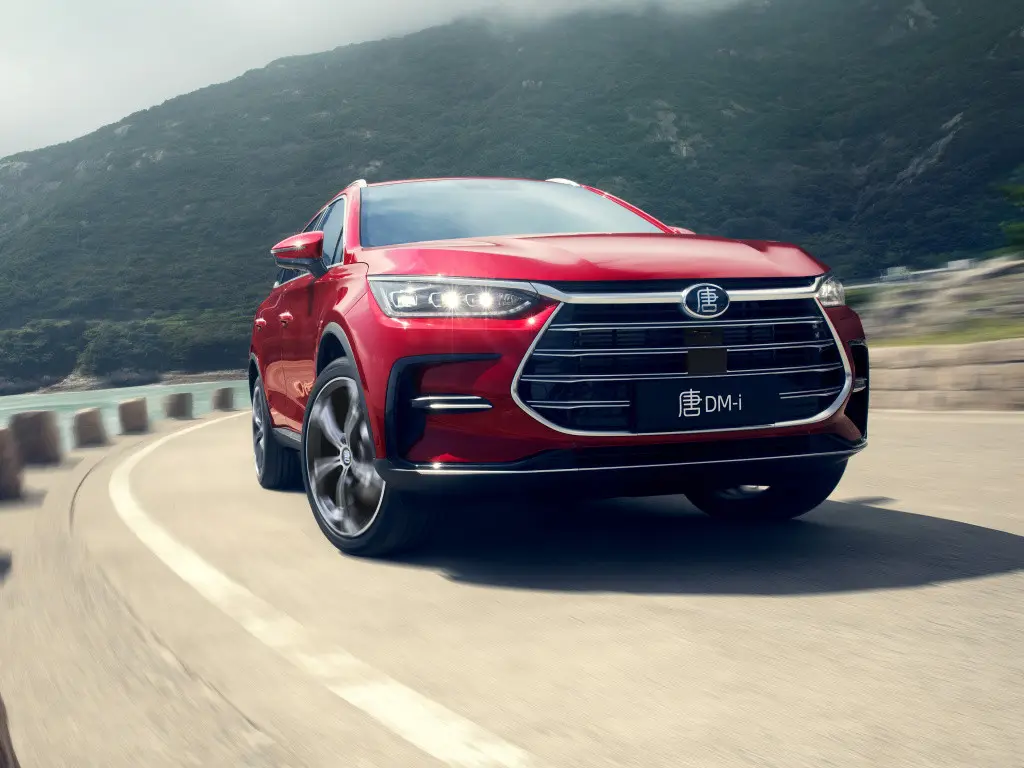 In addition, in the hybrid sedan field, customers may compare Toyota's hybrids, specifically the Toyota Camry Hybrid, Toyota Asia Dragon Hybrid, and Honda Accord Hybrid. The price range for Honda Accord Hybrid is between 199,800 and 259,800 yuan, for Toyota Camry Hybrid it is 219,800 to 269,800 yuan, and for Asia Dragon Hybrid it is between 239,800 and 289,800 yuan.
Since all three cannot be plugged in and can only be classified as Hybrid Electric Vehicles (HEVs), they are not exempt from purchasing tax. With an additional tax of about 20,000 yuan, the price exceeds that of the Han DM-i completely. Taking into account that the Han DM-i can drive purely electric and has a higher overall configuration level, in terms of cost performance, the Han DM-i completely wins.
However, Toyota's brand influence is still dominant in some groups, so the Han DM-i will not have a significant impact on these consumers in the short term. But overall, the Han DM-i/p will have a significant impact on the sales and prices of Toyota's hybrid models.
The significance of the Han DM-i/p compared to BYD
In the process of upgrading BYD's brand image and rapidly increasing the average selling price of its single vehicle, the Han is a critical model. However, Han EV has always been the sales leader of the Han family, and the sales of Han DM have long been only one-third to one-fourth of that of Han EV, which has kept the Han family's sales hovering at around 10,000 vehicles.The arrival of the DM-i from Han will greatly improve the overall sales of the Han family. Referring to the current popularity of the Qin PLUS DM-i and the Song PLUS DM-i, the Han DM-i is expected to help the Han family's sales reach the level of 20,000 units in the future. The Han DM-p is the "performance" representative, improving the price range and the "high performance" brand image.
With the future launch and hot sales of the Han DM-i/p, it will further improve BYD's average selling price per vehicle and brand image.
This article is a translation by ChatGPT of a Chinese report from 42HOW. If you have any questions about it, please email bd@42how.com.