知一 发自 副驾寺

智能车参考 | 公众号 AI4Auto
What will come on the 1st of every month?
The monthly delivery results of China's new car manufacturers will come.
Although it is not clear when this practice of disclosing delivery volume on a monthly basis began, it is becoming a convention for all Chinese new car manufacturers and players in the industry.
On February 1st, the first day of the Chinese New Year, the monthly delivery results of China's new car manufacturers were released one after another.
Moreover, the following characteristics of the data are also emerging:
1. The better the delivery performance, the faster the disclosure of the results;

2. If the delivery volume exceeded 10,000, it was graded from excellent to passable;

3. Although new manufacturers are encroaching on the combustion vehicle market, the Matthew Effect of rise and fall is intensifying within the new manufacturers' camp.
January delivery details: XPeng ranked first again, NIO delivered over 10,000 cars
If ranked by the delivery volume, the ranking of January delivery performance is:
XPeng, Li Auto, NIO, Leap Motor, LI, Zeekr…
Among them, XPeng, Li Auto, and NIO all delivered over 10,000 cars.
In January, NIO failed to maintain the baseline of 10,000 cars and delivered 9,652 cars.
Leap Motor once again entered the field of view with a delivery volume of 8,085 cars.
Li-Pure Electric, a pure electric brand under Geely, delivered 3,530 cars in January, which is roughly the same as December. In the 100 days since the delivery of Li-Pure Electric 001 began, the performance report disclosed by the company was 9,500 cars—which is said to have refreshed the record of delivering 100 cars within the first 100 days of a new car maker.
Let's take a closer look at each company.
Let's first take a look at XPeng Auto, which once again ranked first in January delivery.
XPeng Auto: 12,922 cars
In January 2022, XPeng Auto delivered 12,922 cars, a year-on-year increase of 115%. This is also the fifth consecutive month that delivery volume exceeded 10,000 cars.
However, this is slightly lower than the more than 15,000 in November and 16,000 in December.
In terms of individual car models:
XPeng P7 delivered 6,707 units;

XPeng P5 delivered 4,029 units;

XPeng G3 series delivered 2,186 units.
Among them, the flagship coupe P7 is still the most popular model, but with the delivery of P5, which is more intelligent, cost-effective, and practical, it is expected to become XPeng's best-selling model. The G3 series is gradually experiencing a decline in sales and delivery.
Regarding SUV models, XPeng G9 has already debuted and is expected to be released and delivered within the year. By then, P5 and G9 will gradually become best-selling models.Translation: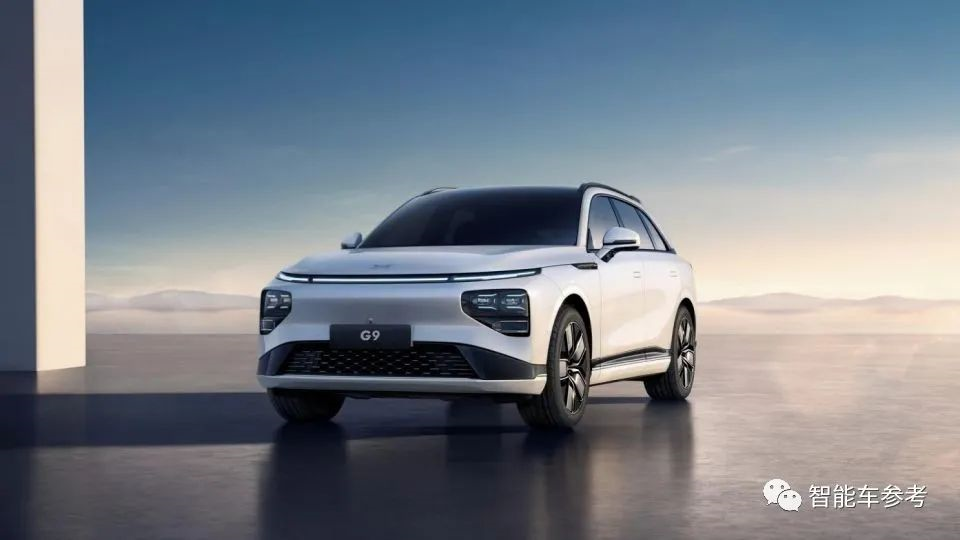 However, so far, the XPeng P7 remains its best-selling model. As of the end of January 2022, XPeng P7 has delivered over 80,000 units in total, while XPeng Motors' cumulative delivery has exceeded 150,000 units.
At this rate, XPeng Motors is expected to surpass NIO in cumulative deliveries within the new forces market next month or the month after.
NIO: 9,652 units
In January 2022, NIO delivered 9,652 new vehicles, a year-on-year increase of 33.6%.
As of the end of January 2022, NIO has delivered a total of 176,722 vehicles, still ranking first among new car makers.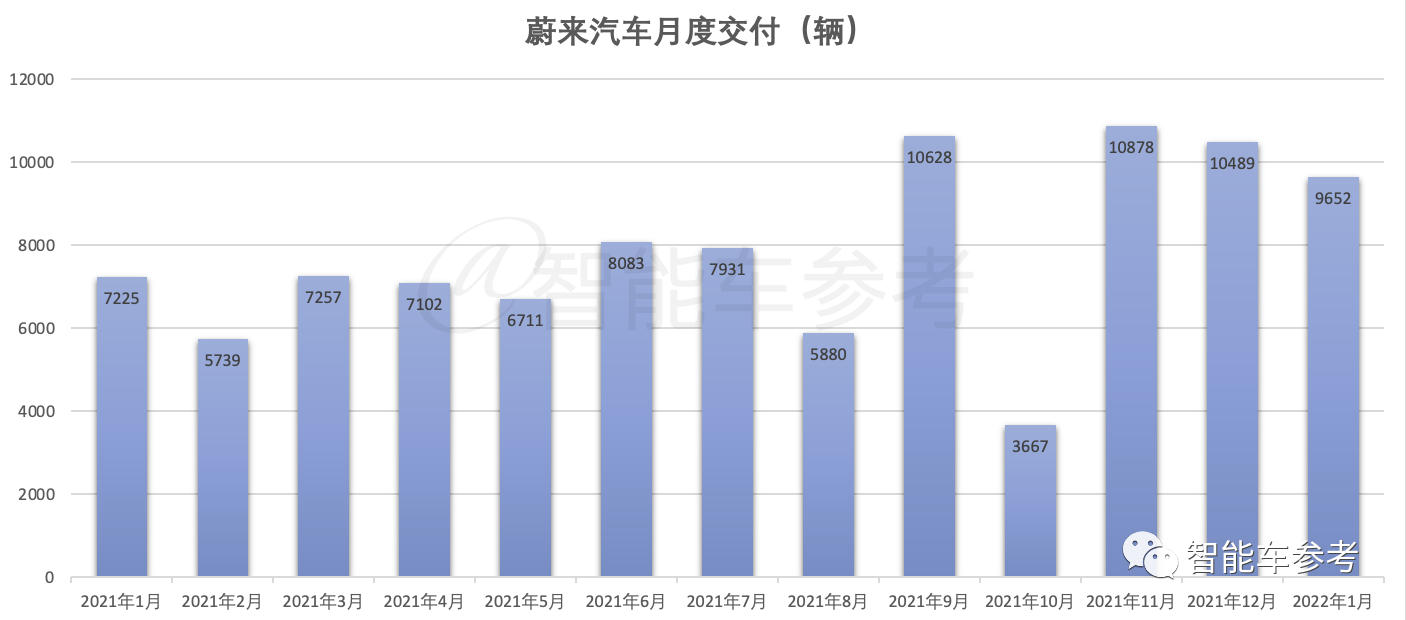 However, NIO is still struggling with delivery fluctuations.
The most watched was October 2021 when NIO delivered only 3,667 vehicles.
Although the following two months quickly picked up, exceeding ten thousand for consecutive months, there was a slight drop in January compared to the previous month.
NIO officials explained that the delivery fluctuations were mainly due to industry chip and supply chain shortages.
To a certain extent, it was also thought to be related to product pacing. The first sports car, ET7, which was supposed to be delivered in 2021, has not been delivered yet, and the on-sale model is still an SUV, there is no difference in product choice and price.
The good news is that the cheapest sedan model in the team, the ET5 prototype, has started to be taken offline, and it is expected to save NIO in a critical moment.
Perhaps it will be delivered even earlier and faster than the ET7, which is a little embarrassing.
Li Auto: 12,268 units
Li Auto, a single-model company, once again exceeded ten thousand units with a single model.
In January 2022 delivery data, Li ONE delivery volume reached 12,268 units, a year-on-year increase of 128.1%.

Starting from November last year, Li ONE has begun this trend of delivering over ten thousand units.
In the highest month, December 2021, the delivery volume reached more than 14,000 units.
As of the end of January 2022, Li ONE's cumulative delivery volume reached 136,356.
Xpeng: 11,009 units# NIO, a typical case of a car with reputation preceding it
Perhaps you haven't seen a NIO-branded car much in Beijing, Shanghai, Guangzhou, or Shenzhen yet, but the company's reputation has been rapidly spreading since Zhou Hongyi's investment via 360, and deliveries have been increasing steadily.
According to its disclosed data, NIO delivered 11,009 cars in January, ranking third only after XPeng and Li Auto.
This is also the first time that NIO has delivered more than 10,000 cars per month since November last year.
Compared to the decline in sales volume of Li Auto's ONE in January, NIO is "going against the trend," continuing to grow and showing a stable trend.
However, NIO, which aims to "build cars for the people," is not in the same price range as Li Auto's ONE for its models on sale.
On sale under the NIO brand are three models – NIO N01, NIO U, and NIO V, with NIO V being the main source of sales, priced no more than CNY 100,000.
NIO delivered a total of 49,646 cars in 2021.
LINGPANG: 8085 cars
LINGPANG, also from Zhejiang, delivered a new record high of 8085 cars in January:
From October 2021, LINGPANG broke through the bottleneck of 5,000 cars, with 5,628 in November and 7,807 in December, and is likely to break the 10,000 mark imminently.
At present, LINGPANG has three models for sale—T03, S01, and C11.
The highest-priced C11 is priced below CNY 200,000.
Of course, for both NIO and LINGPANG, the urgency now is not only completing the proof of concept in the consumer market but also to go public and accelerate their development leveraging larger capital leverage.
NIO's specific progress has not been disclosed, but LINGPANG has already been exposed regarding relevant aspects- preparing to go overseas.
On January 26, the CSRC website disclosed the progress of the "Overseas Initial Public Offering of Shares" approval of Zhejiang LINGPANG Technology Co., Ltd. (hereinafter referred to as "LINGPANG Automotive"), which has now reached the stage of accepting materials.
But it is currently unknown whether it will be listed on the Hong Kong Stock Exchange, NASDAQ, or Singapore Exchange, but given the current context, it is likely to be listed on the HKEX.### JiKe: 3530 Vehicles
Finally, Geely's pure electric brand, JiKe, also disclosed its January results.
JiKe said that in January 2022, JiKe 001 delivered 3530 vehicles. Since the start of deliveries, JiKe has delivered over 9500 vehicles within 100 days, the fastest speed among new forces.
However, JiKe has gradually stepped onto the right track since the start of deliveries and has overcome the difficulties before deliveries.
And indeed, it has become less and less like the silly son of a landlord, responding and speeding up in all aspects, continuously moving closer to the internet and new forces.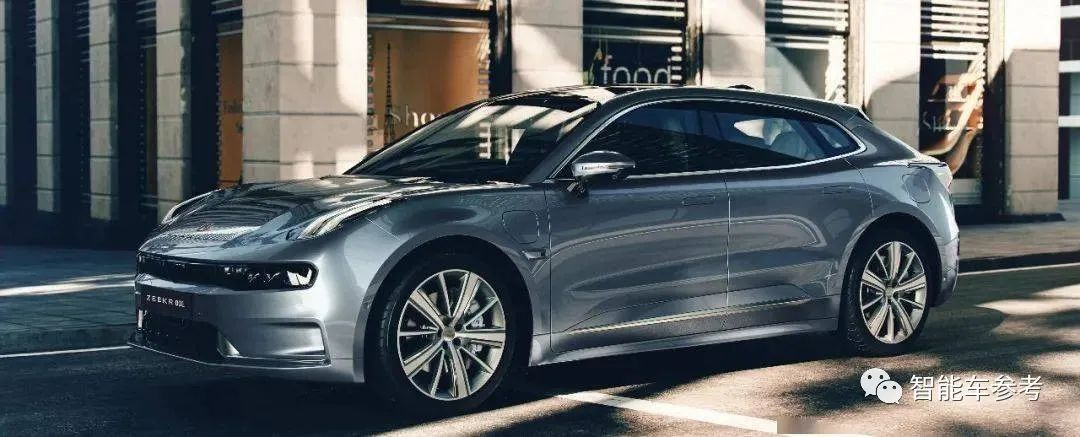 Just based on the disclosed delivery volume, JiKe is more active than JiHu and LanTu, both of which have not yet disclosed their deliveries – it may also be due to the Spring Festival holiday where state-owned enterprises do not work overtime.
As for WM Motor, it is even harder to guess why the member of the "four small dragons" among new car makers has not yet disclosed.
Trends behind the latest delivery volume
Perhaps you are also curious:
Can delivering volume disclosures bring in revenue?
It is possible to bring in revenue.
With the constant release of delivery volumes by new car makers and further developments in new car manufacturing and landing, the trends and impacts of delivery volume are gradually revealing themselves.
There are two points on the surface:
The better the delivery performance, the faster the report is disclosed.

Once deliveries exceed 10,000 vehicles, the performance will change from excellent to passable.
The first point is easy to understand. If you get good grades, you will naturally walk faster on the way home, and you will have a more urgent desire to let the whole world know.
To understand the second point, we need to look at some historical developments in the industry.
At the outset of the development of China's new car makers, 10,000 vehicles delivered was a benchmark representing excellence.
Delivering 10,000 vehicles means that the brand, sales, and production capabilities have reached an excellent state and level.
But as we progress, the benchmark of excellence at 10,000 vehicles delivered is now changing from an excellent benchmark to a passable benchmark.
Companies that can exceed 10,000 deliveries are becoming more and more well-known and accepted, while companies that cannot exceed 10,000 deliveries are becoming increasingly niche – but can the automotive market accommodate niches?
Therefore, the first two trends are pointing towards a bigger trend:
The Matthew effect of rising and falling in new car manufacturing is becoming more and more significant.
Looking from a higher perspective of the automotive market, the new car manufacturing camp is only in the first stage of the new energy sector.
Powered by new energy, the threshold for car manufacturing has dropped and many cross-border players have seized the opportunity to enter the market, and users' brand acceptance is also facing renewed reshuffling, willing to try new things.
Tesla and "Wei Xiao Li" are both players who have benefited in this stage.With the continuous increase in sales and deliveries, the formation of new brands will accelerate the Matthew Effect in new markets.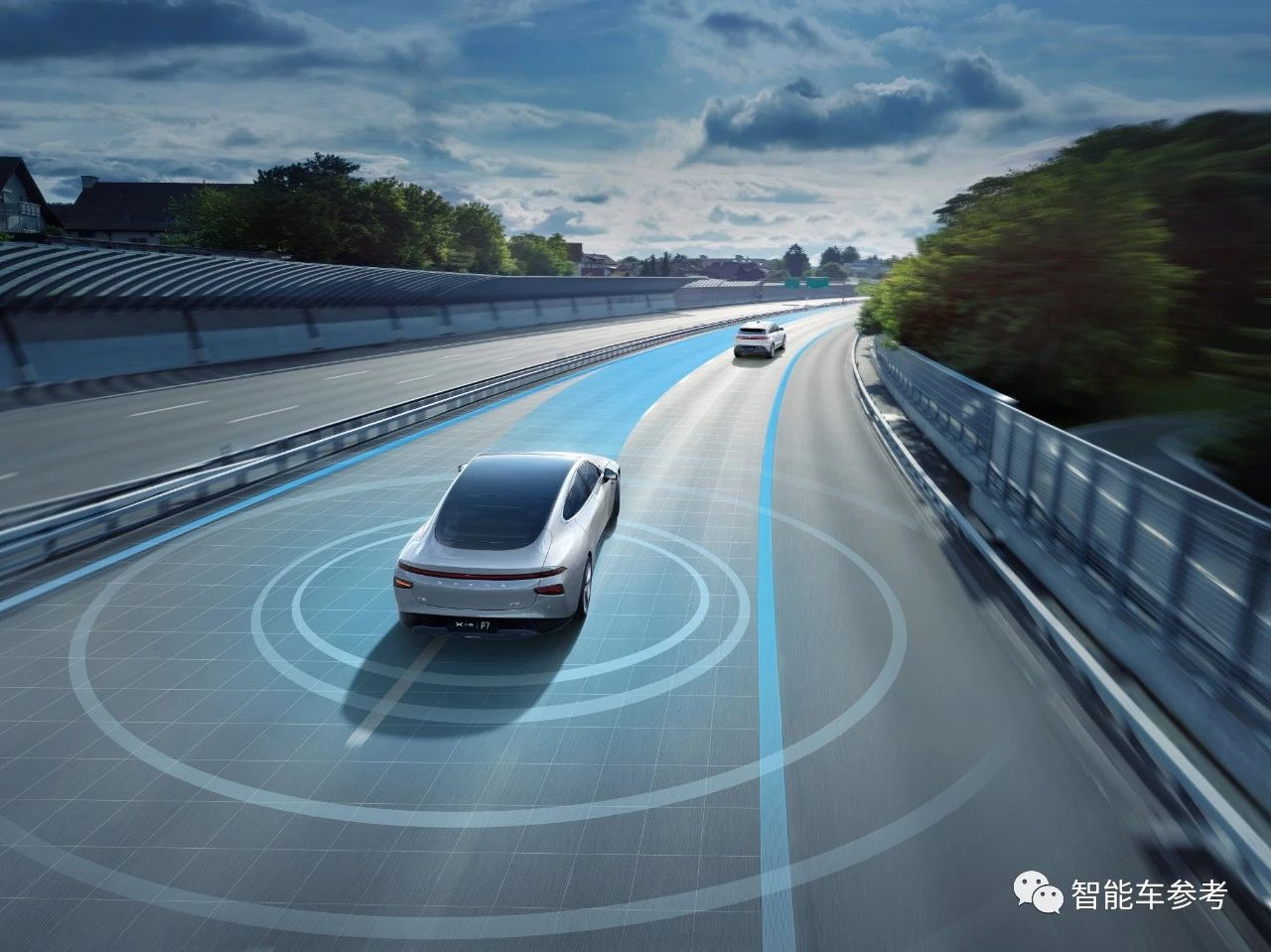 Perhaps you also have such a psychology:
The more brands you hear about, the more brands you see on the street, and the more brands you see on the road, the more likely they are to be trustworthy brands.
And this is not entirely a user's mental and psychological perception, because the larger the delivery volume, the greater the bargaining power of these automakers in the supply chain, and the snowball effect will become stronger.
There may be "niche" brands in the automotive field, but it is difficult to appear in the new car manufacturing field.
What's more critical is that the "timing" for new car manufacturing is constantly tightening.
Data shows that in 2021, China's sales of new energy vehicles reached 3.521 million units, a year-on-year increase of 1.6 times, ranking first in the world for 7 consecutive years. Among them, the sales of new energy passenger cars reached 3.334 million units, a year-on-year increase of 167.5%.
In addition, the penetration rate of new energy vehicles reached 15%, of which the penetration rate of new energy vehicles in the last month of 2021 reached 22.6%.
As the penetration rate trend becomes obvious, more traditional giants are also accelerating their transformation to new energy and entering the new energy market to compete in the industry.
Therefore, although the new forces are all eroding the fuel vehicle market, the Matthew effect of chasing up and killing down is also intensifying within the camp. Before entering the "Warring States" decisive battle stage, it is necessary to first produce a hegemon in the "Spring and Autumn" period.
Who will be the new car manufacturing hegemon?
The answer has been revealed globally:
Tesla.
In 2021, Tesla delivered a total of 936,172 cars, an increase of 87% compared to 499,647 cars in 2020, exceeding all analysts' expectations.
What about China's local automakers?
NIO? XPeng? Ideal? Or is it WmAuto, Naza, Zero Run, Jihoo, Voyah… Zeekr?
Who do you think will win?
If you ask Cathie Wood, she will say that she is optimistic about XPeng.
Because of the latest disclosed data, she further increased her holdings of Tesla and XPeng Motors, which is her third time buying shares of these two electric vehicle manufacturers this year.
But who is Cathie Wood? Why is she worth paying attention to?
Cathie Wood, Jianghu people known as "Mujingjie", Ark invest founder and CEO, known as "Wall Street Queen" and "Female Buffett" for successfully betting on Tesla, etc.Here's today's reference for intelligent cars. Wishing you all a prosperous Year of the Tiger~
— End of translation —
This article is a translation by ChatGPT of a Chinese report from 42HOW. If you have any questions about it, please email bd@42how.com.