Author: Yao Xuyang
The automotive industry is seeing a self-developed trend.
By using its self-developed AEB system, Ideal's mass-produced cars have defeated star models from traditional car companies renowned for their safety, such as BMW and Volvo.
In January of this year, the 2021 Ideal ONE won first place in the annual AEB test conducted by Dongchedi. The other four finalists were Brilliance BMW 5 series, Brilliance BMW X3, 2022 Volvo Asia Pacific XC60, and 2021 Subaru Ascent.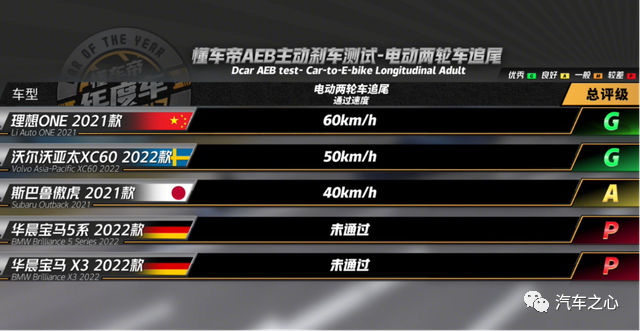 As the champion of the test, the Ideal ONE is the only vehicle in the finals group that can accurately identify lateral vehicles and two-wheel vehicles.
Using AEB, Ideal can identify targets that other companies cannot, making them stand out in terms of their strength. The results of the AEB test will undoubtedly solidify the position of Ideal ONE as a hot seller. Additionally, we also examined how a full-stack self-research route could empower automakers.
Embarking on self-research, pursuing extreme safety
Before doing anything, Ideal's team likes to ask a "why."
Why should AEB be self-developed?
In the early days of the company's inception, Ideal chose to cooperate with suppliers like Tesla and other new energy vehicle companies to provide mature solutions. In the case of the 2020 Ideal ONE, Mobileye provided a visual perception module.
However, because Mobileye provided a "black box," there was no way to update or upgrade it according to the car company's needs. In the words of Ideal Automotive CTO Wang Kai, "For example, the perception algorithm is provided by the other party. Although this system is relatively mature, it is not open enough, and our staff's ability to participate in it is relatively small."
In May of 2021, Ideal launched the 2021 Ideal ONE, equipped with two homemade Horizon J3 chips, becoming the first car company to adopt domestic autonomous driving chips. Based on the Horizon chip, Ideal has begun self-research in software, including the most critical perception algorithms.
At the end of the same year, Ideal launched the NOA navigation-assisted driving function.
Currently, the 2021 Ideal ONE can recognize traffic accidents and road construction scenes on expressways and send alerts to drivers in advance to reduce the occurrence of major traffic accidents.
Returning to self-research on AEB, Ideal's AEB is also the focus of their efforts aside from navigation-assisted driving.Fundamentally, choosing to develop its own AEB system is related to Li Xiang's statement that "family safety only has standard configuration, not optional configuration". The reason for self-development is also due to reluctance to be limited by a certain international company's closed cooperation method.
"If we buy the supplier's AEB solution, they usually only provide existing functions. But as a car manufacturer, we see various demands from users every day. Regarding the demand for safety, we can't tolerate any negligence. If a user says today that their car did not recognize the obstacle in front and caused a rear-end collision, then we must consider including this type of obstacle in our recognition range. There is no compromise in terms of safety. Only by completely self-developing AEB can we achieve flexible and efficient response." said an ideal insider.
In the end, Ideal's self-developed AEB system scored high in the annual test of DCD (a car industry media), and recognized two-wheeled electric vehicles and other road scenes that other models could not recognize.
Some people may ask, are the existing AEB functions not mature enough? Is What Ideal doing redundant?
To fix the issue of false triggering of AEB, Ideal keeps continuously iterating following the "311" principle.
AEB, also known as Automatic Emergency Braking, mainly involves three modules: perception, planning control and execution, which is commonly known as seeing, judgment and stopping.
There are two mainstream solutions in the industry, including forward millimeter-wave radar sensing solution represented by Bosch, and the forward camera visual sensing solution represented by Mobileye.
The common feature of these two solutions is that they mainly calibrate products based on foreign AEB standards, which is mainly based on foreign traffic conditions, and has weak recognition ability for traffic participants with domestic characteristics, such as electric bicycles, delivery vehicles, etc., which may appear on the roads in China at any time.
After Tesla appeared, it pioneered the third solution, which is the fusion of forward cameras and millimeter-wave radar. Ideal's high-scoring AEB solution also uses visual fusion solution, making it the first domestic automaker to develop AEB on its own. Except for Tesla and Ideal, no other automakers have announced that they have completed AEB self-development.
In terms of maturity, the first two solutions are actually mature enough and have passed the Euro-NCAP certification as a passing standard. However, because the third solution can perceive more targets, it means that it can deal with more scenarios, and it takes vehicle safety to the next level.If you have ever witnessed the horrors of traffic accidents on the road, you will understand that there is no such thing as too much safety.
By contrast, the 2020 Ideal ONE achieved industry average results due to its mature solution from suppliers. However, after adopting a self-developed AEB system in the 2021 Ideal ONE, it can now accurately recognize horizontal vehicles and delivery motorcycles, which is a typical Chinese road scenario.
From the decision to develop it in-house to its implementation, it was a challenging process.
In fact, developing a self-made AEB system is not an easy task. Many people believe that AEB is an entry-level function that belongs to Level 1, but from an application perspective, AEB can be categorized as Level 4 because it is the only function that works in all scenarios and environments around the clock. Even though it may only be triggered once every 100,000 kilometers, it is actually in operation every moment.
The goal of the AEB system's development is to be able to identify all risks. However, the stronger the recognition ability, the higher the probability of misfires. Therefore, recognition accuracy must be increased while also constantly reducing the probability of misfire.
For example, during the National Day holiday in 2021, some users treated the Ideal ONE as a wedding car, placing two fake dolls in front of the vehicle. This caused the front camera to make a misjudgment when detecting obstacles. The Ideal team laughed upon seeing this situation in the background. This scenario is something that cannot be imagined even after brainstorming in an office, which highlights the importance of real-world data.
In addition to mastering real-world data, Ideal has a "311 principle" internally. When a customer submits a misfire work order, the Ideal team must respond within three hours, provide a short-term solution within one day, and a long-term solution within one week.
By comparison, traditional automakers usually need to go to a 4S store and have their staff read the data from the vehicle after receiving the misfire work order, which takes at least three days.
Taking into account the above factors, Ideal's self-developed AEB system enabled it to quickly surpass its competitors.
Do Automakers need to self-develop everything?
Ideal's success in developing its own AEB systems makes us curious whether automakers need to self-develop everything.
This depends on the benefits of self-development.
For a long time, the automotive industry has had a mature upstream and downstream industry chain division of labor that has helped integrate resources more efficiently and reduce costs.
However, in the era of intelligent vehicles, some traditional methods are hindering automakers' rapid iteration, otherwise known as "getting stuck."Generally speaking, the R&D of automotive features includes three stages: demand proposal, demand response, and continuous iteration.
The traditional R&D process involves collecting user demands through 4S stores from the OEM, submitting demands to suppliers, and then starting a project proposal after repeated communication, which could take one or two months for discussion.
After presenting the plan to the OEM, there are usually a large number of new feature requirements that emerge. If there are areas that need iteration or modification, the adaptation of international Tier 1 software and hardware solutions often involves the global market and requires significant investment. As a result, the efficiency of demand response is delayed, which is contrary to the requirements of agile iteration for intelligent technologies.
The ideal full-stack self-development process can solve many problems in the above-mentioned process. For example, through analyzing user demands on the data background, ideal can quickly respond to demands. Then, through algorithmic self-development, the functionality design can be improved rapidly, which fundamentally solves the problem that suppliers face in functional requirement design.
In addition, due to the formation of a data closed-loop, ideal's functionality iteration process is also more rapid, allowing the company's vehicle functionality to constantly differentiate and improve ultimately enhancing product power.
After launching full-stack self-development, ideal quickly rolled out Navigation Assistant function, which rose to the first group in industry tests where Navigation AEB driving assist was launched. Ideal founder Li Xiang said in his year-end summary that "in 2021, Ideal's significant technological product delivery included intelligent driving."
When traditional luxury cars such as BMW and Volvo are overtaken by Ideal and other major players in intelligent car-making for competition points such as AEB score, competition in the automotive industry already becomes even more intense. Conventional indicators such as 0-60 acceleration, headlamps, and body rigidity have become uninspiring. The real competition among car makers has shifted from hardware to software level comparing their self-research capabilities – the core foundation that tests functionality differentiation and continuous iteration.
And after in-house development, "miracles" can often occur. According to Ideal's official disclosure, the number of Ideal vehicles with activated NOA Navigation Assist is over 60,000, exceeding the sum of activated Navigation Assist vehicles from other brands in the Chinese market. In addition to the aces developed in-house, this is probably the best return to the Ideal team – their high self-research productivity.
This article is a translation by ChatGPT of a Chinese report from 42HOW. If you have any questions about it, please email bd@42how.com.