Power Battery Companies at Home and Abroad Bet on Cylinder 4680 Batteries
In November, there are two major pieces of information concerning cylinder 4680 batteries from home and abroad:
On November 5th, EVE Energy announced that it will invest in and build a 20GWh cylindrical cell production line for passenger cars in Jingmen High-tech Zone.
On November 2nd, Tesla began installing a 4680 cylindrical battery production line at its factory in Texas, USA.
This means that Tesla's announcement of the 4680 battery in September last year has moved from "paper talk" to the actual production stage.
Not only Tesla, but companies at home and abroad are also accelerating the production of 46mm diameter cylindrical batteries. The period from 2022 to 2024 will be a time when cylinder 4680 batteries are highly concentrated on the market.
In addition, many powerful battery production companies are also researching and developing other sizes of large cylindrical batteries. Led by Tesla, many followers, large cylindrical batteries may become strong competitors to square batteries.
46mm Cylinders Rise
Currently, most power battery companies, especially head companies in the market, are basically laying out large cylindrical batteries.
(1) Chinese mainstream enterprises mostly have layouts.
In terms of the latest news, EVE Energy has entered the stage of base and production line construction.
On November 5th, EVE Energy announced that its subsidiary, Hubei EVE Dynamic Co., Ltd., plans to sign a contract with Jingmen High-tech Zone Management Committee to respectively invest in and build a 20GWh cylindrical cell production line and an auxiliary facility project for passenger cars, as well as a 16GWh square lithium iron phosphate battery production line and an auxiliary facility project. The total fixed asset investment of the project is about CNY 6.2 billion.
Although the announcement did not disclose the size of the large cylindrical battery, Liu Jincheng, chairman of EVE Energy, revealed the product specifications and ambition at the groundbreaking ceremony. "The large cylindrical battery project to be built in Jingmen may be the production base of the world's first 4680 and 4695 battery to be mass-produced globally. The batteries produced here will be equipped to the world's most powerful companies," Liu said.
However, according to foreign media reports, the 4680 battery developed by the Israeli start-up company StoreDot will be produced in EVE Energy's factory in China, and mass production will begin after 2024.
EV Observer attempted to contact EVE Energy but was unsuccessful. Therefore, it is unknown whether the 4680 battery produced by EVE Energy is self-developed or just OEM.
BYD Battery is also one of the earliest Chinese companies to publicly announce the 4680 battery.In March 2021, CATL held a media communication meeting to share the latest developments and future plans in the field of large cylindrical battery technology. CATL's Chief Scientist, Lin Jian, stated that CATL is working with customers to develop the next generation of cylindrical batteries, namely the "All Polar Ear" large cylindrical battery, and that 4680 cell samples are expected to be mass-produced within the year.
According to CATL's latest response to "Electric Vehicle Observer", CATL has entered the sample batch production stage, and the development progress and sample delivery are in line with expectations.
The earliest mention of the 4680 project came from JAC Motors and CBAK Energy Technology. In January of this year, insideevs reported that JAC Motors and CBAK Energy Technology will jointly develop 4680 lithium batteries and battery packs. JAC Motors has also promised to prioritize the use of batteries and battery systems jointly developed with CBAK in its future electric vehicles.
In addition, Honeycomb Energy is also developing 4680 cells, and the latest news will be announced on Battery Day.
On October 26th, Panasonic showcased its new 4680 battery prototype developed for Tesla for the first time. According to Kazuo Tadanobu, the head of Panasonic's battery department, Panasonic plans to start trial production of 4680 batteries in Japan in March 2022. Earlier this year, Panasonic announced that it will establish a new energy business division called Panasonic Energy Corporation by April 2022. In addition, Panasonic has established a test line for 4680 batteries in Japan this year.
In July, it was revealed that Samsung SDI completed the development of samples of the new generation 4680 battery pack for Tesla Model Y, and is currently conducting various tests at its facilities to verify its structural integrity.
According to a report from Korean media outlet TheElec in March of this year, LG Energy Solution has begun preparations to build a pilot production line for Tesla 4680 batteries. Currently, LG is renovating part of its Ochang factory and assembly and electroplating equipment has been installed. Insiders say LG's pilot production line will begin operation in 2021.
At Battery Day last year, Tesla announced its development and production plans for the 4680 battery. Currently, the yield of Tesla's 4680 battery trial production line has been increased from 20% last year to 70%-80%. Tesla announced in late July of this year that it expects to reach an annual production capacity of 100 GWh of 4680 batteries by the end of 2022 to meet the needs of 1.3 million electric vehicles.In September, the Tesla Berlin factory broke ground and mainly produced 4680 batteries. Musk hopes that the Berlin factory will achieve a weekly production of 5000 Model Ys with 4680 batteries by the end of 2022, and ideally reach 10,000 per week.
At the third-quarter communication meeting, Tesla revealed that the first batch of 4680 batteries is likely to be installed on the Model Y.
Tesla will collaborate with Panasonic and other suppliers for the supply of its self-produced batteries. Actually, cylindrical batteries are not just 46mm in diameter. While Guoxuan High-Tech and Lishen have cylindrical batteries, they are currently focused on batteries with a diameter of 32mm or 21mm. In addition, CATL has already mass-produced phosphate iron lithium batteries with a diameter of 32mm for installation on EVs.
In addition, BYD, which is rumored to have entered Tesla's supply chain, has always been making square batteries.
However, all of the above companies, except BYD, are said to be researching 4680 batteries.
Currently, the mass production time for each company's 4680 batteries is between 2022 and 2024. Tesla will be the first to mass-produce in 2022; Panasonic will start trial production in March 2022; LG Energy Solution targets to complete production before Panasonic starts large-scale production and to begin mass production in 2023 at the earliest; BIK is planning a production base for large cylindrical batteries and expects to achieve mass production within the next two years; and EVE Energy and StoreDot plan to achieve mass production in 2024 through joint development.
It is worth noting that most battery companies target the 4680 battery due to Tesla's demand, but in fact, the diameter of cylindrical batteries is relatively fixed at 46mm. However, the height can be customized according to customer needs.
Significant improvement in energy density and power
According to the article "Some Records of Research on 4680 High-Nickel Batteries" published by senior industry insider Zhu Yulong, some reference data are given: in Tesla's traditional scheme, a 21700 battery pack typically has four modules, two large and two small, with over 4400 cells and a weight of approximately 312 kg. The 4680 battery pack weighs approximately 336 kg and has only 960 cells.
In terms of weight, the 21700 battery is 474 kg, while the 4680 battery is only about 438 kg. In terms of energy density, the 21700 battery is 170Wh/kg, while the 4680 battery is 215Wh/kg.Currently, there is not much information available about China's 4680 battery company, only some of the information released by BYD in March as reference. For example, according to BYD, we estimate that the capacity of BYD 4680 battery cell is about 25Ah, which is more than eight times the capacity of an 18650 3Ah cell. Therefore, the number of 4680 cells required for a battery pack with the same capacity is only 1/8 of that of 18650 cells, which significantly reduces the demand for battery management systems and circuit boards and greatly lowers costs.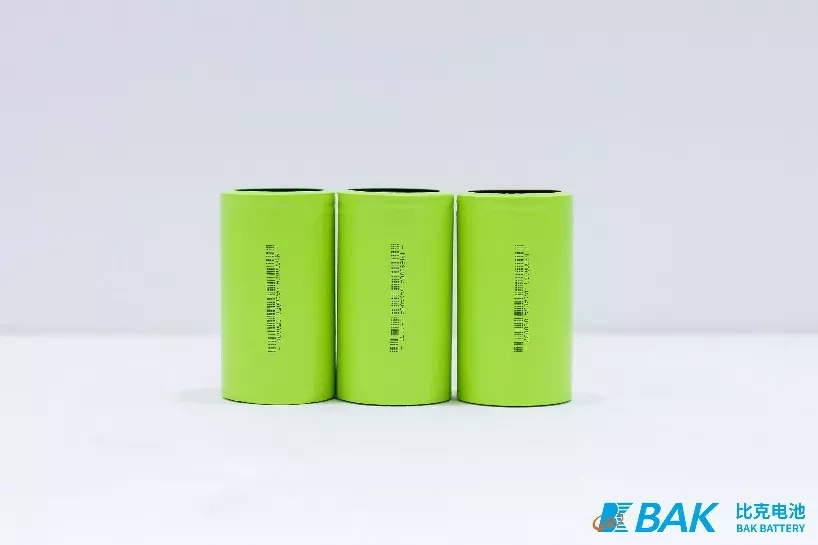 In addition, with the use of the full-pole ear cylindrical design, fast charging performance is further improved. According to BYD's data, the battery can be charged from 0 to 80% in 15 minutes. Thus, for example, a car with a range of 600 kilometers can be charged to 400-500 kilometers in 10-15 minutes at a charging station, an approach that is close to the refueling speed of gasoline vehicles.
The peak power density of the 4680 battery cell can reach over 1000W/kg, and testing at 10C and above shows that the heat generated by the battery can be ignored.
Regarding safety, large cylindrical battery cells have an advantage over small cylindrical cells. BYD explained that the large cylindrical cells are always accompanied by the technology of full-pole ear or Tesla's non-pole ear technology. Compared with the single-pole ear of the traditional cylindrical battery cell, the design of the full-pole ear evenly distributes the heat generated by the current within the cell, avoiding concentration of heat generation, which significantly improves the safety performance.
Although the specific data needs to be tested after installation in a car, BYD believes that the large cylindrical cells are at least not inferior to soft pack cells and large rectangular cells, and may even be better.
BYD said their technology roadmap is different from Tesla, but the internal logic is consistent. At present, most 4680 battery cells from battery manufacturers are intended for the supply of Tesla. However, with Tesla's influence in the industry, it is expected that more and more automakers will adopt the 46mm diameter cells and the market share of cylindrical cells will increase significantly. After all, CATL, the leader of China's square battery cells, has already laid out large-scale production capacity for large cylindrical cells.
This article is a translation by ChatGPT of a Chinese report from 42HOW. If you have any questions about it, please email bd@42how.com.