I plan to expand my monthly tracking of a single brand of electric vehicles to the entire Hyundai Motor Group. Hyundai's data is easier to manage thanks to Mark Kane.
Hyundai: Global sales in October fell by 21% to 307,039 vehicles; in October, Hyundai's sales of new energy vehicles reached 18,694 units (a year-over-year increase of 60%), accounting for 5.9% of total sales. Among them, Ioniq 5 reached 8,750 units, and the Genesis G80 BEV sold 538 units.
Kia: Global sales in October fell by 18.9% to 217,872 vehicles. Electric vehicles were not separately counted. Kia sold 2,762 units domestically and exported 4,234 units of the 800V EV6, adding up to nearly 7,000 units.
In summary, Hyundai and Kia increased the sales of 800V system vehicles to 16,284 units in a single month.
Hyundai and Kia's New Energy Vehicle Sales
In October, Hyundai's new energy vehicle sales reached 18,694 units (a year-over-year increase of 60%). From January to October, sales exceeded 129,000 units (a year-over-year increase of 38%), accounting for 5.9% of total sales. Despite a massive recall earlier, Hyundai's transition efforts have continued.
Battery electric vehicle (BEV): 14,243 units (a 34% increase). From January to October, cumulative sales reached 94,942 units (a 12% increase). This data is acceptable to investors.
Plug-in hybrid electric vehicle (PHEV): 4,451 units (a 310% increase). From January to October, cumulative sales reached 34,345 units (a 282% increase). With the demand for SUV plug-in hybrid models rising in the United States and Europe, Hyundai's plug-in hybrids are expected to accelerate in growth and replacement next year.
Fuel cell electric vehicle: 1,010 units (a 50% increase). From January to October, cumulative sales reached 8,286 units (a 39% increase).
Overall, I believe that Hyundai and Kia's transition from 400V to 800V was very successful. Sales of the Hyundai Ioniq 5 reached a new high, and the Kona Electric became more balanced after overcoming a recall crisis.
● Hyundai Ioniq 5: 8,750 units (47,267 units from January to October)* Modern KONA EV 4,621 (Jan-Oct 37,383 units)
Hyundai IONIQ Electric – 594 (Jan-Oct 8,366 units), this short-range vehicle is basically phased out
Hyundai Tucson PHEV 2,576 (Jan-Oct 20,116 units)
Hyundai Santa Fe PHEV 1,118 (Jan-Oct 7,567 units)
Hyundai IONIQ Plug-In 630 (Jan-Oct 5,941 units)
China PHEV (multiple models) 396 (Jan-Oct 2,536 units)
India's BEV (Kona Electric) – 18 (Jan-Oct 111 units)
The chart below shows that the main driving force of Hyundai's new energy vehicles is Ioniq 5, which began to gradually increase in volume starting in Q2. After the freeze period from April to July, Kona EV also began to recover in August.
These two vehicles are the main backbone of Hyundai's new energy vehicle sales. Among PHEVs, Tucson has performed well in Europe.
Particularly noteworthy is the performance of Ioniq. Solid demand has been provided in the Korean market, but the retail sales data in Europe for October show only 3,262 units, and Hyundai's export data is gradually shifting to customer deliveries. Sales in the United States have not yet started, and we believe that this vehicle will also perform well in the US market.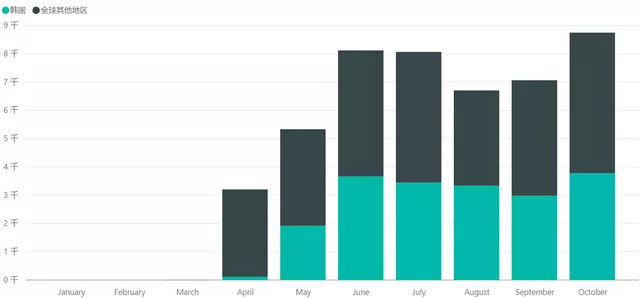 The performance of Kia EV6 is also impressive, as shown in the chart below. Personally, I think the joint strategy between Hyundai and Kia is very good.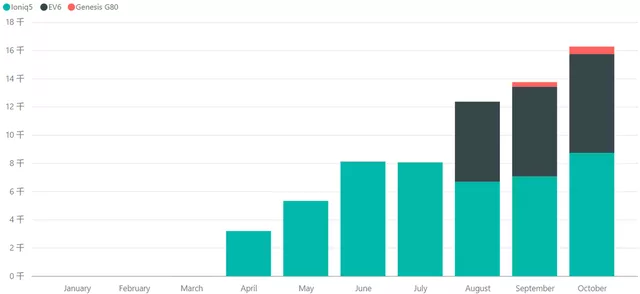 Hyundai's Battery Technology Roadmap
According to a report from the Korean website TheElec, Hyundai Motor has started using lithium iron phosphate (LFP) batteries in engineering development and is launching them in Europe and North America faster than other traditional automakers.
Hyundai started developing LFP batteries as an entry-level and low-cost option for electric vehicles sold in Korea and around the world in the first half of 2021, with the main development work being carried out at the Korean research center.
Note: Hyundai Motor Company in China will soon adopt LFP batteries, which are supplied by CATL. Hyundai also uses LFP batteries from CATL for NCM batteries.
There is an interesting time node here: BYD may provide LFP batteries to Hyundai starting in 2023. Looking at this point in time, the year 2023 is a watershed moment in the supply agreement.
As far as Hyundai Motor's overall situation is concerned, it currently uses batteries from SK Innovation and LG Energy Solution.
The 800V battery series (the first batch of EMP platforms such as Ioniq 5 and EV6) all use batteries from SK Innovation. The batteries in the Kona EV are supplied by two Korean battery manufacturers, SK Innovation and LG.
At present, several South Korean battery companies, including LG Energy Solution, are developing their own LFP battery technology, and SK On is also considering development.
In summary, Hyundai Motor Company is expected to exceed 20,000 new energy vehicles per month next month, and the Hyundai-Kia group is expected to exceed 30,000 per month, with the number possibly increasing to above 50,000 next year due to the high demand in the US market. It should be noted that Hyundai-Kia will not have a significant presence in China, mainly focusing on the domestic Korean and European markets.
This article is a translation by ChatGPT of a Chinese report from 42HOW. If you have any questions about it, please email bd@42how.com.