Introduction
Recently, there has been news about Apple developing a car. The development of this electric car since the first wave in 2015 has lowered the threshold for entire vehicle manufacturers, as shown in the image below. Apple's biggest competitive advantage is its deep investment in autonomous driving and in-car iOS. From the time frame, it seems that the Reuters report stating Apple's car may release in 2024/2025 is the most reasonable.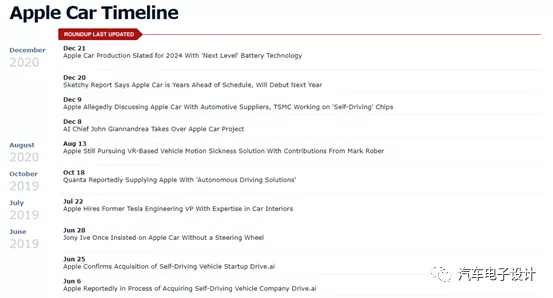 This will be a highly designed electric car based on autonomous driving, and how it is built will be interestingly integrated with the electric chassis pattern previously released by Foxconn. Based on previous reports by Taiwanese media, it seems to be an attempt to make technical breakthroughs in the core components of the car. I think this type of development, which is based on the integration of the core system of the entire vehicle, autonomous driving, and in-car iOS integration, cannot be separated from the OEM and platform-based chassis of electric vehicles. The two may walk together, just like current mobile phone manufacturers.
When and how will Apple develop a car?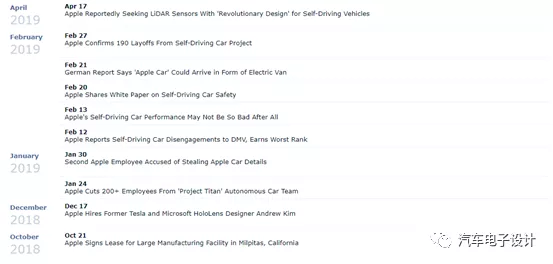 According to a report by Taiwan's Economic Daily News on the 21st, Apple will release the Apple Car in September 2021, which is at least two years earlier than the previously widely predicted 2023. The main reason is that Taiwan's suppliers, such as Quanta, Catcher-KY, Hota, and Fuji, have apparently entered the first batch of potential suppliers for Apple's car and have received preparatory requests. (The assembly of the Apple Car prototype reported and the road tests of dozens of Apple Cars in California are actually somewhat consistent with the previous reports of autonomous driving cars.) Later, Reuters reported that this situation has been pushed back to 2024.According to Reuters, Apple is pursuing the production of an electric passenger vehicle by 2024 as well as developing self-driving systems and a "breakthrough battery technology." The report suggests that Apple may reconsider vehicle production, after previously halting plans to manufacture a car.
Reuters states that the target for production of an Apple-made passenger vehicle is 2024, though this could be delayed "until 2025 or later" due to pandemic-related obstacles. There is a possibility that Apple could narrow its focus solely to autonomous driving technology.
For its self-driving technology, Apple is relying on third-party suppliers for some of its components, including LIDAR systems. Apple's battery technology is said to employ a "monocell" design that enables more capacity to be packed into the battery unit by avoiding dividing it into separate cells. Reuters observes that this approach could potentially allow for "a longer driving range" and lower costs.Reuters reported on single-cell and low-cost designs, which we only need to listen to in the short term. Everyone is trying to achieve low-cost and high-volume utilization of batteries, and the trend is becoming more radical. However, Apple is more likely to design and release customized products rather than getting involved in production in this field.
From our understanding, we can see the following:
1) The basic advantage of Apple Car is based on the deep integration of the IOS operating system in the car. On the one hand, based on the original iPhone core ecosystem, it can be directly transplanted to the car. Although it may need to be re-matched like a watch, the overall system is more like displaying system consistency on multiple screens such as IPAD, and there will be no problem with the phone and car competing for time.
The account and data system based on Apple ID are interconnected. For the smart cabin, it can be well-designed for cabin interaction, vehicle entertainment system control (seats, air conditioning, audio, sensors, doors and windows, skylights, screens, instruments).
2) Autonomous driving: In fact, since 2015, Apple's timeline has revolved around autonomous driving, with chips, computing platforms and software systems. We don't know what Apple will produce by 2025, but it is most likely a satisfactory answer.
Foxconn's Electric Platform
On October 16th, Foxconn announced its entry into the electric vehicle market, launching a smart electric platform MIH that is said to be a combination of hardware and software, and plans to occupy 10% of the electric vehicle market share by 2025-2027.
Foxconn's open pure electric chassis platform MIH focuses on software defining cars and is also based on an open software platform that provides interfaces for developers: EVKit, to develop different vehicle-mounted app software architectures. This is more like a preparation for other car companies.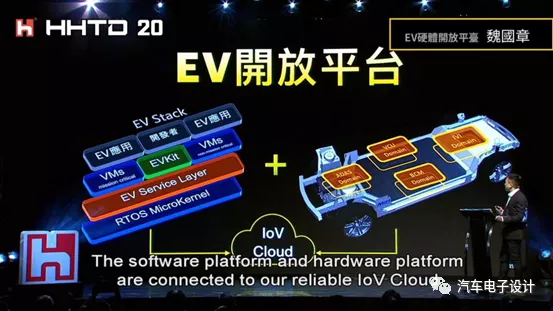 From the perspective of model range, the electric chassis structure covers from B-class to E-class cars, with battery system energy ranging from 93 kWh, 100 kWh, to 116 kWh. The front-wheel drive is equipped with 95 kW/150 kW/200 kW motor, and the rear-wheel drive is equipped with 150 kW/200 kW/240 kW motor. Different combinations match different power needs.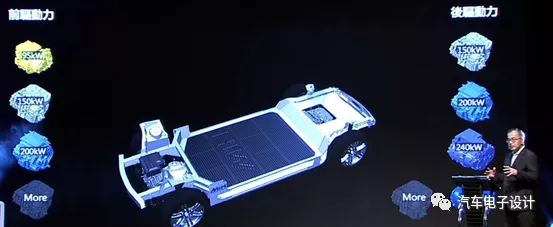 In terms of the integrated chassis technology, a large-scale casting scheme is adopted, in which the front-drive part's original seven components of a gasoline car are realized through one casting part, and the 27 original components of the rear-drive part are realized through one casting part.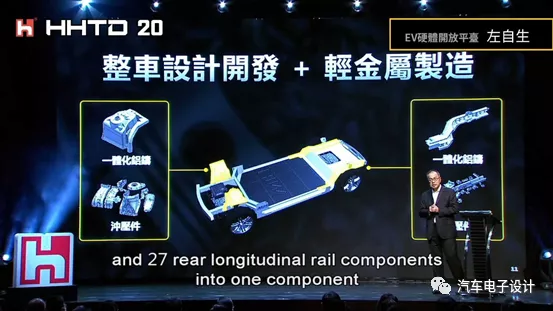 Conclusion
With such a combination, the real separation of core system and machine definition in the mobile phone industry model and manufacturing in 2025 could be seen, rather than the untrustworthy report of Taiwan media in Q4 of 2021. However, I estimate that IT and electronic enterprises entering the automotive industry will indeed flock in. The initial preparation is pure electric chassis, and the selling points that will eventually win over consumers are still software ecosystem centered around autonomous driving and vehicle use.
This article is a translation by ChatGPT of a Chinese report from 42HOW. If you have any questions about it, please email bd@42how.com.