Location: Sofitel Hotel, 4th floor, Haikou, December 22nd, 2020 (Tuesday) afternoon
Speech by Qin Lihong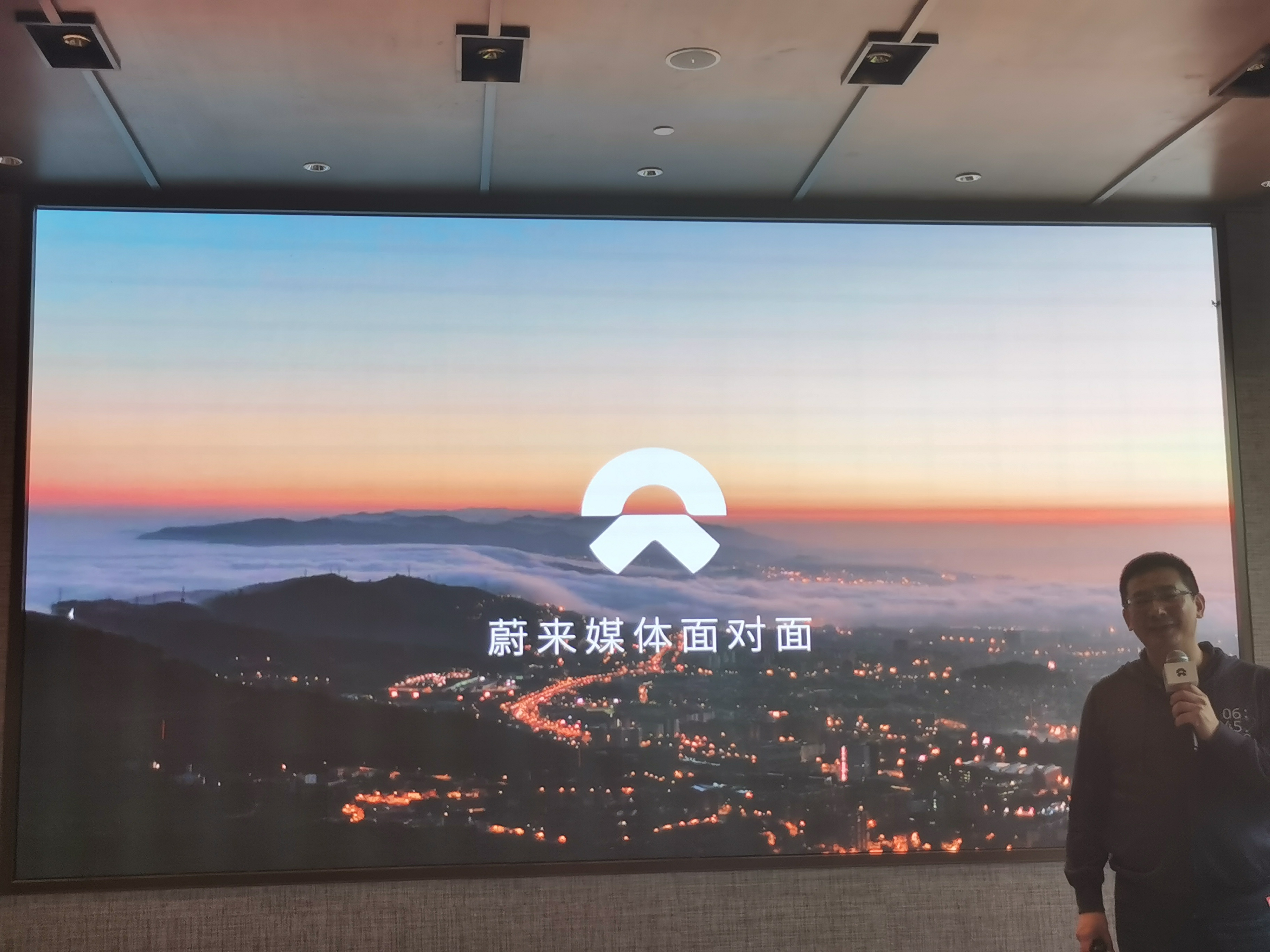 We are very honored to invite all the teachers to Hainan Island for a test drive at the end of this year. 2020 has been quite tumultuous, and I originally imagined that it would be a spring-like place at the end of the year. Local friends in Hainan told me that it has been very cold recently, but I felt very warm when I flew over from Beijing yesterday. The weather in Haikou these two days is not the best, but it is a rare opportunity for friends coming from the north to relax.
I am very happy to have this opportunity to share face to face with friends.
I have prepared some simple content, which mainly plays a role in stimulating discussion.
NIO has done well overall this year, with consecutive doubling of delivery volume in eight months since April, which has been well recognized by the market. The entire market has been booming in the second half of this year, and some new brands have made remarkable achievements.
Doubling since April means that we started marketing actions from the time when the epidemic was most severe after the Spring Festival. In fact, before April, from February to March, in less than two months, our front-line team held nearly 2,000 live broadcasts, which heated up the market atmosphere, and we began to harvest in April. More than 5,000 vehicles delivered in one month is just a drop in the bucket for the Chinese car market, but this year I personally feel quite pleased that we have created a small history in our price range.
We are the brand with the largest shipment volume among the Chinese passenger car brands in this price range since the founding of the country. Starting from July, NIO's average transaction price, calculated on the invoice price by deducting some subsidies and promotions, was about RMB 440,000. The average transaction price of ES8 exceeded RMB 500,000, while the prices of ES6 and EC6 ranged from RMB 400,000 to RMB 410,000, at this level.
Actually, this transaction price is not easy to come by. As you know, Tesla changed the prices about 12 times in the past 20 months, which has caused considerable competitive pressure for us. Our strategy is that the farther away Tesla gets, the more I will stand still. There has been a clear differentiation between NIO and Tesla's customer base. Tesla's invoiced price, according to our statistics, is around RMB 300,000, fluctuating up and down by a few thousand yuan, while ours is RMB 440,000, which is RMB 140,000 more expensive than Tesla, RMB 60,000 more expensive than Audi, RMB 20,000 more expensive than BMW, and RMB 8,000 more expensive than Mercedes-Benz.
In the passenger car brands with certain sales, we found that NIO's transaction price is only second to Porsche, and the small ones like Ferrari are not included. Behind this figure, our price and brand positioning may be more worthy of attention from all of you. In this respect, I think this year is something we are quite pleased with. At least through the market sales work in 2020, it can be said that a new high-end brand has undergone a preliminary test from the market perspective, without relying on price promotion to drive our sales.
Currently, our production capacity is relatively tight. Some teachers who are familiar with NIO may know that our orders have been scheduled after the Spring Festival. We are now wholeheartedly solving the problem of factory output. Due to the epidemic this year, the management of the entire supply chain is relatively complicated. At the beginning of the year, there was a shortage of parts in Wuhan. In fact, when Wuhan was paralyzed, it was difficult for global car companies to produce a complete car. In April and May, there was a supply chain market fluctuation in Europe. After entering the fourth quarter, the second wave of epidemics in Europe was more severe. Coupled with the fact that many teachers have discussed recently that electronic components are in short supply globally, this is a fact. Under such an environment, we have gradually achieved and even surpassed our goals for this year. This is a performance that at least the management team, including myself, is very pleased with NIO in 2020.
In addition, there is a major event this year. Hefei has led several state-owned investment institutions from different regions to jointly invest in NIO. In October, our first office in Hefei started operation. Here, I would like to sincerely invite all teachers. In the spring of next year, when everything is in full bloom, if you have the opportunity to visit Hefei and southern Anhui, the best time will be late March when the rapeseed flowers are in full bloom. At that time, our layout will be more complete.
Now, in addition to colleagues from the Hefei regional company, there are more than 300 colleagues from our headquarters' research and development, manufacturing, marketing management who have already started working in Hefei. By the end of next year, this number may reach around 1,500. Next, we will form a strategy of dual headquarters in Shanghai and Hefei. From the second half of this year to the next year and a half, it is the timetable for us to further develop our domestic layout.
On Sunday, December 20th, our second-hundredth store in the country was completed and opened in Chengdu, located in the east of Chengdu's Vientiane City. Friends who are familiar with NIO know that we have not launched any new NIO House for a year. When facing significant financial challenges in 2019, we suspended the layout of NIO House for a while. Chengdu was invested and constructed in the second quarter of this year. It was put into operation at the end of this year as our second-hundredth store in the country and the 23rd NIO House in the country. The other 180 are mainly NIO Spaces for selling and displaying cars.The accelerated construction of battery swap stations and the restart of Niuwu Farm signify that NIO has returned to the racing track, with our entire business model and service structure redefined. Up until the day before yesterday, we have collectively built 167 battery swap stations, with an average of one battery swap station installed per week this year, totaling over 50 new stations, whereas the number was less than 120 at the beginning of the year. We also opened 130 new stores this year, with over 50 new battery swap stations. In the remaining 10 days until the end of this year, we expect to have 5 more battery swap stations launched.
In addition, we announced a new initiative this morning, where along the route from Chengdu to the base camp of Mount Everest spanning 2300 km in total, all 14 of our 20 kW fast charging stations have been deployed. Our users were quite excited this morning when these charging stations went online. This year, our entire battery swap service team received over 300 NIO car owners for journeys to Tibet via the Sichuan-Tibet Line and Qinghai-Tibet Line.
All 14 of these charging stations have been built with the help of our users and equipped with 20 kW DC fast chargers, which only take 2-3 hours for passengers to rest and dine while charging and can supply power to 3-4 cars overnight. It is worth mentioning that these 14 charging stations were jointly invested in by our users, including a doctor from Guangzhou who contributed significantly to the construction of the charging stations along the route for over a month. Hence, this route was created by NIO users collaborating with NIO.
During the Beijing Auto Show on September 26th, NIO's CEO William Li unveiled the Power Up Plan, which aims to install 30,000 20 kW DC fast charging stations across China within two years. This route is part of the plan, and we will announce more boutique routes in the future.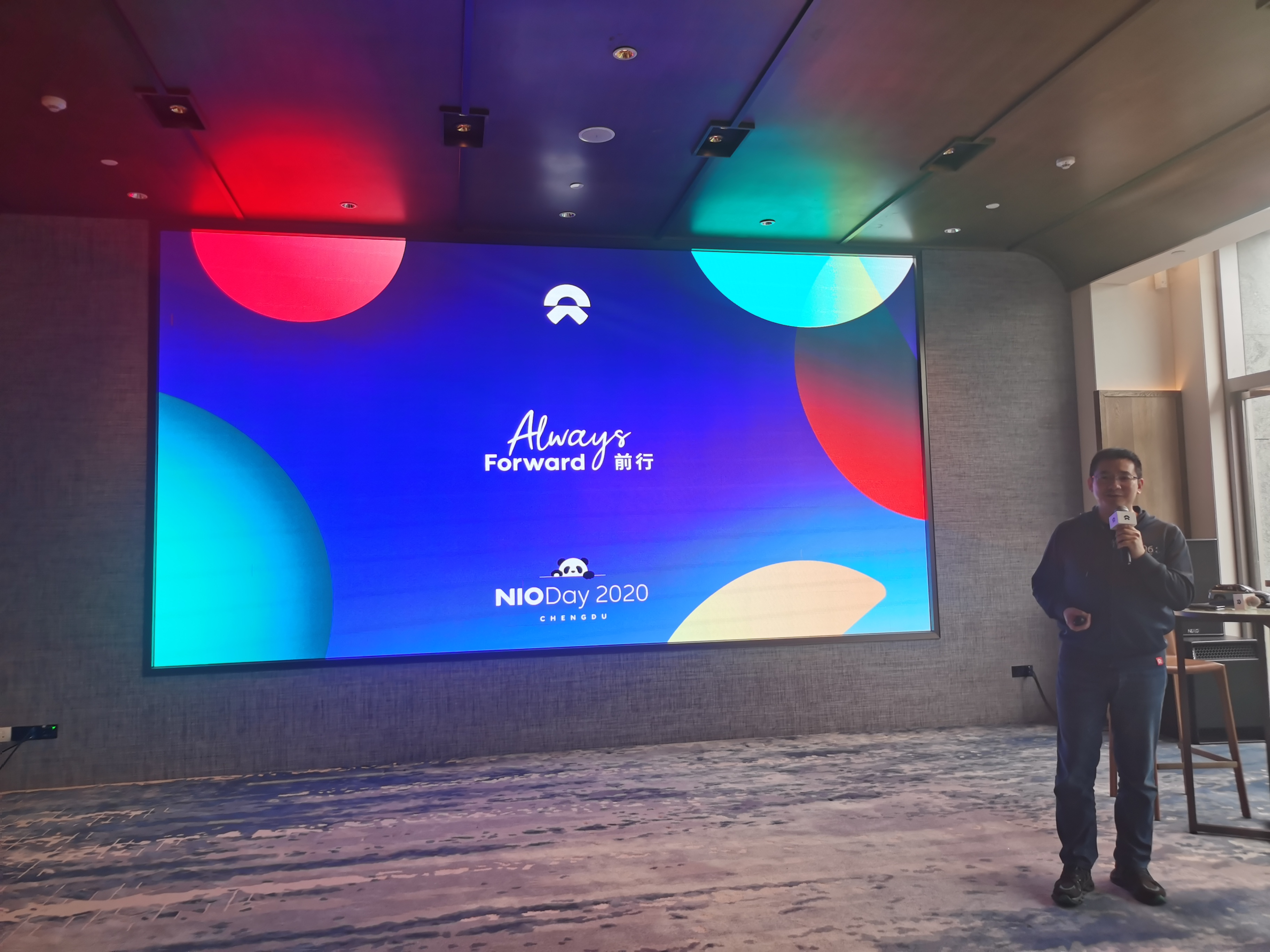 This year's NIO Day will be an unprecedented meeting led by our users, and Chengdu is the location selected by our users during the vote. With regard to the content, apart from what was prepared by William Li, everything else was organized by NIO users, including the warm-up shows, videos, and many other activities. We simply played the role of a executive producer. Additionally, this year's NIO Day will witness the launch of our first sedan, NT2.0, our new generation autonomous driving platform, 150 kWh battery pack, and the second-generation battery swap station. We have a series of blockbuster products to announce.NIO is a brand that never lacks attention, but unfortunately not all of it is positive. Despite the challenges, the brand has made an impact on the industry and is on a successful upward trajectory. This is a topic that is frequently discussed internally.
Many people discuss NIO's overall marketing system and user experience. We center our system around the users, with four main touchpoints.
The first is our products, our vehicles. The second touchpoint is our spaces, mainly NIO Houses and NIO Centers. The third is our online community, the NIO App, which is a very active community. The fourth touchpoint is NIO's people, focused around our "Fellows".
These are the four main touchpoints we build around the user. There is also additional support, such as mobile charging stations, charging piles, and battery swap stations to ensure the best use of the vehicle. This extends into our NIO Life expansion, an idea that was first discussed by Li Bin and several founding investors in 2012 before forming into a concrete idea in 2014.
This is a map I drew in 2017 that encompasses our entire idea and concept for building a new system alongside our first marketing colleagues. The idea and system have remained faithful to this day despite facing many difficulties and challenges.
This is a simplified infographic of NIO's presence in the market. Our business model can be summarized in one sentence: we change the existing user experience in four areas – cars, services, digital touchpoints, and lifestyle. These four words may seem simple, but with the aid of the previous map, one can understand the business model that NIO has been constructing for years in a deeper and more macroscopic way.
While most other brands focus on discussing cars and technology, NIO's investment in these areas can sometimes be overshadowed. Instead, people tend to focus on our services. Frankly, I believe this is a result of poor service quality offered in the past by other manufacturers and 4S dealerships. As Li Bin often says, the service and reputation improved because there was too much room for improvement. A score of 60 is seen as great when the previous benchmark was much lower. The entire industry needs to improve in this area.The third number touchpoint encompasses not just things like NOP in the car, but also mobile phones. For example, when we sent out bonus points to everyone earlier, it seemed like a simple action, but our NIO bonus points are patented globally. NIO has built a complete digital experience, connecting the car and the world outside of it, online and offline. Although there are areas where we are not doing well enough, we are often compared with other brands in certain aspects. I admit that there are many brands that are doing a better job than us in some specific areas, but in terms of the comprehensiveness of our digital experience, I still believe that NIO is unique in the automotive industry.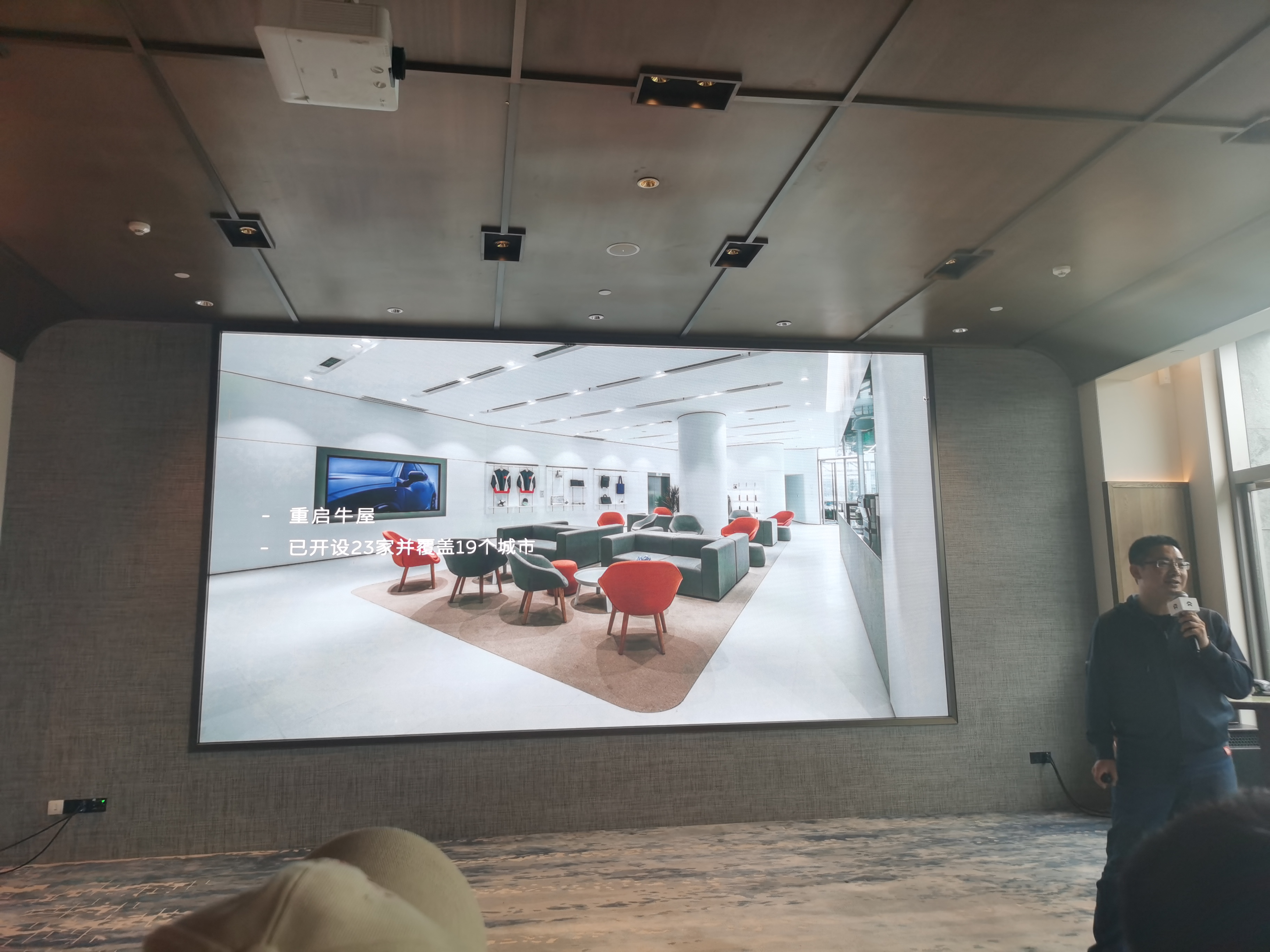 Another point is related to lifestyle and outside of the car. NIO House and NIO Life are two major scenes. Our NIO Life had a revenue of more than ¥200 million and sold nearly 1 million items last year, which is not an easy feat because it mainly targets our car owners. By the end of last year, we had a total of 30,000 car owners. We need to face the same group of people and motivate them to consume daily, which requires strong product development capabilities. On average, our NIO Life independently develops 500 to 800 products per year. This is a very professional team, and getting so many goods shipped correctly requires our own ecosystem of logistics, warehousing, e-commerce, and 7-day no-reason-return policy, all of which we have developed ourselves.
NIO's business model is to change or redefine the industry experience that people are accustomed to in four aspects: cars, services, digital touchpoints, and car-related lifestyles. This builds a brand centered around the user and creates our entire team and physical system by focusing on user touchpoints.
When people discuss NIO as a user enterprise or automotive enterprise, in fact, NIO is a digital native company. Take the simplest example-our entire production management system and sales system are developed in-house. Other than the fixed SAP-related things, the entire company is self-developed, making it a native digital company.
The second question is also a topic of recent discussion amongst friends-what is NIO's definition of a user enterprise? I have noticed that many companies are claiming to become user enterprises in the news, but frankly speaking, they have no chance. Simply inviting users to participate in beta testing a new car model does not make it a user enterprise. It needs to start from the foundation.I'll give you a simple example. Neither Li Bin nor I need to rely on any institution, secretary or professional department to deal with our individual users. We can communicate directly, which is something that most cannot do. It does not depend on whether the boss is diligent or willing to put in the effort; it has nothing to do with being a model worker. The key issue is that user information is the dealer's asset, and manufacturers sometimes have no access to users or the specific transaction price and configuration of their vehicles.
For example, our founder, Li Bin, donated one-third of his shares (50 million shares) to establish a trust, whose beneficiaries are all NIO users. Of course, users are a diverse group, and resolving legal issues took us a year, from its proposal in 2018 until we registered the trust in the first half of this year. Our user trust, with an asset value of over 10 billion CNY, provides us with plenty of opportunities to engage with our users. They have the ability to vote and make decisions. For example, the more than 10 billion CNY can generate a large amount of interest income each year if invested wisely. It can be a resource to support the collective public welfare of our entire user community, where everyone has the freedom of expression.
The main development of our user trust scenario may start next year, and this year we mainly completed some initial settings. The trustee of this trust, 100% of whom are elected by our users through voting. Li Bin will be the first chairman for one term, and he has expressed that he will not be reelected. This is now a management structure entirely selected by users. These things are very disruptive, and we can discuss them in more detail later.
The ripple marketing model is NIO's basic marketing method and is the foundation of NIO's sales growth. User referrals are our core growth drivers. We've just reported that NIO's sales growth this year is still quite fast, and more than 50% of sales results, as officially calculated, come from referrals from our existing users. This is a very powerful force.
Another issue that we have recently discussed is how to define a high-end brand. I believe that a high-end brand is not solely defined by the car itself. Auto brands naturally carry cultural attributes that are inseparable. This is what we have been discussing since the establishment of NIO, as well as our progress in 2020.
84kWh battery, 100kWh battery, BaaS, separation of battery and vehicle, battery rental, and an upgradable and swappable energy system. These are all the things that have been frequently discussed over the past two years, including by NIO, the general public, and the relevant government departments. This year, as we have seen, the Ministry of Industry and Information Technology stipulated in its new electric vehicle subsidy policy that only vehicles with swappable batteries costing over 300,000 CNY are eligible for subsidies.In the government work report of the two sessions this year, the battery swapping station was listed as one of the new infrastructure projects of the 14th Five-Year Plan. Many companies have started to make their own models of battery swapping stations, but they are not real because the design of the vehicle chassis must start from the beginning, and there needs to be a three-year window for time. Without a chassis design that supports battery swapping, it is impossible to achieve it.
Over the past few years, we have been laying the foundation, and this year we have seen the results. Today we tested Baidu's battery, which has been in production since the end of November and has been relatively smooth. By the end of December, more than 1,500 sets of Baidu's batteries are expected to be put into operation, with more than 3,000 sets in January and a monthly capacity of over 4,000 sets after the Spring Festival holiday in February. From initially offering Baidu's batteries as optional, to upgrading them to one-time use, to swapping backup batteries at the swapping station, and even locking some batteries at 70 degrees Celsius for the market, we have achieved a single-specification turnover in the battery swapping process. All of these technologies have been put into practical use, allowing the backend to manage the battery specification at our battery swapping stations with the highest efficiency. This represents some of our thoughts on the energy system this year.
Finally, a small notice: On January 3rd, there will be a press conference about NIO's used car system, which is the last piece of the puzzle for our business model and is also related to our users. There is another piece related to the entire company, which is the step-by-step utilization of batteries after their lifecycle. With this, NIO's business model will be fully revealed, and everyone will see a grand system.
Of course, this system has taken us several years to build, and there are still some aspects that we can improve upon. Similar to how our products are continuously iterated, our business model will also be evolving constantly. There are many nascent things that may feel somewhat uncomfortable at first, but I believe that as long as a team has the ability to innovate and iterate, given some time, we will be able to change the industry as we know it.
These are the common questions that are often posed to me, and I hope that today's discussion can serve as a precursor to further conversations about our business model in the future. Despite the challenges and difficulties we face, there are also many opportunities ahead. Today, face-to-face in Haikou, we do not limit ourselves to any specific area. Instead, we hope to take advantage of the opportunity at the end of the year to communicate with our teachers about NIO's thinking and practice in terms of our business model. We also look forward to discussing these topics further with everyone.
Question 1> Today's experience was excellent. Firstly, NIO's user reputation and service in some aspects exceed its technological self-research ability; the impressions of its service and reputation greatly surpass that of self-researched technological products. Yesterday, many of NIO's products, including the electric motor, were completely self-researched. In the future, they will also conduct research and development on platform architecture. Therefore, I would like to ask about NIO's research and development investment plan and future dissemination in this area. Will they strengthen it a little?
Secondly, there is a relatively large amount of pressure faced in the commercialization aspect, especially in terms of operation. How will we consider it in the future? Because we currently have relatively sufficient cash flow, how do we consider the issues regarding operation?
Qin Lihong: Both of these questions are relatively significant, so let me briefly respond. We are working hard to balance the four aspects: to make the best car and technology, to provide the best services, to integrate the best digital experience, and to create a circle of lifestyle. In recent years, NIO's services have received a greater amount of attention because of our relatively advanced services. As we mentioned earlier, the service aspect is not easily emphasized in the automotive industry. Although we have invested in product and technology, this investment is being slowly obscured.
Many people say that NIO has a warm and intimate image, especially in terms of its excellent customer service. On the other hand, some people believe that this is due to the lack of ability in other areas. Today's discussion highlights our inadequacies, and we need to increase more communication with the media regarding our product and technology. In fact, we have done some scattered communication this year. For example, in August of this year, in Nanjing, we visited our XPT factory. However, as cars and technology involve many different aspects, our leading advantage can be easily eroded. Someone is always doing better in a certain aspect, and the same is true for us.
For example, in terms of the strength and collision of the car body, many friends who are concerned about NIO know that many people call our ES8 a "road tank." Although we have had some accidents, passengers in the car have not been seriously injured. This itself is not easy to achieve. It is also challenging to import aluminum sheet metal from Germany this year. We cannot even predict if a factory will stop production next week. We have spent a lot of energy maintaining the entire supply chain and research and development system.The NOP system that everyone experienced today, including the NOMI-powered human-machine interaction system, may be outperformed by other brands in certain aspects, and if they release a demo beforehand, it may make others feel that we are inadequate. I also want to remind all the teachers that selling futures in the automotive industry is becoming increasingly serious. To be honest, we are also forced to do a bit of this, even though we used to be quite stubborn. If it's futures, we need to specify a timetable, when it will be launched next year, for example. Some of our old friends at NIO may know that we have been scolded heavily by our users because of FOTA delays.
But later I found out that many companies are releasing things without a clear plan for mass production, and I think we may be at a relative disadvantage in this regard. Actually, we have a well-planned and visionary plan for this, but it's just a matter of when to announce it. Here is a small piece of information: many people are talking about LIDAR now, and on January 9th, please pay attention to NIO's LIDAR. Once we announce it, we will give you a clear timetable for mass production.
We are investing a lot in R&D. If you check our financial report, you will find that we have invested a lot in R&D, sales, and overall management since the establishment of NIO. The total investment is probably more than 30 billion yuan, with nearly half of it invested in R&D. Of course, some of the investments are not efficient enough, but we want to concentrate resources on research and development. To be frank, R&D is a trial-and-error process. You cannot say that you have invested in something and it was not done well enough. I think if you don't have the courage to make mistakes, then there is no need to do R&D. Therefore, we invest quite a lot in R&D.
Next, we will further increase investment in R&D. Recently, we also made public information that NIO now has over 40 billion yuan in cash, which is a huge difference from last year. At this point, I think our priorities are twofold: first, to lay a good groundwork for the competitiveness of the next generation; including research and development of new vehicles, autonomous driving technology, human-machine interaction, and intelligentization.
Second, to fully invest in the infrastructure and team guarantee for user service. Starting from the second quarter of next year, our second-generation battery swap station will be put into use. The service capacity of the second-generation battery swap station is three times that of the first-generation, like a larger "aircraft carrier". After the second-generation station is released next year, we will lay out one battery swap station on average per day in China. The site selection work has been almost completed, everything is ready, and we are just waiting for the rice to be cooked. If we work at this speed for two to three years, we think we will establish a new foundation for electric vehicle users' experience in China.In local scenarios, it is more convenient to charge than to refuel, and this is still our vision. We have never given up on making electric cars go wherever gasoline cars can go whenever possible. The charging station cluster on National Road 318 we showcased earlier is two powerful slogans that we have always regarded as our goals and visions, constantly working towards achieving and approaching them.
I believe every company should have some visions, and we have never lost sight of these goals as we work continuously towards achieving and pursuing them. NIO now has even stronger resources to invest in research and development as well as user service, which have been ongoing for some time and may require some time to see results.
Q2: Can you give us a complete introduction of NIO's business model since you just said the whole thing will be revealed?
Qin Lihong: We need to make a final judgment on the product and technology form of automobiles, not the mid-term of a century later, but the final stage that can be seen within the range that our generation can strive for.
For example, smartphones today, after Apple launched the touchscreen phone, all phones looked almost the same 10 years later, regardless of pixel size, and the larger form was almost the same. The ultimate goal of a smartphone is such a product. At the beginning of our company, we were thinking about where the endgame in the automobile industry is.
Our answer is intelligent and pure electric. This is a final stage that we can imagine. We see a lot of excessive technology and experimental products now, but we believe that everyone will soon return to the road of intelligent electric vehicles striving towards the same goal, whether it is NIO or traditional companies. Of course, there are other new technological routes being explored, such as fuel cells, which will not become mainstream in the short term.
Three words are involved in this, intelligent, electric, and automobiles. When we often compare products, we tend to confuse the translation range of the three words. I talk about electric cars, you talk about automobiles, and he talks about intelligence. However, they are actually the same thing. Intelligent electric vehicles are a large final track. We need to answer where our company is positioned on this track. NIO certainly makes high-end products that should have more premiums in the long run if the price-earnings ratio is established. Today, what challenges does NIO face? We have established a premium but the gross margin is not high enough, and our overall scale and cost capabilities are still inadequate. If we can maintain this level of premium, we can leverage our scale and cost advantages. We can see the overall increase in gross margin for NIO's automotive products. After the gross margin increase, we will pursue service parity.The service we provided today incurred losses, as stated in both our annual report and quarterly report. The loss amount is not small, and our annual losses are several billion yuan. Moving forward, we hope to earn profits from expanding car sales along with maintaining stable services. We will allocate some resources towards lifestyle development and enrichment of the brand, thus achieving a reverse sailing process of maintaining our brand position.
The global trend is that intelligent electric cars will continuously erode the market share of other types of cars. We will grow alongside this trend, which is the basic logic of our business model. We cannot rush or force this process, for example, in November 2021, electric cars accounted for only 4.6%-4.8% of the entire Chinese passenger car market. The Ministry of Industry and Information Technology plans for electric cars to occupy 50% of the market by 2035, and 20% by 2025, which I think is great.
Assuming the Chinese passenger car market grows by about 20 million vehicles, 20% of that would be four million vehicles, which is equal to the entire Japanese market size. If we can secure a certain fixed share within this market, we can leave profitability to time. The profitability period is very fast, as seen in NIO's Q3 report stating that they achieved a gross profit of several tens of percentage points, with an average price of RMB 440,000 and a gross profit of around RMB 45,000 per car after tax.
If we can sell 200,000 cars per year, we can maintain this gross profit level, and all other investments can be understood. However, we are prioritizing investment in services and service methods, which will have negative effects on the short-term financial performance. Therefore, the overall direction is to make a final judgement, and after making it, design the correct path that we believe in, and execute it decisively, growing together with the market.
Qin Lihong: We make fewer parts ourselves, but we develop many systems on our own. We are keeping up with the times in this era of intelligent electric cars. In the past, cars were made up mostly of parts, but with advancements in technology, electronic components such as electronic fuel injection and electronic control have gradually increased. Nowadays, software makes up at least half of the components in a car. The parts that NIO currently focuses on making include the management systems of the electric motor and battery pack, and the intelligent systems are basically all developed internally, including the system demonstrated today, such as the voice interaction.I think the most important thing is to ensure the ability to iterate. Currently, many manufacturers are displaying intelligent products, but one core issue is that what you showcase today and who the actual owner is, may not necessarily be the same thing. If every small iteration needs to be done with overseas companies, the iteration will be very slow. NIO has basically achieved an average of one and a half months of iteration in the past year, with the APP iterating every two weeks. From the release in late October 2016, we have done more than 100 versions in the past 4 years, averaging 25-28 versions per year. The advantage of originality is the ability to iterate quickly, which is the biggest advantage and not subject to others' constraints.
Secondly, we also need to consider the problem of homogenization. Currently, the homogenization of fuel vehicles is quite serious. When intelligence becomes an increasingly important part of cars, it is very likely that the "smart" manufacturers will use the same system in cars selling for 700-800,000 yuan and cars selling for tens of thousands of yuan, with similar features between cars that differ greatly in price. When software and intelligence do not account for such a large proportion, this is irrelevant and the value of the car is defined by the engine, materials, and chassis. When the value of intelligence accounts for more than half of the whole car, the use of the same development system in cars with different prices (ranging from tens of thousands to hundreds of thousands of yuan) is unsustainable.
This is a very basic consideration for us to create an original high-end brand. For intelligent electric vehicles, you must have high-end advantages in all three aspects. Firstly, they cannot be the same as low-end products. Therefore, I think self-research has brought us mainly two benefits: brand differentiation and the possibility of continuous and flexible iteration. We have a relatively short period of time due to NIO's system being opened for just over two years, but I think that in another three years, everyone will look back and see its value more clearly.
Question 4
What is NIO's view on 400V and 800V charging, and what is the new layout for overseas markets?
William Li: The voltage for charging is just a possibility. Sometimes people are limited by a concept and use it as the only criterion for judging new things. We can charge, replace, and upgrade. Among the charging methods, 400V and 800V are one of the options, and there are also contactless charging and other charging technologies. We often encounter friends asking me why we don't go for 800V. I often say two things. First, how do you know that we haven't done it, just not announced it yet? For electric vehicles and charging, 800V is what should be done. The key is, have you displayed this scenario? What users want is not necessarily 400V or 800V, but convenience. The ultimate convenience is to have no sense of it.I propose an ultimate goal to the Energy Department of our company's division in Hainan: when our customers travel, they should no longer have to worry about the battery. This is what defines our success, not merely discussing how many volts or charging stations we have. The fact that we discuss this so often is proof of the industry's shortcomings, much like how we used to discuss securing supply when material was scarce in our country. No one talks about it anymore because we have a surplus of resources. This should inspire us to express the user's charging needs and the company's willingness to provide charging through a new term, "add electricity," instead of simply "charging" or "battery swap."
Our company aims to provide the most convenient conditions for users to "add electricity" to their cars in all relevant scenarios. NIO has a plan that includes car, charging stations, charging infrastructure, service team, and cloud technology.
First, the 588 mobile charging vehicles we launched in June 2018 have serviced our users more than 800,000 times to date.
Second, we have over 160 battery exchange stations and aim to add over 250 next year. This pace will continue for several years.
Third, our charging infrastructure features three types of chargers: 7 kW AC chargers, 20 kW DC fast chargers, and superchargers with a power output over 160 kW. We aim to deploy 100 new superchargers soon, which is quite impressive considering it has only been just over a year since we installed the first supercharger. At the projected rate, we will eventually have approximately 700 charging poles when the 100 new ones are deployed.
Fourth, our ground service team can provide a contactless pick-up and delivery service for users.
Fifth, we have our homemade NIO Power Cloud.
Combining these five factors forms different scenarios in which users need to "add electricity" to their cars. We believe that this combination is the most convenient and effective solution for our customers' travelling needs with today's technology. We believe in our solution and thus implement it. We also separated the battery and the vehicle to protect the resale value of the vehicle from being affected by the depreciation of the most expensive component, the battery. This is also the core of our upcoming used car strategy.
By achieving this goal, we're ready for the next wave of technological advancement. When the next wave comes, who knows if 400V, 800V, wireless charging, or solar energy will be the most revolutionary concept. But one thing we know for sure: we oppose selling futures. We prefer to create real solutions for users, and charging stations and battery exchange stations are merely practical measures. Instead of impressing users with touches that appeal to emotions, we simply deliver products and services that users need.## About 400V and 800V
In a few years, maybe 5 years, 8 years, or 10 years, fast charging technology will become commonplace, just like building fast charging stations today without any surprises. This is our view on this matter. We believe that product technology should be forward-looking and service technology should be developed in due course.
We also have plans to enter the European market, and we were supposed to see the results this year, but unfortunately, the epidemic has disrupted our plans. We hope to achieve results next year. In this new era, we will definitely start with the markets of developed countries, but we must adopt the attitude of a Chinese market to do foreign markets. We will have battery swap stations, road service specialists, NIO points, and overseas APP. This is not a guerrilla attitude, but a position of occupation to do foreign markets. We need a little more time to prepare, but once we get there, we hope to quickly establish our presence.
For now, our overseas strategy will continue to adhere to direct sales and direct service to customers, and we will not adopt a simple import and export strategy like dealers.
Question 5
I am from a traditional car company, and I felt that NIO, as a new brand, was not reliable when it released so many things so quickly. In December 2018, I attended NIO Day and wrote an article after that to express my understanding of NIO's future. Today, I want to talk to you again about four points.
First, I was amazed by your statement that NIO's future business model is a native digital enterprise. In my previous company, which was a consulting firm that helped car companies transform digitally, we encountered three obstacles. One came from the company's internal organization; the other came from the various suppliers that needed to be integrated; and the third came from the users. The last one is your advantage because your system was built from the very beginning.
Second, user experience is a key point. In the next two to three years, maybe even faster, there will be a contradiction between the rapid growth of users and our limited resources. I would like to ask Mr. Qin how we can solve this problem. Currently, we deliver 5,000 vehicles per month, and when we face the challenge of increasing delivery to 10,000 vehicles per month, how will we solve this contradiction?### Thirdly, Direct Sales
Although it is not currently in the overall framework, Li Bin has always firmly stated that there will be no price reductions. Traditional OEMs have been providing fixed and variable rebates to dealers for many years, and they are actually like a reservoir to balance the relationship between supply and demand among their users' markets. Currently, our market is relatively small with few competitors. However, as more new brands enter the range of 300,000 to 400,000 RMB and a wheelbase of 2.9 to 3 meters, what kind of confidence do we have to ensure that we will not reduce prices?
Battery Service System
Before the battery exchange model, it was also attempted in Europe, but it was not successful. One major problem was the configuration and utilization of its resource efficiency. Now we are pushing forward with the same battery pack. Will this also restrict the development of our future products?
In response to these questions, let me share a small example. I have been working with Li Bin to establish this company since 2014. The most frequently asked question from outsiders has changed over the years. In our first year, people asked if electric cars were reliable and trustworthy in the entire category. This question was very common at the time. Later, after more than a year, when LeEco was booming, people asked if NIO was reliable. At that time, in the earlier rounds of financing, the most difficult question to answer was how to prove that we were better than LeEco. Later, this question evolved into whether our ES8 car was reliable. This is a common social psychology and the reflection of the whole society. I was particularly happy at that time because you were not asking whether electric cars were reliable, but whether ES8 was reliable, which meant that you had accepted electric cars.
Now, the most common question is how can you prove that you can maintain the original flavor after increasing your user base by five or ten times? Actually, our user retention has expanded many times from 2018 to now. I think there is a benign interaction between the number of users and the resources I invest. If I cannot improve efficiency in this benign interaction, we may end up being very miserable and become a pile of people working.
Let me give an example of user experience. At the end of 2018, we had about 1,100 road service specialists, and the average daily service order for each of them was 0.5 to 0.7 orders. So at that time, we were losing a lot of money, but the user experience was particularly good because there was always a team available whenever you called for a NIO service. Last year, we reduced personnel, but the number of users tripled. At the end of the first year in 2018, we had 10,000 users. At the end of last year, we had 30,000 users, but the number of road service specialists decreased to a little over 900, with an average of more than 1 order per day. Some individual users began to complain when our specialists were too busy. At that time, we achieved a new balance, but we were still losing a lot of money.Today, the total number of our road service specialists has recovered to one thousand. While adequate, at this moment there are almost seventy thousand users in the market, and our daily average service volume exceeds 5 units. However, I have not seen a significant decrease in satisfaction, it is still mostly good, and the grid effect and appointment system have become more mature than before. I think what you mentioned in the middle is very correct. I believe that expanding the number of holders is one of the most significant challenges we will face and it may dilute the user experience that NIO defines.
I always tell my colleagues internally that this challenge is the first priority. When the number of users increases exponentially, it is still possible to maintain this level of service. What did we do this year? Firstly, our dispatch system has been iterated. The orders given by dispatchers are critical. Now we have big data behind the intelligent vehicle. The probability of each car's next charging request can theoretically be determined every second.
So, some people are serving users on the road, and some people may be commanding them. For example, in Beijing, a specialist in Haidian waits around Huangzhuang. The number of charging requests in that area is increasing, and so these dispatch actions become particularly frequent. This is the first one.
The second one is that we now proficiently utilize third-party services. However, we can ensure that their service level is the same as that of NIO's specialists, and users will not experience any difference. We mobilize social forces for use in some remote or smaller places. It's not possible to have specialists in every place like in Aksu, Xinjiang, which we cannot afford. But the Didi chauffeur service is available across the country. So, we train and certify them, and they can receive orders on our platform.
Therefore, NIO's APP implies a product similar to Didi's chauffeur service. We mobilize social resources, and the most critical thing is the balance of social resource distribution. This has been done for more than half a year, and from the user's perception, in 99.9% of cases, users can't distinguish between NIO's specialists and third-party specialists. This is a victory for this system.
And this is a crucial point. I think the continuous increase in investment is necessary as more users mean more income, and more income means higher efficiency in reinvestment. This is a typical mode of thinking. For example, every day in Shanghai, there are one billion express deliveries that need to be delivered to any corner of Shanghai within two hours. How many delivery people do you need to deploy? It must be hundreds. If thousands of parcels arrive every day, it may also require hundreds of delivery people to deliver them all across Shanghai within two hours. This is the benefit of the grid. This is a big challenge for us, and I think this is the fundamental of NIO's survival. We must do this well.The first native digital enterprise that you mentioned, it's just the way we are. For example, I find it difficult to imagine my sales system using anything else. We now discuss it in internal meetings and if there are any deficiencies in terms of cost or personnel, we just approve it. It's much harder for other companies, but we must persist in this native approach for the modern age. Once digitization reaches a certain level, it becomes a fundamental energy source, just like how people switched from horsepower to steam, from steam to internal combustion engines, and then to electricity. After that, the digital foundation of today will become the internal combustion engine of that time. We have the opportunity to start from scratch and we will do it without hesitation.
Li Bin and I have both said in different occasions that we will maintain NIO's price stability. Given the visible market changes and our company's development, we will do everything we can to maintain our prices stable as price fluctuations would greatly damage a high-end brand. We often ask ourselves, who benefits from price cutting? Of course, people who are ready to buy a car will be happy. But how long will that happiness last? If the price drops again after they have already bought the car, it will deeply hurt them. Cars are durable goods in large quantities, and from a big-picture perspective, devaluation is the trend, except for a few collectible cars.
Therefore, I think it's our responsibility to protect users' personal assets. Similar to automobiles and real estate, we have an obligation to protect residents' property without special reasons to adjust prices. We believe that price stability, reliable quality, constant innovation, and good service are the best way to respect our customers.
Daily price fluctuations are not advisable, at least not for NIO's management team. For tactical reasons, we won't change prices. For example, if battery prices drop drastically, from 100,000 RMB to 10,000 RMB, then we can have discussions about lowering prices. But when the market's cost structure hasn't changed at a fundamental level, price stability is the greatest respect we can show our customers.
At least for now, we will insist that different car models use batteries with different capacities, but the physical specifications of the battery pack, including the shape and connection points, will remain the same. Our battery packs have the same shape and connection method among various temperatures, such as the 70-degree Celsius battery pack we used before, the 84-degree Celsius battery pack we used last year, the 100-degree Celsius battery pack we are currently using, and the 150-degree Celsius battery pack we are currently researching.
NIO will make slightly smaller cars, but not very small ones. The battery pack size is already set, and the overall vehicle structure surrounding it, such as the wheelbase, cannot be made too small. If we were to design two physical specifications of battery packs just to increase sales, it would create compatibility issues with our many battery swap stations. Now that users with 100-degree Celsius batteries can swap them at our charging stations, but if I only have 70-degree Celsius batteries at my swap station, it would be a relatively simple problem to solve.Firstly, my 70-degree battery can be replaced and the car can continue to run. All of my cars and battery packs are arranged in a combination of cross-products that can run. However, users may feel that they are short of a 30-degree battery, and NIO has a points system that can give back to them by adjusting the price, which is better than having a stock of unsuitable battery packs that can't be installed. This is a matter of whether it works or not and determines the basic experience of car owners. We will continue to adhere to the physical consistency of our battery pack specifications. So, for NIO, the challenge of developing battery packs is relatively large, with one more boundary condition, mainly to improve energy density from the perspective of cell modules and basic formulas.
As for the future, will we launch a completely different specification of battery pack to launch another series of vehicle models and a new battery swap station series as the company continues to grow? It is possible, but it is not on the agenda today.
Q6: Regarding the 400 kW fast charging technology, many companies say they won't make pure electric vehicles until they reach 400 kW. How do you view this?
Li Hong Qin: I think a lot of things regarding 400 kW charging are futures contracts, and some are excuses. The challenges and obstacles are absolutely not charging methods. I think it is important for automotive companies to distinguish between right and wrong. The forward-looking nature of the technical roadmap is critical. If there are drastic changes in technology over the years and one is not prepared, it is normal not to have much to show. We won't be doing anything like putting a 400 kW charger on the market when no one else in the world has it.
Q7: As someone who has been following NIO since 2014, I have always had a deep feeling that NIO actually has a spill-over effect in innovative businesses, including services such as software systems, ADAS, APP and innovative models. In the second half of last year, NIO had some cost-cutting measures in various areas, including technology departments, which inevitably had some impact. After this year, our cash flow is relatively abundant. Will NIO's attitude towards investment and internal innovation change?
Secondly, you just mentioned the issue of LiDAR, and NIO officially posted a Weibo post. Everyone's response was, what about our old cars? Everything NIO does is from the perspective of users, and many things can be considered for users using points or other means. How do we consider the feelings of old users when it comes to the iteration of such large hardware?# Qin Lihong
Qin Lihong: Today, we also communicated with our users through media friends. In my direct communication with users, I said that we have not fully tapped the potential for iteration of our first-generation platform. At least there are more than ten versions that can be iterated. When the second-generation platform is released, based on the updated hardware combination, it cannot be upgraded on the current hardware platform. We honestly told our users that we will try our best to consider their interests, but we also believe that a company constantly introducing new products is a greater benefit to users. Car owners will change cars and we will continue to create good conditions for our existing car owners to purchase new NIO cars.
Today's world is a time of great technological innovation. We believe that considering the interests of old users does not mean that we need to be conservative. If we are conservative, I think old users will soon abandon us. There is a generational difference here. If you want to make such a big upgrade in hardware, it's like buying another NIO car. I was straightforward with our users, and we will create conditions for them to switch to a new model.
Regarding R&D investment, I believe that the specific performance is not related to the late launch of NT2.0. NT2.0 may not be available for mass production until the end of next year. Some of the core sensor and component suppliers will not be available until the third quarter of next year. We must walk in step together.
We don't think that more money is better. I think that the amount of resources invested in technology development should be proportional to the research and development results. However, research and development efficiency is crucial, especially for software-related research and development. I think NIO's research and development efficiency has been very high for the past year or so. I'm not hiding this fact: last year, NIO's layoffs exceeded one-third of the entire company, which was quite difficult. However, the team that stayed behind still completed tasks on a larger scale than before, and the speed has increased. Therefore, after this round of baptism, I think NIO has become more mature. Today we are definitely a stronger company than last year, not because of the financial numbers everyone sees, but because of the company's organizational efficiency.
Research and development require a certain lead time, so we will gradually show everyone the achievements that we can report. In fact, NOP is a result. When we delivered ES8 in 2018, NOP was not in our development plan. Later, our team believed that users needed it, and it was a bottom-up decision. The team spent more than a year pushing NOP onto the car.In our NIO OS 2.7.0 version vehicle system released in October, there were some immature details and issues with the NOP (NIO Pilot system). After listening to user feedback, we made corrections in the NIO OS 2.8.0 version released in early December, iterating on issues such as lane changes, acceleration, and automatic exits after 5 seconds of stopping. Today, NOP should be more user-friendly and we believe that it will become even more user-friendly in the next six months, including improvements on some key features that we haven't done very well in the past.
Therefore, starting from the second half of this year, we plan to launch NOP as a starting point, and over the next few quarters, you will see the results of our R&D. Li Bin and I both regularly test our company's vehicles as well as a wide range of competitors' vehicles. We know that there are still many areas where NIO falls short, but we can't be better than everyone in every respect. However, we have to win the battle and spend some time reclaiming our territory. Please continue to pay attention to us.
Over the past year, NIO's vehicle system's disconnection was the most frequently criticized issue, which we resolved more than 60% with the NIO OS 2.7.0 version released in October. Recently, with the NIO OS 2.8.0 version, the disconnection issue has reached a 75% resolution rate. With the release of the NIO OS 2.9.0 version just before the Spring Festival, the issue has basically been solved. For smart electric vehicles, the user experience is dynamic.
As for the ultimate goal of smart electric vehicles, as I mentioned earlier, some companies in the industry may not share the same view. For example, recently, Mr. Akio Toyoda of Toyota said that the entire lifecycle of an electric vehicle may be more polluting than a fuel-powered vehicle, so he thinks it is overhyped. How to view the environmental issues of electric cars, especially in the context of China's high proportion of thermal power generation, is a worthy question.
Now, on to the second question. Regarding our two joint venture companies, GAC NIO and Changan NIO, NIO is just an investor, and these two companies have their own missions. For GAC NIO, we participate in some work at the board level, but our participation in Changan NIO is relatively limited. We will provide all the help we can, but it's not just about money. Although we faced some financial challenges last year, it didn't affect these investments. However, their development may not depend only on money. For me, I will always bless and help them, but they need to chart their own course. In terms of day-to-day operations, as one of the parent companies, NIO does not participate in the daily operations of these joint ventures.The first thing you brought up is a great topic, which is two-fold. The first question is whether the ultimate fate of automotive products is intelligent electric vehicles. What we have always said is that we believe so, but that may not be true. However, we have chosen to proceed in this direction. Every company has a mission with a certain subjective vision. But vision and actual implementation are one, and should not be separated. Mr. Akio Toyoda has put forward his vision of what he thinks is the ultimate fate of the automotive industry from his perspective. He also hopes that Toyota will develop very well on the strategic path he believes in. We just need to do what we believe in. There is no need to argue about this; it is a vision for the future. Each company should focus on doing its own thing well, and there is no need to criticize others' chosen paths and directions. The advantage of the automotive industry is that it is a highly competitive industry, and each company's execution from today's standpoint to a 20-year outlook and judgment is here.
As for whether electric cars are truly environmentally friendly, different experts hold different views. Speaking of this, I still admire Li Xiang, who was also an early investor in our company. On November 29, 2016, when NIO unveiled its brand in London, Li Xiang guested our live studio in China and said, "Let's put aside this debate for now. There are 200 million cars scattered around China and about 2,000 power plants. Which is easier to govern? The unrestrained 200 million cars or the 2,000 power plants that cannot be moved?" He also used a great metaphor, saying that fuel cars emit pollutants everywhere, just like defecating and urinating randomly, while electric cars have centralized generation through power plants, like public restrooms. The metaphor is very apt. "Two hundred million people defecating and urinating everywhere, and we have 2,000 public restrooms to concentrate them for governance. The latter is relatively better." I fully agree with this statement.
We have never believed that electric cars are as clean as saints in terms of environmental issues. China is a predominantly coal-fired country, and that is a fact. But another fact is that the pollution levels of China's coal-fired power plants are decreasing year by year, and the level of environmental protection is getting higher and higher.
The proportion of China's new energy generation is increasing year by year. In Hainan Island where we are located, the proportion of clean energy in all electricity consumption is the highest among all provinces in the country. I believe this trend will only become stronger. At least we know that from the perspective of the power generation source, electric cars will become cleaner and cleaner, although not 100% clean; this is a value judgment.In recent years, NIO has had in-depth communication with State Grid. We have always known that there is a lot of abandoned electricity in China due to insufficient industrial production, etc. If electric vehicles can charge during off-peak hours with this abandoned electricity, it would protect the environment. Using one hundred million kilowatt hours of electricity for electric vehicles does not mean that you need to generate one hundred million kilowatt hours. State Grid's experts estimated that 50 million kilowatt hours of newly generated electricity could meet the needs of one hundred million kilowatt hours for electric vehicles because a large amount of electricity is wasted.
From the perspective of China's energy security, electrification is a win-win choice that takes into account both national energy security and the progress of people's living standards, especially since China's petroleum imports have already made up a large proportion of the world's total petroleum imports, which is a severe situation that the country faces.
As an automotive industry, we need to have political acumen and consider it with the whole country's security, energy situation, and industrial policies. We believe that the central government and local governments will increasingly tilt towards new energy intelligent vehicles. We only do what we believe in and do not deny anyone's other technologies.
Regarding what NIO has done, we do not involve ourselves directly in commenting on other industries. We will not venture into technologies outside of pure electric. We do not adopt dealership models, but we can cooperate with dealerships. We currently have partnerships with dealerships throughout the country, but this is not the dealership model. Additionally, we do not plan to lower prices in the short term.## Qualifications
I also like qualifications, but spending ten billion yuan to buy an empty shell is definitely not feasible. Looking at the innovation and collaboration model between NIO and JAC in recent years, it has received high praise from a series of government agencies such as the Ministry of Industry and Information Technology and the National Development and Reform Commission. We believe that the innovation-based manufacturing collaboration model between NIO and JAC is one of the major events in the Chinese automotive industry in the past few decades. Its importance has been overlooked, and its significance is no less than that of foreign companies and domestic 50-50 joint ventures.
We often ask ourselves whether we really need qualifications. Of course we do, but whether we need to hold the qualifications ourselves is not necessarily the case. We have good cooperation with JAC's qualifications and help each other in critical moments.
If conditions permit in the future, we believe that if the time is ripe, we are not opposed to independently obtaining our qualifications, but we will not do so through the acquisition of shell resources. As early as 2014, many people recommended it to us, but in the end, we felt that doing things purely was better. We are a company that is led by innovation in research and development and sales and service. We have great respect for the manufacturing side, and we believe that many companies have done better in building cars than we have.
Last year and this year, the ES8 and ES6 ranked first in the J.D. POWER new energy vehicle quality rankings. Our quality level has been good. This model has not only not affected efficiency, but also saved us money, and used existing production capacity, and everyone helped each other in critical moments to form an alliance. We think this situation is still good. Of course, as mentioned earlier, every company has its strategic choices, and obtaining qualifications quickly through mergers and acquisitions is legitimate and reasonable. This is a strategic choice, but it is not our strategic choice.
In addition, in recent years, through our own choices and communication with society, we have found that true innovation will be increasingly valued. This qualification is based on a management standard in the manufacturing industry. It appeared in an era when China could not produce localized parts, could not produce localized cars, and could not make cars. In that era, such policies greatly promoted the development of China's automotive industry, and it is still playing a role today.
I think that for smart electric vehicles in 2025, we and relevant management regulations will face new requirements and further iterations. In this regard, our attitude at NIO has always been very simple. We are willing to take the lead and accept the risk, as long as the relevant government departments give us this opportunity. Our attitude has been recognized by everyone.
Ma Lin: You just mentioned environmental protection. We just signed an agreement with State Grid Electric Vehicle two days ago. Among them, in 2021, we will work with State Grid Electric Vehicle to strive to consume 100 million degrees of clean energy in the Beijing-Tianjin-Hebei region. There are plans for these aspects, including using green energy and adopting some encouraging measures for user, and this direction will definitely get better.
This article is a translation by ChatGPT of a Chinese report from 42HOW. If you have any questions about it, please email bd@42how.com.