According to CNBC, Tesla has notified employees at its Fremont factory in California via email that production of Model S and X will be halted from December 24 for 18 days.
Affected employees will receive one full week's pay as paid leave, but are encouraged to support other departments in the factory during the remaining five unpaid days off.
Last week, CEO Elon Musk sent an email to employees demanding an increase in company production, but the temporary closure of the Model S and X production lines indicates that these two models are not within the scope of production capacity enhancement. As of September 30 this year, Tesla reported that approximately 11% of its deliveries were Model S and X, while the rest were Model 3 and Model Y.
CNBC obtained the content of Tesla's email: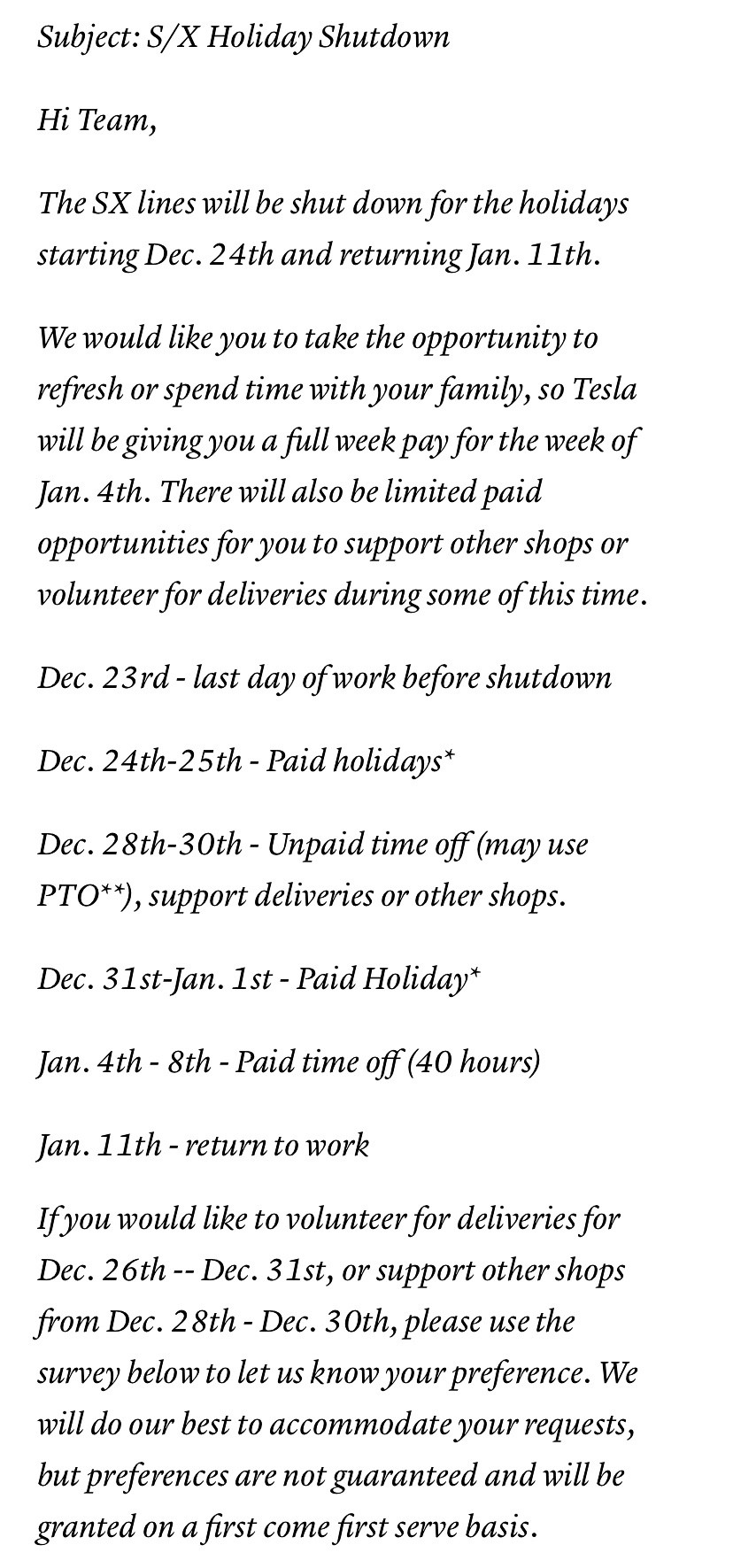 Below is a reference translation:
Subject: S/X production line will be shut down during the holiday period
Hello everyone,
From December 24 to January 11, the SX production line will be shut down during the holiday period.
We hope you take this opportunity to rest or spend time with your family, so Tesla will provide you with a full week's pay on January 4. During this time, you can also perform paid work for other stores or volunteer to participate in vehicle delivery.
December 23 – last day before shutdown
December 24 to 25 – Paid holiday *
December 28 to 30 – Unpaid leave (can use PTO **), help with vehicle delivery or support other departments.
December 31 to January 1 – Paid holiday *
January 4 to 8 – Paid vacation (40 hours)
January 11 – Return to work
If you would like to volunteer for vehicle delivery work from December 26 to December 31, or support other stores from December 28 to December 30, please fill out the following survey. We will do our best to meet your requests, but cannot guarantee that your choices will be fulfilled based on a first-come-first-served basis.
🔗 Source: CNBC
This article is a translation by ChatGPT of a Chinese report from 42HOW. If you have any questions about it, please email bd@42how.com.