The insured number of new energy SUVs from Chinese Association of Automobile Manufacturers (CAAM) have been released successively (data from XPeng Motors). The top 5 new energy SUVs insured in November are as follows:
Li Xiang ONE: 4,676 units
BYD Tang DM: 2,729 units
WM Motor EX5: 2,530 units
NIO ES6: 2,375 units
Roewe eRX5: 1,575 units
Compared with the sales officially announced before, the insured amount comes from the real insured data of insurance agencies. Li Xiang and NIO, without any dealership hoarding, have consistent sales and insured amounts. For other traditional automakers, this data is more representative of real sales.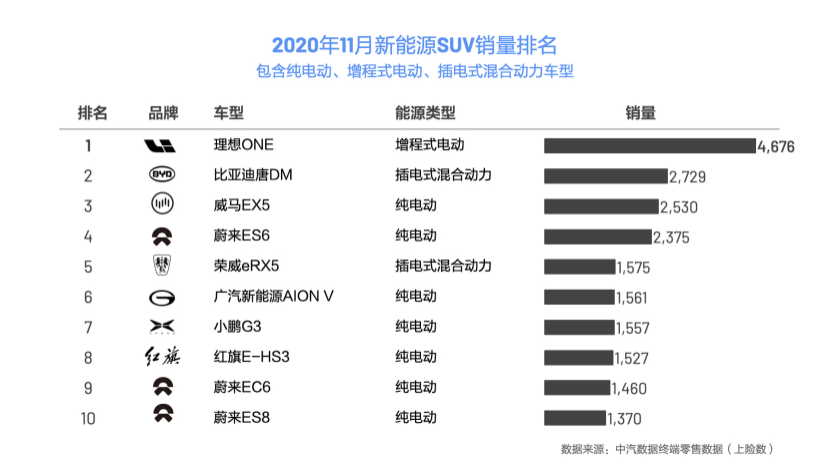 Li Xiang ONE has held the first place in "New Energy SUVs insured" for some time. The continuously increasing sales in November have further solidified its position, and it is far ahead of the second-placed Tang DM.
If we are more strict and only leave the adjective "medium and large-sized SUV," Li Xiang ONE's insured amount can still rank fourth. Only three popular models, Volkswagen Touareg, BMW X5, and Lexus RX, rank higher on this list.
The current sales ranking directly proves Li Xiang ONE's victory in product definition.
Returning to the new energy SUV ranking, WM Motor EX5 ranks third with 2,530 insured units. Although the delivery of WM Motor EX5 has exceeded two years, the overall sales are still very stable and have not been affected by the consecutive self-ignition incidents in October.
Although NIO is not in the top three of this list, three NIO models are in the top 10. Obviously, the sales have been scattered due to the large number of models. If there were only ES6 and no EC6, Li Xiang ONE's first place in new energy SUVs would have faced certain challenges.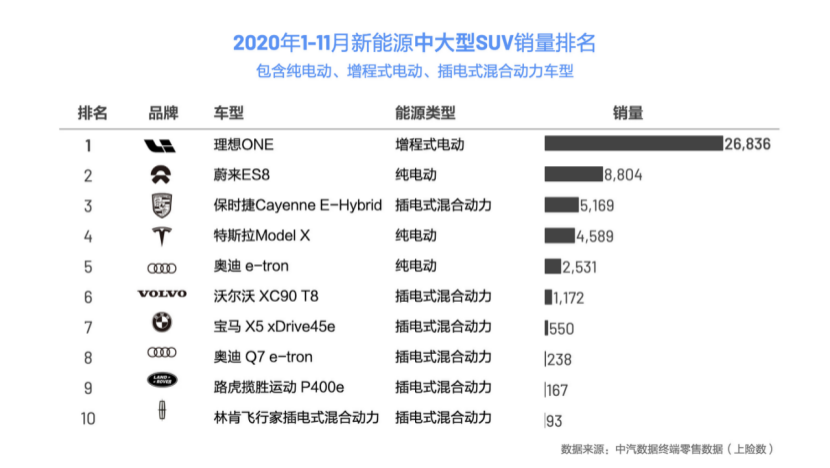 Another noteworthy model is the Audi e-tron. The e-tron sold 836 units this month, and it is worth noting that the cumulative sales in the previous 10 months were only 1,695 units. The insured amount this month is equivalent to half of the previous 10 months. It is guessed that the terminal discounts offered by dealers have stimulated the consumer market to a large extent.The new energy SUV market will see more players joining in, such as the upcoming Tesla Model Y, the Voyah FREE, and the Gaohe HiPhi X. Who are you looking forward to the most?
This article is a translation by ChatGPT of a Chinese report from 42HOW. If you have any questions about it, please email bd@42how.com.