The October sales figures for new energy vehicles in Europe have been released, with the ID.3, which was delivered for the second month in a row, topping the chart with 10,584 units. The Renault Zoe was close behind with 9,890 units, followed by the Hyundai Kona EV with 5,441 units.
The Model 3 did not make the list this month as the previous inventory had nearly sold out and new cars had not yet arrived. However, shipping from the Shanghai and Fremont factories has already arrived at port, so the Model 3 is sure to be back on the list in the next two months.
On the cumulative sales chart for new energy vehicles in Europe this year, the Model 3 is still 15,340 units behind the Zoe, making it difficult to surpass in the last two months.
After the ID.3 was launched for two months, the e-Golf disappeared as expected, but the plug-in hybrid Golf still had 2,896 units. Although it cannot be confirmed, this data may include the 8th generation Golf after the model change.
It is worth noting that European car sales fell 27% year-on-year in October, but 147,000 new energy vehicles were registered, an increase of 195% year-on-year. As of October, new energy vehicle sales in Europe had exceeded 900,000 units, an increase of 113% year-on-year.
At present, the market share of new energy vehicles in Europe has reached 9.5%, and it should reach 10% by the end of the year without any problem.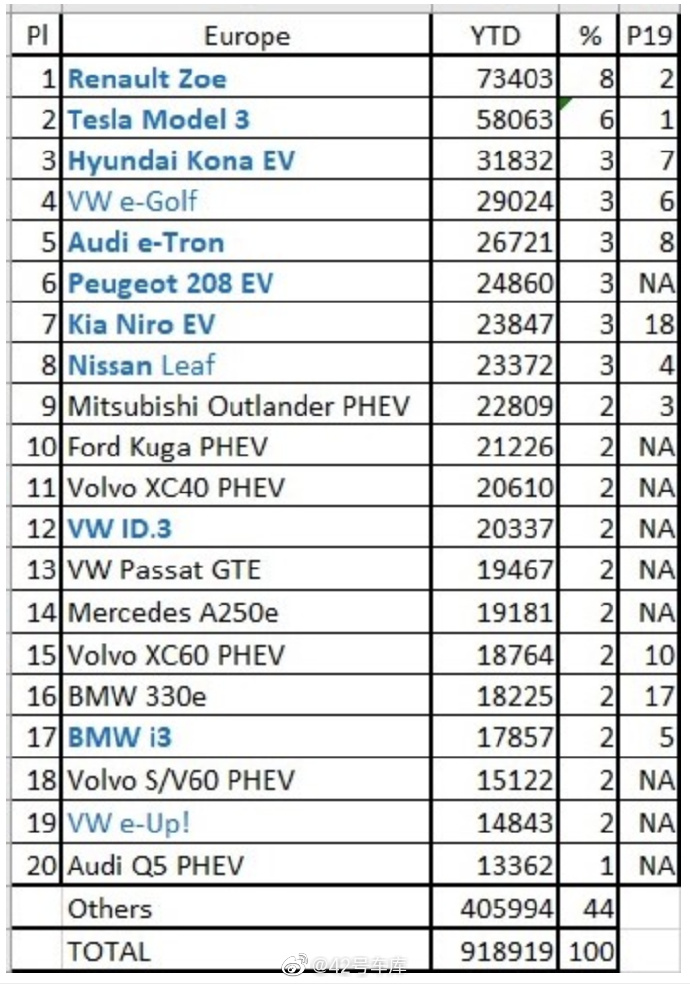 This article is a translation by ChatGPT of a Chinese report from 42HOW. If you have any questions about it, please email bd@42how.com.