On August 19th, according to IFR News under Reuters, XPeng Motors will submit a $1 billion IPO application to the NYSE on Friday, August 21st.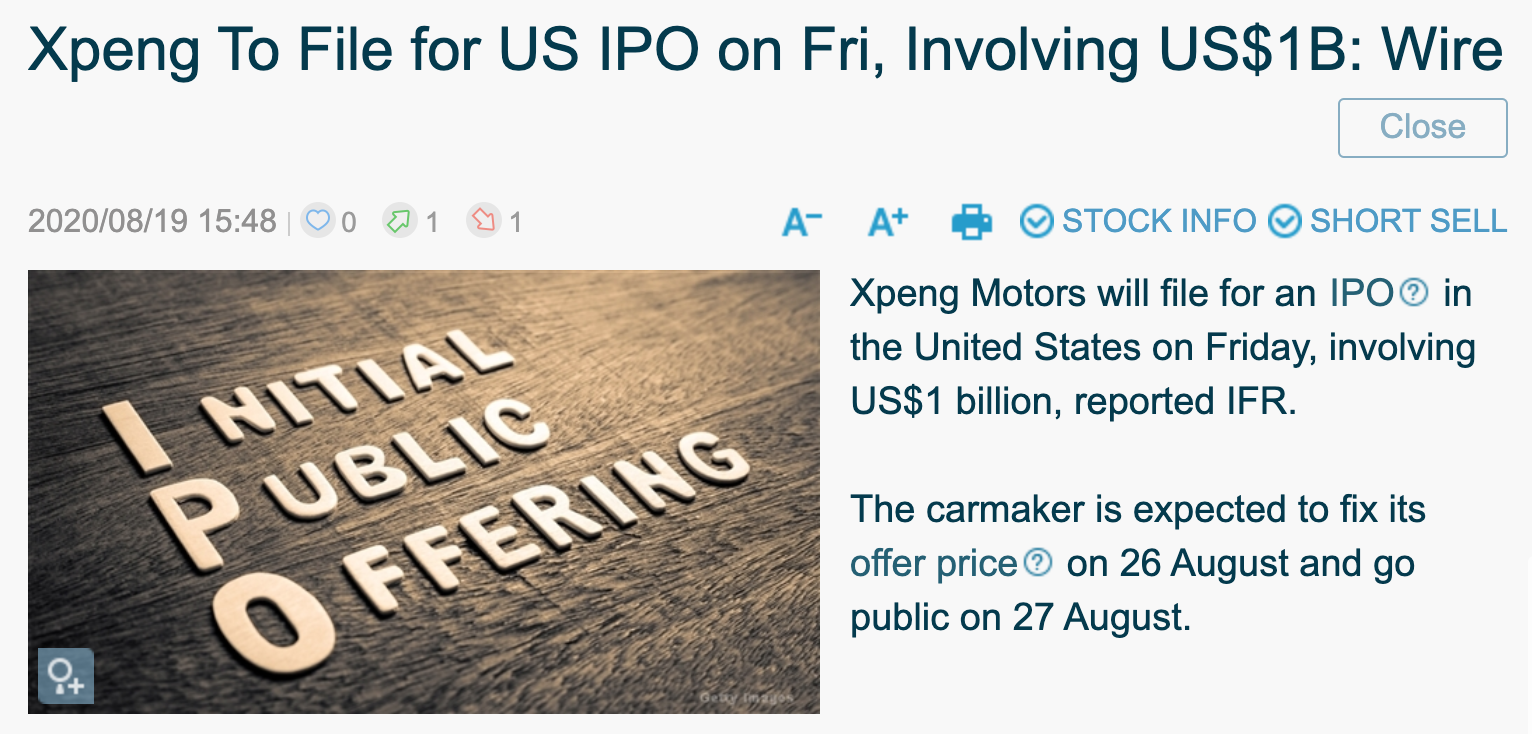 XPeng Motors is planning to go public this weekend, with an expected stock pricing on August 26th and an expected listing on August 27th. On August 8th, XPeng Motors officially submitted its IPO filing to the SEC, and plans to be listed on the NYSE under the stock ticker "XPEV". The underwriters include Bank of America Securities, Credit Suisse, and JPMorgan.
Prior to this IPO, XPeng Motors had already completed a $947 million C+ and C++ round of financing led by Alibaba, Hillhouse Capital, and Sequoia Capital China on August 6th. As of now, XPeng Motors has a total of more than RMB 8.5 billion ($1.22 billion) in cash and cash equivalents, and the company's market valuation is close to $4 billion (approximately RMB 27.64 billion).
Before going public, the prospectus shows that XPeng Motors' Chairman He XPeng holds a 31.6% stake as the largest shareholder, Alibaba holds a 14.4% stake as the second largest shareholder, XPeng Motors founder Xia Heng holds a 4.9% stake, XPeng Motors co-founder He Tao holds a 1.6% stake, and XPeng Motors Joint President Gu Hongdi holds a 2.8% stake. In addition, Yu Yongfu, a former partner of He XPeng in UC Browser, is also a shareholder, and other major shareholders include Xiaomi, GGV Capital, and Morningside Venture Capital.
This article is a translation by ChatGPT of a Chinese report from 42HOW. If you have any questions about it, please email bd@42how.com.