Polestar debuted the full-scale model of its award-winning Polestar Synergy pure electric supercar concept at the 2023 Munich International Automobile Exhibition.
The Polestar Synergy is a fusion of the designs from three winners of the 2022 Polestar Global Design Competition.
The award winners include Chinese designer Li Yingxiang, who won the interior design award, and two Paris-based designers, Devashish Deshmukh and Swapnil Desai, who won the exterior design award.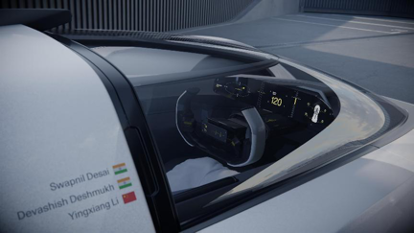 After six months of collaboration between the Polestar design team and the award winners, three distinct ideas were merged into the highly congruent work that is the Polestar Synergy.
The design of Polestar Synergy is inspired by nature and emotion, with a single-seat floating interior design that showcases the high-performance philosophy of Polestar. Through Synergy, Polestar aims to demonstrate the possibilities of pure electric high-performance vehicles.
Since 2020, Polestar has held an annual global design competition. The 2022 competition, themed "high performance", received over 600 entries from around the world. Chinese designer Li Yingxiang's work, "Polestar Performance Stable", won the award for interior design, attracting much attention.
The global design competition aims to uncover design talent worldwide. As a winner, Li Yingxiang, who has participated in the design of several concept cars and mass-production cars, has received recognition from the design team.
Moreover, Polestar's design competition is not only about innovative ideas but also assists in realizing them. From initial ideas to the final award-winning work, every step of the process, including communication and improvement, is reflected in this full-scale model.
In the end, Polestar announced a collaboration with Hot Wheels, a brand under the Mattel Corporation, the world's largest toy company. In the next global design competition, they will integrate the innovative and daring design concept of Hot Wheels and include the production models in the Hot Wheels and Matchbox collectible series. This aims to convey the charm of electric vehicles to a broader audience.
译文中没有明确的上下文信息,无法改正和改进。
This article is a translation by ChatGPT of a Chinese report from 42HOW. If you have any questions about it, please email bd@42how.com.