On April 18th, the 20th Shanghai International Automobile Industry Exhibition was officially held at the National Exhibition and Convention Center. Tank officially released their all-new upgraded off-road hybrid architecture Hi4-T. Hi4-T is the off-road version of the Haval Intelligent 4WD technology, and is a longitudinal hybrid architecture based on Tank's platform.
At the auto show, the first mass-produced model under Hi4-T architecture, the Tank 500 Hi4-T, was available for global pre-sale, with a pre-sale price of RMB 360,000 and a pre-sale deposit of RMB 5,000. Buyers during the pre-sale period will receive benefits such as charging poles and outdoor equipment. Tank 400 Hi4-T also made its global debut.
The Tank off-road new energy family made its debut together, marking the comprehensive implementation of the Tank off-road + new energy technology, and also indicating that the Tank brand has officially entered the new energy era.
The hybrid architecture Hi4-T is parallel-connected with oil and electricity, with oil as the main power source and electricity as the auxiliary power source. It can achieve free matching of two types of power, enabling the engine to remain in the optimal thermal efficiency zone. In addition, Hi4-T also has an intelligent energy management system, and the redundant power of the engine can be converted into electricity at any time. The intelligent SOC strategy can also intelligently allocate oil-electric energy for different scenes, such as city, cross-country, off-road, and discharge.
The Tank 500 Hi4-T is equipped with a 2.0T + 9HAT powertrain, with a maximum comprehensive power of 300 kW and a maximum comprehensive torque of 750 Nm, providing 6.9 seconds of acceleration from 0 to 100 km/h. Tank 500 Hi4-T has a pure electric range of 110 km and a comprehensive range of 790 km. At the same time, Tank 500 Hi4-T supports 3.3 kW external discharge, and can be connected to household appliances such as coffee machines, induction cookers, and projectors.
Tank 400 Hi4-T also made its global debut at this auto show.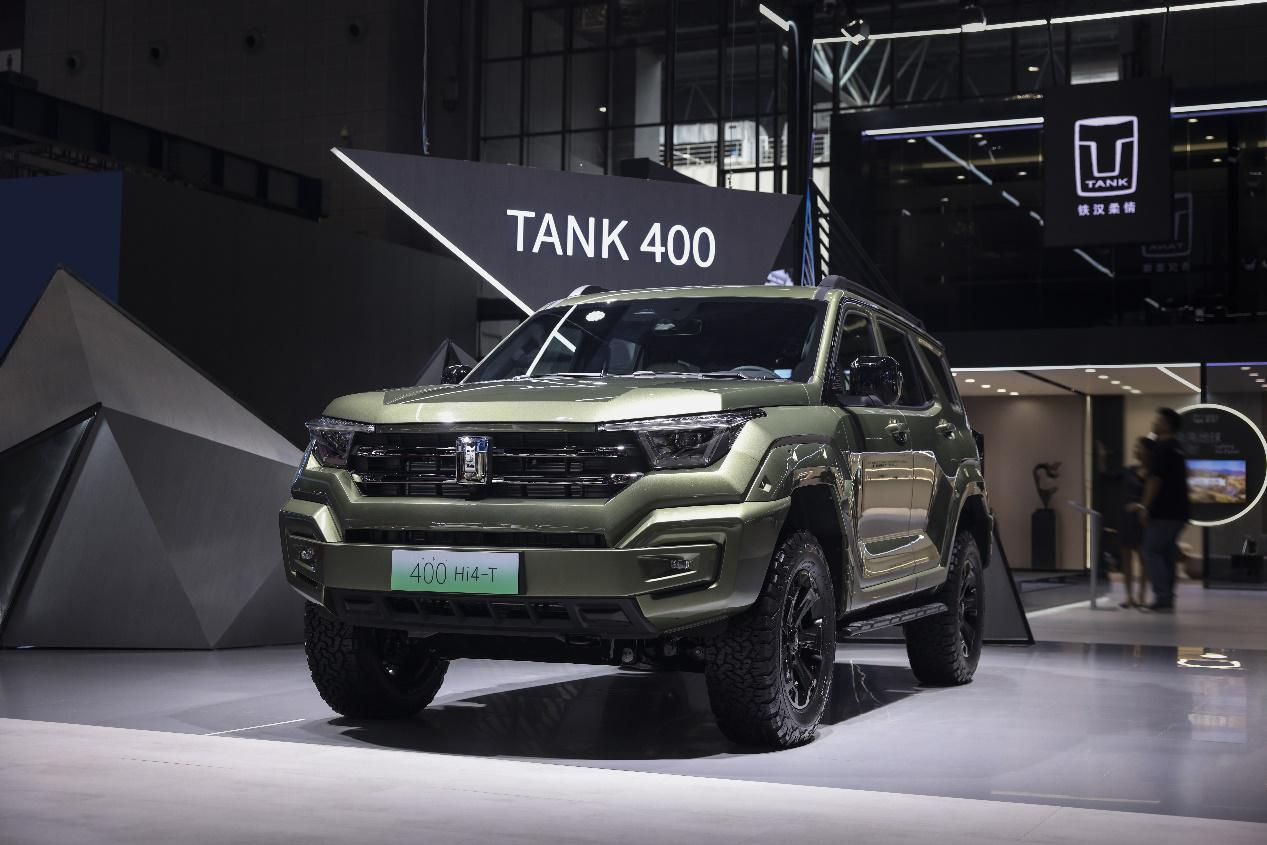 Great Wall Motors stated that Tank 400 Hi4-T aims to create "the first mecha-tech off-road vehicle exclusively for young people." In terms of off-road performance, Tank 400 Hi4-T is equipped with three locks, 11 driving modes and other off-road configurations.
This article is a translation by ChatGPT of a Chinese report from 42HOW. If you have any questions about it, please email bd@42how.com.