Translate the following Markdown Chinese text into English Markdown text, in a professional manner, retaining the HTML tags in Markdown, only output the result
Author | Zhang Lianyi
Editor | Qiu Kaijun
After announcing All in new energy at the beginning of the year, FAW Hongqi has made new progress.
On April 8, Hongqi's hybrid platform HMP (HQ Modular Power) was officially launched. This year, two models based on this platform will be introduced.
With the automotive industry fully embracing new energy, plug-in hybrid technology is also increasingly gaining attention. Compared to pure electric models, plug-in hybrid models still have advantages in terms of purchase cost, endurance, and recharging at this stage.
Market feedback also confirms the potential of plug-in hybrid models. According to data from China Association of Automobile Manufacturers, the sales of pure electric vehicles in 2022 were 5.365 million units, a year-on-year increase of 81.6%; sales of plug-in hybrid models were 1.518 million units, a year-on-year increase of 151.6%. It can be seen that the growth rate of plug-in hybrid models in 2022 is much higher than that of pure electric models.
In recent years, various automakers have also been deploying hybrid platforms, including BYD's DM-i, Great Wall's Hi4, Geely's Thor Hybrid, Chery, and Hongqi's successive releases of C-DM and HMP.
What are the highlights of Hongqi HMP?
The development of the HMP platform took five years, "covering both transverse and longitudinal configurations, consisting of hybrid transmission, hybrid engine, intelligent electric drive, and safe battery, four core systems and intelligent energy control model", explained Qiu Xiandong, general manager of FAW Group.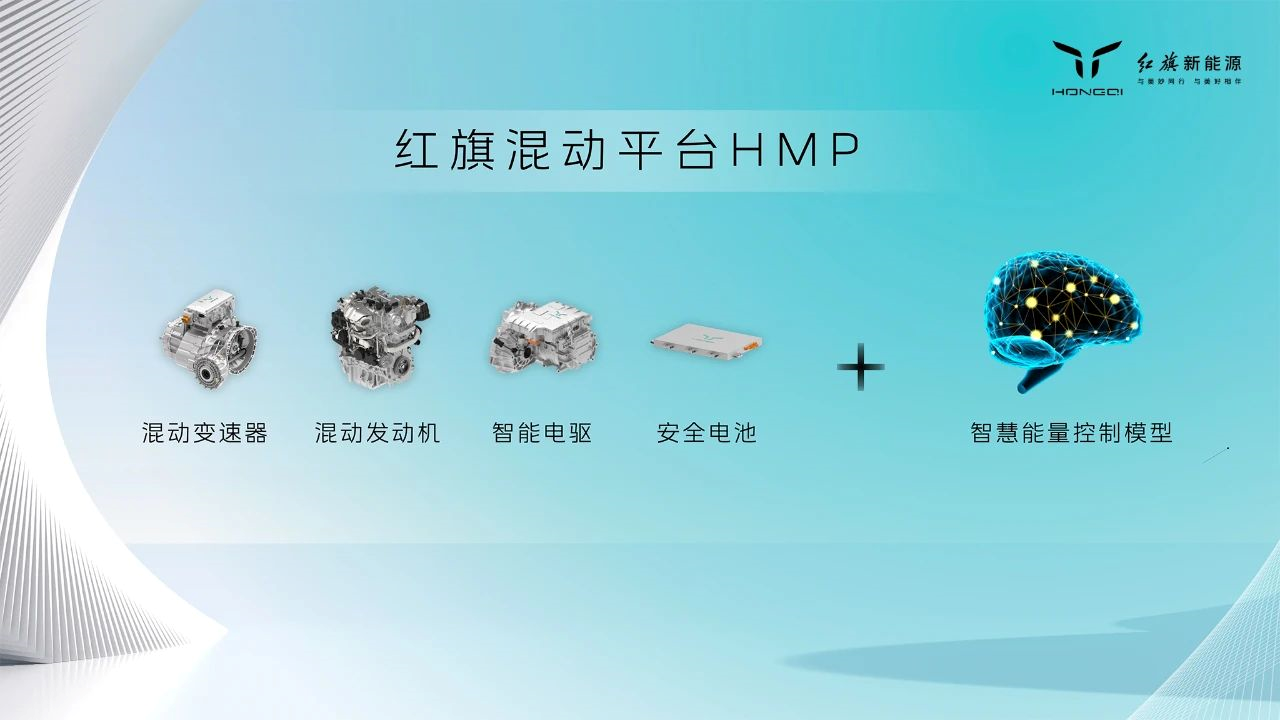 Let's break it down to mainly include four core systems:
Hybrid transmission system: Overall efficiency above 90%, longitudinal transmission output torque exceeds 4500Nm; transverse transmission output torque reaches 3900Nm, full-range order noise lower than 65 decibels.
The longitudinal front dual-motor multi-speed hybrid transmission LDU45 is used in C-segment and above hybrid models. It integrates drive axle, transmission, motor, and controller for an optimized solution to the technical challenge of transmitting power forward from a traditional longitudinal transmission, resulting in the shortest transmission path and lowest system loss.The multi-speed design ensures that the engine speed remains below 2000 RPM during high-speed cruising, operating in a highly efficient and low noise zone, primarily addressing the issue of high noise and fuel consumption in most hybrid models at high speeds.
The transverse hybrid transmission HDU35 can be applied to Class A and B hybrid models, with the industry's shortest axial length of 376mm. It also adopts a medium pressure silicon carbide inverter and multi-layer flat wire oil-cooled motor for the first time, resulting in a total weight reduction of over 10kg compared to similar products.
Hybrid engine system: Hongqi has developed two hybrid engines, the 20TD and 15TD, with thermal efficiency of 44.3% and 45.2%, which are among the best in the industry. Hongqi aims to solve the dilemma between efficiency and performance, stating that it can still achieve ultra-high power output of over 60kW/L while ensuring high thermal efficiency. Hongqi has also reserved the next generation of lean-burn engines, capable of reaching a thermal efficiency of over 47%.
Decoupled electric drive system: Hongqi has introduced the power decoupled electric drive system, featuring intelligent disconnection and electric assist drive capabilities, enabling an automatic switch between four-wheel and two-wheel drive modes within 100ms. It prevents drag loss during economical driving and addresses the challenge of high energy consumption in electric four-wheel drive vehicles when unloaded.
The decoupled electric drive system is capable of generating over 200kW of power and reaching speeds of 18000 RPM. Employing the latest generation of high-performance custom magnets and multi-layer square conductors, material usage is reduced by 17%, and weight is less than 74kg. With full-range deep variable frequency and super overmodulation technology, the vehicle achieves better power response and acceleration performance during high-speed driving.
Low-Temperature Battery System: Featuring a lightweight, fully composite material housing, offering a strength of up to 1000 MPa and non-brittle material characteristics. It also withstands temperatures of up to 1000°C and is fully insulated. High stability battery materials and cell structure safety technology are employed to enhance the inherent safety of the cells. Cloud-based big data-driven technology actively monitors and maintains cell health in real-time.
At the same time, Hongqi has developed low-temperature active cells, specifically creating multi-source intelligent heating technology, combined with the low thermal conductivity characteristics of the fully composite material housing, addressing the pain point of battery performance degradation in low-temperature environments for electric vehicles. According to information provided by Hongqi, after being idle for 12 hours at -20℃, the available energy is 8% higher and the power output capability is more than 25% higher than metal housing batteries.
Based on the four core systems, Hongqi has also developed an intelligent energy control model. The core of the model is a comprehensive energy flow intelligent management algorithm and smart perception energy-saving planning algorithm. These algorithms dynamically adjust and optimize energy according to the user's driving habits and driving scenarios, enhancing the driving experience.
Hongqi All in New Energy
As early as the second half of 2019, Hongqi brand has invested heavily and devoted itself to the research and development of the high-end electric intelligent superstructure FMEs.
HMP hybrid platform is the third major platform under Hongqi FMEs "Flagship" framework. At the previous Hongqi New Energy Strategy Conference, two other platforms have been released—HME pure electric platform and HIS intelligent platform.On January 8 this year, FAW Hongqi held a global strategy conference for new energy vehicles, announcing its latest development strategy for new energy vehicles.
At the time, Xu Liuping, then Chairman of China FAW, stated, "Hongqi brand will go all-in on new energy, and comprehensively promote electrification of all models. In practice, starting from the second half of 2022, except for special-purpose models, Hongqi has achieved 'two alls, one stop', which means all technological innovation investments are made in new energy vehicles, all new production capacity is dedicated to new energy vehicles, and there is a halt to additional investments in traditional fuel car technology and production capacity."
FAW Hongqi has also further refined its overall brand structure, building four sub-brands under the 'Hongqi' main brand: 'New Energy Vehicles', 'Energy-saving Vehicles', 'Hongqi Top Vehicles', and 'Super Sports Cars'. Each sub-brand will have its own relatively independent philosophy, logo, and design language under the main brand and overall philosophy.
According to the plan, by 2025, the total sales of Hongqi brand will reach 1 million units, with over 500,000 new energy vehicles; by 2030, Hongqi brand's sales will exceed 1.5 million, with new energy vehicles becoming the main sales force.
At the same time, FAW Hongqi released three Hongqi new energy family products developed based on the FMEs architecture, with internal code names E001, E202, and E702, respectively.
E001 is positioned as a B-class pure electric premium sedan with a range of 600km-1000km, swappable and upgradeable batteries, expected to hit the market in the second half of 2023.
E202 is a B-class pure electric SUV equipped with 800V super-fast charging, achieving a 300km range with just a 5-minute charge, and will also feature intelligent air suspension, intelligent four-wheel drive, and an intelligent driving system covering a vast majority of scenarios including highways, cities, and parking. This model is set to launch at the end of 2023.
E702, a C+ class flagship high-end pure electric sedan, is expected to hit the market in the first half of 2024. It will be equipped with an intelligent safety chassis system and a high-level intelligent driving system, capable of achieving all-weather, full-scenario 100km "zero" takeover, immersive 5D cinema effects, and a 7.1.4 channel, 2800W high-power Dolby panoramic sound system.The following Markdown text in English, while retaining the HTML tags within the Markdown, only outputs the result:
Including these three products, within the next three years, FAW Hongqi's new energy brand will launch 15 new energy intelligent products at a high frequency and density, covering all sub-categories of A, B, C, D-class sedans, SUVs, and MPVs.
New Growth Engine
FAW Hongqi's current models on sale include H5, H6, H7, H9, HS5, HS7, HS9, E-HS3, E-QM5, E-HS9, S9 and so on. Apart from the S9 sports car with a price of up to 15 million yuan, other products are priced between 122,800 yuan and 860,000 yuan, basically covering the mid-to-high-end sub-segments.
Among them, there are three pure electric vehicles on sale. In terms of PHEV models, the previously launched H5 New Energy and H7 New Energy have been discontinued. Looking at the product portfolio, FAW Hongqi's new energy product matrix is indeed somewhat weak. According to the plan, the two pure electric vehicles and two plug-in hybrid vehicles to be launched this year will greatly enrich the new energy product lineup.
After 2018, FAW Hongqi experienced a rapid growth phase. In 2018, FAW Hongqi's total annual sales volume reached 33,000 units, a sharp increase compared to 4,702 units in 2017.
In 2019, FAW Hongqi's annual sales volume broke through the 100,000-unit mark, with a year-on-year growth of 203%, achieving one year ahead of schedule.
In 2020, FAW Hongqi continued its rapid growth, achieving a sales target of over 200,000 units.
In 2021, FAW Hongqi sales exceeded 300,000 units, with a growth rate of over 50%, but failed to achieve the 400,000-unit target set by Xu Liuping.
In 2022, FAW Hongqi's sales growth was no longer vigorous, with sales only maintaining the level of 310,000 units.
Entering 2023, Qiu Xiandong has stated that Hongqi will ensure the achievement of an annual sales target of 500,000 units and strive for 600,000 units.
This sales target is almost double the growth achieved last year, and the pressure is not small. Setting such a target is also confident in the upcoming launch of a series of new products this year.
As can be seen, Hongqi has already made new energy a core growth engine, and this year's new energy products will be mass-produced based on the latest FMEs architecture, and the product strength under the new architecture is worth looking forward to.请提供需要翻译的中文 Markdown 文本。
This article is a translation by ChatGPT of a Chinese report from 42HOW. If you have any questions about it, please email bd@42how.com.