Translate the following Markdown Chinese text into English Markdown text, in a professional manner, retaining the HTML tags within the Markdown, and only output the result.
Author: Xu Jinkai
March 2023 is destined to be an extraordinary month in the history of China's automobile industry, with the price reduction of Dongfeng Citroën C6 by 90,000 yuan triggering a wave of price cuts sweeping the entire automobile industry. Regional subsidies combined with corporate concessions have made this year's "price war" quite intense.
It is worth noting that the significant price reductions are mainly concentrated in the traditional gasoline vehicle sector, and there has not yet been a large-scale plunge in the prices of the new energy market. Furthermore, a series of new energy vehicle companies such as NIO, Li Xiang, Leapmotor, and Nezha have implemented price protection measures, which to a great extent have boosted the consumer confidence of the "wait-and-see group".
The reason for the discrepancy between traditional gasoline vehicles and the new energy market is largely due to industry development: the rapid advancement of intelligent electric technology has provided support for the new energy industry, leading to a situation of substantial price drops for gasoline vehicles and relative stability for new energy vehicles.
However, this does not mean that new energy vehicles will not see price reductions. As lithium carbonate prices continue to decline, many new energy vehicle companies are gradually gaining the space to lower their prices. In the new energy market, Tesla is undoubtedly the company that could play the role of the C6. Even BYD, which has seen rapid sales growth, has taken advantage of the annual model change to lower its prices.
Tesla and BYD's Head-to-Head Battle
In the early morning of April 3, Tesla (TSLA) officially announced its Q1 2023 delivery data through its official Weibo account. In the first quarter of 2023, Tesla produced over 440,000 electric vehicles worldwide and delivered 420,000 electric vehicles, setting a new record.
Although Tesla broke the global sales record in the first quarter, it is still some distance from Elon Musk's goal of selling 1.8 to 2 million new vehicles in 2023.
Given the continued decline in battery raw material prices, Tesla is likely to reduce its prices again to meet Musk's sales target successfully.
As Tesla's most competitive rival in the domestic market, BYD has set an even higher sales target than Tesla.Translate the following Chinese Markdown text into English Markdown text in a professional manner, retaining the HTML tags in the Markdown and only outputting the results:
"BYD's goal is to become the largest auto manufacturer in China by the end of this year." At the earnings conference on March 29th, Wang Chuanfu, Chairman of BYD, said that BYD's sales target this year starts at 3 million vehicles, striving to double growth to 3.6 million vehicles.
To achieve this goal, it means that BYD's monthly sales need to reach 250,000 to 300,000 vehicles, which still has a certain gap from the current state.
According to the latest sales data released by BYD, in the past March, BYD's monthly sales reached 207,080 vehicles, a year-on-year increase of 97.4%.
![](https://42 how-com.oss-cn-beijing.aliyuncs.com/article/image_20230404003607.png)
Of these, passenger vehicle sales were 206,089 vehicles, a year-on-year increase of 97.5%. In the passenger vehicle field, BYD DM and EV models showed a balanced distribution, with monthly sal…While BYD may not have as much price reduction space as Tesla, its product lineup is more comprehensive. Coupled with the lowered prices of champion models such as Qin, Tang, and Han, BYD has the initiative in more niche markets, while Tesla's strategy relying on only Model 3 and Model Y appears more challenging.
Aion monthly sales of 40,000 units, traditional automakers' new energy moves steadily on track
In terms of sales, BYD and Tesla are first-tier members, followed by Aion with a monthly sale of 40,000 units as a second-tier member.
Official data shows that in March, Aion's sales were 40,016 units, a year-on-year increase of 97% and a month-on-month increase of 33%; in the first three months of this year, Aion's cumulative sales were 80,308 units, a year-on-year increase of 79%. In Aion's words, they are now at the threshold of scale effects.
Despite Aion's good market performance, many people still consider it synonymous with online car-hailing.
Looking back at the development of the new energy market, there are many brands relying on online car-hailing, among which the most unfortunate is BAIC. Previously, BAIC EU series models were often the champions of new energy sales rankings, but with the industry development, BAIC's advantage in the B-end market did not transfer to the C-end market. Coupled with the severe range shrinkage issue, BAIC's early new energy market advantage gradually turned into a disadvantage.
Aion has a leading advantage in product quality compared to BAIC. On March 30th, Aion also released Cassette Battery 2.0, which can withstand gunshot without catching fire. This level of difficulty is several levels higher than the needle puncture test.
Based on high product quality, Aion is gradually transitioning to the C-end market, and the high-end brand Haobo is the key to Aion's breakthrough in the mid-to-high-end passenger car market. Soon, Aion will form a dual-brand development pattern of AION+Hyper, which will significantly enhance Aion's brand image.Similar to Aion, Deep Blue, Galaxy, G-Kratos, Fēi-Fán, Zhì Jǐ, Lanmodo, and Avita are new brands incubated by traditional automakers. Among them, Deep Blue, Galaxy, and Fēi-Fán share a similar positioning with the AION brand, while G-Kratos, Zhì Jǐ, Lanmodo, and Avita resemble Aion's high-end brand Hyper.
In the affordable segment, Deep Blue closely follows the AION brand. Data shows that in March, a total of 8568 Deep Blue SL03 vehicles were sold. With the introduction of new models, the overall sales of Deep Blue will undoubtedly surge to catch up with Aion. In addition, brands such as Fēi-Fán and Galaxy are also accelerating, making their electric vehicle offerings increasingly competitive.
In the mid-to-high-end market, G-Kratos, Lanmodo, Zhì Jǐ, and Avita have gradually explored new development paths.
In March, G-Kratos delivered 6663 vehicles, a year-on-year increase of 271.2% and a month-on-month increase of 22.1%; Lanmodo sold 3027 vehicles, a year-on-year increase of 116%. Although sales figures for Zhì Jǐ and Avita have not been released, their market performance has exceeded the expectations of many industry insiders.
New Forces Busy with Their Own Agendas
Contrary to the new brands incubated by traditional automakers, the new forces led by "Wèixiǎolǐ" rely on their own strength to make a difference. Among these new forces, Wéilái focuses on the mid-to-high-end market, while Nezha and Leap Motor target the affordable segment.
In the mid-to-high-end market, Wéilái gains market recognition with outstanding service; Li Auto wins praise with excellent product positioning, and Xpeng is committed to cutting-edge technology, aiming to build a competitive barrier in the field of intelligent driving.
Official data shows that in March, Wéilái delivered a total of 10378 vehicles, a year-on-year increase of 20.5% for the quarter;
Xpeng delivered 7002 vehicles, including 3030 P7 models;
Li Auto delivered a total of 20823 new vehicles, marking the second time since December of last year that the brand's monthly sales surpass 20,000 units.It's not difficult to see from such sales data that XPeng is in a relatively weak position.
In the long run, NIO's upcoming second brand will greatly boost its overall sales; Li Auto will continue to explore lower prices; and the increasingly fierce competition in intelligent driving, which XPeng prides itself on, will force it to keep up. The launch of Avita's Urban NCA function backed by Huawei has to some extent overshadowed XPeng.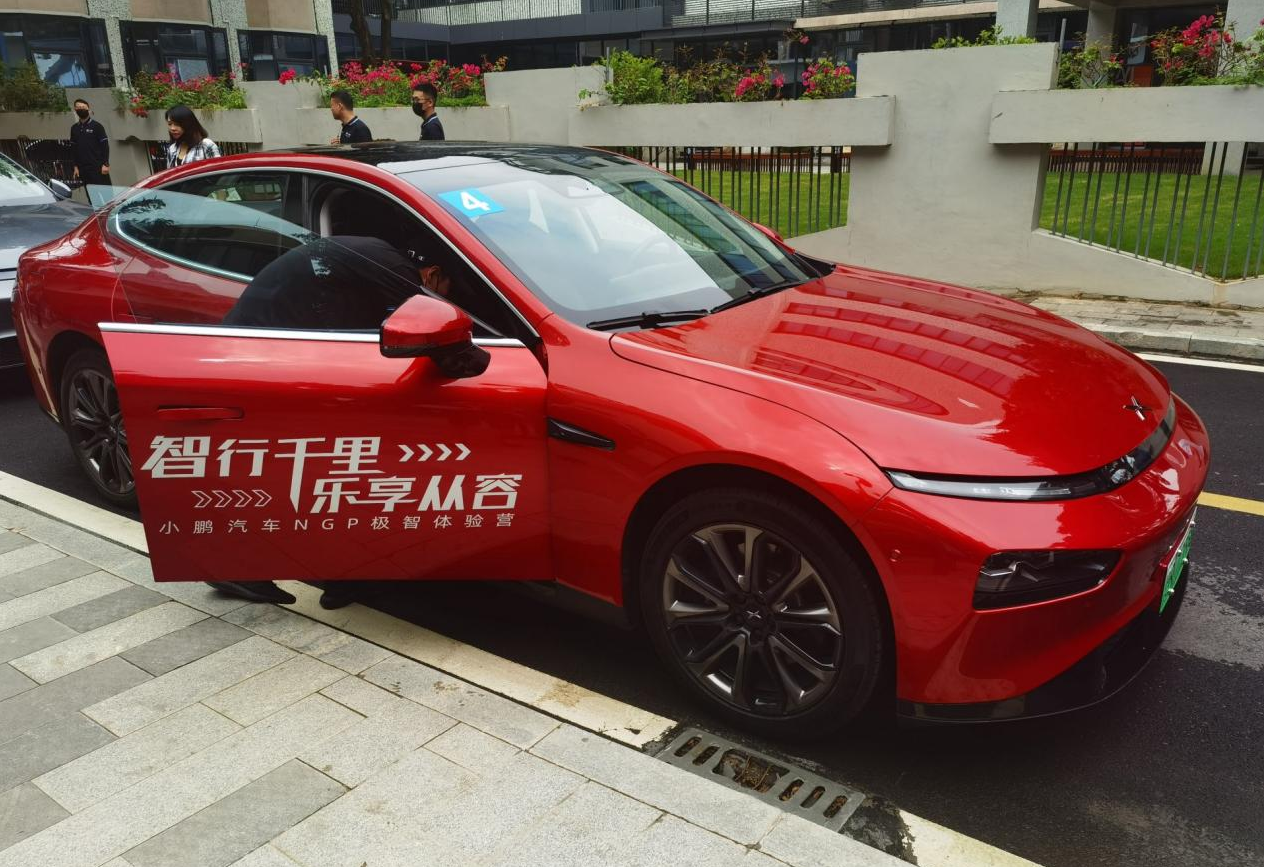 As intelligent driving is a prerequisite for many smart EV brands, competition will become more intense, and XPeng must race ahead to maintain its competitiveness.
However, XPeng is not without support. Recently, Guangzhou released local car purchase subsidy policies, which explicitly required intelligent driving. As a representative meeting this criterion, XPeng has evidently become one of the enterprises heavily supported by the city.
In contrast to the intense competition at the intelligent level between "NIO, XPeng & Li Auto", brands like Hozon and Leap Motor emphasize cost performance, facing competition from Aiways, Deep Blue Auto, and the traditional gasoline car market. This largest sub-market in the automotive industry offers fertile ground for the development of Hozon and Leap Motor.
Data shows that Leap Motor delivered 6,172 new cars in March, with a MoM growth of 93%, and over 10,000 single-month orders for Leap C11;
Hozon delivered 10,087 cars in March, a YoY decrease of 16.1%, with 2,206 Hozon S deliveries, a MoM increase of 8%.
Though their sales volume isn't huge, Hozon and Leap Motor are gradually finding their stride. Leap Motor promotes gasoline-electric price parity, competing directly with gasoline cars using larger vehicles and more luxurious configurations. In contrast, Hozon plays up technological equality and enhances its technological content while venturing into the Southeast Asian market. Just in March, Hozon opened a new factory in Thailand.
With the shrinking market share of gasoline-powered cars and the burgeoning Southeast Asian new energy market, Leap Motor and Hozon will also find new development opportunities.Translate the Markdown Chinese text below into English Markdown text in a professional manner, keeping the HTML tags in the Markdown, and only outputting the result:
Of course, as more and more brands join the new energy industry, market competition will become increasingly fierce; it is essential for brands that have already gained a certain market advantage to gradually expand their market influence while ensuring their competitiveness.
After all, the unpredictable Tesla could lower prices at any time, inevitably leading to a "price war" among affordable brands. This would not only be a challenge for BYD, but also for Deep Blue, Ean, Leapmotor, and Neta, marking the beginning of a fierce new energy market price war.
This article is a translation by ChatGPT of a Chinese report from 42HOW. If you have any questions about it, please email bd@42how.com.