Translate the following Chinese Markdown text into English Markdown text in a professional manner, retaining the HTML tags in Markdown, and outputting only the result.
Author: Dkp
Before starting the article, let me share a little-known fact about the automotive industry.
Audi's Quattro technology has gained worldwide recognition thanks to its core component, the Torsen differential. What's not well known is that Torsen was invented by an American, and its patent is currently owned by JTEKT North America, a subsidiary of Toyota Group – this example shows that a technology made famous by Germans was actually developed by Americans under a Japanese company.
This tells us that the automotive industry can be called the epitome of manufacturing because the industry and geography never limit its development. This law also applies in the era of intelligence.
Today, as Internet technology giants continue to enter the automotive industry chain, a "hidden war" has begun. Six years ago, Li Shufu and Shen Ziyu foresaw the future of automotive intelligence, and ECARX was established. Now, this technology company has already brought its achievements to 3.7 million vehicles at home and abroad.
At its Ecosystem Day, ECARX introduced the ECARX Antora series computing platform. When choosing the name, Shen Ziyu, ECARX's chairman and CEO, believed in taking a global perspective and named it Antora after the landmark mountain peak in the Rocky Mountains, despite various opinions.
The computing platform integrates the automotive-grade SoC chip "Longying No.1". Officially announced in 2021, "Longying No.1" uses a 7nm process with a GPU floating-point computing power of 1.8 TFLOPS, NPU fixed-point computing power of 16 TOPS, and integrates 32GB RAM and 512GB ROM, allowing for screen resolutions up to 2560×1600. It supports Linux, Android R (Android 11), and the Flyme Auto system. Based on "Longying No.1", the Antora computing platform will be equipped with LPDDR5 memory, supporting 6400MHz and up to 16GB specifications.
Antora Computing Platform offers two core products: Antora 1000 and Antora 1000 Pro. Antora 1000, powered by dual HiFi 5 independent DSPs, optimizes the acoustic experience and vocal audio effects, in addition to enhancing the platform's overall computing power. Moreover, it features automotive-grade functional safety and cybersecurity solutions and certification.
Antora 1000 Pro delivers even higher performance, with two high-computing modules connected through SE-Link, a high-speed interconnect bus customized by Ecarx Technology. This allows for seamless collaboration at ultra-high transmission rates, thus achieving an "integrated cabin and parking" system. Specifically, Antora 1000 Pro supports L2-level driving assistance features as well as parking assistance and remote parking control.
In the past, intelligent cabins and autonomous driving operated independently. Today, their integration has become an industry consensus. The "integrated cabin and parking" concept incorporates parking functions into the cabin, allowing the cabin domain controller to receive parking signals and save on parking controller costs, which is an essential step towards creating smarter vehicles.
Shen Ziyu revealed that the upcoming Lynk & Co 08 will be equipped with Antora 1000 Pro, while FAW Hongqi has chosen Antora 1000, which will make its debut in their future mass-produced vehicles.
Apart from the Antora Computing Platform, Ecarx will also launch the ECARX Makalu Computing Platform. This platform is built on the foundation of AMD's Ryzen Embedded V2000 processor and Radeon RX 6000 series GPU.
Here, we're testing everyone's geographical knowledge again. Makalu is a mountain peak located in the Himalayas, echoing the world's highest peak, Mount Everest. ECARX's choice of this name for their platform demonstrates their determination to compete with the best in the world.
Makalu Computing Platform possesses 394K DMIPS and 10.1T FLOPS of graphics rendering power, supports up to 32GB of dedicated memory, offers 8GB of dedicated video memory, features Cloudpeak Virtualization capabilities, and accommodates the latest graphics processing interfaces and leading Unreal Engine.
When graphics processing and Unreal Engine come together, AAA games inevitably follow. At the Eco Day event, Shen Ziyu interacted with EPIC GAMES guests, who showcased Makalu Computing Platform's performance by playing "Tomb Raider 10: Rise" in the cockpit.
This reminds us of a classic moment when Musk teamed up with Valve Corporation to bring "The Witcher 3: Wild Hunt" to Tesla. It seems that these AAA games, representing the highest visual quality, will become the ultimate test for automotive systems in the near future.
Based on the centralized consolidation trend in automotive technology development, ECARX Technology introduced the ECARX Super Brain series of central computing platforms. This platform integrates vehicle control MCU, enabling a unified cabin-drive experience and significantly reducing overall vehicle complexity while enhancing development efficiency and product performance.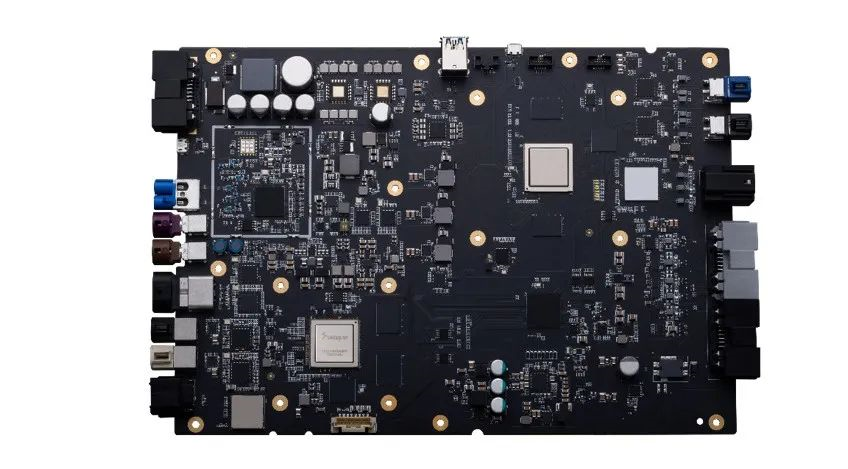 The key concept of this computing platform is "cabin-drive integration."After the integration of "parking and cabin" and "cabin and berth", intelligent cars will ultimately achieve the "cabin and driving integration". The deep combination and interaction of intelligent cabin and intelligent driving functions can directly enhance users' sense of security and comfort. After realizing high-level autonomous driving, the cabin occupants will be fully liberated, and the cabin, after perceiving the occupants' conditions, can formulate corresponding autonomous driving strategies. For example, if passengers are sleeping, the autonomous driving strategy will prioritize a smooth and comfortable driving style, avoiding sudden accelerations and decelerations.
Compared to "cabin and berth integration", the "cabin and driving integration" has a higher ceiling and greater difficulty. On the one hand, parking solutions are relatively mature; on the other hand, integrating driving and cabin domains requires more powerful hardware as support.
Although both the cabin domain's and smart driving domain's hardware and software are currently under development, the industry generally believes that integration is the future trend, and this also reflects the core values of automobile intelligence.
As a final detail, in addition to the previously mentioned Lynk & Co, Smart, and FAW Hongqi, the Ecarx Ecosystem Day event also reserved many places for Polestar. This Ecarx "circle of friends" will become a force to be reckoned with on the path of intelligent vehicles in China.
This article is a translation by ChatGPT of a Chinese report from 42HOW. If you have any questions about it, please email bd@42how.com.