Author | Zhang Lianyi
Editor | Qiu Kaaijun
「HUAWEI Wenjie」bringing many friends, Seres begins seeking alternatives, initiating its own 「Plan B」.
On March 30th, Chongqing Seres Blue Electric Vehicles Co., Ltd., a subsidiary of Seres Group, officially launched a brand-new electric vehicle brand, Blue Electric, with the debut of the Blue Electric E5.
According to Jiang Xianming, General Manager of Chongqing Seres Blue Electric Vehicles Co., Ltd. Sales Company, the new brand is positioned to serve the travel upgrade of the Chinese people as a new energy brand. The Seres Group will fully empower the brand in core technology, boutique strategy, and R&D investments.
This is another brand-new electric vehicle brand under the Seres Group.
As early as 2017, the Seres Group (then known as Xiaokang Shares Group, renamed in July 2022) founded the new energy brand SERES, subsequently releasing the Seres SF5, Wenjie M5, and Wenjie M7 models.
However, the Seres brand has not left a deep impression on consumers. After all, the SF5 experienced poor sales, and the highlights of Wenjie series were mainly attributed to Huawei, its partner. Seres was even labeled as "Huawei's OEM".
Recently, as the "Huawei presence" in the Wenjie brand has constantly increased, Seres' control has continued to decline. Seres Group hopes to regain its rightful place in the car industry through the launch of the Blue Electric brand.
Can it succeed this time?
New Brand, New Models, New Channels
As a new brand, the Blue Electric brand adopted a brand-new visual identity. The design of the Blue Electric logo is derived from the "E" in Electric, focusing on new energy, encompassing hybrid, pure electric, and other energy forms.
Jiang Xianming says that "E" not only signifies electric energy but also embodies the design concept of interconnectedness in the era of E, striving to become a builder of interconnected ecosystems.
"Down-to-earth, a new energy brand serving the travel upgrade of the Chinese people." This is theBlue Electric brand's positioning, further summarized by Jiang Xianming as "Practical, Fashionable, New Energy, and Upgrade".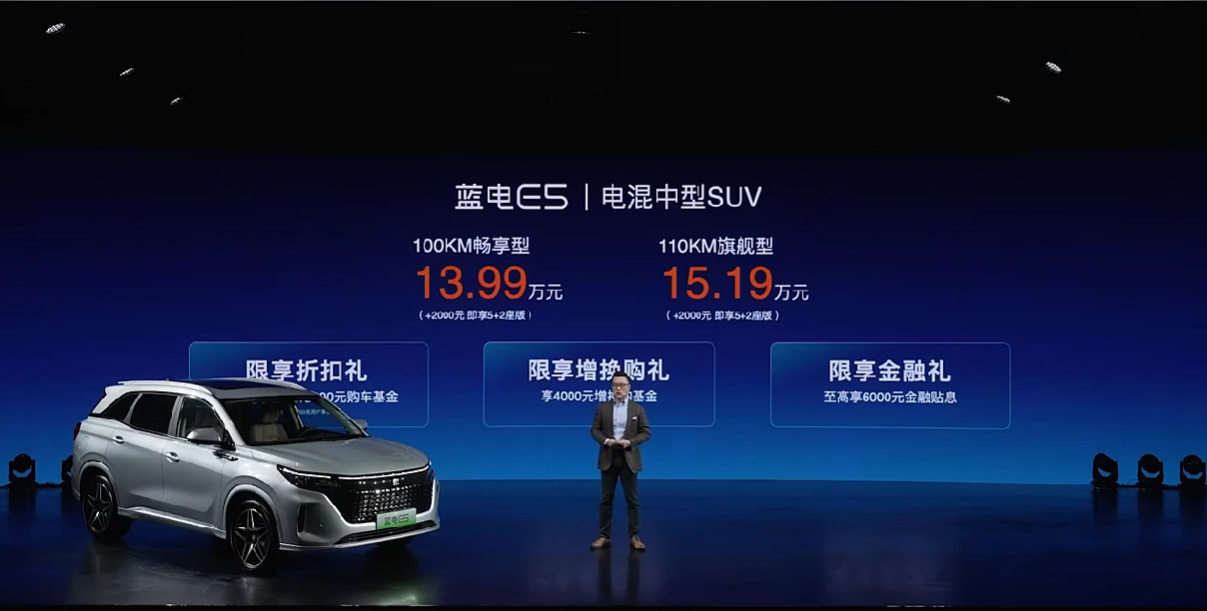 In terms of products, that day, the first product of the Blue Electric brand, Blue Electric E5, was officially launched, a hybrid electric medium SUV, offering a total of 2 configurations and 4 models.Blue Power's debut product focuses on long range and intelligent in-vehicle infotainment.
Utilizing BYD technology for the former, the vehicle is equipped with Fudi electric hybrid, including a 1.5L high-efficiency plug-in hybrid engine and the DHT300 electric hybrid system. In terms of performance, the new car has a maximum engine power of 81kW and maximum torque of 135N·m, while the electric motor has a maximum power of 130kW and maximum torque of 300N·m; for range, the NEDC pure electric range reaches 110km, with the WLTC combined range reaching 1,150km, and the WLTC 100km energy consumption at just 5.5L.
The latter features Huawei technology as one of the first vehicles with deep integration of HUAWEI HiCar 3.0. This is a highlight emphasized by Jiang Xianming when introducing the new car. Main features include seamless smartphone navigation, remote control of smart home devices, and multiple wakeup methods.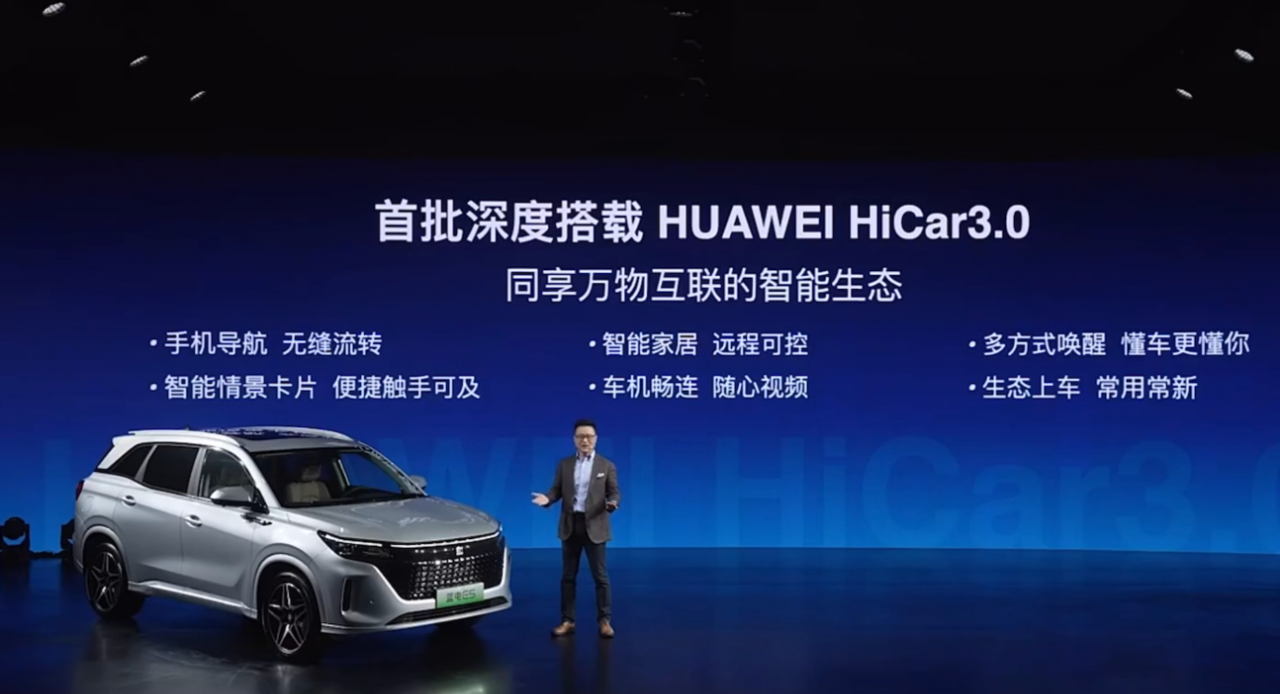 In terms of pricing, the new car is differentiated from the Wenjie series with a price starting as low as ¥139,900, far below the ¥250,000 price range of the Wenjie series. Jiang Xianming claims that the Blue Power E5 is the first mid-sized electric hybrid SUV in the 130k price range with a pure electric range of 100km.
Blue Power will also establish new channels.
According to Jiang Xianming, Blue Power plans to build a channel model that's close to customers, with 160 delivery centers and 340 experience stores to be set up this year.
As for the reason for establishing a new brand, Sailis summed it up as "following the trend."
In his view, the change of seasons is similar to industrial changes, but while spring will return the following year, the change in the industry is irreversible, like smartphones replacing feature phones.
Thus, Blue Power was born to seize the opportunities released by the industrial transformation.
However, the reasons behind this are not that simple.
Rises and falls due to Huawei
One possible catalyst is that Wenjie, a joint brand between Sailis and Huawei, seems to lack momentum entering 2023.
In January 2023, Wenjie's total sales were 4,469; in February, when the auto market showed signs of warming up, Wenjie's sales declined further to just 3,000 units. This is a significant decrease compared to last year's average monthly sales of over 10,000 units.To reverse the situation, Huawei has launched a series of actions, constantly increasing its control over the Wanjie brand.
On the one hand, it continues to increase the "Huawei elements" and deepen the "Huawei awareness" in consumers' minds regarding the Wanjie brand. Just after Yu Chengdong proposed the concept of Huawei's ecological car, Huawei's slogan also changed from "AITO Wanjie" to "HUAWEI Wanjie."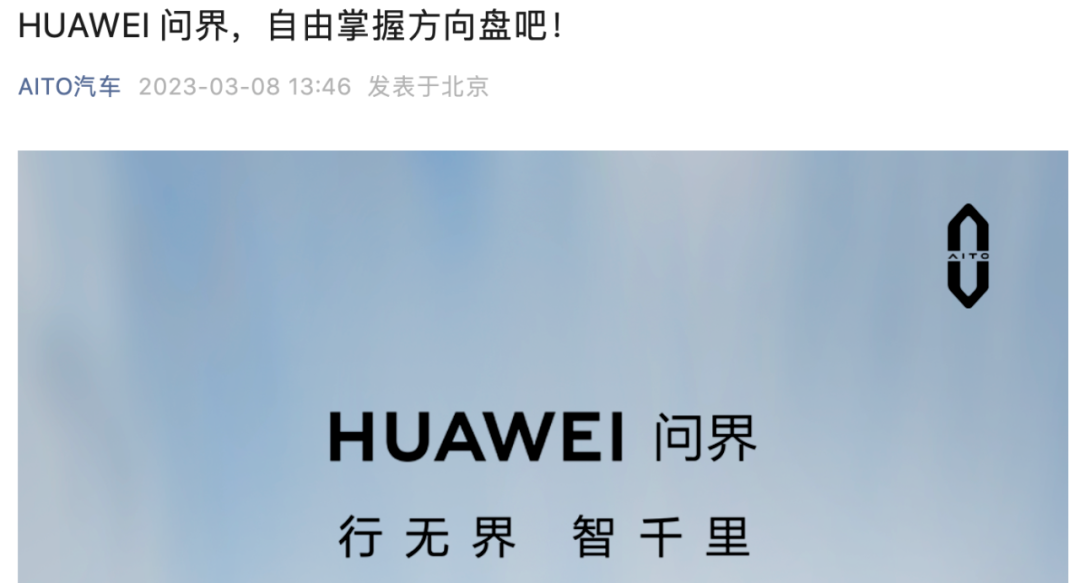 On the other hand, it continues to expand its circle of friends, with Chery and JAC both joining the intelligent selection cooperation model. Combining various information, the future cooperation models between Huawei, Chery, and JAC are likely to be sold under the "Wanjie" brand.
Despite Huawei's Terminal Business CEO Yu Chengdong's insistence that Huawei's investment in Seres has not decreased but rather increased, and emphasizes that under the intelligent selection model, the biggest beneficiary must be Seres, which cooperates with Huawei the earliest, accumulates the deepest, and has the most diverse product lineup.
However, the outside world remains skeptical.
In fact, when the Wanjie M5 model was first launched, Seres did reap a wave of dividends, with its stock price constantly rising, and sales data looking increasingly good. But more opinions suggest that the automaker with the greatest capacity to expand production alongside Huawei will ultimately benefit the most.
After all, Huawei's strengths lie in technology and understanding consumers, while relying on automakers for manufacturing, with the ultimate core goal being rapid sales growth, thereby driving revenue and profit growth for the enterprise.
Therefore, compared to the three automakers currently engaged in Huawei's intelligent selection model, Chery Automobile, with its stronger manufacturing capabilities and relatively comprehensive production capacity layout, may become a more critical partner for Huawei, enjoying more resource preferences.
Meanwhile, in its cooperation with Huawei, Seres has not achieved the desired effect of reversing the overall performance of the group. According to Seres' financial report, after the establishment of the Wanjie brand, Seres' losses have continued to increase. The financial report forecast shows that Seres is expected to achieve a net profit loss of about 3.5 to 3.95 billion yuan in 2022, significantly expanding compared to the loss of 1.824 billion yuan in the same period last year, presenting a situation of increasing volume but not increasing revenue.Not only losing money, the capital benefits that Seres enjoyed in its cooperation with Huawei are gradually fading away. As of the closing data on March 29th trading day, Seres' latest share price is 37.99 RMB/share, a drop of more than 50 RMB compared to the peak of 90.5 RMB/share in mid-last year, and the market value has decreased from the highest 1,354.79 billion RMB to 568.82 billion RMB.
Focusing on deep empowerment with Huawei seems to be increasingly ineffective, and Seres Group urgently needs a change.
Seres Group needs to succeed on its own
At a time when the Seres brand has not yet fully established itself, the Seres Group's choice to establish a new brand seems like a clumsy approach, but perhaps not a bad one, as the Seres brand's interactions with Huawei are too deep to develop its own independent IP.
The launch of Blue Electric reflects Seres Group's determination to independently create a new energy passenger car brand again, but still relies on external forces for core components. Among them, the hybrid system uses BYD technology, and the vehicle system continues to rely on Huawei.
"Using others' power to boost one's own" has always been the way of survival and development for Seres Group, or its founder Zhang Xinghai.
In 2002, Zhang Xinghai, who had a reputation in the field of motorcycle parts, decided to enter the motorcycle manufacturing industry. Unfortunately, he encountered the "motorcycle restriction order," which coincided with Dongfeng Automobile Corporation looking for partners. The two parties quickly agreed and established a joint venture, Dongfeng Yuyan Automobile Co., Ltd. (later renamed Dongfeng Xiaokang) the following year, becoming the first state-owned and private enterprise in the domestic automobile industry.
Dongfeng Xiaokang's core product is the micro-minivan, which has been very successful, once standing alongside Wuling Hongguang and Changan Star as one of the "Three Giants of China's Micro Cars." In 2016, it successfully listed on the stock market with Chongqing Xiaokang Industrial Group Co., Ltd. as the main body.
At that time, it was the rise of new energy, and Xiaokang Group renamed its first-tier subsidiary's Dongfeng New Energy to "Jin Ge New Energy," acquiring the eighth new energy production qualification in the nation in 2017.
Initially, Xiaokang's new energy business did not go smoothly. At this time, Huawei appeared, and the two parties jointly launched Seres Huawei's Smart Selection SF5 and introduced the new brand AITO in December 2021. In 2022, the first AITO model was launched, with impressive sales performance.
Nowadays, AITO brand sales have been declining, and with various factors piling up, Seres starts seeking alternatives while still holding onto the "old methods," joining forces with BYD to boost the Bluelectric brand. At the launch event, Fredi Power CTO Li Gaolin was also specially invited to endorse the brand.
However, in an increasingly competitive automotive industry where companies emphasize "soul" and self-control, Seres Group's "second card" needs to enhance its proprietary core to avoid encountering the predicament faced in the later stages of collaboration with Huawei.
In fact, Seres Group is not without its technology reserves. In previous annual reports, Seres listed several core competencies, including their self-developed vehicle platform, diverse product line layout, intelligent manufacturing capabilities, and pure electric range-extending platform.
Of particular note is the pure electric range-extending platform. In 2017, under the leadership of Zhang Xinghai's son, Zhang Zhengping, Sokon established SF Motors in Silicon Valley, USA, and spent $33 million to acquire the InEVit company and team led by Martin Eberhard (one of the original two founders of Tesla), gaining "three-electric" technologies such as electric drive systems, control systems, and battery systems.
It has been reported by multiple media outlets that the power technology used in Lantu FREE is derived from this, indicating that Seres' "three-electric" technology is not weak. The reason why the new brand uses BYD's hybrid power technology is still unknown.
Admittedly, in recent years, Zhang Xinghai has been stressing to the outside world that "we are not a foundry, nor do we engage in foundries." However, actions speak louder than words, and only by creating a competitive automotive brand can the above statements be more persuasive, leaving us wondering whether Bluelectric can shoulder this responsibility.
This article is a translation by ChatGPT of a Chinese report from 42HOW. If you have any questions about it, please email bd@42how.com.