Author: Jiuxi
On March 24th, the Avita 11 single-motor version was officially released, with two versions available at recommended prices of RMB 319,900 and RMB 349,900.
Compared with the previously launched dual-motor version, the new single-motor version adopts rear motor drive, with a 0-100km/h acceleration rate in 6 seconds and pure electric range improved to 600km and 705km, respectively, and the range has been improved.
In addition to the motor, the Avita 11 single-motor version cancels the electric door and tail active lifting spoiler, with other configurations equivalent to the current model, and still equipped with the Huawei Hi Full-stack Intelligent Connected Vehicle Solution as standard across the entire series.
To mark the launch of this single-motor version, Avita Technology has offered a generous car rights and benefits package:
Before April 24th (inclusive), customers who place an order will enjoy a lifetime vehicle and three-electricity quality assurance for the first vehicle owner, RMB 10,000 off for full payment, RMB 8,000 for cabin comfort upgrade, RMB 6,000 for insurance subsidy, RMB 5,000 for deposit deduction of RMB 10,000 for vehicle price, and exclusive intelligent charging piles and other limited-time benefits.
On March 19th, at the Chongqing marathon, the Avita 11 single-motor version completed its debut as a pace-setter, using urban NCA to cover the full 42 km marathon.
The official launch of this single-motor version enriches and perfects the Avita 11 product matrix, and its market performance in the future will bring us more expectations.
The most powerful combination group, born with a golden key in their mouths
Those who are familiar with the Avita brand should know that there is no brand in the automotive industry that has a more illustrious background.
Voyah, IM, and Zeekr, these high-end new energy brands, are the "pro-son" created by major automakers such as Dongfeng, SAIC, and Geely at great expense, although they are luxurious, their backgrounds are relatively simple.
Avita is backed by three giants in the domestic automotive industry chain – Changan Automobile, CATL and Huawei – and its coverage includes the most important aspects of new energy vehicles such as vehicle production, power batteries, motor and electric control, intelligent driving and intelligent cockpit systems."`
In November 2020, Changan Automobiles, Huawei, and CATL formed an alliance, announcing the creation of a new high-end electric vehicle brand, using the initials of the three companies, C (Changan), H (Huawei), and N (CATL).
Changan is responsible for their expertise in vehicle production system integration; CATL is responsible for the supply of power batteries and related technologies; and Huawei mainly provides intelligent technology.
Any one of these three companies can be considered heavyweight players in the industry.
Yu Chengdong, Executive Director, CEO of Huawei's consumer business group, and CEO of Intelligent Automotive Solution BU, publicly stated: "If necessary, Huawei will provide full support to the development of Avita, and apply Huawei's continuously enhanced intelligent cockpit capabilities to Avita."
Huawei, faced with revenue bottlenecks and looking for growth points in the automotive industry, considers Avita as the best opportunity for them to further bind with Changan to successfully build a high-end new energy brand, and to work even more closely with other major domestic auto makers.
Any automotive brand that can easily collaborate with two of these three companies is already considered to be wealthy in the industry. Avita, with all three companies combined, can be called the strongest combination in the automotive industry.
In August 2022, Avita completed series A financing, with a post-investment valuation of nearly 10 billion yuan, even before its products were launched and delivered, indicating its recognition and expectation in the market.
Dual-motor version is leading the way, with promising market performance
In November 2021, Avita's first product, the 11, was unveiled.
The design of the new car is bold and avant-garde, full of futuristic technology, with a vehicle wheelbase of 2,975 mm, positioning itself as a mid-to-large-sized high-end pure electric intelligent coupe SUV.
"`# Avita 11 officially launched on August 8, 2022, with all models being dual-motor four-wheel drive versions, priced in the range of 349,900 to 409,900 yuan.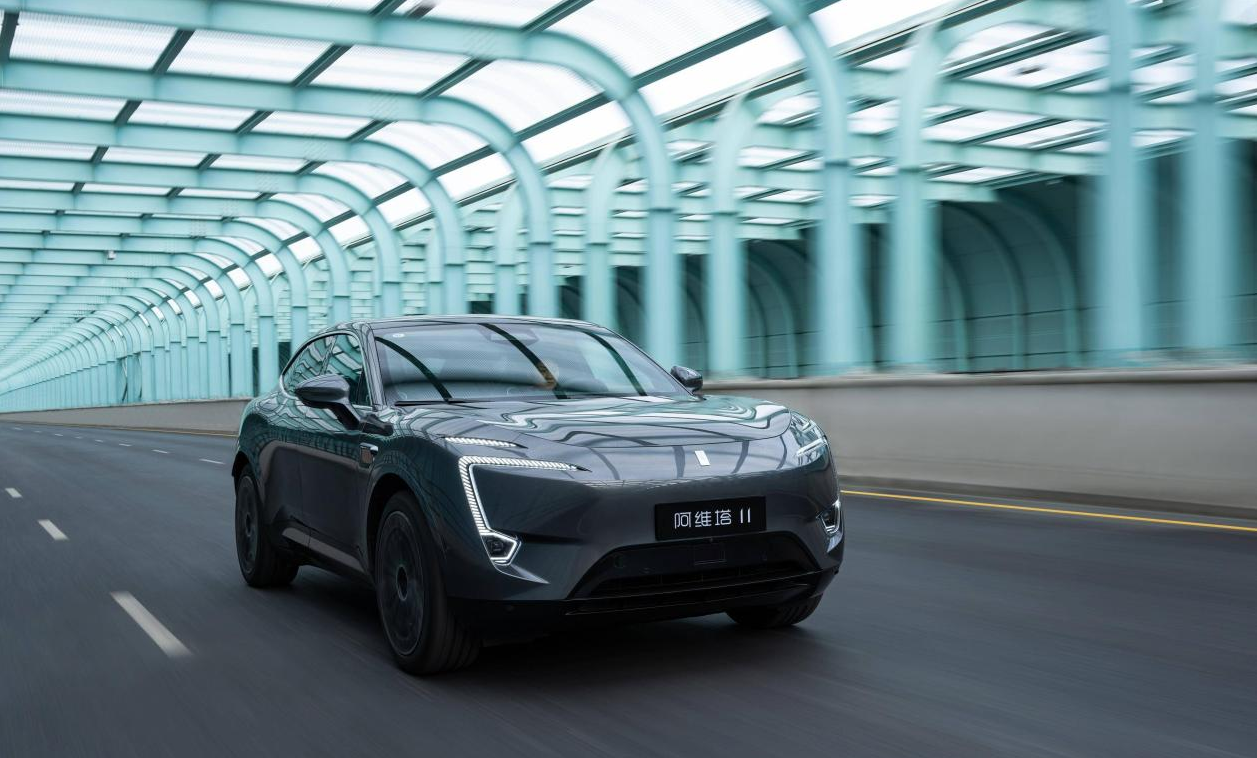 As the first emotional intelligent electric SUV coupe based on the CHN platform, it has three major characteristics: "New architecture, strong computing, and high-voltage charging."
First of all, it comes from the leading intelligent electric vehicle technology platform – CHN.
The power battery is equipped with NCM lithium-ion batteries using advanced CTP efficient grouping technology from CATL with a capacity of 90kWh, and the CLTC range is 555 kilometers.
In terms of battery replenishment, the entire series uses a 750V high-voltage platform, which uses the Huawei AI Flash Charging High Voltage Platform and has fast charging characteristics. The maximum charging power can reach 240 kW. The official stated that it can charge from 30% to 80% in 15 minutes. Compared with the current fast charging time of 30 minutes on the market, it is directly increased by 50%. The long-range version can even be charged for 10 minutes, increasing the range by 200 kilometers, and the efficient and convenient battery replenishment.
In terms of motors, it is equipped with the Huawei DriveONE Three-in-One Electric Drive System, with a front motor power of 195 kW, a rear motor power of 230 kW, a maximum power of up to 425 kW, and a maximum torque of 650N·m. It can achieve an acceleration of 0-100km/h in just 3.98 seconds.
By the end of December 2022, Avita 11 will officially start mass delivery.
"`markdown
In January 2023, as the first complete month after the delivery of the Aiwata 11, its sales volume was 1,415. In February, it continued to climb and broke through 2,000 to reach 2,018.
While the sales volume continued to rise, Aiwata 11 also ranked third in the pure electric SUV ranking of new forces above 300,000, achieving results second only to Tesla Model Y and NIO ES6.
As of March 2, the cumulative delivery of Aiwata 11 exceeded 4,000 units.
In addition, in the vehicle data of insurance, in the first two weeks of March, the number of insured vehicles among the Chinese electric SUVs above 300,000, the Aiwata 11 far exceeded the popular players of the sub-market such as NIO ES6, IM LS7 and ranked first.
As a newcomer, compared with the already listed XPeng G9 and NIO ES6, it can be said that Aiwata 11's achievements in such a short period of time are commendable.
The Single Motor Version Boosts Sales, How Far to 100,000 Units Annually?
On January 15, Aiwata Technology stated that it will launch a rear-wheel drive version of Aiwata 11 in 2023, and will release its second product – a new medium-sized sedan (internal code E12) to impact the target of 100,000 units in annual orders.
Although the goal set is an order target rather than a delivery target, it can be guessed that the 100,000 units have already been an internal consensus of Aiwata.
The launch time of the medium-sized sedan is expected to be in the second half of the year, and the pressure of selling 100,000 units is more concentrated on Aiwata 11.
However, in the pure electric SUV market above 300,000, what level is 100,000 units?
Looking back over the past year, the outstanding products among the new energy SUVs at around 300,000 have been Tesla Model Y, BYD Tang, JAC iev7s, WM Motor EX5, Ideal L9, and NIO ES6.
We can refer to the three models of JAC iev7s, WM Motor EX5, and NIO ES6 as close to Aiwata 11 in terms of background and product positioning. NIO ES6, a medium-sized pure electric SUV, with dual motor four-wheel drive and a guide price of RMB 386,000-554,000, has similar parameters as Aiwata 11. Its market performance in the past year was 37,176 units.
"""
But the new single-motor version added to the AVITA 11 enriches the product matrix and lowers the purchasing threshold for consumers, covering a more comprehensive range of customers:
The M5 equipped with Huawei's in-depth empowerment stands at 60,009 units;
The 001 of Zeekr is available in single-motor and dual-motor versions, with a total of 73,450 units sold in its first full year;
Price aside, AVITA 11's biggest ace up its sleeve is the intelligent driving assistance system that comes standard across the entire model range.
This advanced assisted driving calculation platform provided by Huawei is called AVATRANS Intelligent Navigation System, which boasts 34 smart sensors, including 3 semi-solid-state LiDAR, 6 millimeter-wave radar, 12 ultrasonic radar, and 13 cameras, as well as 400Tops high computing power to better adapt to China's complex road traffic scenarios and achieve intelligent driving experiences covering multiple scenarios such as highways, urban areas, and parking.
Compared with the 508Tops computing power of the XPeng P7i that has just been launched, the difference between the two is not that obvious.
According to feedback from the media's comparative evaluations of this system, thanks to its powerful software and hardware capabilities as well as its system capabilities, including self-developed LiDAR, millimeter-wave radar, computing platform, software algorithms, system integration, and more, the intelligent driving system of AVITA 11 is far ahead of the competition.
At the same time, AVITA 11's high-speed NCA has covered 280 cities nationwide, covering nearly 300,000 kilometers of highways and urban structured roads.
On March 9, 2023, AVITA announced that it had officially opened the user test drive experience of the AVITA 11 urban NCA smart navigation assistance function in Shanghai and Shenzhen, and Chongqing and Guangzhou would follow suit soon. This makes it the first enterprise in the industry to produce large-scale city NCA for mass production.
"`
Avita's move has put a lot of pressure on its rivals. Even XiaoPeng, which has always focused on intelligent driving, only launched its NGP function in Shenzhen on March 15. Similarly, IM Auto plans to start testing its NOA function on highways and elevated roads on March 30.
The similar and coincidental timing of these events leaves a sense of being "forced into action".
If we go a step further, with the outstanding intelligent driving system and the lower price of the single motor version, we can even imagine that the Altar 11 could reach the height of being "extremely cool 001". After all, before this, no one thought "extremely cool 001" would achieve such results.
Currently, Avita has completed the deployment of 200 offline marketing channels in 2022. In addition, Avita 11 will not only be sold through its own channels, but will also gradually enter more than 20 offline Huawei stores. With Huawei's strong channel capabilities, Avita's sales are bound to reach new heights.
This article is a translation by ChatGPT of a Chinese report from 42HOW. If you have any questions about it, please email bd@42how.com.