Today, Avita officially released the Avita 11 single-motor version with two different range options:
Long-range single-motor version for 319,900 yuan;
Ultra-long-range single-motor version for 349,900 yuan.
In terms of configuration, the biggest difference is undoubtedly thecancellation of the front 195 kW motor, retaining only the 230 kW rear motor, with acceleration of 6.6 s/6.9 s per hundred kilometers depending on the battery size. However, the top speed remains at 200 km/h.
In terms of battery, the single-motor version is also equipped with CATL ternary lithium batteries, with two versions of 90 kWh and 116 kWh, with a CLTC range of 600 km and 705 km respectively.
The other configurations are basically the same as the dual-motor version:
The entire series is equipped with a 750 V voltage platform, supporting 240 kW high-voltage fast charging.
The entire series is equipped with Huawei HI smart car solution, with assisted driving hardware including 3 lidar, 13 HD cameras, 6 millimeter wave radars, and 12 ultrasonic radars; the intelligent driving chip uses Huawei MDC810 computing platform with a computing power of up to 400 TOPS; the software is equipped with NCA high-speed navigation-assisted driving.
The entire series is equipped with the intelligent cabin system developed based on Huawei HarmonyOS, which has powerful features for the car-machine part.
We have tested the performance of Avita 11, and it can indeed be said that it has significant advantages compared to other manufacturers.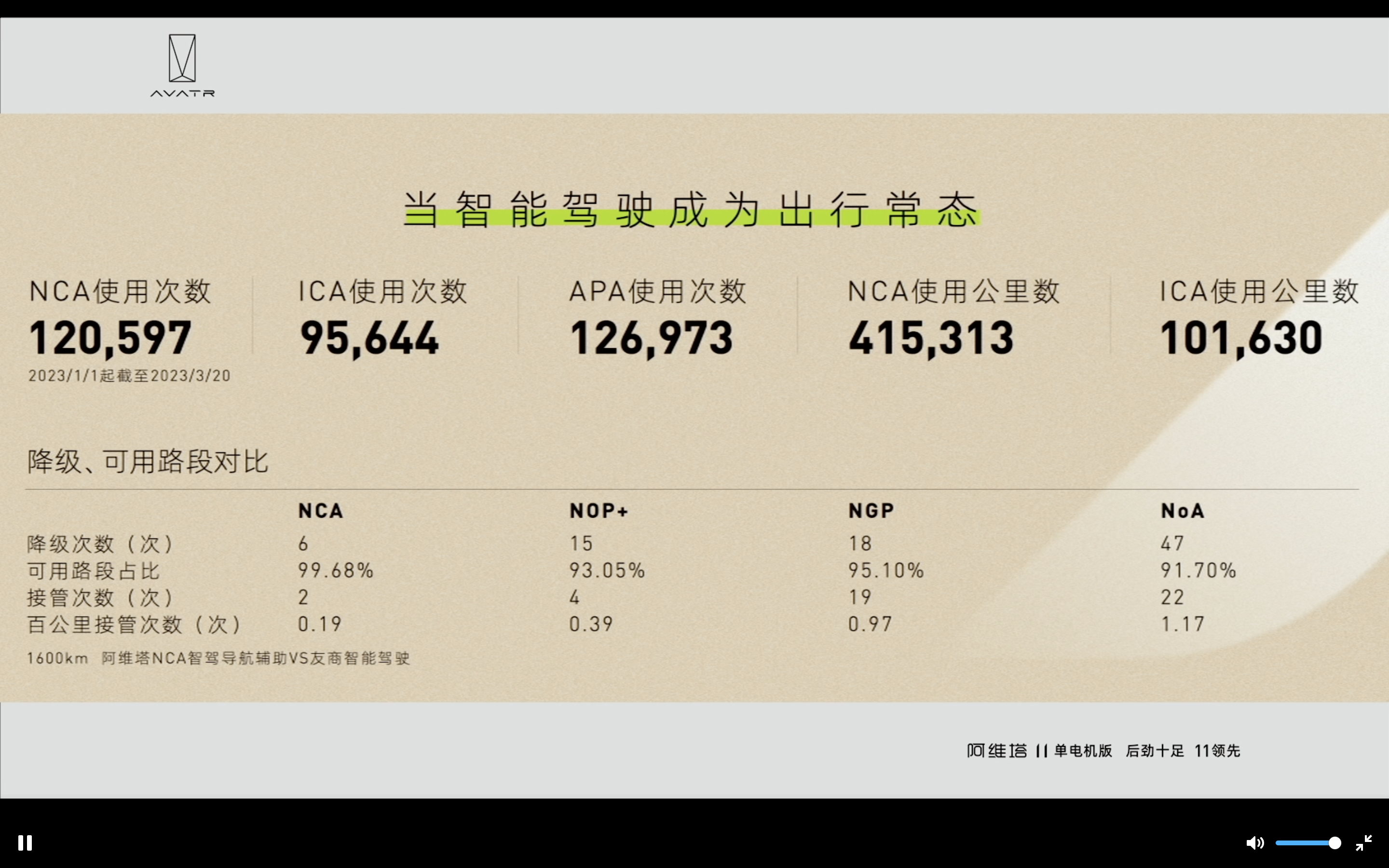 In addition, the single-motor version can also be equipped with RNC active noise reduction function. According to our previous tests on the dual-motor version, when the RNC function is turned on, the environmental noise is reduced by 3-4 dB compared to when it is turned off.## Exterior
In terms of appearance, the biggest change for the single motor version is the cancellation of the active lifting tail wing that comes standard with the dual motor version, while the rest of the vehicle remains almost unchanged. The length, width, and height remain at 4,880 x 1,970 x 1,601 mm, with a wheelbase of 2,975 mm. The F-shaped daytime running light design is still in use, the rear windshield adopts the classic flying buttress design, and it is equipped with a streaming media rearview mirror. As for the wheels, both 21-inch and 22-inch options are available.
In addition to the basic car purchase rights, if you place your order before April 24th (inclusive), you can enjoy the following benefits:
Lifelong three warranties for the first owner;
A deposit of 5,000 yuan can be used as a deduction of 10,000 yuan from the car price;
6,000 yuan insurance subsidy;
Exclusive intelligent home charging piles and free basic installation services;
36 periods of zero interest financial car purchasing policy;
10,000 yuan deducted directly when paying in full;
A subsidy of 30,000 E-values for switching to a new car;
A 2,000-yuan discount on car purchases for invited car owners;
The first 5,000 customers who placed their orders can enjoy an 8,000-yuan cabin comfort upgrade.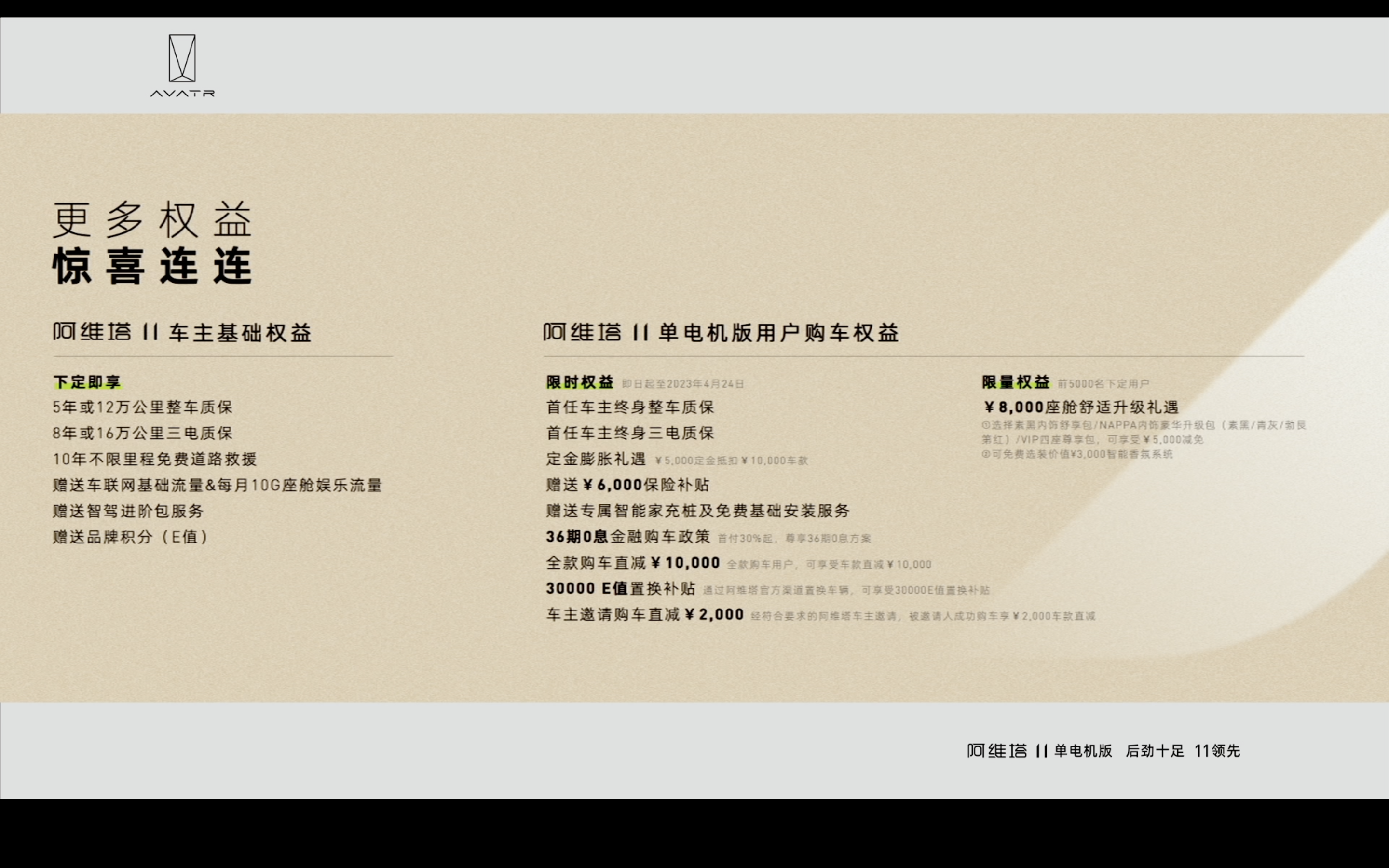 We have previously experienced the driving sensation and assisted driving capabilities of the dual motor version of Achiever A11. If you are interested, you can take a look at the following links:
Conclusion
Last year, when Achiever A11, the first model jointly developed by Changan Auto, CATL, and Huawei, was released, it was widely anticipated not only because of its strong brand lineup but also because of its powerful intelligence. However, the starting price of 349,900 yuan for the dual motor version is slightly higher than the expectations of some consumers, making them hesitant to purchase it.
In contrast, the single motor version starting from 319,900 yuan will undoubtedly bring more sales to Achiever A11. After all, not everyone needs a 4-second-level performance. Longer range and more affordable prices are the primary criteria for more people to purchase electric vehicles, and the single motor version obviously achieves a better balance among these three factors.Later this year, Avita will also launch its second mid-size sedan – the Avita 12, while soon we will be picking up our own Avita 11 that we purchased, and more Avita models content will be coming for you later. Stay tuned.
This article is a translation by ChatGPT of a Chinese report from 42HOW. If you have any questions about it, please email bd@42how.com.