How Did Geely Perform in 2022? A Mixed Picture
By Wumbo Chu
Edited by Kojiu Qiu
---
On March 21st, Geely Automobile (HK.00175) announced its 2022 financial results. Geely's total sales for the year amounted to 1.433 million vehicles, an increase of 8% year-on-year with revenue of CNY 148 billion, a YoY increase of 45.6%, reaching a historical high. Geely's net profit attributable to shareholders rose by 8.5% YoY to CNY 5.26 billion.
Of particular note, Geely's new energy vehicle (NEV) penetration rate rose from 6.2% in 2021 to 22.9%, an increase of 16.7 percentage points.
From a statistical point of view, Geely's financial performance and NEV transformation speed in 2022 were commendable.
The capital market responded positively to Geely's performance in the previous year. On March 21st, Geely's share price closed at HKD 9.5 per share, up 3.8% from the previous day's closing price. As of the close of trading on March 22nd, Geely's share price maintained its upward trend, closing at HKD 9.76 per share, a cumulative increase of nearly 7%.
However, in the subsequent results conference, Geely's senior management conveyed a radically different attitude to outsiders: "The performance of 2022 was dissatisfactory". They were dissatisfied with two areas: the speed and layout of the transition from fuel vehicles to NEVs.
Setting aside those encouraging data in the financial report, Geely's senior executives' concerns are not unfounded:
On the one hand, as one of the first domestic companies to layout NEVs in 2015, Geely proposed the "Blue Geely Plan," with the goal of NEV sales accounting for 90% of total sales by 2020. However, after two years, the goal was still far from being reached.
On the other hand, as the "top domestic brand" since 2017, Geely was surpassed by BYD in 2022, causing its stock price to plummet from the highest point of HKD 36.45 in 2021 to more than HKD 9, a significant drop.
Therefore, during the entire results conference, Geely's senior executives present had a clear attitude of "reflection" and "seeking change." They reflected on the confusion of the NEV transformation process from products to sales channels.The change lies in the organizational structure and the differentiated market layout.
Sound financial performance and rational management team of Geely
The domestic automobile market in 2022 has been tumultuous, and car manufacturers seem to have a hard time. However, from the data point of view, Geely's 2022 operating results are satisfactory, with many highlights and little to criticize.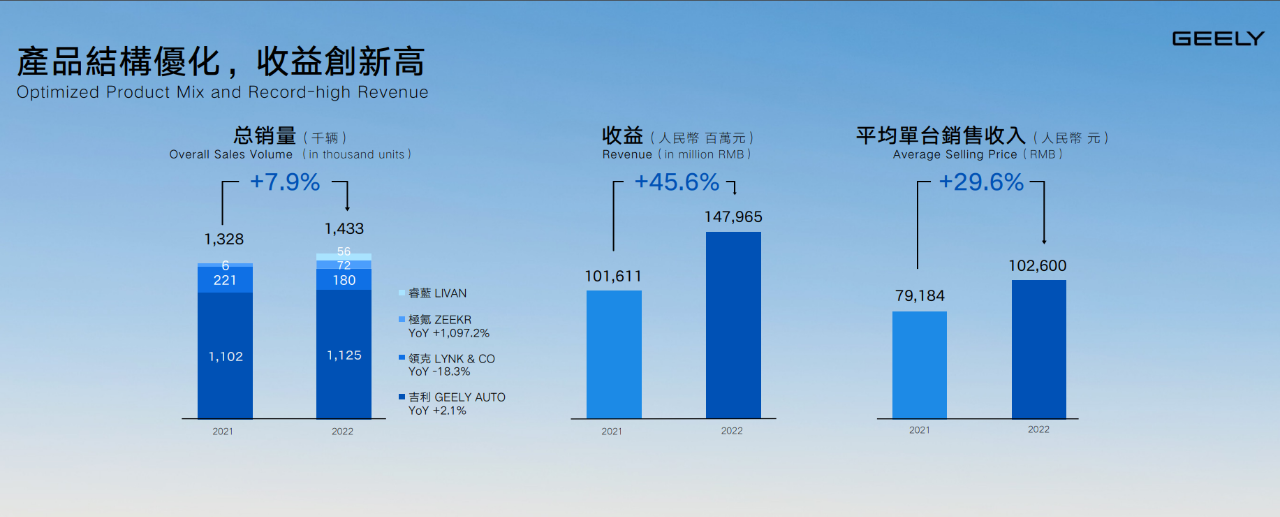 The report shows that Geely's total sales volume in 2022 was 1,432,988, an 8% increase from 2021. Among them, the sales volume of the Geely brand (including Geometry) was 1,124,780, the sales volume of Lynk & Co was 180,127, the sales volume of Zeekr was 71,941, and the sales volume of PROTON was 56,140.
Specifically, in terms of powertrain, Geely's sales of new energy vehicles in 2022 increased by more than 300% compared to the previous year, with a penetration rate of new energy vehicles rising from 6.2% in 2021 to 22.9%.
In terms of revenue, Geely's revenue in 2022 reached 148 billion yuan, a year-on-year increase of 45.6%, reaching a new historical high.
The gross profit margin was affected by the prices of battery raw materials last year. Geely's gross profit margin in 2022 was 14.1%, down 3 percentage points from last year. However, the gross profit per vehicle increased by 11.1% to 17,500 yuan.
The main reason for the increase in gross profit per vehicle is the premium brought by the upward trend of the brand. The data shows that Geely's single-vehicle sales revenue reached 103,000 yuan last year, an increase of nearly 30% from the previous year.
In 2022, Geely's net profit attributable to shareholders increased by 8.5% year-on-year to 5.26 billion yuan, and the total cash level rose 20.4% to 33.7 billion yuan, also reaching a new historical high.
In summary, Geely's 2022 performance, whether in terms of sales, revenue, profitability or new energy vehicle penetration rate, presents a positive trend.
Therefore, after the financial report was released, the capital market quickly responded positively. At the close on the 21st, Geely's stock price was HKD 9.5 per share, up 3.8% from the previous day's closing price. As of the close on the 22nd, Geely's stock price continued to rise, with a closing price of HKD 9.76 per share, an increase of nearly 7%.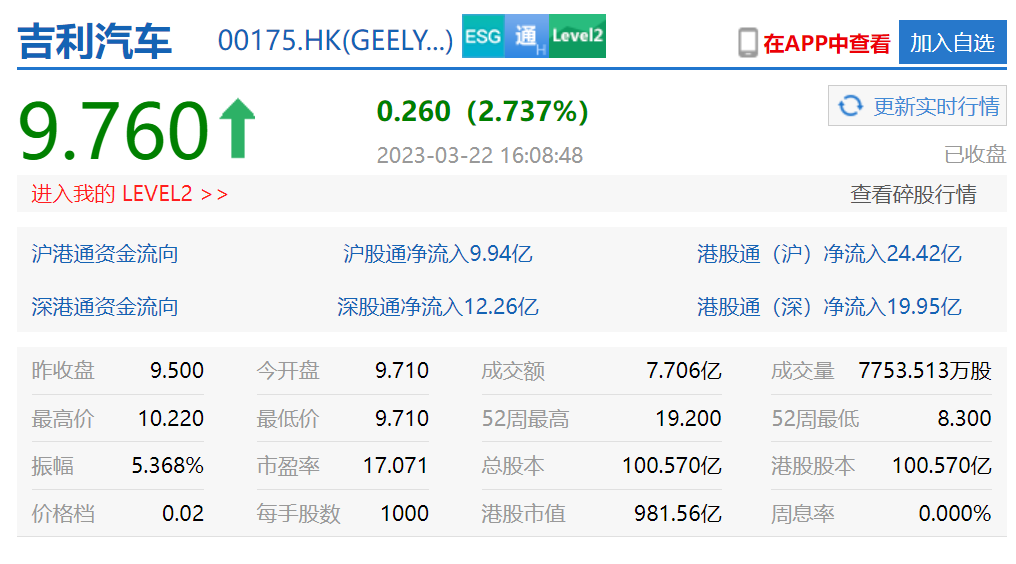 All the appearances give the impression of a cheerful situation. However, obviously, for Geely itself, everything seems not so good. On the contrary, at the performance conference after the release of the financial report, Geely's senior management gave a definition of "unsatisfactory" for the company's performance in 2022.
Guo Shuqing, the CEO and executive director of Geely Automotive Holdings Limited, directly exposed the shame of financial data in the conference, lamenting everything that Geely lost in 2022:
"Geely lost the first place of independent brands in 2022, which made a distance from peers (BYD can be proud at this moment). The stock price also fell from the highest point of 36 yuan in 2021 to about 9 yuan now. The reason was that the speed and layout of new energy transformation were unsatisfactory, which also makes outsiders unclear."
Therefore, he believed that Geely should reflect on its past shortcomings now and correct these mistakes to move in the right direction in the future.
Other senior executives who attended the conference, such as An Conghui and Gan Jiayue, had the same consensus on this reflection.
In fact, Geely's senior management's human clarity attitude was not due to humility, as Geely did lose too much in 2022.
Behind Geely's growth, much more was lost
What Guo Shuqing said was not a falsehood. Geely's 2022 was gray in terms of market position and capital market.
In terms of market position, in 2017, Geely became the No. 1 domestic independent automobile brand with sales of 1.24722 million vehicles, while BYD had just surpassed 400,000 vehicles and ranked seventh on the list.
Since then, Geely has long dominated the top spot of independent brand leaderboards. By 2021, Geely's sales have grown to 1.328 million vehicles, surpassing SAIC Volkswagen for the first time, and historically brought the status of domestic independent brands to the top three of the annual sales list of automobile enterprises, which was unparalleled.This year, BYD's sales were 730,000 vehicles, and the gap between the two sides is still significant.
However, the market competition situation in 2022 is obviously unexpected, with BYD being the biggest variable. Data shows that in 2022, BYD's sales surged to 1.8635 million vehicles, an increase of more than 155\%.
Ultimately, BYD's rapid rise is in line with the overall trend and has its own strategic factors.
On the one hand, the growth of the Chinese new energy vehicle market has accelerated in the past two years. In 2020, the penetration rate of new energy vehicles in China was only 5.8\%. By 2021, it had grown to 13.4\%, while last year, it was 27.6\%;
On the other hand, due to BYD's early investment in the battery field, its new energy vehicle technology has accumulated a very profound foundation in the long-term R&D process. Coupled with the deep integration of downstream industrial chains, the technology and cost advantages over competitors are significant.
However, it is evident that many car companies, including Geely, did not adequately prepare for such rapid market changes in the past few years.
In terms of Geely alone, the action on new energy vehicle transformation planning is not late. As early as 2015, the head of the Geely group personally drafted the first "Blue Geely" plan, with the goal of new energy vehicle sales accounting for 90\% of total sales by 2020.
However, when the target was reached, Geely's new energy vehicle sales in that year were only 68,000 vehicles, with a penetration rate of 5.2\%.
Therefore, in 2021, Geely launched the "Blue Geely 2.0" plan. With the lessons learned, this plan is more detailed than before, with two main focuses:
The first is to focus on new energy vehicles. In the long-term sales target, the ratio of hybrid models to traditional energy-saving small-displacement cars is 9:1;
The second is to set up a brand new pure electric vehicle brand for high-end pure electric smart cars to participate positively in the market competition.
Looking at it now, Zeekr is the product of this grand strategy.
The goals are clear, and the actions are clear. Still, when looking at Geely's layout in the entire new energy vehicle field, the impression is still a bit confusing.
The first issue is the lack of clarity in product and sales channels. Taking Geely's DihaoL Leishen Hybrid, which was launched last year as an example, it was initially not marketed through a separate sales channel but was sold alongside traditional gasoline vehicles. This resulted in competition and confusion. Furthermore, even in 2022, the vehicle is still not equipped with fast-charging capabilities.
This example was presented by Guisheng Yue as a typical case for reflection during a performance communication meeting. It also sheds light on Geely's approach to new energy products.
The second issue is related to the intelligent layout in relevant fields. For instance, let's take the smart cockpit as an example. Geely has been focusing on this area for a long time. In 2016, Li Shufu and Shen Ziyu established Ecarx, a company dedicated to developing in-car operating systems for Geely. Later, the company also expanded its R&D business to include self-driving technology and cockpit chips.
However, the results in these areas have not been significant. For example, Ecarx's Zeekr car system is still being criticized, and there is no clear progress in self-driving technology. In fact, there have been rumors about departmental layoffs. On the other hand, Geely's Zeekr Intelligent Driving is collaborating with Mobileye, and Lotus has been emphasizing self-research.
All of these aspects require Geely's internal reflection and adjustment.
How is Geely transforming?
During the Q&A section of the performance communication meeting, Geely's transformation framework became clearer. We can elaborate on it in several major aspects.
First, Geely, Lynk & Co., and Zeekr will each focus on their respective markets without interfering with each other.
Looking at the different brands, Geely will primarily focus on the mass-market below RMB 200,000. Based on Geely's current platform advantages, its goal is to provide "high-value" products for this market by taking a cost-effective approach.
In addition to this, Geely will be internally organized into three relatively independent business units – Geely Star will maintain its traditional gasoline vehicle business, Geometry business unit will focus on the new energy vehicle market below RMB 150,000, while the newly established Geely Galaxy will concentrate on the slightly more high-end market, offering hybrid and pure electric vehicles in the RMB 150,000-200,000 range.
Meanwhile, referring to past experience and lessons learned, the three major divisions will have independent channels. Galaxy, for example, will use a direct sales + agency model, establishing flagship stores in first and second-tier cities to create a user-centered brand. In addition to sales functions, the stores will also have offline communication functions for users and the brand.
In fourth and fifth-tier cities, a distribution model using agents will be used. Regardless of agency or direct sales, the entire sales model will be online, with orders placed through the App to ensure transparency of sales policies and prices.
The Lynk & Co brand mainly targets the 200-300,000 RMB market, relying on existing channels to create medium to high-end new energy vehicle products. In the transformation of the Lynk & Co brand, Gan Jiayue said that one word will be emphasized: "fast."
"In the future, Lynk & Co's research and development will stop investing in fuel and shift completely to new energy."
In terms of Jika, the team for the existing channels has been established and the current momentum is good. According to the information given by Geely at the scene, the focus in the future will be on the research and development of intelligent driving.
Currently, Jika's intelligent driving system mainly purchases the software and hardware integrated black box solution from Mobileye, and autonomy is very poor. The high-speed navigation function was only launched in January of this year.
However, after that, Jika will make up for the shortcomings of intelligent driving. An Conghui revealed that Jika's R&D team currently has 6,387 people, of which 77% are software developers and 23% are engineering designers (including the European R&D center).
In terms of R&D investment, Geely did not have a specific figure, but previously, the "Electric Vehicle Observer" learned at the Guangzhou Auto Show last year that Jika's R&D investment in related fields will reach the level of tens of billions of yuan each year.
With such a large investment in Jika, according to Geely's current strategy of technology and platform sharing among brands, it is highly likely that Jika's intelligent driving R&D results will be transferred to other brands. In addition to being the spearhead of Geely's move into the luxury pure electric vehicle market, Jika also plays a role in its intelligent transformation experimentation.In addition, An Conghui also stated that the intelligent driving solution independently developed by Ji-Ke is expected to be put into use at the end of this year.
At the same time, Ji-Ke's attitude towards the current intelligent driving products on the market is quite clear: "Intelligent driving still faces many challenges, and it will take a long time to be responsible to users."
Whether Ji-Ke's self-developed intelligent driving solution can reach the threshold of "being responsible to users" remains to be seen.
After a combination of punches, the framework of Geely's transformation is generally clear. It can also be seen that Geely's transformation has reached the "brain center" such as organizational structure and personnel, which can be called profound reflection.
In terms of specific steps, every measure strikes the nail on the head and is also a profound reflection on past experience and lessons.
The attitude is sincere, the pace is planned, and whether it will be effective remains to be seen. After all, the execution of the plan requires people, and the enterprise also needs to make flexible adjustments according to market changes at any time.
Finally, we also see that Geely's past problems are actually the problems faced by all traditional car companies. Therefore, many car companies including Geely and Great Wall have made thorough adjustments in organizational structure, product channels and other aspects in recent times.
This process is bound to be painful, which is the price that must be paid to survive in the upcoming new world. But when the new world comes, the part of players who have evolved successfully will always find advantageous positions in the ecosystem.
This article is a translation by ChatGPT of a Chinese report from 42HOW. If you have any questions about it, please email bd@42how.com.