ID.2all Concept: a concept car approaching mass production vehicles
This is a concept car, but it's quite close to the kind of mass production model – it's the ID.2all Concept.
Electric car enthusiasts are already familiar with the secret of splitting and understanding the model name: ID. represents a pure electric vehicle developed forward using the Volkswagen MEB Entry platform, and "2all" is a pun, representing "designed for everyone."
As the development principle of this car says: "spacious like a van, affordable like a Polo," Volkswagen has not reneged on its promise that if this car can be put into mass production smoothly by 2025, its price will be less than 25,000 euros.
Concept, with no need for disguise
For most users, classic means stable.
The exterior of the ID.2all is the family-oriented treatment of the ID series design language for traditional Volkswagen small cars, with a size of 4050/1812/1530mm, a wheelbase of 2600mm, making it slightly smaller than the Golf, which is believed to please the vast majority of Volkswagen small car fans.
Even if you don't play magic tricks on the car doors, it's hard to say that you're a new electric car.
Although the front door of the ID.2all remains very traditional, we couldn't directly see the trace of the door handle on the back door in the figure. Given the price range and cost of this car, the possibility of applying induction to open the back row is not very high. Perhaps Volkswagen is considering whether to place the back door handle between the rear window and the C-pillar?From the interior, the LCD instrument panel with a 12.9-inch central control screen creates a good sense of technology. There are even enough atmosphere lights of sufficient quantity and length to decorate the atmosphere, making young people's nights no longer simple.
For the central control part, only a small number of physical buttons are retained, and more functions are integrated into the central control screen. However, commonly used functions including driver and passenger seat heating can still be turned on via physical buttons.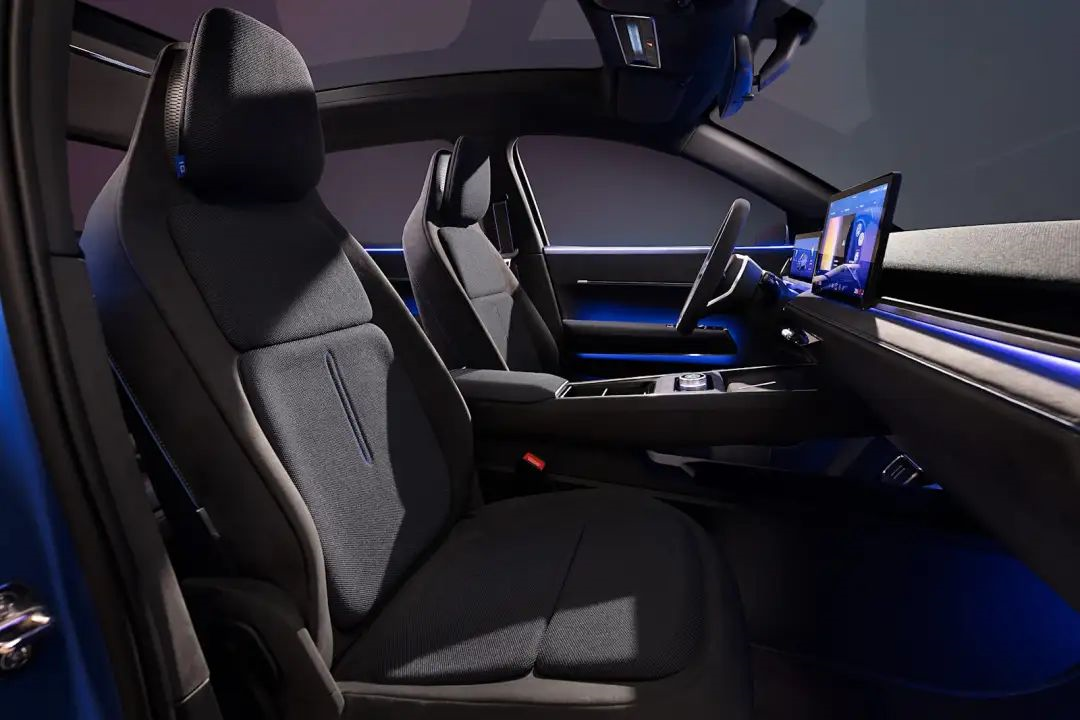 Although ID.2all uses fabric seats, Volkswagen still provides good lateral support for the seats, creating enough sportiness. Practicality and personalization are also well balanced. For example, the central armrest area has a relatively large storage space, and the unique brake pedal of the ID. series has also been retained.
For users who like to travel, the car is also capable of carrying their small world, with a luggage space of 440L before folding and 1330L after folding, making convenience a synonym.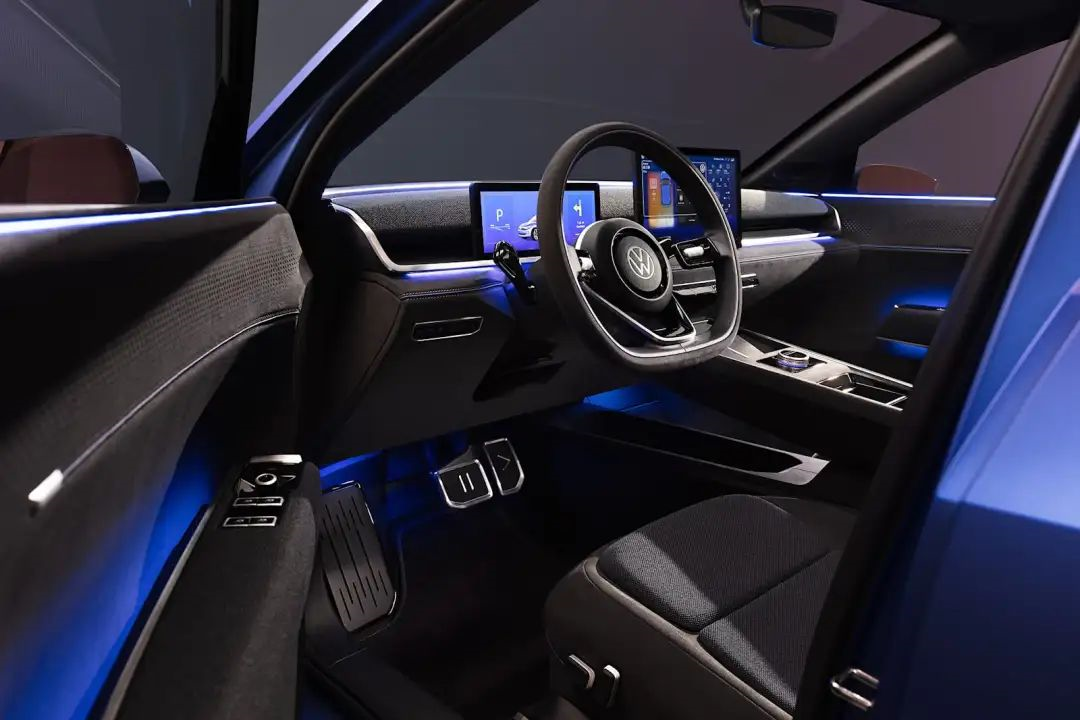 There is an "important detail" that deserves applause from the old ID. car owner – four car window adjustment buttons prominently appearing on the driver's door, "innovation" returning to the normal pace of history when ID. vehicles were first released.
Digital Surprises
Digitization has become a weapon for Volkswagen to pay tribute to classics. On this huge LCD instrument panel, a face of an analog retro pointer instrument appears prominently. The left side is used to display the vehicle speed while the right side displays the kinetic energy output.
For those who like Volkswagen, may have guessed that this is the dashboard layout of the Polo MK1 back in the days, a classic first generation that has withstood the test of time.
In addition, the gear shift knob of the ID.2all also supports changing patterns. Besides the VW logo, it can also be replaced with the "Wolfsburg" emblem of Volkswagen headquarters.
Apart from retro elements, this car also offers comfort configurations such as wireless charging, panoramic sunroof, heated and massage seats. In terms of intelligent driving, it will provide a parking assist system with memory function and the latest travel assist system.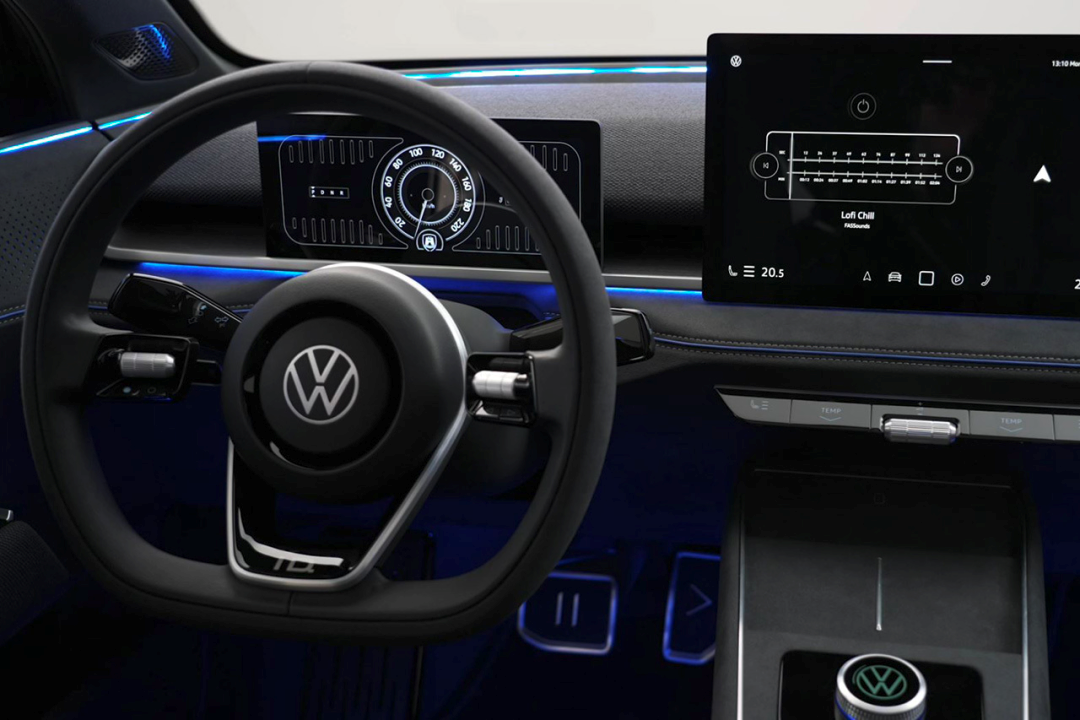 Power and Range are Decent
The ID.2all will adopt a front-drive single-motor layout, with a maximum power of 166kW (about 226 horsepower). The official statement indicates that the acceleration time from 0-96km will be within 7 seconds. For young people's first electric car, it is far more generous than what they can get in the era of fuel.
Volkswagen used the term "specially efficient drive battery" to describe the three-electric system in ID.2 all. Despite its small size, the vehicle still achieved a final result of 450 kilometers under WLTP cruising range standard. In addition, the car is equipped with fast charging technology, supporting 0% to 80% charge within 20 minutes.
Currently, the lowest-priced automatic transmission model of Polo in China has a suggested retail price of 100,900 yuan. According to Volkswagen, the suggested retail price of the entry-level version of ID.2 may fall below 100,000 yuan.
In summary, I have no objections that this vehicle will be popular based on the above information. However, two years is indeed a bit of a wait. Currently, in the Chinese high-end new energy vehicle market, "the titans are fighting." In the 100,000 yuan price range, especially within 100,000 yuan, small and micro products are the mainstream, and the rest are old models. There are few "young forces" that can compete.
For Volkswagen, this is an opportunity, as it is for consumers.
This article is a translation by ChatGPT of a Chinese report from 42HOW. If you have any questions about it, please email bd@42how.com.