Author: Zhang Yi
Introduction
RuiLan Auto is not a very prominent brand, but it is certainly a special existence that cannot be bypassed in the new energy vehicle market. RuiLan Auto is a new "battery swap mobility brand" jointly launched by Geely and Lifan in January last year, targeting the mid-to-low-end battery swap mobility market with dual-wheel drive in the B and C markets.
RuiLan 7
Recently, RuiLan Auto released the black tent diagram of its new pure electric SUV, RuiLan 7. It is reported that RuiLan 7 is built on the Geely GRBC crystal architecture, equipped with a variety of powertrains, and can achieve various driving forms such as front-wheel drive, rear-wheel drive, and four-wheel drive. It can complete AVBS automatic battery swap and other advanced intelligent driving functions. This car is expected to be officially launched in July.
Product Strength
In terms of product strength, RuiLan Auto is still putting in a lot of effort. Including RuiLan 7, although RuiLan Auto has only been established for about one year, it already has 7 models, covering three product lines of sedans, SUVs, and MPVs, and spanning the B and C market areas.
As Cai Jianjun, Vice President of RuiLan Auto and General Manager of the Sales Company, said, "At the product level, RuiLan Auto will rely on independent research and development technology to launch at least 6 battery swap vehicles in the next 3 years to cover all models." The pace of RuiLan Auto is as fast as he said.
Strategy
RuiLan Auto's strategy of giving birth to more children has really helped it open up the market in the new energy vehicle market, which is a life and death battle. Through cooperation with B-side users such as Cao Cao Mobility, RuiLan Auto quickly opened up the market. With the help of the B-side, in 2022, RuiLan Auto sold more than 56,000 vehicles throughout the year, even surpassing the 50,200 vehicles of BAIC New Energy, which has been deeply cultivating the B-side for many years.
Under the "crazy" growth in the new energy market, RuiLan Auto's achievements can of course be attributed to the support of Geely and its solid product strength. However, for RuiLan Auto's main user group-B-side, RuiLan Auto's real trump card is still battery swap.
# Firstly, the success in separating the vehicle and electric through battery swapping, helps car owners to further save operating costs on the basis of electricity usage.
Secondly, the operation time has been extended. Although queuing is still required for battery swapping, it is obviously a more efficient way to recharge compared to traditional charging, as it does not require a lot of time to wait for the battery to fully charge. With longer operation time, the income of car owners will naturally increase.
As a pioneer in battery swapping, Rui Blue Cars was born for this business model. Through separating the vehicle and electric, Rui Blue Cars has created a more flexible car purchase model, and its battery swapping station can achieve swapping in just 60 seconds.
According to relevant surveys, through the battery swapping model, the average daily income of Rui Blue Cars' Maple Leaf 60S car owners can be increased by 80-100 yuan. Therefore, Rui Blue Cars is naturally popular.
Although the battery swapping model has helped Rui Blue Cars achieve rapid growth, it also limits further explosive growth due to its heavy asset-operating model, which means a lot of capital investments are required for construction, operation, and later maintenance.
Currently, Rui Blue Cars has built more than 200 battery swapping stations in 24 cities, mostly in non-first-tier cities. According to Rui Blue Cars' plan, the number of battery swapping stations will increase to 5000 by 2025.
It is reported that the average investment cost of building a charging station by Rui Blue Cars has been reduced from around 4 million yuan to around 2 million yuan. However, even if the future investment cost continues to decrease, building 5000 battery swapping stations will require dozens of billions of yuan of investment.
Can Rui Blue Cars afford such a cost? Even with its strong backing from Geely, does Geely have sufficient resources to allocate to the less known Rui Blue Cars?
To avoid wasting the cost of dozens of billions of yuan, the key is to achieve economies of scale in battery swapping. This scale effect must include two aspects.
First, the battery swapping scale effect driven by the increase in sales of Rui Blue Cars' products.
Through battery swapping, Rui Blue Cars' sales to B-end consumers is a major advantage. However, when the growth rate of battery swapping stations is slower than the growth rate of product sales, battery swapping will inevitably hinder the further growth of sales.# The Current Situation and Challenges Faced by Red Flag Automobile
Red Flag Automobile is facing the following situation: although it has over 50,000 car owners, there are only 200 or so battery-swapping stations scattered across 24 cities of different sizes. While battery-swapping is the core service of Red Flag Automobile, recharging is currently the most realistic situation for Red Flag car owners.
If battery-swapping stations cannot benefit most of Red Flag car owners, the battery-swapping model would be in name only. Beijing Automotive Group, which entered the battery-swapping market in 2016 and has only a few hundred battery-swapping stations, serves as a precedent.
However, if battery-swapping stations expand rapidly, the company would enter a "burning money" mode, dangerously teetering on the edge of a knife. If sales cannot keep up, the battery-swapping model would drag the company into the abyss of losses. In this regard, NIO has the experience.
The interplay between sales and battery-swapping station expansion is not only a problem for Red Flag Automobile, but for the entire industry.
Second, with the increasing number of electric vehicle models that support battery-swapping and the unified industry standards for battery-swapping, there will be economies of scale for battery-swapping.
Personalization is needed for vehicle production, while standardization is necessary for battery-swapping. Although there is some conflict between the two, under the driving force of national policy and industry collaboration, their conflict can be resolved.
Recently, Feng Xingya, Deputy Secretary of the Guangzhou Automobile Group Party Committee and General Manager, proposed to accelerate the promotion of the battery-swapping model for new energy vehicles and to accelerate the transformation of the automotive industry at the National People's Congress and the Chinese People's Political Consultative Conference. He suggested that the government focus on encouraging communication between car companies, introducing relevant industry standards, and clearing obstacles for the standardization and generalization of power batteries to promote the comprehensive standardization of automotive batteries.
From the current situation, the unification of battery-swapping standards may only be a matter of time. However, before that, Red Flag Automobile can only walk this road independently.
It is clear that this road requires a lot of time, money, and human resources. Currently, the number of battery-swapping stations for Red Flag is still too low if Red Flag wants to maintain its "battery-swapping" core advantage.
As previously mentioned, the battery-swapping model faces very practical problems, which are also limiting the growth of Red Flag Automobile.
In the view of the reporter of "Electric Impulse", for Red Flag and other car companies, the battery-swapping model itself is an unsolvable problem. To try to solve this problem, they may consider cooperating with other powerful battery manufacturers, such as the Time Electrics division under CATL.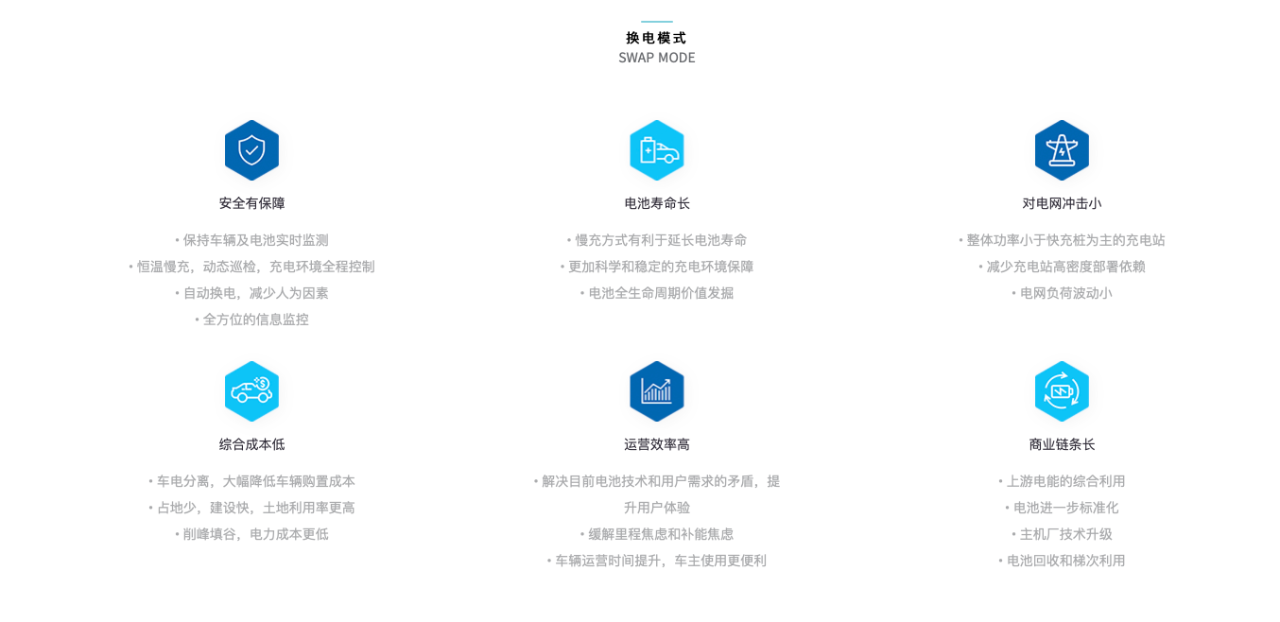 Even though the battery swap mode is supported by market demand and subsidized by government policies, it is based on the current situation that pure electric cars are gradually becoming mainstream.
However, if we look back, we will find that more than 4,000 years ago, domesticated cattle and horses began to replace manual labor as the main means of transportation. More than 100 years ago, the invention of the internal combustion engine made fuel cars the main means of transportation instead of relying on cattle and horses. Now, new demands of the era and technological progress are making pure electric cars replace fuel cars as the main means of transportation.
In today's rapidly changing technology, who knows if pure electric cars will be replaced by hydrogen energy or other new energy discovered or manufactured 100 or a few decades later? Even the overturning of the automobile itself is a question.
From the perspective of the automobile industry, there is no conclusive evidence yet on whether the ultimate direction of the new energy vehicle market is to be predominantly electric.
In addition, the battery swap mode is essentially a pursuit of energy replacement efficiency. If the energy replacement efficiency of fast-charging technology can reach the level comparable to that of battery swap, the existence of battery swap stations may become a white elephant.
Whether the battery swap mode is a transitional product or the highest cost-effective ultimate solution is still open to question.
Therefore, for RI-LINK automobile, the battery swap mode is more challenging than selling cars. The challenge lies in the fact that it is a money-burning business, and it is uncertain how long it will last, and RI-LINK automobile may either strive ahead or die in this track.
This article is a translation by ChatGPT of a Chinese report from 42HOW. If you have any questions about it, please email bd@42how.com.