Author: Li Duoxuan
The COVID-19 epidemic has been unfriendly to us workers in the past three years. Looking back, I have been unemployed three times, every time losing my job before Chinese New Year and struggling to find a new one after. Some may say that being a native of Beijing with a house, a car, a wife, and children, I shouldn't have much pressure and just find another job.
But I remain silent. Every family has its own difficulties.
In my thirties, already married with children, though my family background is good, I still face a lot of pressure. With kids to raise and elderly relatives to care for, every time I lose a job, it is mentally torturous. I stay up all night, unable to sleep and sometimes noticing a few more gray hairs in my beard or on my head.
As a not-so-young person who was born in the 1980s, the thing I fear most is physical checkups. Every time, there seems to be something new found, which shows how life has already tested me over and over again.
As a master's degree holder in nutrition, I later switched careers and entered the automobile industry. Some people may think that my professions are totally unrelated, but for me, automotive and health are two overlapping fields, and it's really amazing.
In March, when the spring breeze filled the air in Nanjing, China, Changan Automobile hosted a spring technology ecology conference, which was my first encounter with Changan Automobile. When I saw that Changan Automobile's philosophy of car-making is based on health, I suddenly felt that this unconventional car maker resonated with me.
Past and Present
When it comes to Changan Automobile, many people are still unfamiliar. However, everyone is familiar with Changan Electronics, especially their products such as televisions and set-top boxes.
In 1988, Huang Hongsheng, who was then an executive vice president of China National Electronics Import and Export Corporation South China Branch, decided to start his own business. He went to Hong Kong alone, started with a total of RMB 30,000 and later earned his first fortune by obtaining the agency of Toshiba's television remote control.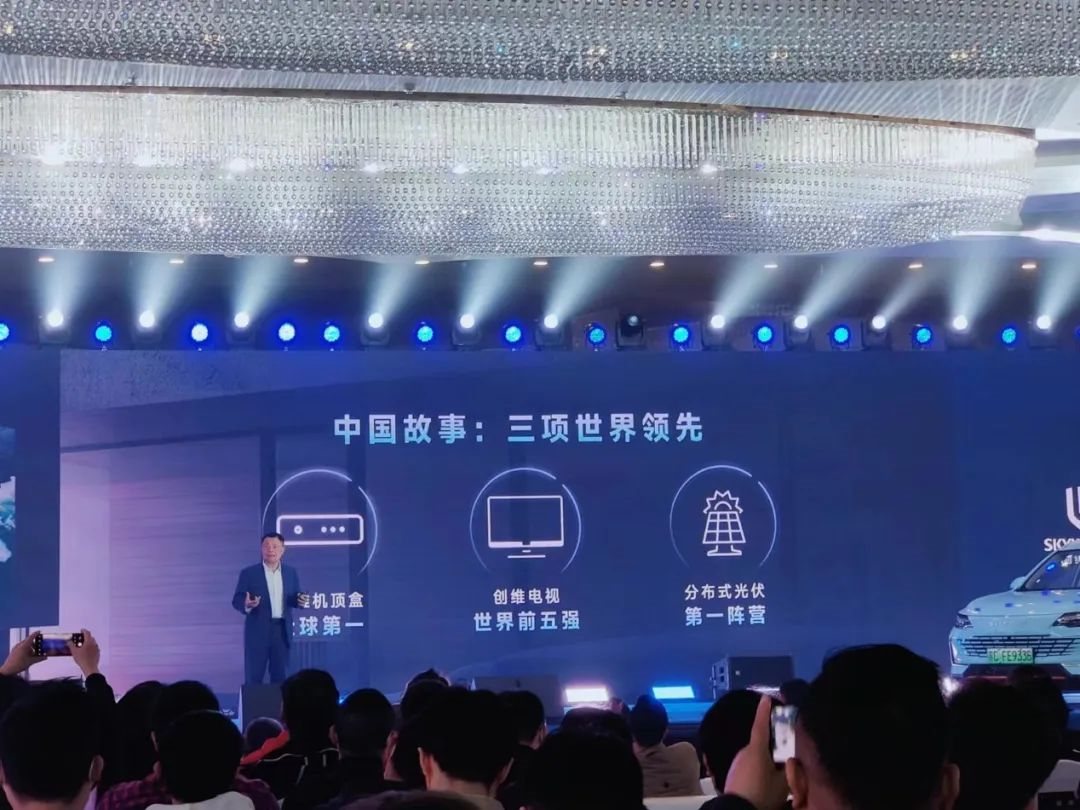 He was 32 years old that year. Years later, he was hailed as the "king of color TV", and his founded Skyworth Group had an annual revenue of over 50 billion yuan and accumulated tax revenue of over 45 billion yuan.
In 2010, Huang Hongsheng entered the automotive industry for the first time and founded Kewo Motor, the predecessor of Skywell Automotive. After a year, he successfully passed the new energy vehicle production qualification review through the reorganization with Nanjing Golden Dragon. By 2019, the sales volume of Nanjing Golden Dragon pure electric buses had ranked second in the industry.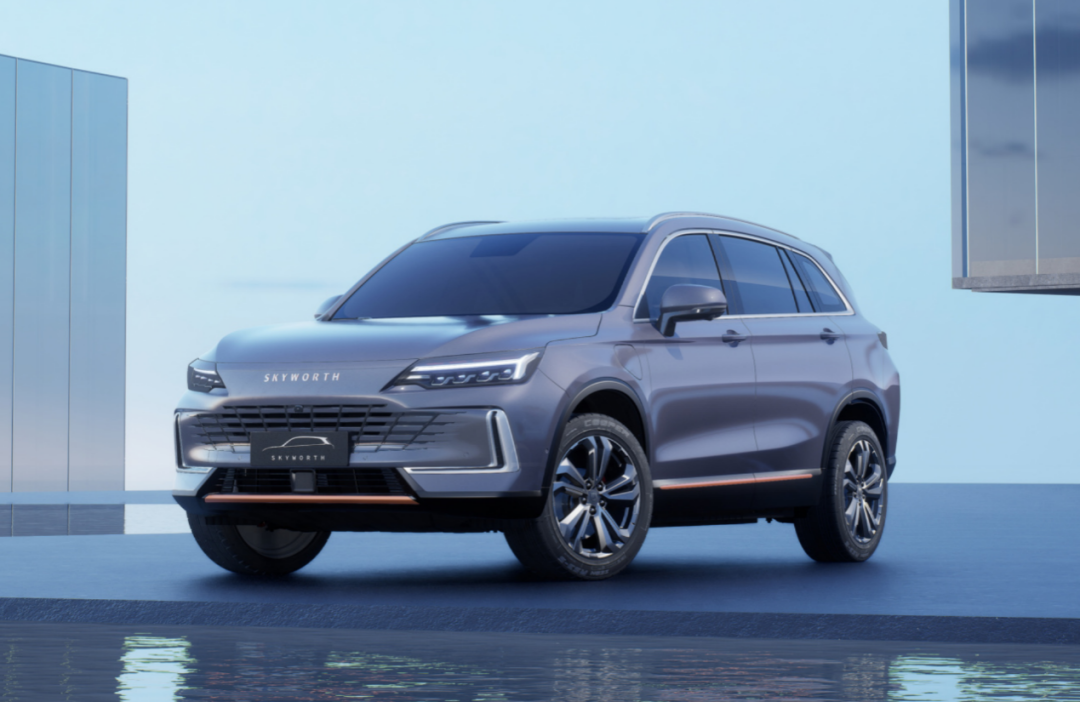 "The market for commercial vehicles is too small, and passenger vehicles are the main battlefield." Therefore, in 2021, Skywell Automotive was born, and successively launched the pure electric model Skywell EV6 and the plug-in hybrid model Skywell HT-i.
"From home appliances to new energy vehicles, Skyworth is a call of the times, a response to the call of 300 million users, and it is also a long-term plan with preparation made in advance."
According to Jia Fan, executive vice president and co-founder of Skywell Automotive, as of February 2023, Skywell Automotive has accumulated sales of more than 20,000 units, of which 30% of Skywell Automotive's sales are used for export overseas. In 2022, Skywell Automotive achieved an export sales volume of 3,321 units with a single model of EV6, ranking fifth in the export of new energy vehicles in 2022.
Is Health a Gimmick?
"Entrepreneurs' average lifespan will be shortened by 10 years, but it will be extended by 30 years after using Skywell Automotive!" Sincerely recommended by 67-year-old Huang Hongsheng at the Skywell Automotive Spring Technology Ecology Conference in 2023.
"Health" is one of Skywell Automotive's core competencies, "Our goal is to assist in the third health space and help everyone live a healthy and long life." The target group is "eighty million entrepreneurs", because "the biggest problem for entrepreneurs is mental anxiety and health issues".
"Regardless of how Swit's automotive products iterate, space and sleep are constant product features, and health is the core theme."
To be honest, in the years since I entered the automotive industry, I have seen various car manufacturers' design philosophies, such as Xpeng's focus on sport intelligent, Ideal's car-home integration, and NIO's premium battery swapping. Their design philosophies are more or less related to new energy vehicles themselves. However, Swit's extensive coverage of health and automobiles is unheard of.
"Although 'creating Swit automotive, extending lifespan by 30 years' is a joke, I don't want health to be just an empty phrase or tagged on feature".
Are you curious about how Swit's automotive achieves the effect of health and wellness cars?
According to Chairman Huang Hongsheng's introduction at a conference, Swit's automotive is now transitioning from the "New Four Modernizations" (electrification, intelligentization, networking, and sharing) to the "New Five Modernizations" (electrification, intelligentization, networking, sharing, and health).
Now, Swit's automotive intelligent health cabin has moved from the 1.0 era to the 2.0 era. Currently, Swit's automotive has functions such as one-click sleep, VAT body sense music technology, and the ability to wear VR devices for leisure and entertainment in the car.
In the future, the intelligent health cabin will be upgraded to the 4.0 era. The design will change from passive health to active health, focusing on sleep, air and health testing, and conducting in-depth research and development. Swit's future automobiles will provide more three-dimensional health cabin technology, establishing medical testing in the car, such as blood pressure, blood sugar, and electrocardiogram diagnostics.## Sneak Peek at the Skyworth EV6
As a Master of Nutrition, I can deeply understand Skyworth's concept of making cars. However, a car concept cannot detach from reality. Taking advantage of this event, let's experience the Skyworth EV6 which claims that it can "sleep with you".
This is the first time I met the Skyworth EV6 at this event. At first glance, the whole car with its "water moon blue" color scheme looks fresh and elegant, and the enclosed front face has typical features of an electric vehicle. The through-type taillights and simple body lines not only reduce sharpness but also increase affinity.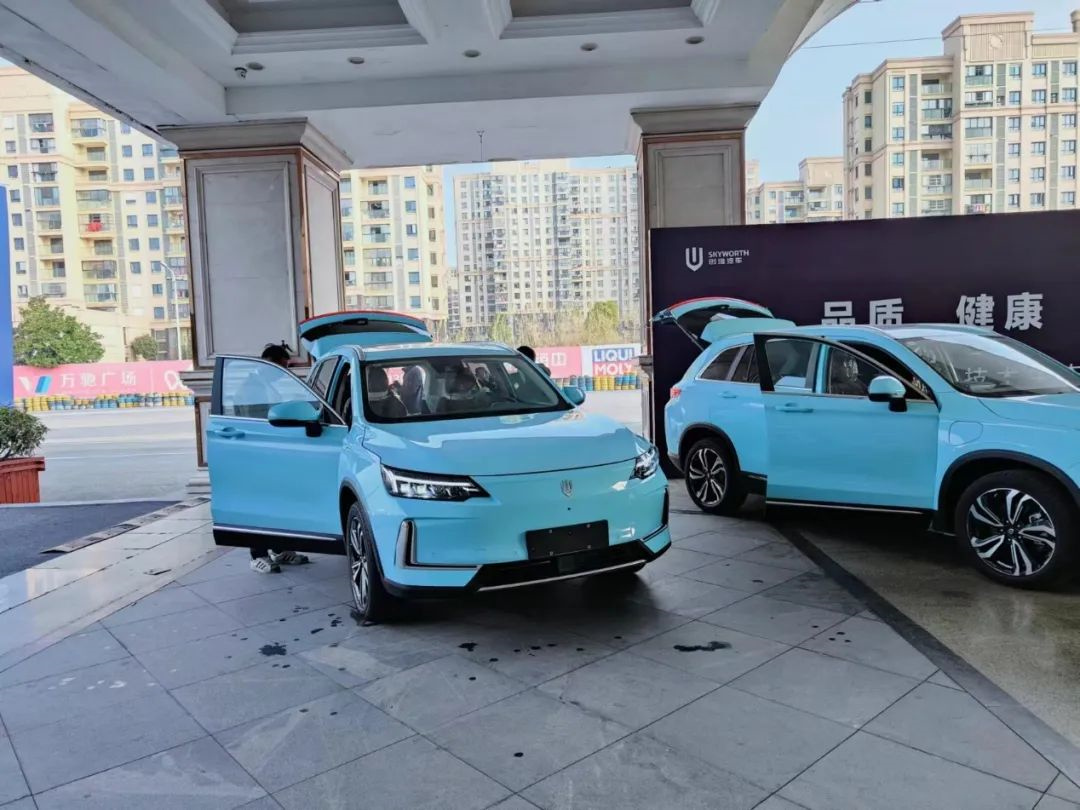 Unfortunately, as the first car model of Skyworth's automobile brand, the Skyworth EV6's design in some aspects is somewhat conservative. The traditional door handles and C-pillar give people a sense of outdatedness.
Sitting in the car, the overall atmosphere seems a bit old-fashioned, perhaps due to the wooden trim of the dashboard, which reveals the designer's age. The central large screen uses Skyworth's latest OLED eye-protection screen. However, unfortunately, the UI design is somewhat nostalgic, just like the wooden trim, exacerbating the impression of an old car.
The seats deserve a good review, as they are made of real leather, soft and thick enough. The one-click sleep function can adjust the front and rear seat and headrests to provide a comfortable sleeping position for passengers, accompanied by a gentle lullaby. Moreover, the seats can vibrate with the rhythm of the music, which is said to have a hypnotic effect. Unfortunately, the one-click sleep function only supports the driver's seat. If you want to lie back with your love in the car and look at the stars through the panoramic sunroof, it might be a bit tricky. It is recommended to make this function accessible to both the driver and passenger seats, which will help promote family harmony.
I want to complain about the lack of lights on the makeup mirror for both the driver and the passenger in a car model that costs over 150,000 yuan. It seems inappropriate. Additionally, if the seat could provide SPA massage before going to sleep, it would be even more comfortable. Therefore, the lack of seat massage is disappointing.
After experiencing it, I can only give a standard evaluation. For the health and wellness concept, it lacks innovation and highlights.
In conclusion:
The concept of combining health and car manufacturing is pioneering in the automotive world. "Let every car owner achieve a centenarian life" and make the car the "third space" of human health. Can it really be achieved? To achieve the technological iteration of intelligent and healthy cars, CHiQ needs to pay more attention to the value of the product itself.
For CHiQ, health is number 1, and everything else is just zero. This is true for human beings. However, for a car company, I think the product should be number 1, and everything else should be zero. In my opinion, CHiQ lacks a solid track record of making a satisfactory product despite a refreshing health concept. Their priority should be to put the concept into practice and make a product that satisfies consumers.
This article is a translation by ChatGPT of a Chinese report from 42HOW. If you have any questions about it, please email bd@42how.com.