In 2022, the total sales volume of Great Wall Motors was 1.067 million units, with a total revenue of CNY 137.351 billion and a net profit of CNY 8.279 billion.
In 2021, the total sales volume of Great Wall Motors was 1.28 million, with a total revenue of CNY 136.4 billion and a net profit of CNY 6.73 billion.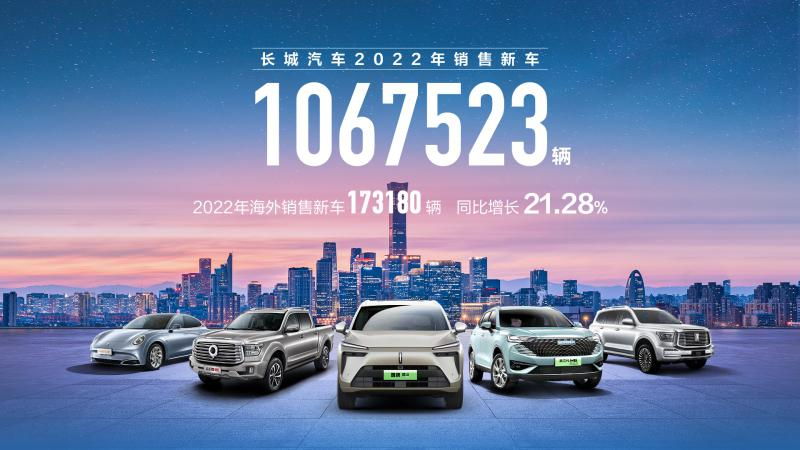 From the perspective of sales volume, although Great Wall's sales volume in 2022 has declined to some extent, the total revenue and net profit are still increasing, especially the net profit, which has increased by 23.09% year-on-year, which is quite impressive.
The growth in net profit is attributed to the increase in the price of Great Wall's vehicles. In other words, Great Wall is selling more expensive vehicles. Compared to the average selling price of CNY 106,000 in 2021, the figure in 2022 has increased to CNY 128,700.
If we look at the 5 sub-brands of Great Wall separately:
In 2022, Haval brand sold 616,550 units, a decrease of 19.93% compared to 770,008 units in 2021;
In 2022, WEY brand sold 36,381 units, a decrease of 37.66% compared to 58,363 units in 2021;
In 2022, Great Wall Pickup sold 186,715 units, a decrease of 19.87% compared to 233,006 units in 2021;
In 2022, ORA brand sold 103,996 units, a decrease of 22.98% compared to 135,028 units in 2021;
In 2022, Tank brand sold 123,881 units, an increase of 46.45% compared to 84,588 units in 2021.

The significant increase in the average selling price of Great Wall vehicles is largely due to the strong sales of the Tank brand, but the decline in sales volume is contributed by all the brands.However, compared with the focus on increasing net profit, Great Wall is more afraid of the 20%-40% decline in sales.
How did Great Wall's sales decline?
In 2016, China's auto market sales reached a new high of 28.03 million, an increase of 13.7% over the previous year.
In the same year, Great Wall Motors' sales exceeded 1 million for the first time, reaching 1.07 million, exceeding the annual sales target of 950,000. Among the 1.07 million, 938,000 were contributed by the Haval brand, and the Haval H6 model contributed 580,000.
For Great Wall, the main Haval brand and H6 model can be said to have won a complete victory. Against this background, Great Wall began to look for new sales breakthroughs.
In 2017, Great Wall's high-end brand, Wey, came out. With its excellent appearance and super-high configuration, Wey sold 86,000 units in its first year, which is not impressive compared to the Haval brand. However, considering Wey's price at that time, this sales figure can be said to be a good start.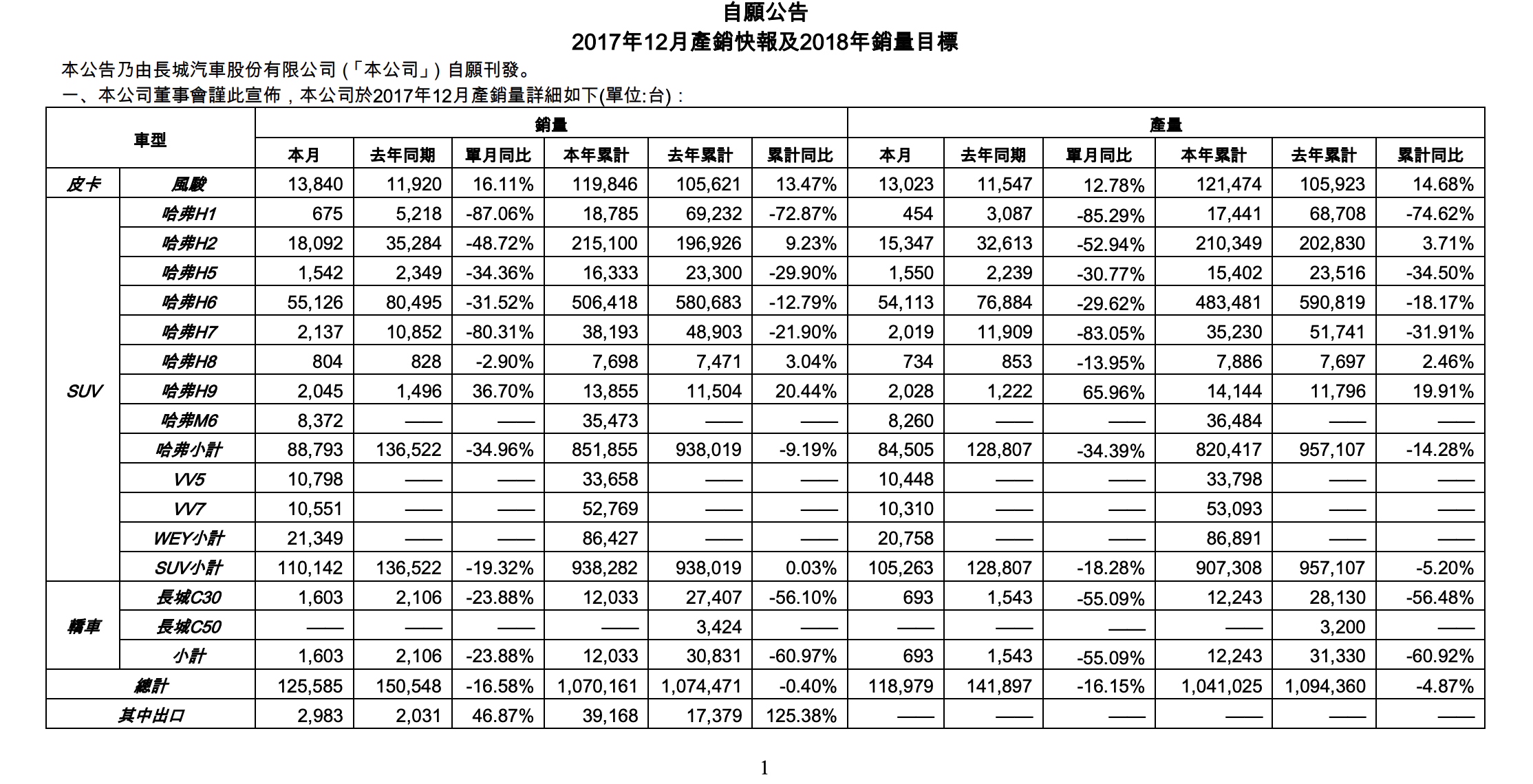 At this time, China's auto market sales continued to grow to 28.88 million, but the growth rate had slowed to 3%.
In 2018, China's auto market sales totaled 28.081 million, showing negative growth for the first time. However, Great Wall Motors' total sales remained stable at just over 1 million.
With the increase in product models, the Wey brand has covered a wider range of people, and its sales have increased to 139,000, a year-on-year increase of 61.6%.
At that time, the new energy vehicle market also came to a window period, and new energy brands like NIO and WM Motor, which were established earlier, also launched their first new energy products in 2018.
In that year, Great Wall also established a pure electric brand-Ora.
However, at that time, Great Wall Motors' new energy vehicle models only included Wey P8, which is a plug-in hybrid for trial, and Ora iQ, which is the main model for the ride-hailing market.
The sales volume of the Chinese automotive market in 2019 was 25.769 million units, with negative growth appearing for the first time.
New forces like NIO, IDEAL, XPeng, and WM Motor began delivering on a large scale and launched their second models one after another.
Thanks to the strong competitiveness of the Haval series, Great Wall Motor's total sales volume remained at just over 1 million in 2019.
However, due to the lack of new models, WEY's sales volume fell slightly to only about 100,000 units with monthly sales of less than 10,000 units.
In 2019, the Ora brand launched the R1 specifically targeting the A0-level car market. The precise positioning and excellent cost-effectiveness of the Ora R1 received market acclaim. The Ora brand achieved annual sales of 38,000 units, almost making up for the 30,000 unit sales decline of WEY.
At this time, Great Wall Motor only had three new energy product series, with just one more, the Ora R1, compared to 2018.
In 2020, the total sales volume of the Chinese automotive market continued to decline to 25.311 million units. By this time, Great Wall Motor's annual sales volume had reached 1.1 million units.
The sales volume of the Haval series products remained stable, and the new series of pickup truck models brought an increase of about 100,000 units to Great Wall.
As for WEY and Ora, the situation remained the same. WEY's sales volume continued to fall to 78,000 units, while Ora brand's sales volume continued to grow to 56,000 units, filling in the decline of WEY.
At that time, the sales volume of new energy vehicles from Great Wall Motor was 57,421 units, almost all of which were brought by the Ora brand.

In 2021, the sales volume of the Chinese automotive market slightly rebounded to 26.275 million units, and Great Wall Motor's annual sales volume reached a historic high of 1.28 million units.
The slight rebound of Chinese auto sales was not due to increased demand, but rather due to an increase in exports, which doubled from 995,000 units in 2020 to 2.015 million units in 2021.
That year, Great Wall Motor's layout in overseas markets began to bear fruit, and overseas sales increased from 74,000 units in 2020 to 142,000 units, nearly doubling.# Meanwhile, Great Wall Motors launched a new series product "Tank" and achieved a victory in the first battle, with an annual sales volume of 84,000. Ora brand, with the launch of products such as Black Cat, White Cat, and Good Cat, also saw a rapid increase in sales to 135,000. Haval brand sales remained stable at around 750,000.
For Great Wall Motors, 2021 can be said to be a year of diversified development, with only Wei Brand's sales continuing to decline, with a monthly sales volume of less than 5,000.

In 2022, China's automobile market continued to grow to 26.86 million, with the same reason for the increase being exporting, rising from 2 million in 2021 to 3 million.
That year, Great Wall Motors' sales volume declined for the first time to 1.067 million.
Only the Tank brand saw an increase in sales among multiple sub-brands. Hafer brand, which Great Wall is most proud of, saw its annual sales volume fall to 616,000, a YoY decline of 19.93%, while Great Wall Pick-up had a decline of 19.87%.
Since Wei Brand's first sales decline in 2019, this state has continued until 2022, and the delivery volume in 2022 was only 36,000.
Ora, which mainly focuses on new energy vehicle models, also saw a 23% decrease, which led to Great Wall Motors' total sales volume of new energy vehicles in 2022 being only 131,000, a decrease of 3.7% QoQ compared to 136,000 in 2021.
Looking at the Chinese automobile market again, the sales volume of new energy vehicles reached 5.674 million in 2022, an increase of 72% compared to 3.3 million in 2021.
Against the backdrop of the entire new energy vehicle market growing 72% QoQ, Great Wall Motors' 3.7% decline looks particularly out-of-place.
This is also the core reason for the decline in Great Wall's sales volume in 2022. In an environment where the market environment is undergoing fission, the company has failed to catch the express train of the new energy automobile boom.
So the new question is: Did the market change too fast or was Great Wall completely unprepared?
Great Wall's Plan
In fact, in 2020, Great Wall Motors Chairman Wei Jianjun had already realized the crisis. In 2020, Great Wall Motors released a special movie titled "Can Great Wall Motors Make It Through Next Year?"English Markdown: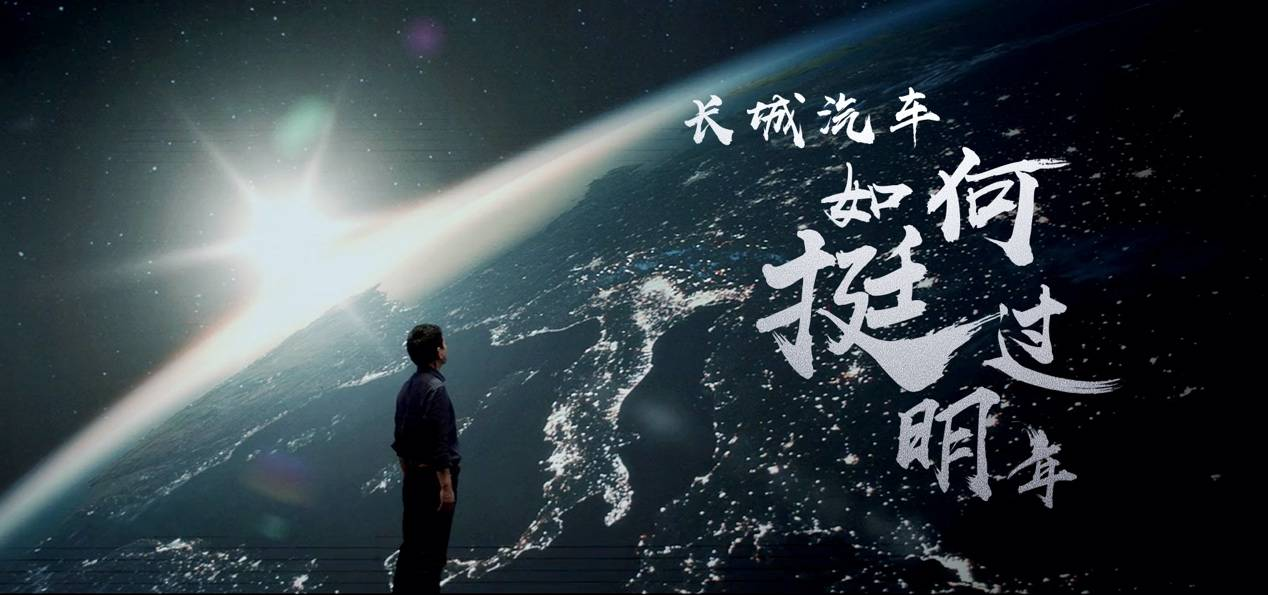 In the movie, Wei Jianjun expressed his thoughts: "In the face of a tortuous path, if we think we have succeeded, every successful past may hinder the future; if we still cannot see the revolutionary changes, then those who are being overturned are us; if we dare not break the rules, then soon the rules will become a created cage."
Although he did not explicitly state how to proceed, existing problems have been identified.
Subsequently, Great Wall Motors released the Tank WEY Intelligent Professional Off-Road Platform, the Lemon Hybrid Platform, and the Coffee Intelligent Vehicle Intelligence Platform.
We did see results with the Tank WEY Intelligent Professional Off-Road Platform in 2022.
However, Great Wall's layout in new energy and intelligentization seems to be less recognized by consumers.
In terms of new energy, Great Wall has launched high thermal efficiency engines and DHT hybrid systems, which were first released on the Wei brand Mocha model, followed by the Latte and Machiato models. Starting in 2022, just like BYD, Wei brand will only sell new energy models and stop selling fuel vehicles.
But obviously, the effect is not significant.
In addition to the fact that competitors are stronger, Great Wall itself has two problems.
One is the naming of models. With the Wei brand's comprehensive new energy development, the product series' names have also changed from the original VV5, VV6, VV7 to coffee-related names.
This naming method is indeed innovative, but it greatly increases the cost of memorization for users.
Another problem is pricing. When Wei brand was selling pure fuel vehicles, the price of the flagship VV7 was only about 160,000 to 200,000 yuan. However, in the new energy era, due to the adoption of large batteries and hybrid systems, the cost of products has increased. The Mochar, which is also at the VV7 level, has a price tag of 300,000 yuan.
Although, in order to make the car appear to be worth 300,000 yuan, Mochar has added an 8,155 car machine chip and adopted the NOH navigation assisted driving based on Mobileye EyeQ4, the configuration is higher as well.
But, the significantly increased price compared to the fuel version is not easily accepted by users.
Another brand, Euler, under the Great Wall system, which is all in the new energy world, could have become the sharpest sword for Great Wall in the new energy era.However, in early 2022, due to the continued increase in raw material costs, Euler's best-selling Black and White Cat models were unable to cover costs and were officially discontinued. Meanwhile, Euler launched the Ballet Cat, Lightning Cat, and Punk Cat retro models, which were larger in size but higher in price. However, these retro styles were not recognized by most users and did not ultimately save Euler's 2022 sales. At the end of 2021, Great Wall Motors launched its high-end pure electric brand Salon, but its first model similarly took a niche route and has yet to begin mass production. Meanwhile, Great Wall's main Haval series of models has yet to see significant electrification in 2022, so the 150,000-renminbi SUV market, which Great Wall should have been proudest of, has been taken away by BYD. It is clear that more and more consumers are beginning to accept new energy vehicles in 2022. However, in Great Wall's product line, new energy models are few and far between. Whether due to insufficient market forecasting or poor product planning, thankfully, Great Wall's foundation still remains. For Great Wall, 2023 will be a critical year, and it must restructure its product line and actively respond to the explosive growth in demand for new energy vehicles to regain its market.
What's next for Great Wall?
During our interview with Li Ruifeng, Chief Growth Officer of Great Wall Motors, the first change he mentioned was organizational. In August 2022, Great Wall Motors underwent an internal organizational restructuring to a 541 full-stack organizational model. According to Great Wall's official introduction, 5 refers to the establishment of five middleware platforms, including branding, channels, users, data, and sales service platform; 4 refers to four operational groups, including the Weihe Tank Operational Group, Euler and Salon Operational Group, Haval and Pickup Operational Group, and Overseas Market Operational Group; and 1 emphasizes the concept of a unified Great Wall, issuing the same voice and achieving systemic management in the global market through a unified action plan. Of course, if you can't understand the above planning, it's normal, as it is mainly aimed at the internal company and is a distilled strategic slogan. After communicating with Li Ruifeng, I distilled three specific actions for Great Wall.
Maintaining existing advantages
Balancing the relationship between the new energy era and the fuel vehicle market has always been a key question for traditional automakers during their transformation.Unlike BYD's all-in on new energy vehicles, Great Wall Motors considers the fossil fuel vehicle market to still be a very important one. In an interview, Li Ruifeng said, "We cannot give up our lead in fossil fuel vehicles as well as our global lead." In 2022, the penetration rate of new energy vehicles is about 25%, which means that there is still about 75% of the market for fossil fuel vehicles, although this proportion will quickly transfer to new energy vehicles. Fossil fuel vehicles still have a large market share. Therefore, Great Wall Motors will not completely give up the fossil fuel market, but will instead continue to exert force in the fossil fuel market and maintain its leading edge. In addition, the overseas market is also an advantage project that Great Wall plans to continue to expand. From 2020 to 2022, China's automobile exports have grown at a rate of 100% for two consecutive years. Great Wall's overseas sales in 2020 were approximately 70,000 units, which doubled in 2021 to 142,000 units, and continued to grow to 173,000 units in 2022. Behind the growth in overseas sales is also the establishment of full-process factories in Russia, the ASEAN, Brazil and other places, as well as the expansion of more sales markets. With China's auto market entering the stock phase, the overseas market is a new breakthrough point for Chinese automakers. New energy is the core of this year. The first half of the article mentioned that the main reason for the decline in Great Wall's sales this year is that they did not catch up with the high-speed train of new energy, and the trend of new energy is beyond doubt. Therefore, Great Wall should not only continue to hold onto its own fossil fuel vehicle market, but also make a big breakthrough in the new energy market. According to data from the China Passenger Car Association, unlike 2019 and 2020, the sales growth of A00-class new energy vehicle models began to slow down in 2022, and the fastest growth rates in 2022 were A0 167%, C-Class 145.6%, and A-Class 125%. Moreover, the sales of A-Class cars, which totaled 1.98 million units, became the highest percentage of all levels of new energy vehicles sold. The surge in sales is not due to sudden user demand for new energy, but because after BYD reduced the price of new energy vehicles in this level of market, everyone found that new energy vehicles had more advantages than fossil fuel vehicles in terms of vehicle operating costs and user experience. Thankfully, Great Wall also recognizes this issue. Li Ruifeng also said in an interview, "The reason Great Wall's new energy vehicles did not take off is because the DHT hybrid system has a low popularity, limited range of adaptation, and small sales volume, so consumers perceive the price to be relatively high. In 2023, the Haval and Wey brands will be equipped across the board, and after the sales volume rises, the price will become more affordable."## 2023 – A year of important transformation for Great Wall's intelligent new energy vehicles
In the midst of this transformation, Haval brand plays an important role as a key driver due to its large sales volume and as our spearhead brand for the new energy vehicle category. Haval's new energy transition is also a major strategic project for us this year.
In other words, this year, Great Wall Motors will officially enter the 150-200,000 yuan class A-level SUV market with the Haval brand, competing directly with BYD.
Of course, releasing just one product is not enough in this extremely intense stock market environment. We need to excel in product quality and pricing, and also have proper marketing promotion to ensure customers are aware of our products among their many choices.
For product quality, Great Wall held the "Intelligent New Energy Work Conference" on March 10th, where Hi4 intelligent four-wheel-drive hybrid technology was released. We will have a separate report on this technology soon.
On pricing, Great Wall's goal is to be "more affordable" while achieving "four-wheel-drive equivalent in price to two-wheel drive." We will be on the lookout for these at the A07 and B07 release events.
In addition to this, Haval's new energy vehicle line will have an independent distribution channel, independent category, independent core technology, and independent organizational management.
This approach is similar to what Geely did with the Galaxy series and what Changan did with the Deep Blue series, where they tried to separate new energy vehicle models from traditional fuel cars.
However, the difference here is that both Geely and Changan wanted to also emphasize the "new" aspect, therefore they used new names. In contrast, Great Wall will continue to use the Haval brand.
One advantage of Great Wall's approach is that the Haval brand has an established customer base and brand recognition. However, the drawback is that most customers still associate the Haval brand with traditional fuel cars. Therefore, letting customers know that Haval is now selling new energy vehicles is crucial.
Returning to our strengths
If you're familiar with Great Wall, you may have noticed a lot of innovations and attempts in the past two years. For example, we expanded the Tank off-road brand and introduced "Cannon" series models. We also named products after "cats," "dogs," "coffee," and even more unique names like "Red Rabbit" and "First Love." Additionally, we launched multiple retro models under the Euler brand.
Some of these attempts were successful, while others were not. These were our attempts to expand our market presence while maintaining our traditional market base. However, by 2022 and 2023, Great Wall's original market began to decline.So last year, Great Wall Motors established four main routes, which were the main brand route, the main price route, the main level route, and the main styling route, and it clarified to return to these four main routes. Under the guidance of these four main routes, Great Wall Motors will re-plan the product spectrum of category and brand, and reorganize the naming system.
Thus Great Wall Motors' product and styling planning in the future will be more cautious.
In Conclusion
The development speed of the new energy market in 2022 has exceeded our expectations, but the growth behind the market is the explosion of new energy products.
User demands will not be divided into "new energy vehicle demands" and "fuel vehicle demands", and their demands will only be buying a suitable product for themselves.
New energy vehicles three years ago may have been technologically immature, expensive, and had short battery life, and did not meet the needs of most people. However, three years later, the technology of new energy vehicles has improved and their prices have also come down, and naturally more users choose them.
After Great Wall Motors enters the market in 2023, it also means that this market will become more competitive. After the emergence of competitive products, more users will actively choose new energy products. Therefore, it is predictable that the new energy penetration rate for this year will continue to rise.
This article is a translation by ChatGPT of a Chinese report from 42HOW. If you have any questions about it, please email bd@42how.com.