Author: Dkp
As a newcomer to the supercharging station, I often think about how to quickly integrate with my colleagues, of course, I don't mean physically.
At this time, the Ministry of Industry and Information Technology has brought a wave of new car information!
To be honest, nothing is better than talking about cars. From my many years of industry experience, these straight male reporters in the automotive media circle are even more interested in car parameters than JK. Starting with this topic and then extending to driving value orientation, if you can show sufficient business knowledge reserves, you will be respected in minutes.
Therefore, I resolutely took on this topic and danced a waltz on the keyboard.
Model Y Removed Millimeter Wave Radars
According to the announcement of the Ministry of Industry and Information Technology, four domestic Tesla Model Y models have undergone information changes and removed millimeter wave radars.
Quoted from the Tesla observer, 1.5x speech speeder, driving assistance inspector, my boss-Chang Yan's analysis: "Strictly speaking, the configuration of the existing models can also use Tesla Vision pure visual solution. The proposal of the no-radar solution proves that the Autopilot technology stack that has been dormant in the Chinese market for many years finally needs to be updated to the same version as overseas.
On the one hand, it is possible that FSD can be applied on the technical level.
On the other hand, at the moment when HW4.0 news is swiping overseas, there is also reason to suspect that the hardware of the domestic Model Y needs to be updated too."
Since last year, the Tesla Model 3 and Model Y models in many overseas regions have adopted pure visual solutions. After the adjustment of the domestic models, there is indeed reason to make precise predictions about their next actions.
NIO ET5 Hunting Edition
Sometimes we have to say that times have changed. The fact that the Ekka 001 sold over 10,000 units in a month proves that young consumers' aesthetic preferences have changed and that hunting-style vehicles are no longer a niche choice. Therefore, NIO has launched the hunting version based on the ET5, which is not an exaggeration. Moreover, NIO's expansion into Europe and its dominance in the high-end luxury market are simply too reasonable.
Regarding the product itself, the ET5 hunting version has a body size of 4790/1960/1499mm and a wheelbase of 2888mm. In addition, the vehicle provides five wheel styles of 19 and 20 inches in total. It is guessed that they are consistent with the regular version, with energy-saving tires matching 19-inch wheels while sports tires matching 20-inch wheels. By the way, the hunting version also provides a trailer hook as an option.
As for power, it is still a front-mounted 280 kW induction asynchronous motor combined with a rear-mounted 210 kW permanent synchronous motor, with a total power of 360 kW. It is expected that the battery will also provide three specifications of 75 kWh, 100 kWh, and 150 kWh.
Xiaopeng G6
After various twists and turns in 2022, Xiaopeng accelerated its new product release rhythm in 2023. Judging from the naming, the Xiaopeng G6 is positioned lower than the G9, but it will shoulder the responsibility of mass sales. Perhaps Xiaopeng's 2023 trend will be dominated by the G6.
The Xiaopeng G6 still follows the family design language, with full LED daytime running lights and split headlights, adopting the coupe design. The car has a body size of 4715/1979/1415mm and a wheelbase of 2770mm, with a curb weight of 1995/2000kg. In terms of specifications, it will directly face Tesla Model Y.
In addition, the Xiaopeng G6 offers optional LIDAR and two sizes of wheels, 18 inches and 20 inches respectively. For power, the Xiaopeng G6 will be equipped with a CATL ternary lithium battery and a motor with a peak power of 218 kW.
Byton N7
Here comes another pure electric SUV, the Byton N7. In the past few months, Byton, which has rooted in the high-end market, has achieved good sales performance. According to official data, Byton D9 delivered 7,325 new cars in February this year, an increase of 13.8% month-on-month. As a colleague said, "Anything with association with BYD sells well".
From the declared pictures, the exterior design of Byton N7 is quite popular, and it looks similar to its competitors. The little "beard" below the front bumper is relatively distinctive, and the taillights that penetrate the entire vehicle are also common features in this segment.
The vehicle size is 4860/1935/1602mm, with a wheelbase of 2940mm, which is a standard size for mid-size SUVs. However, the curb weight of this car is as high as 2320kg (2440kg for the dual-motor version). In addition, the Byton N7 can be equipped with two LIDARs installed under the "beard".
For power, the Byton N7 will offer two versions, single motor and dual motor. The single motor version has a maximum power of 230 kW, while the dual motor version has front and rear maximum powers of 160 kW and 230 kW, respectively. Both versions come with lithium iron phosphate batteries.## Nezha GT
Isn't it too steady that all are SUVs? Let's take a look at the only two-door GT in the list. You ask me what GT means, GT is a high-performance sports car or Grand Turismo for grand touring. Therefore, this type of car is generally very suitable for indulging in.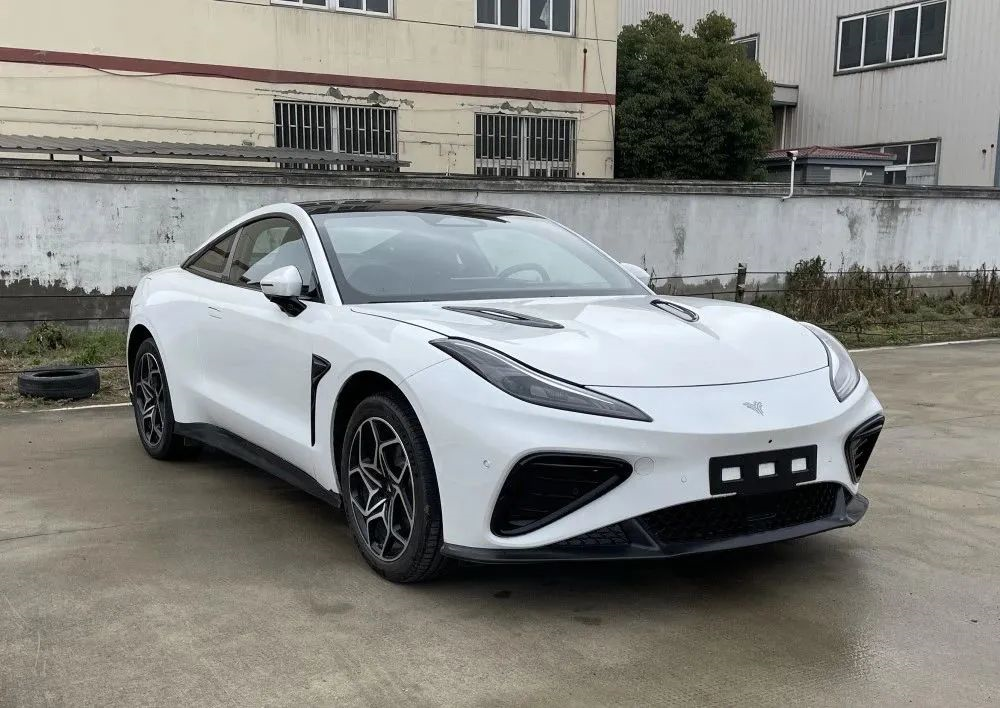 In terms of exterior design, Nezha GT also has some sports car style. For example, the large-sized smoked black fog lamp border and the design on the hood. The body size is 4715/1979/1415mm, wheelbase is 2770mm, and the curb weight is 1840kg.
In addition, this car also provides three styles of wheel hubs, hopefully the actual effect is better than the "identity photo"…
In terms of power, Nezha GT only declared a single-motor version this time, with a maximum power of 170kW, which is equivalent to 231 horsepower, matched with nickel cobalt manganese lithium battery… Is this power really a GT? It is said that there will be a dual-motor version in the future, which should be the complete version of this car.
BYD New Brand
The last model is not from the current application list. There is new news about the BYD "f" brand that has been circulating before.
According to spy photos, the high ground clearance, tough lines, and trunk opening method of this car suggest that it should be a hardcore off-road vehicle. It is said that this new car will use BYD's brand new hybrid power system, and the overall range is expected to reach 1200 kilometers.
There is also a little surprise in the spy photos. Have you seen the Mercedes-Benz G-Class? I think this basically confirms the benchmark product and positioning of this new car. Some friends may say that doesn't it overlap with the Immaculate U8? I think from BYD to Tengshi to Immaculate, there is still a large blank space to occupy in terms of price range. The F brand is positioned lower than the Immaculate brand, and the price will naturally be reduced accordingly, possibly in the range of 500,000 yuan.
This article is a translation by ChatGPT of a Chinese report from 42HOW. If you have any questions about it, please email bd@42how.com.